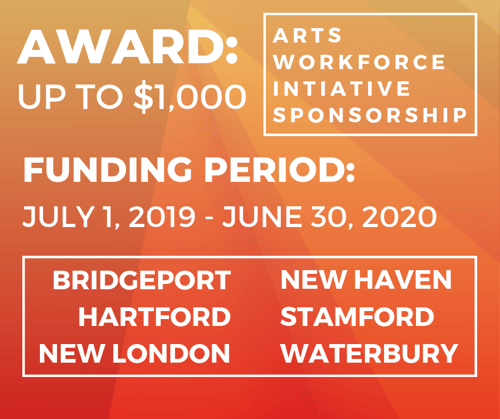 The Arts Workforce Initiative (AWI) Sponsorship seeks to support community events organized by young urban creatives in Connecticut with up to $1,000.
Creatives organizing community events and cultural experiences happening in New Haven, Hartford, New London, Waterbury, Bridgeport, and Stamford that are aligned with the CT Office of the Arts' R.E.A.D.I. framework are eligible to apply.


ELIGIBILITY
Interested creatives must meet the following criteria in order to be eligible to receive a sponsorship:
Applicant must have a leadership role in organizing the project
Applicant's project must occur during the next 90 days
Applicant's project must take place within the designated cites: Bridgeport, Hartford, New London, New Haven, Stamford, Waterbury
Applicant's project must align with the R.E.A.D.I. Framework (what's this?)
APPLICATION
The Arts Council will review and approve applications based on fit with the eligibility requirements. The application consists of:
Basic contact information
Project Info - Planning process and objectives
Tell us about you - Inspirations, passions, and prior project management experience
R.E.A.D.I. Framework alignment - how does your project align with the objectives laid out in the R.EA.D.I. Framework?
REQUIREMENTS
Recipients of the Arts Workforce Initiative Sponsorship will be required to do the following:
Acknowledge the Connecticut Office of the Arts and the Arts Council of Greater New Haven in all print and digital materials pertaining to their project, and if applicable, during the event (click here to download logo files)
Ensure sponsorship funds are expended only on items related to the project described in the application submitted
Utilize the entirety of the sponsorship fund within 90 days of receipt
Submit a final report detailing the state of the project's objectives along with a brief explanation of how the funds were expended to meet them
CT OFFICE OF THE ARTS R.E.A.D.I. FRAMEWORK
RELEVANCE | EQUITY | ACCESSIBILITY | DIVERSITY | INCLUSION
The Connecticut Office of the Arts has developed R.E.A.D.I. to help guide programmatic and investment decisions within a framework of artistic excellence. The funding for the Arts Workforce Initiative is provided by COA, and as such, will be distributed to individuals organizing projects that support the vision and objectives laid out in the R.E.A.D.I. framework.

The Arts Workforce Initiative Sponsorship is made possible by a partnership with the Connecticut Office of the Arts
QUESTIONS? IDEAS?
Contact Noah Barnett, Program Associate - Noah@NewHavenArts.org | 203 772 2788
don't be a strangerjust say hello.