Elections are a great time to talk about the strengths and challenges our city faces and our vision for the future. While mayoral candidates will spend lots of time talking about the economy and jobs, it is vital that candidates and voters in New Haven, the creative capital of our state, understand how arts and culture are a solution to our challenges and central to the growth of our community.
Create the Vote is engaging artists to:
Use their creativity to connect voters and mayoral candidates
Host voter events in New Haven's neighborhoods
Create the Vote is encouraging mayoral candidates to:
Develop bold, dynamic policies for the city's creative community
Lead by example by talking about the power of arts and culture
JOIN CREATE THE VOTE - Here's how you can help:
Spread the news! Share our updates with your network.
Share your question! We are collecting questions to ask the candidates below.
Call for Artists
Did you know that during New Haven's last mayoral election, only 20% of eligible residents voted? The Create the Vote Steering Committee believes that leadership from local artists will improve voter turnout this year.
As such, Create the Vote New Haven is now accepting proposals for creative projects that build excitement and community around the act of voting during this election season. This call is only for individual artists living in New Haven or with strong ties to New Haven, including high school and college students. The selected proposals must take place from September 3-November 5 and will receive a $250 - $1,000 award for implementation. As a reminder, Create the Vote New Haven is a nonpartisan campaign, so projects cannot endorse candidates in any way.
We are accepting applications through July 26. The Steering Committee will evaluate proposals based on their ability to engage residents of New Haven's neighborhoods and create joy and excitement about voting. Artists of color and students are strongly encouraged to apply.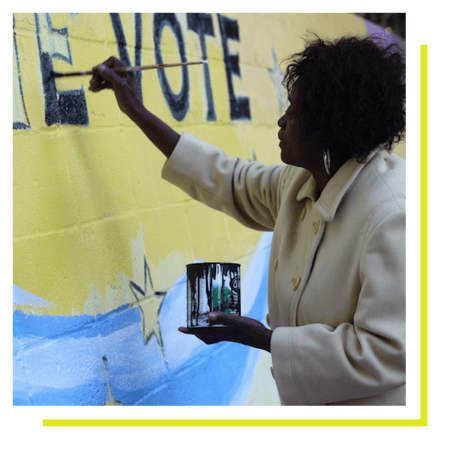 A few examples of possible proposals include, but are not limited to:
Design and distribute posters promoting election day
Perform a neighborhood concert on the voter registration deadline
Host a dramatic reading of the candidates policy platforms
A few important dates in the election season to consider for planning purposes:
September 10: primary election
October 29: last day for advance voter registration
November 5: general election (same day voter registration available)

Questions? Want to discuss your idea? Contact Heather@NewHavenArts.org or 203 772 2788
What Would You Ask New Haven's Next Mayor?
Create the Vote New Haven will submit a questionnaire to each of the mayoral candidates about arts, culture, and creativity in our community and publish their responses. Please submit your question below for the Steering Committee to consider.
Questions Received So Far
Where do you stand on creating affordable living and working space for artists?
Would you support/what is your plan to incorporate local art into downtown spaces?
How will you build communication and positive relationships between various arts and culture organizations? How will you foster a healthy, interconnected arts community?

Are you aware that the work of women artists is dramatically underrepresented in galleries and museums throughout the United States? Will you commit to helping create opportunities for local women artists?

What would you do to encourage vocal and instrumental musical ensembles which promote cooperation and connection among participants?

Not all of our public schools have art programs. What will you do to ensure all students have access to art and music education as soon as possible?

Will you continue to strongly support the Arts community on Audubon St.?

What will you do to increase diversity, equity, and access to the arts, especially for youth?

What will you do to support the arts, not only in the downtown area, but in all of New Haven's neighborhoods?
Did you know that the arts, culture, + creativity ...
DRIVES OUR ECONOMY
The region's nonprofit creative sector supports 5,700 jobs and drives $135 million in direct economic activity annually
CLOSES THE ACHIEVEMENT GAP
Arts instruction increases achievement across all academic disciplines and develops the whole child.
BUILDS COMMUNITY
Creativity creates a positive social environment making neighborhoods safer and improving overall quality of life.
IMPROVES HEALTH OUTCOMES
The use of the arts in health has increased in clinical health fields and community settings.


Steering Committee
Raven Blake, Heather Burtman, Ron Coleman, Patrick Dunn, Gillian Eversman, Ariel Herbert, Paul Bryant Hudson, Helen Kauder, Martha Lewis, Elizabeth Nearing, Babz Rawls-Ivy, Caroline Smith
Partners
The Create the Vote campaign was originally conceived and developed at MASSCreative, the state arts advocacy organization in Massachusetts, and is also a program of CT Arts Alliance, Connecticut's state arts advocacy organization.