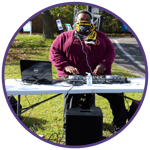 Engaging Artists to
Use their creativity to connect voters and candidates together
Host voter engagement events in their studios, venues, and communities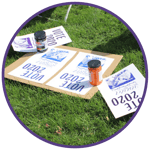 Key Dates
Primary Elections: September 14
General Election: November 2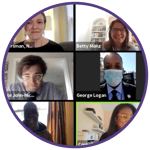 Encouraging Candidates to
Develop equitable cultural policies for their creative community
Lead by example by talking about the power of arts and culture
Candidate Questionnaires
On July 1, the Create the Vote Steering Committee shared this letter and candidate questionnaire to the mayoral and first selectperson candidates throughout Greater New Haven. We will publish their submissions as we receive them. Click "Received!" to read their responses and scroll to the right for more information about each candidate.
From now until election day, we will post candidate responses as we receive them. Here's what you can do to help:
Send an email to or call candidates listed as "Not Received"
Here's a short template you can customize for your message:
Dear Candidate ( name ),
As an ( artist / art student / arts lover ) in ( your town / city ), I hope you will take the time to complete the nonpartisan Create the Vote Greater New Haven candidate questionnaire. The details about this initiative are available at NewHavenArts.org/vote. You can submit your responses online or by email to the Arts Council of Greater New Haven via Daniel@NewHavenArts.org.
Sincerely,
( your name )
( your address )
Toolkit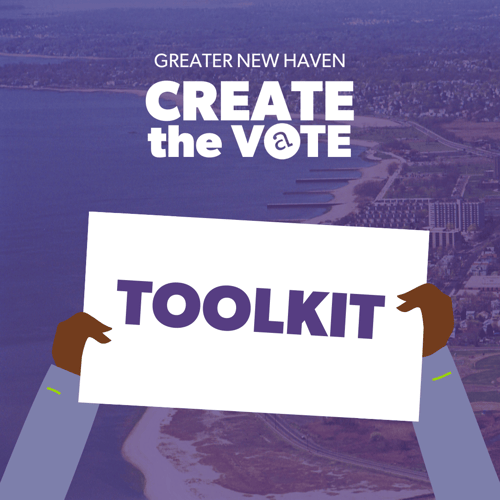 We're excited to share with you graphics designed by local creatives to promote the accessibility and importance of voting. Please use these on your social media platforms, newsletters, and printed materials, but always credit them for their work.
Amy McNamara, Wallingford
Alana Ladson, New Haven
Ashlynn Topper, New Haven
Martha Savage, New Haven
Lizamishel Boateng, New Haven
Get Involved
Connect candidates and voters in your community with the Create the Vote campaign. Here's how you can help today:

Why are the arts critical right now?
💸DRIVE ECONOMIC RECOVERY: Greater New Haven's non-profit creative sector supports 5,700 direct jobs and generates $135 million annually
💔HEAL + REBUILD: Creativity helps us process impact and loss, build and rebuild vibrant and resilient communities, and attract new residents, businesses, and visitors
✊SUPPORT RACIAL & SOCIAL JUSTICE: Embracing the diversity of our cultures and experiences is at the heart of the arts and the fight for justice
🚨ARTS NEEDS HELP: With 62% of artists unemployed and most arts organizations unable to reopen until fall 2021, the industry needs emergency support to thrive
ABOUT CREATE THE VOTE
Elections are a great time to talk about the strengths and challenges facing our communities, especially to emerge from the COVID-19 pandemic and fight for racial justice. While candidates for mayor and first selectperson spend lots of time talking about the economy and jobs, it is critical that candidates in Greater New Haven, the creative capital of our state, talk about arts and culture as a solution to our challenges and central to the revival of our cities and towns.
Seeing the need to make arts and culture part of the discussion, the Arts Council of Greater New Haven is launching Create the Vote Greater New Haven, a nonpartisan public awareness campaign to engage voters and candidates running for mayor or first selectperson about the power of arts, culture, and creativity. The project is led by a steering committee of residents from throughout our region.
STEERING COMMITTEE

Leslie Abbatiello, Wallingford | IfeMichelle Gardin, New Haven | Roz Gilhuly, Wallingford | Dr. Tiffany Jackson, West Haven | Alana Ladson, New Haven | Annie Lin, Hamden | Lee Lee McKnight, Hamden | Amy McNamara, Wallingford | Zaneta Nicholson, West Haven | Daniel Pizarro, New Haven | Jennifer Reynolds-Kaye, New Haven | Ty Scurry, Hamden | Elinor Slomba, West Haven | Shamila Zubairi, Wallingford
Create the Vote launched in Connecticut during the gubernatorial election in 2018 and continued in 2019 for the New Haven mayoral election and on a statewide basis in 2020 for the general assembly election. The concept started at MASSCreative.
CT Makes Major Investments in Creative Sector
The State of CT has approved their FY22 and FY23 budget and bonding legislation and it is likely that the Governor will sign the bill shortly. This will include an unprecedented level of investment in arts and culture - an increase of over $65 million!
This final proposal also includes an additional $5 million for grants-in-aid to nonprofit organizations operating cultural and historical sites through bonding, $15 million each budget year for statewide marketing, $260 million in additional funding for community nonprofit providers of health and human service, and fully funds the Payment in Lieu of Taxes (PILOT) program for cities and towns.
That's why it's critical to reach out to your local legislators TODAY!
Thank them for supporting our creative ecosystem during this critical time. Share why this historic investment is important to your community. Invite them about your upcoming community events this summer and fall.
1% for Arts + Culture from American Rescue Plan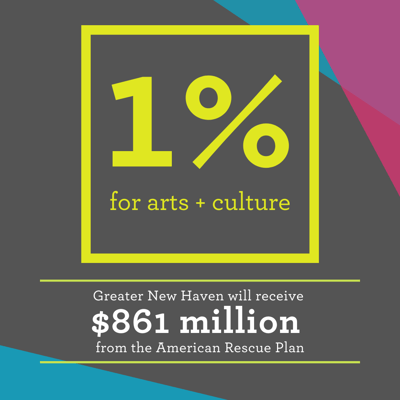 Last week, the Arts Council sent this letter to the leaders of our cities and towns to commit 1% of their American Rescue Plan grant into arts and culture. The federal guidelines specifically prioritize our industry for support, but we also highlight the power of artists and creative organizations to help our region recover and revive.
But now they must hear directly from you!
Find out how much support your city or town will receive from the American Rescue Plan and contact the head of your city or town to ask them to invest 1% of this grant into arts and culture. Share the graphic on social media to spread the word in your networks. Always include a personal story about why this investment is important to you or your community.
Check out this map from CT Arts Alliance for details on how cities and towns across CT are responding to this request.
Grant Amounts
Note: Our focus is on general funding, not the education support
Contact Information