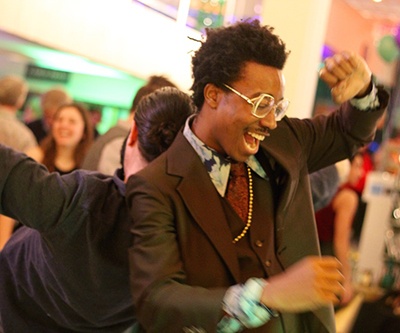 Our Mission
We strive to advance Greater New Haven by providing leadership and support to our diverse arts community. We envision a thriving arts community at the heart of Greater New Haven. We believe that art, culture, and creativity are fundamental human rights.
Programs
From Fiscal Sponsorship to the Youth Arts Journalism Initiative, Free Membership to Make Music Day - we're working around the clock to build a strong, diverse, and united creative community in Greater New Haven
Where We Came From
1964
The Arts Council is founded by board members of Neighborhood Music School and the New Haven Symphony Orchestra in order to acquire space for their programs. The City of New Haven suggests Audubon Street, a part of the State Street Redevelopment Plan.
1965
Newt Schenck is recruited to help obtain the space from the City for an arts center. The Arts Council applies for funds from the New Haven Foundation to create a master plan. The City appoints the Arts Council as the preferred developer of Audubon Street.
1967
The Arts Council assists Neighborhood Music school in making the first land purchase on Audubon Street.
1968
The Arts Council next assists Creative Arts Workshop in making their land purchase on Audubon Street.
1973
The Mishkan Israel building is converted into Educational Center for the Arts, an arts high school
1978
The Arts Council hires its first Executive Director, Baker Salisbury
1979
The Arts Council publishes a monthly news & events bulletin and calendar which will eventually become The Arts Paper
1980
Creation of the Annual Arts Awards celebration
1983
The Arts Council hires Bitsie Clark as Executive Director
1985
The First Arts Awards luncheon takes place, modeled after the Arts and Business Council event in NYC
1987
A decision is made to build 70 Audubon Street with the New Haven Foundation (now known as the Community Foundation for Greater New Haven) and Artspace
1990
Opening of 70 Audubon Street
1996
Creation of the Regional Cultural Plan, a collaborative effort to create a sustainable cultural community.
1997
Greater New Haven Arts Stabilization Project created to work with eight arts organizations and consultants from National Arts Stabilization. This process taught organizations new management and fiscal skills, helping them increase working capital and invest in infrastructure.
Behind the Scenes
Our staff, Board of Directors, and Sustaining Members work together to support our vibrant communities