Create the Vote Candidate Forum October 4th
Part of the Connecticut Arts Alliance Create the Vote Initiative we partnered with Greater Hartford Arts Council and the New Haven Pride Center. Asking candidates to fund the arts is an easy lift = for every $1 spent on the Arts in Connecticut $7 is generated.
Act Now!
Reach out to your elected representatives today so they know about what artists and arts workers in our region need to thrive.
NOT SURE WHAT TO SAY TO YOUR LEGISLATORS?
Here are a few ideas!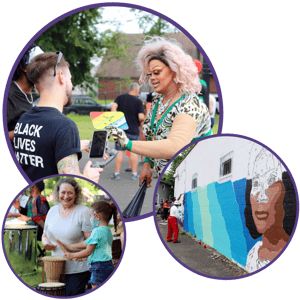 GET PERSONAL Share a story about the power of creativity in your life, particularly during the ups and downs of the COVID-19 pandemic
HEAL + REBUILD Explain how centering culture helps communities process impact and loss and supports inclusive and equitable development
COVID IMPACT Our region is still emerging from the economic fallout of this pandemic with many artists and arts workers struggling to thrive
INVITATIONS Encourage them to attend an upcoming in-person or virtual event you are organizing to deepen their understanding of our creative ecosystem
Pre-Session Legislative Roundtable
In partnership with the New Haven Pride Center, the Arts Council organized a conversation between elected representatives and our creative community. From funding to access, quality of life to justice, the conversation was at moments deep and lighthearted. Watch the full video, including the fantastic closing performance celebrating drag artists, here.
1% for Arts + Culture Campaign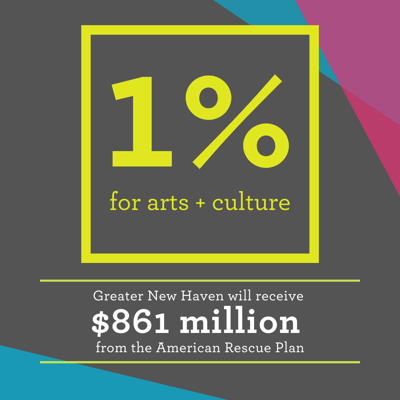 Recently, the Arts Council sent this letter to the leaders of our cities and towns to commit 1% of their American Rescue Plan grant into arts and culture. The federal guidelines specifically prioritize our industry for support, but we also highlight the power of artists and creative organizations to help our region recover and revive.
But now they must hear directly from you!
Find out how much support your city or town will receive from the American Rescue Plan and contact the head of your city or town to ask them to invest 1% of this grant into arts and culture. Share the graphic on social media to spread the word in your networks. Always include a personal story about why this investment is important to you or your community.
Check out this map from CT Arts Alliance for details on how cities and towns across CT are responding to this request.
GRANT AMOUNTS
Note: Our focus is on general funding, not the education support
CONTACT INFORMATION
Resources
Make your case with these tools, research reports, and news stories.
General
Economic Growth
Health + Wellness
Livelong Learning
Social Justice
Vibrant Communities
Partnerships
The Arts Council collaborates with the following organizations in our advocacy efforts.
National
Statewide
Have a question? We've got answers!