The mission of the Youth Arts Journalism Initiative (YAJI) is to use The Arts Paper to train 9th-12th grade students from New Haven Public Schools (NHPS) to independently research, report, draft, and publish articles about hyperlocal visual, performing, and culinary arts.
The next semester starts this April with a weeklong intensive during NHPS spring break and then seven weeks of pitch meetings and professional mentorship after school at New Haven Public Library's downtown Ives Branch through June. Students are compensated $250 for their participation and work, in what we hope will be a path to creative economic empowerment.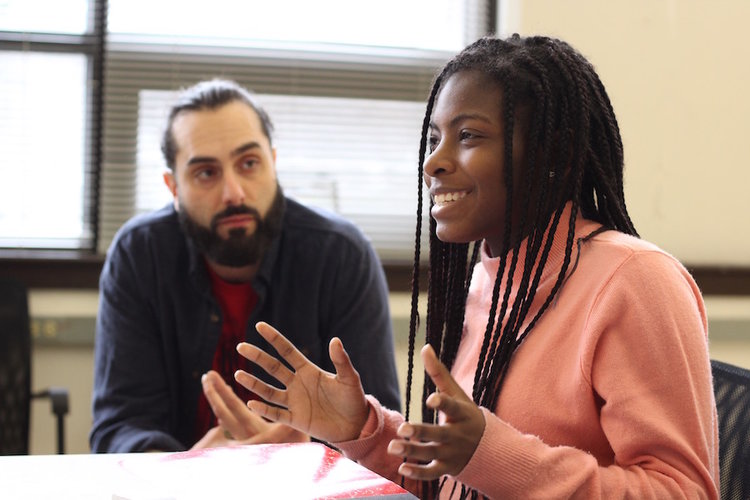 Application Details
Students interested in YAJI are:
9th-12th grade
Attend New Haven Public School
May have an interest in the arts, creative writing, and/or journalism, as well as a math or science concentration.
Able to attend all sessions (see full schedule below)
Application process:
February 1: Applications Open - apply online at the bottom of this page or use this PDF
February 22: Mock Session at Yale University Art Gallery
March 1: Applications Close
March 15: Students Notified
March 29: Last day for students to accept
Program Dates
Weeklong Intensive: Monday-Friday, April 15-19, 10 a.m.-3 p.m.

Includes lunch and bus passes for travel to and from downtown and "field trips" to Connecticut Public Radio studios at Gateway Community College, the Yale University Art Gallery, the Connecticut Center for Arts & Technology (ConnCAT), and Baobab Tree Studios

Weekly Pitch Meetings: Tuesdays from April 23 - June 4, 2:30-4:30 p.m.
Main location: New Haven Free Public Library, Ives Branch
Curriculum
YAJI is aligned to satisfy the National Core Arts Standards, which have been adopted by the Connecticut State Board of Education.
Last year, we noticed that creative writing was getting the boot in some schools across the country and the state, and that didn't sit well with us. We wanted to draw a connection between the creative work many students do, and the critical skills it prepares them for as young journalists.
YAJI zeroes in on critical analysis and engagement, ability to put artistic ideas in cultural context, and creation of original content. Our interpretation of an "article" is broad: students are allowed to produce comic strips, original music, video, or podcasts as their final capstone projects, if they are accompanied by a written summary.
Want to know more? You can our sample curriculum here.
Application
Have a question? We've got answers!