In its pilot semester in 2018, the mission of the Youth Arts Journalism Initiative (YAJI) was to use The Arts Paper to train 10-12 students from New Haven's Cooperative Arts & Humanities High School (Co-Op) to independently research, report, draft, and publish articles about hyperlocal visual, performing, and culinary arts.
In April, we began with a weeklong intensive professional development during New Haven Public Schools (NHPS) spring break. Then we followed it with two months of mentoring meetings with editor Lucy Gellman and Stephen Urchick. As the point of the program was to train young freelancers, we treated students as contract employees, paying them a stipend for four articles over the eight weeks we were together. In June, the program culminated in a 1,200-2,000 word capstone project. It was then their choice to stay on as freelancers for The Arts Paper.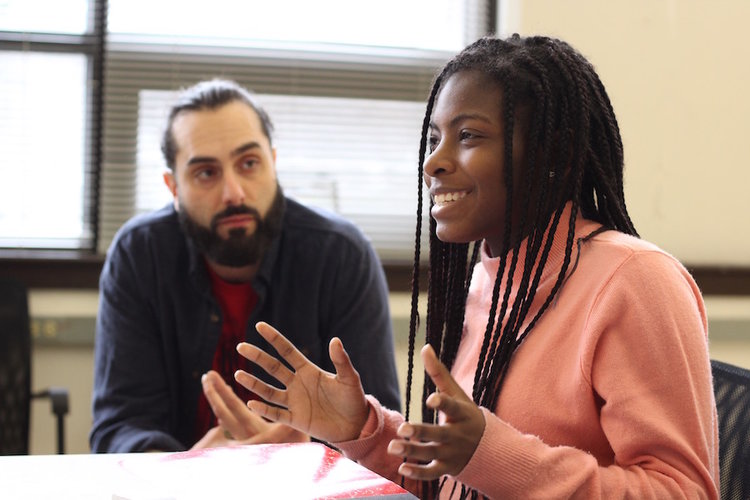 Curriculum
YAJI is aligned to satisfy the National Core Arts Standards, which have been adopted by the Connecticut State Board of Education.
But why, you may ask? We noticed that creative writing was getting the boot in some schools across the country and the state, and that didn't sit well with us. We wanted to draw a connection between the creative work many students do, and the critical skills it prepares them for as young journalists. YAJI zeroes in on critical analysis and engagement, ability to put artistic ideas in cultural context, and creation of original content. Our interpretation of an "article" is broad: students are allowed to produce comic strips, original music, video, or podcasts as their final capstone projects, if they are accompanied by a written summary.
Want to know more? You can see all of our curriculum here.
Next Steps
Stay tuned here for updates on our expansion to all New Haven Public School students in 2019!
Have a question? We've got answers!