Video by Daniel Pizarro
THEN JOIN OUR FAN CLUB!
Starting at just $5 per month, the Arts Council's Fan Club makes everything we do possible.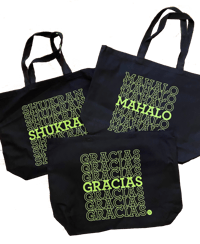 You will receive an exclusive Fan Club newsletter with digital access to special programming that shines a light on incredible creative projects in our community. Plus, you will also receive a limited thank you gift designed by a local artist in our region - how cool is that?!
The item this year, featuring an original design Jean-Pierre Solis-Sánchez printed on a huge reusable bag by Micro Print Shop, literally expresses our gratitude.
Unable to give monthly? Here are a few other options.
I can HELP THE ARTS COUNCIL GROW BY DONATING...