Listed by Deadline Date
The Arts Council provides
these listings as a service to the community
Not responsible for content or deadlines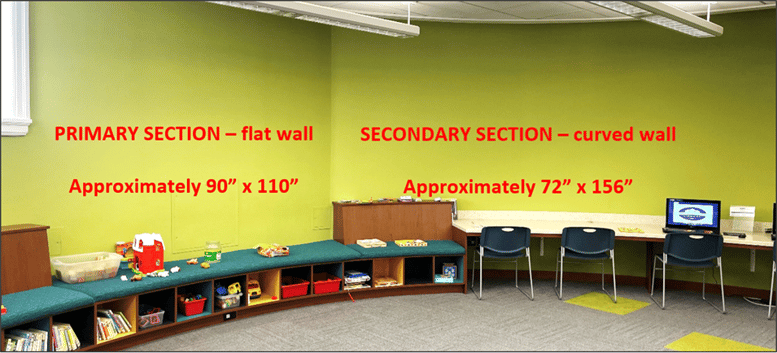 DEADLINE 11/ 30
MURAL ARTISTS
The James Blackstone Memorial Library (Branford, CT) has extended their search for artists with experience with murals and/or large-scale painting projects.
The mural will be painted in the Children's area of the library's Youth Services Department and should act as a source of welcome and inspiration for those who enter. Mural proposals will be considered upon submission and should be emailed or brought to the Youth Services Department on or before November 30.
Timeless, bright, and cheerful interpretations are encouraged. We would like this mural to be relatable for years to come — much like a good book that you read as a child and are now sharing with your own family before bed.
The mural will be in the primary area, as shown below, and ideally, extend into the secondary area as far as is appropriate to the design. Walls are painted plaster. The dimensions are: primary area – approximately 90" high and 110" wide; secondary area (curved wall) – approximately 72" high and 156" wide. The mural is located above our playspace so the images, themes, and characters should be youthful and appealing to families with young children.
We have a preliminary total budget of $5,000-$10,000, and we are willing to consider projects that fall outside of the budget.
Please submit all of the following:
Full contact information
Brief cover letter
Resumé
Description & sketch(es) of proposed mural
Examples of painting/artistic experience
Anticipated all-in cost
Proposals will be selected based on:
How well the sketch, concept description, and creative vision meets the above criteria of being timeless, inspiring and welcoming
Feasibility of project completion
Quality of prior work
Eligibility:
Open to artists of all ages. Individual artists and groups welcome to apply. Applicants may submit multiple designs.
Please send or deliver entries by November 30 to:
James Blackstone Memorial Library, 758 Main Street, Branford, CT 06405, ATTN: Carly Lemire
Questions? Contact Carly Lemire at 203-488-1441 x 321, or clemire@blackstonelibrary.org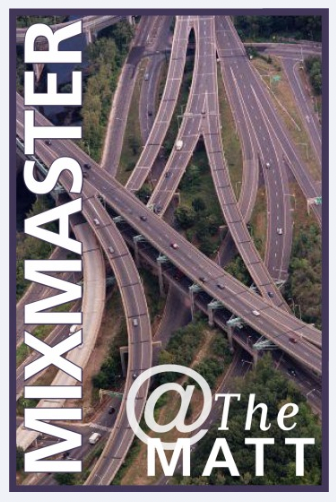 Deadline 12/1
MATTATUCK MUSEUM JURIED SHOW
MIXMASTER is an exhibition that seeks to discover and recognize the talents of its artist members working in New England and the Tri-State region. Initiated to
support and recognize contemporary art, MIXMASTER provides an opportunity for established and emerging artists to debut their most recent work.
Works will be judged by Elizabeth Thompson, Director at Anita Rogers Gallery in New York City.
---Learn more here here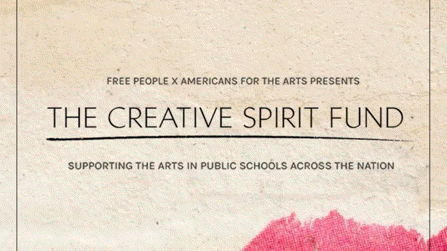 Deadline 12/ 2
$4000 AWARDS FOR TEACHERS
Students, parents, and teachers are invited to nominate a teacher at their school to receive one of ten $4,000 awards, which will be distributed to public school educators across the United States in great need of support in teaching art, music, dance, theater, and creative writing and other artistic disciplines. Nominated teachers will be champions of diversity and creativity within their local communities, and can use their award to purchase supplies and equipment that nurture the creativity of their students.
To nominate a teacher for the Creative Spirit Fund, fill out the entry form below, including a short essay (300 words or less) that answers the question: How has an arts teacher championed your new creative spirit at school?
---Nominate here
Auditions 12/6
TEEN CIRCUS
Oddfellows Playhouse and ARTFARM announce auditions for Circophony Teen Circus's 17th annual mainstage Circus-Theater production.
Auditions will be held on Tuesday, December 6, 6:30 - 8:30 pm, at Oddfellows Playhouse, 128 Washington Street in Middletown. They are open to all young people ages 12 - 20. Prior circus experience is not required, but some background in physical training, dance, movement, gymnastics, sports, parkour or performance can be helpful.
Auditioners are asked to arrive a few minutes early to complete audition paperwork, to dress to move, plan to stay the entire two hours, and to prepare a short solo act that showcases your skills and personality (one minute maximum). Solos can be based in circus arts, theater, Everyone who auditions and commits to the rehearsal and production schedule will be cast in the show.
Rehearsals will be Tuesdays and Wednesdays, 6 - 9 pm starting January 3, 2023. There will be Technical rehearsal & daily rehearsals, Feb 26 - March 1. Performances will be March 2,3 & 4 at 7pm; March 4 at 2 pm at Oddfellows Playhouse.
The new Circophony main stage show will be directed by Circophony Director Allison McDermott, with additional coaching and act direction by Naja Muller and Joel Melendez. The show will include acrobatics, movement, juggling, balancing, stilting, contortion, unicycling, roman ladders, comedy and other circus skills. This is a great opportunity to stretch your personal limits in a supportive, non-competitive environment, get serious circus training, and be part of creating a new and imaginative show.
To register for the audition, or for more information, call (860) 347-6143 or email info@oddfellows.org. Tuition for Circophony is $300. Financial aid is available for anyone who needs it. No one is turned away for inability to pay. Circophony Teen Circus provides rigorous circus training and performance opportunities to young people, and is a collaboration between Oddfellows Playhouse and ARTFARM.
If you are unable to make the audition date, please contact info@oddfellows.org to set up an alternative audition date!
Contact: Dic Wheeler, dic@oddfellows.org; (860) 347-6143

Deadline December 12th then rolling deadlines in 2023
SOW- CT GRANTS FOR COMMUNITY ORGANIZING GROUPS
Each request has a limit of $2,000.
Groups may make more than one request per year, limited to a maximum of $5,000 per year.
Are you a BILPOC-led group involved with grassroots organizing? Is your organization low on resources (do you have a small staff, rely heavily on volunteers, little to no back-office administration, staff development, or supervision capacity)? This opportunity is for you!
Who is eligible to apply?
We are looking to support groups that align with the criteria below:
BILPOC organizers and BILPOC-led groups, working with BILPOC folks

Those doing organizing work (such as community organizing, activism and advocacy, or electoral engagement)

Those working on grassroots efforts (working primarily with residents, parents, youth, students rather than organizations, professions, congregations, unions, etc.)

Low or under-resourced organizations/groups
Types of supports can you request funding for?
What do we mean by wellness and capacity building support? We are open to what you – our partners in this work – identify as a need to achieve your organizing goals. Here are some examples:
Staff retreat needs – facilitator, facilities/space, etc.

Conflict resolution within your group or with external partners and allies

Yoga sessions for your staff team

Conference registration, travel and lodging

Therapist costs for an organizer

Trainings and professional development
Feel free to request funds for what you feel will strengthen and support the goals of grassroots organizing groups/organizations – you do not need to stick to our examples.
---Apply: short application form
---More Information: email Alexis Bivens sow-ct@ctphilanthropy.org

Deadline December 12th
ROCKLAND ARTS FESTIVAL CALL FOR ARTISTS FROM CT, NY AND NJ
The ROCKLAND ARTS FESTIVAL is 2 weeks of FREE online & in-person arts events!
The Rockland Arts Festival will run from January 27 - February 10, 2023 with 128 featured artists, 12 diverse online arts events and an in-person arts festival on February 5th at the Palisades Center.
All events are free to the public and everyone is welcome to attend.
ELIGIBILITY: Open to all artists (all mediums) age 18 and over and arts organizations.
Space is limited.
FEE: No application fee.
If selected, there are 3 ARTIST OPTIONS:
#1 - $25 Virtual Listing, Solo Feature & Virtual Reception
#2 - $50 Virtual Listing, Solo Feature, Virtual Reception & In-Person Art Festival
#3 - $75 Virtual Listing, Solo Feature, Virtual Reception, In-Person Art Festival & Website Homepage Feature
EMAIL questions to: rocklandarts@gmail.com
WEBSITE: www.rocklandartsfestival.org
IG: https://www.instagram.com/rockland_arts/
FB: https://www.facebook.com/rocklandartsfestival
YouTube: https://tinyurl.com/rocklandyoutube
Apply Today: https://tinyurl.com/raf2023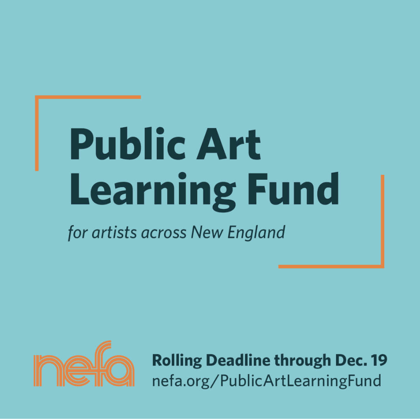 Rolling Deadline through December 16th
PUBLIC ART LEARNING FUND
The Public Art Learning Fund aims to strengthen the field of public art in New England by providing professional development support of $500-$2,000 directly to artists. Rolling deadline through Monday, December 19 at 11:59 PM ET.
Applicant Resources:
Attend Public Art Learning Fund: Artist Perspectives and NEFA Staff Q&A on October 26 from 5:30 PM to 6:30 PM, with guest artists Jen Berger (VT) and May Babcock (RI).
Attend Public Art Learning Fund: Artist Perspectives and NEFA Staff Q&A on November 9 from 5:30 PM to 6:30 PM, with guest artists Adelka Polak (CT) and Noa Machover (RI).
Sign Up for Office Hours
Preview Application Questions
---Learn more here
Webinar December 13th, Applications accepted until September 30th 2023 or funding runs out
GRANTWRITING ASSISTANCE PROGRAM
With funding from US EPA through the Long Island Sound Study (LISS), New York Sea Grant (NYSG) and Connecticut Sea Grant (CTSG) announce a funding opportunity open to municipalities and community organizations to facilitate the hiring of grant preparation and writing support to assist with the development of a grant application for sustainable and resilience focused projects that will impact a community(ies) within or partially within the Long Island Sound Coastal boundary (within Westchester, Nassau, Suffolk counties, Western Connecticut, and Eastern Connecticut). See Sustainable and Resilient Communities webpage for regions.
The intent of the Long Island Sound Resilience Grant Writing Assistance Program is to reduce staffing and capacity barriers that municipalities and community organizations may face when applying for competitive funding opportunities, help communities develop successful sustainable and resilience focused project grant applications, and for municipalities and community organizations to develop capacity for navigating the funding landscape.
Funding is to be awarded in a range of $5,000- $9,950 per application directly to the applicant's selected grant writing support contractor on a cost reimbursable basis. Match will not be required.
Informational Webinar - December 13th, 2022 2:00 - 3:00 pm
Register for webinar here
See the CTSG website here
For more information contact: LISresilience@gmail.com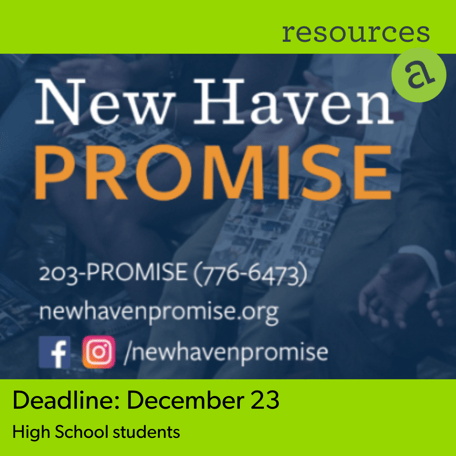 Deadline December 23
NEW HAVEN PROMISE
Open to high schoolers or those about to become high schoolers.
Scholarships and ongoing opportunities.
---Sign up here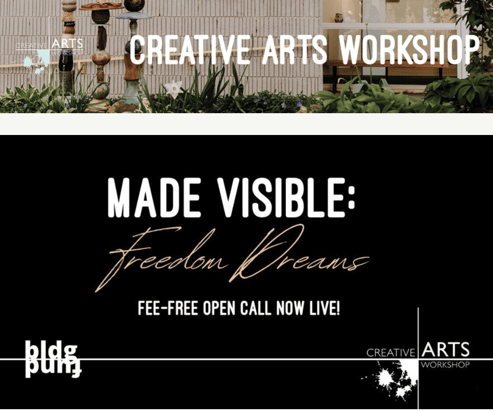 DEADLINE 12/31
FREE OPEN CALL FOR ARTISTS
Creative Arts Workshop, in partnership with the bldg fund, is thrilled to announce the Open Call for Made Visible: Freedom Dreams, the newest iteration of an exhibition series piloted in 2020 that invites CT-based artists of color to develop site-specific window installations addressing the issues of our times. The exhibition will be on view throughout the month of February, 2023, and provides space for up to 3 artists historically underrepresented by making their work visible through our signature sidewalk-to-roofline windows. With the possible use of the windows as a canvas and/or portal to a world created using CAW's first-floor galleries, artists are invited to propose a broad range of projects, including site-specific installations, performative happenings, or more traditional exhibition displays.
The exhibition's theme, Freedom Dreams, builds upon concepts and questions explored in guest curator nico wheadon's most recent exhibition, Somewhere in Advance of Nowhere: Freedom Dreams in Contemporary Art, at The Samuel Dorsky Museum of Art. Drawing inspiration from Robin D.G. Kelley's Freedom Dreams: The Black Radical Imagination, that exhibition took up his provocation that "without new visions we don't know what to build, only what to knock down". In this iteration at CAW, we will continue to celebrate the role of artists in envisioning, shaping, and advancing sociocultural change, while also focusing on creative visions, strategies, and solutions emanating from local communities of color.
Proposals may be submitted through our fee-free Open Call by individual artists or artist collectives based in Connecticut, and will be reviewed and selected by the exhibition's guest curators, nico wheadon and Malik D. Lewis of bldg fund. We hope to see:
---Details on specifications and how to apply here
DEADLINE JANUARY 1
REIMAGINING NEW HAVEN CLIMATE CRISIS POSTER CONTEST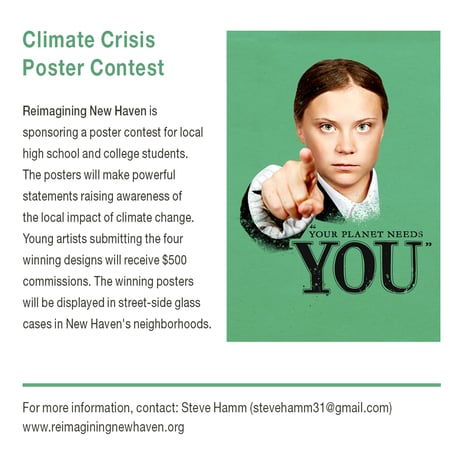 Each poster should have the words "climate crisis" on it in a prominent spot and our website URL, reimaginingnewhaven.org, on the bottom. The measurements of the final printed posters will be 45" wide by 66.5" high (set on a paper sheet that is 48" wide by 70" high). We recommend that participants create posters that are 22.5" wide and 33.25" high. We ask that participants submit photographs of their posters taken at the highest resolution in the .jpg format or in the PDF format.
Stevehamm31@gmail.com 914 843 9475
https://reimaginingnewhaven.org/our-poster-contest
Deadline January 11, 2023
GRANTS FOR MEDIA PROJECTS
National Endowment for the Humanities
The Media Projects program supports the development, production, and distribution of radio programs, podcasts, documentary films, and documentary film series that engage general audiences with humanities ideas in creative and appealing ways. Projects must be grounded in humanities scholarship and demonstrate an approach that is thoughtful, balanced, and analytical. Media Projects offers two levels of funding: development and production. Optional drafts are due December 7, 2022, and the application deadline is January 11, 2023.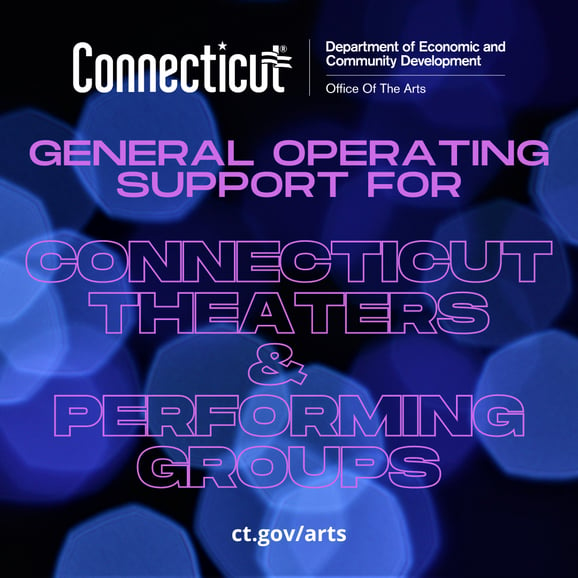 Deadline: on or before 11:59pm 1/ 12/ 23
The Connecticut Office of the Arts will provide general operating support grants funded by the CT General Assembly to support Connecticut's theaters and performing groups as they pursue their mission.
Funding Period:
July 1, 2022 - December 31, 2023
Funds may be applied retroactively towards eligible general operating expenses.
Eligibility:
The General Operating Support for Theaters and Performing Groups Grant Program provides funding for Connecticut based theaters and performing groups whose primary purpose is to present the performing arts to the general public.
Eligible applicants must align with one of the following categories:
• Arts Center: A multi-purpose facility that offers arts programs and/or performances of various types on a regular basis to the public. Must have a theater/performance space with seating. Seating can be mobile or stationary.
• Cinema Facility: A motion picture theater or organization which regularly shows films.
• Performing Group: A group of artists who perform works of art (e.g., an orchestra, theater or dance group). Must have rehearsals and/or public performances on a regular basis (monthly, yearly, etc.).
• Performing Community Group: A group of persons who perform works of art vocationally and who may be, but are not necessarily, directed by professionals. Must have rehearsals and/or public performances on a regular basis (monthly, yearly, etc.).
• Performing Group for Youth: A group which may, but does not necessarily, include children and/or performs works of art for young audiences. Must have rehearsals and/or public performances on a regular basis (monthly, yearly, etc.).
• Performance Facility: A building or space used for presenting concerts, drama presentations, etc.
• Other: If you do not align specifically to one of the above categories, and your primary purpose is to present the performing arts to the general public, then select other and explain. Please be prepared to demonstrate via your uploaded budget that 51% or more of your budget is allocated to the arts (see rules for Eligibility) AND that your budget clearly shows income and/or expenses that align with the purpose and function of a Theater or Performing Group.
Eligible applicants must be a:
• 501(c)(3) not-for-profit arts organization with a core mission, vision, focus, and legal purpose - as stated in their Articles of Incorporation and Bylaws - articulate a commitment to create, perform or present arts activities, programs and performances AND at least 51 percent of their annual fiscal expenditures is allocated specifically to support arts activities, programming, or performances, AND must fall into one of the above noted categories. Arts organizations must have their primary place of business and operations in Connecticut and be in Good Standing with the CT Secretary of the State.
OR
• Theater/performing groups that exist within a Connecticut municipal department, but operate with a stand-alone Board of Directors.
Ineligible:
• Organizations with a primary purpose of education, technical skill building and training (i.e. dance studio/school)
• Organizations that receive legislatively directed carry-forward funds in the FY22-23 State Budget
• Organizations allocated American Rescue Plan Act funds in the FY22-23 State Budge
---Learn more and apply
here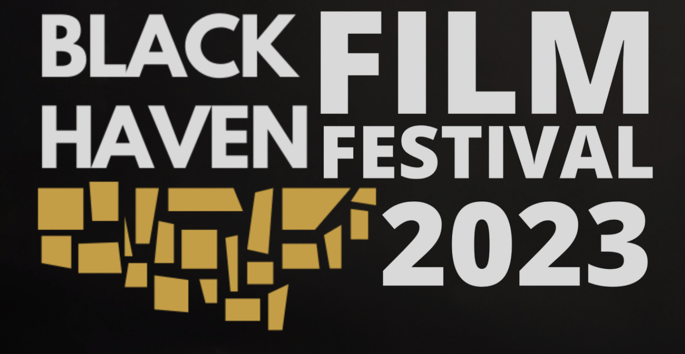 Deadline February 1. 2023
2023 Black Haven Film Festival
Black Haven Film Festival 2023 is exploring the theme "Black Home" through belonging, coming of age, identity, and more. "Black Home" is the theme in which we are calling our filmmakers to submit their interpretation of what Black Home is and means to them.
Black Haven is excited to announce you can now submit your film through FilmFreeway for Black Haven Film Festival 2023 application. Upon your submission being received, an email for to the final portion of the application will be sent out, so keep an eye out!
ONGOING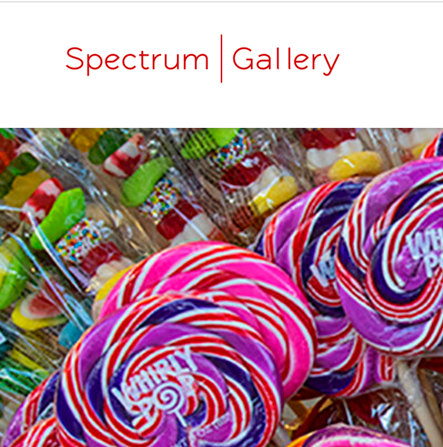 Applications Accepted on a Rolling Basis

Connecticut Small Business Boost Fund

Low Interest loans tailored to CT's Small Businesses and Non-profits

The Connecticut Small Business Boost Fund gives small business owners access to flexible funding for capital expenditures and working capital and connects them with support services. It's a personal, equitable approach to lending, because business owners are more than just numbers on a spreadsheet.

Small businesses and nonprofits can borrow between $5,000 and $500,000 depending on eligibility and need, and can choose how they spend the money — on equipment, payroll, utilities & rent, supplies, marketing & advertising, eligible refinancing, building renovations and other expenses.

--- More information can be found

here

Monthly ongoing shows open into 2023

OPEN CALL FOR ARTISTS

CT Department of Energy and Environmental Protection at the Kellogg Environmental Center in Derby

The Kellogg Environmental Center is an environmental education center for the State Parks system, and we offer a variety of free public programs on the topics of environmental science, ecology, culture, history, and the arts.

Typically, the artists that present have either a virtual or in-person reception, but they also offer the possibility of hosting workshops or classes that the exhibiting artist would teach either in their classrooms or outside. Several picnic tables set up as well as two gardens (one formal, one for native species of plants and animals).





ROLLING CALL FOR BLACK PUBLIC MEDIA = DOCUMENARTIES
AfroPop from Black Public Media / PBS
Short Documentarties 30 minutes or less
BPM brings dynamic stories that celebrate the art, culture, history and creativity of people of African descent from the US and around the world
---Submissions here





Olive and Wooster is a new apartment complex in New Haven. Two dimensional, New Haven themed works are encouraged.

-Contact Darren Seid

darren@epimonicorp.com

with up to ten (10) digital samples or call (203) 826-8703 for more information.
Listed by Deadline Date (The Arts Council provides these listings as a service to the community and is not responsible for the content or deadlines.)
Resources
For Artists
Actors Fund Offers

a broad spectrum of programs, a

calendar of workshops and online resources to support the unique needs of all who work in entertainment and the performing arts
Alliance of Artists' Communities Residency opportunities for artists of all disciplines
ArtDeadlines.com Public art commissions, art competitions, art jobs and internships, art scholarships and grants and fellowships, residencies, art festivals, call for entries/proposals/projects, and other opportunities
Artist Help Network

Resources on artist housing, legal matters, insurance and career help
CODAworx World's largest listing of RFPs and RFQs for private and public commissioned art projects

Connecticut Dance Alliance A non-profit organization dedicated to serving the needs of the statewide dance community and increasing public awareness of dance in all its disciplines
Connecticut Visual Artist Resource Guide

The Visual Artist Resource Guide includes a variety of opportunities and resources that are available to Connecticut artists. While the Guide is focused on visual artists, a number of the resources are also relevant to artists of all disciplines
Creative Capital S

upports innovative and adventurous artists across the country through funding, counsel, and career development services

Creative Placemaking

This Canadian site features a creative placemaking toolkit, free webinars, case studies and more
Creativz

Research and conversation about what artists in the United States need to sustain and strengthen their careers and contribute to their communities

Drama and Theater Resource Guide

Resources about the history and craft of drama and theater, teaching and study resources and theatrical production resources, among many others.
Department of Economic & Community Development, Connecticut Office of the Arts

The Office of the Arts develops and strenthens the arts in Connecticut and makes artistic experiences widely available to residents and visitors.
Freelance Taxation

Offers articles and tools to help freelance artists with financial management, record keeping and tax preparation
Freelancers Union

Nonprofit organization that offers group insurance plans and individual market insurance plans to its members
National Association of Independent Artists

A forum for artists to communicate with one another and other people in the arts community

New York Foundation for the Arts

Comprehensive listing of funding, learning, and exhibition opportunities
Professional Artist

A business magazine for visual artists
Res Artis

An association of organizations offering residencies in over 70 countries
Taking Care of Business Workshop Series

Hear presenters from the 2010 workshop series
TheArtCareerProject.com

An authoritative website on art careers, schools, and artistic professional growth
Poets & Writers P

rimary source of information, support, and guidance for creative writers
Health Insurance
Additional Resources
Have a question? We've got answers!