Listed by Deadline Date
The Arts Council provides
these listings as a service to the community
Not responsible for content or deadlines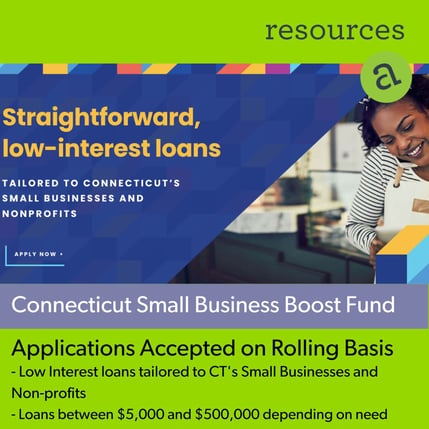 Applications Accepted on a Rolling Basis
Connecticut Small Business Boost Fund
Low Interest loans tailored to CT's Small Businesses and Non-profits
The Connecticut Small Business Boost Fund gives small business owners access to flexible funding for capital expenditures and working capital and connects them with support services. It's a personal, equitable approach to lending, because business owners are more than just numbers on a spreadsheet.
Small businesses and nonprofits can borrow between $5,000 and $500,000 depending on eligibility and need, and can choose how they spend the money — on equipment, payroll, utilities & rent, supplies, marketing & advertising, eligible refinancing, building renovations and other expenses.
--- More information can be found
here
Deadline August 14th
Spruceton Inn Artist Residency
Artist Residents will receive a no-cost, 5-night stay in one of our Kitchenette rooms during the first two weeks of November. (Nov 1-6 or 8-13. Your particular date will be sorted when you are notified of your acceptance.) Plenty of time and space to get into a creative groove on your own, plenty of time and space to connect with other Artists too
--Apply here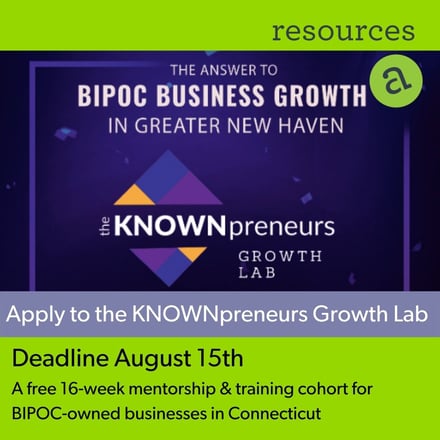 Deadline August 15th
The KNOWNpreneurs Growth Lab
A free 16-week mentorship & training cohort for BIPOC-owned businesses in Connecticut. The KNOWNpreneurs Growth Lab program is designed to specifically support Black, Indigenous, People of Color (BIPOC) owned businesses. As such, the program curriculum and mentors have been chosen to effectively help grow BIPOC-owned businesses in the Greater New Haven area
--Apply here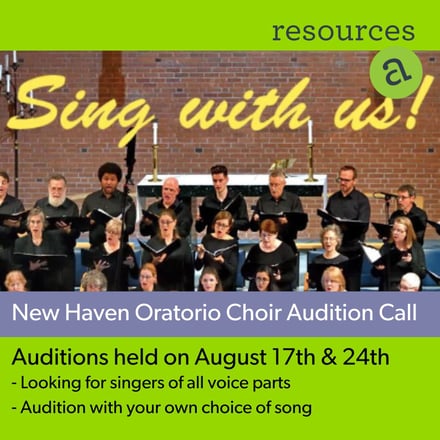 Auditions held on August 17th & 24th
NEW HAVEN ORATORIO CHOIR AUDITION CALL
Auditions are now open for the 2022-2023 season! We invite singers of all voice parts (SATB) to audition for a position in the choir on August 17 or 24, or by appointment. Auditions consist of meeting with our Artistic Director, doing some general vocalizing and performing a 1-2 minute unaccompanied selection of your choice. The actual song can be anything; it does not have to be a classical solo!
--Learn more here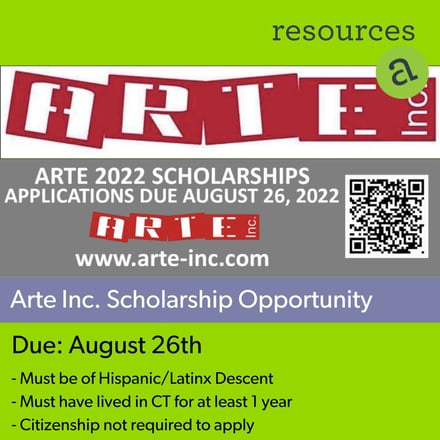 .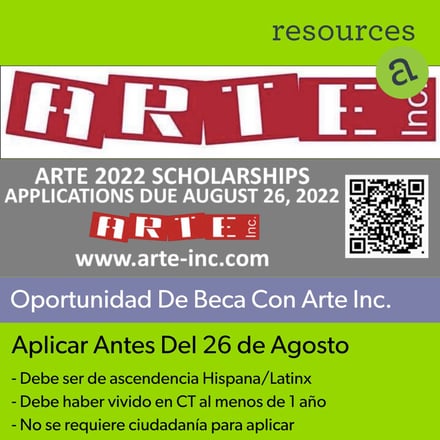 Deadline August 26th
Arte Inc. Scholarship Opportunity
ARTE INC. Scholarship Application Criteria & Guidelines. ARTE Inc. is a non-profit dedicated to cultivating and promoting Latino art, culture, and education. ARTE has awarded over $100,300 in scholarships! Applicants must be of Hispanic/Latino descent and must be a registered resident of Connecticut for a minimum of one year. Citizenship is not required to apply. All awards are based on available funding, financial need, academic achievement and information supplied.
--Apply here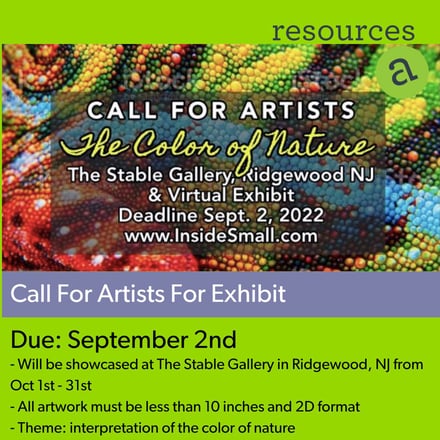 Due: September 2nd
THE COLOR OF NATURE EXHIBIT CALL FOR ARTISTS
The Color of Nature Art Exhibit will be online at the Inside Small website and in-person at the Stable Gallery in Ridgewood, New Jersey from October 1 - October 31, 2022. Each participating artist will also receive an individual feature on the Inside Small's Instagram and Facebook platforms. SIZE REQUIREMENT: ALL ARTWORK MUST BE 10" INCHES or smaller in any direction (NOT including frame, mat, etc.). 2D WORKS ONLY. Space is limited.
---Apply here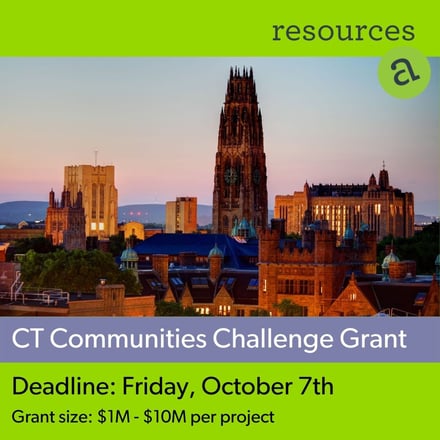 Deadline October 7th
CT Communities Challenge Grant
The Department of Economic and Community Development ("DECD") is undertaking a competitive grant application process to fund multiple projects under the CT Communities Challenge Grant Program in an effort to improve livability, vibrancy, convenience and appeal of communities throughout the state. The Program is intended to potentially create approximately 3,000 new jobs. It is DECD's goal to allocate up to 50% of the funds to eligible and competitive projects in distressed municipalities. Grant size: $1M - $10M per project.
--Learn more here
Application Opens August 1st

Deadline October 7th
NATIONAL CALENDAR ART CONTEST FOR KIDS
15,000 elected county officials will get a copy of this calendar.
Submitted artwork must present a county activity that shows how "Counties Matter" and inspired by the sentence "I love my county because…"
---Details here
---Submit Artwork here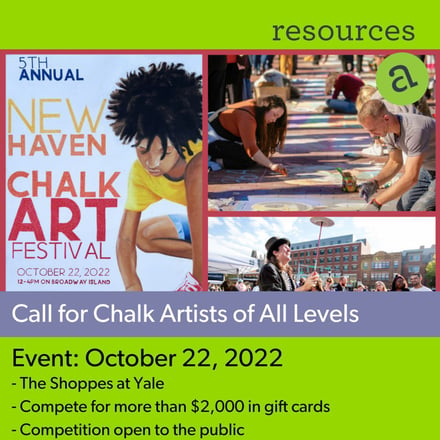 Event Takes Place: October 22, 2022
NEW HAVEN CHALK ART FESTIVAL COMPETITION
This event is a contest open to the public, where artists and artist groups compete for more than $2,000 in gift cards by creating a family friendly 4ft by 4ft fall-themed chalk artwork drawing using washable chalk sticks. Artists will register to compete in one of the following age divisions: Teen (ages 13-17), Adult (ages 18+), or Adult Group (18+ with a minimum of two artists). There is no entry fee, and free chalk, snacks, and parking will be provided to participants.
---Details here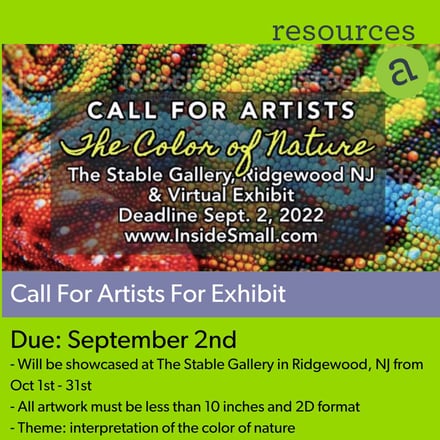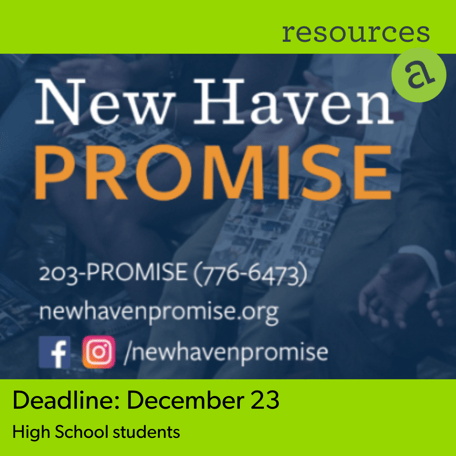 Deadline December 23
NEW HAVEN PROMISE
Open to high schoolers or those about to become high schoolers.
Scholarships and ongoing opportunities.
---Sign up here




ONGOING
Monthly ongoing shows open into 2023

OPEN CALL FOR ARTISTS

CT Department of Energy and Environmental Protection at the Kellogg Environmental Center in Derby

The Kellogg Environmental Center is an environmental education center for the State Parks system, and we offer a variety of free public programs on the topics of environmental science, ecology, culture, history, and the arts.

Typically, the artists that present have either a virtual or in-person reception, but they also offer the possibility of hosting workshops or classes that the exhibiting artist would teach either in their classrooms or outside. Several picnic tables set up as well as two gardens (one formal, one for native species of plants and animals).





ROLLING CALL FOR BLACK PUBLIC MEDIA = DOCUMENARTIES
AfroPop from Black Public Media / PBS
Short Documentarties 30 minutes or less
BPM brings dynamic stories that celebrate the art, culture, history and creativity of people of African descent from the US and around the world
---Submissions here





Olive and Wooster is a new apartment complex in New Haven. Two dimensional, New Haven themed works are encouraged.

-Contact Darren Seid

darren@epimonicorp.com

with up to ten (10) digital samples or call (203) 826-8703 for more information.
Listed by Deadline Date (The Arts Council provides these listings as a service to the community and is not responsible for the content or deadlines.)
Resources
For Artists
Actors Fund Offers

a broad spectrum of programs, a

calendar of workshops and online resources to support the unique needs of all who work in entertainment and the performing arts
Alliance of Artists' Communities Residency opportunities for artists of all disciplines
ArtDeadlines.com Public art commissions, art competitions, art jobs and internships, art scholarships and grants and fellowships, residencies, art festivals, call for entries/proposals/projects, and other opportunities
Artist Help Network

Resources on artist housing, legal matters, insurance and career help
CODAworx World's largest listing of RFPs and RFQs for private and public commissioned art projects

Connecticut Dance Alliance A non-profit organization dedicated to serving the needs of the statewide dance community and increasing public awareness of dance in all its disciplines
Connecticut Visual Artist Resource Guide

The Visual Artist Resource Guide includes a variety of opportunities and resources that are available to Connecticut artists. While the Guide is focused on visual artists, a number of the resources are also relevant to artists of all disciplines
Creative Capital S

upports innovative and adventurous artists across the country through funding, counsel, and career development services

Creative Placemaking

This Canadian site features a creative placemaking toolkit, free webinars, case studies and more
Creativz

Research and conversation about what artists in the United States need to sustain and strengthen their careers and contribute to their communities

Drama and Theater Resource Guide

Resources about the history and craft of drama and theater, teaching and study resources and theatrical production resources, among many others.
Department of Economic & Community Development, Connecticut Office of the Arts

The Office of the Arts develops and strenthens the arts in Connecticut and makes artistic experiences widely available to residents and visitors.
Freelance Taxation

Offers articles and tools to help freelance artists with financial management, record keeping and tax preparation
Freelancers Union

Nonprofit organization that offers group insurance plans and individual market insurance plans to its members
National Association of Independent Artists

A forum for artists to communicate with one another and other people in the arts community

New York Foundation for the Arts

Comprehensive listing of funding, learning, and exhibition opportunities
Professional Artist

A business magazine for visual artists
Res Artis

An association of organizations offering residencies in over 70 countries
Taking Care of Business Workshop Series

Hear presenters from the 2010 workshop series
TheArtCareerProject.com

An authoritative website on art careers, schools, and artistic professional growth
Poets & Writers P

rimary source of information, support, and guidance for creative writers
Health Insurance
Additional Resources
Have a question? We've got answers!