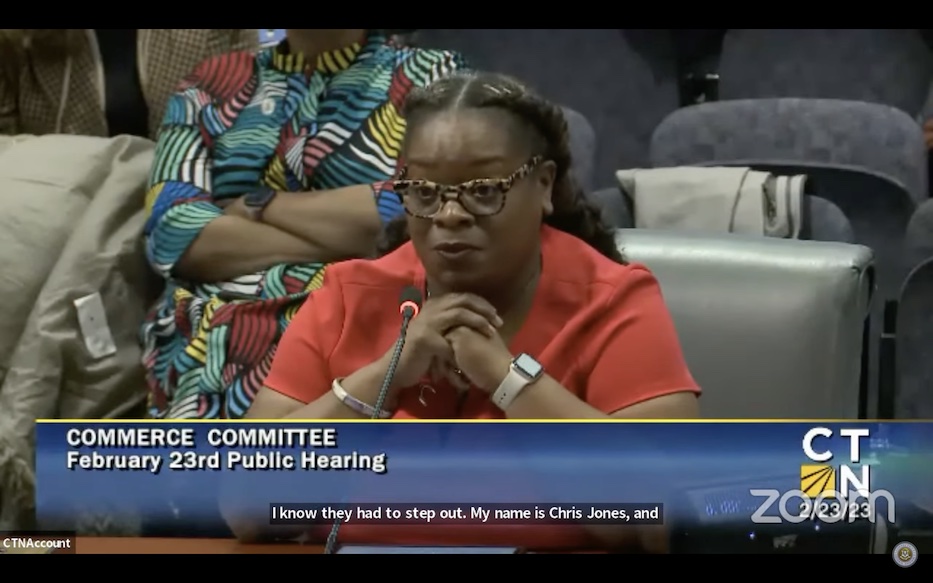 Culture & Community | Politics | Arts & Culture | State Legislature | Arts & Anti-racism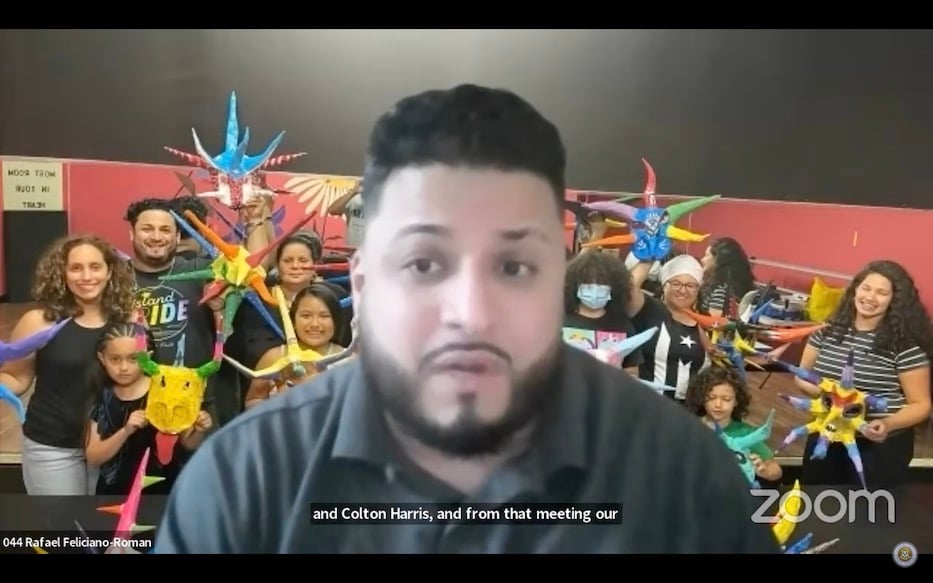 Rafael Feliciano-Roman. Screenshot from Connecticut General Assembly YouTube.
When Waterbury's Afro Caribbean Cultural Center launched in 2021, co-founder Rafael Feliciano-Roman didn't know how it was going to survive. Then it received state funding—and he watched it soar.
Now, he's asking legislators "to take a leap of faith," and fund Connecticut's artists and cultural organizations at an unprecedented $58.5 million, so that they can continue to thrive.
That ask took center stage last Thursday, as legislators on the state's Commerce Committee listened to over six hours of testimony for raised House Bill 6692, "An Act Authorizing Certain Arts, Culture, and Tourism Grants." Proposed last month by Republican State Sen. Heather Somers, who represents Groton and co-chairs the Arts, Culture & Tourism Caucus, the bill would change how the sector is funded—and how funds are distributed—as early as this budget year.
It is most directly inspired by the 2021 creation of the multi-year, $30.7 million CT Cultural Fund, which has provided emergency operating support to arts and cultural organizations, and a new "Funding Roadmap" that proposes an overall $58.5 million in state funds for arts, culture, and tourism. In all, well over 100 people submitted written testimony in favor of the bill, while over two dozen more joined to testify in person and over Zoom.
"Over the past six years, this sector has blossomed," Somers said in a Zoom call with the Arts, Culture & Tourism Caucus last month. "We have great momentum going. We have great collaboration between industry and the arts and our administration and the legislature. We just need to continue the push and push it over the finish line. This is way overdue. We really need to make an investment ... this is an investment in Connecticut, in our future."
"I think that it's really, really important for us to continue this process and to continue to generate the support for the investment," she added Thursday. "It's not an expenditure. It's an investment in so many ways here in the state of Connecticut that reaps wonderful rewards in so many ways. Economically, and philosophically, and spiritually, and existentially. It makes us have a wonderful place to offer for people to come and to live."
The Roadmap & The Bill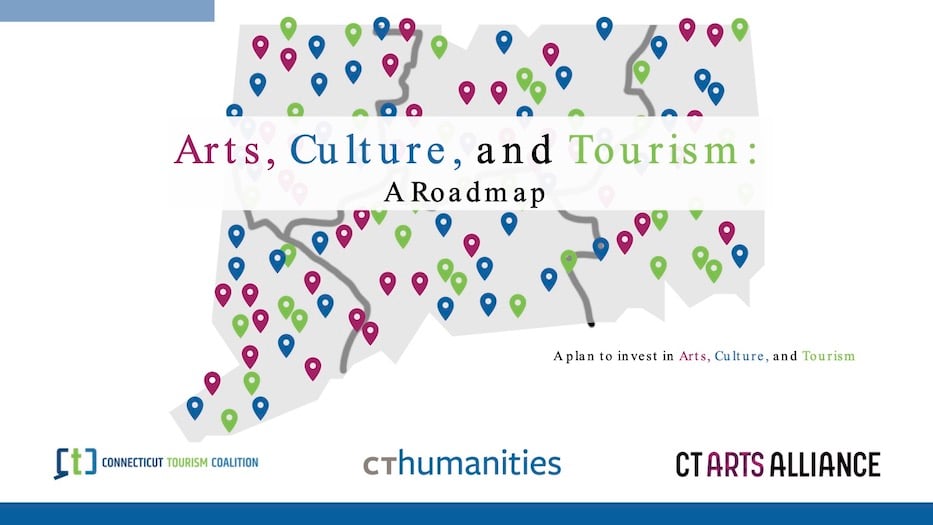 The framework for that investment is the Funding Roadmap, a new collaboration among the CT Arts Alliance, CT Humanities, and the Connecticut Tourism Coalition that would boost arts, culture and tourism to nearly $60 million per year. Last year, the sector received $43.9 million, in a mix of state funds and federal American Relief Plan Act (ARPA) dollars. Within that number, $21.4 million went to the Connecticut Office of Tourism.
Currently, the proposed $58.5 million is divided into five buckets: $25 million for the Connecticut Office of Tourism, $17.5 million for the CT Cultural Fund, $8 million for arts, culture and tourism line items, $5 million for Connecticut Humanities and the Connecticut Office of the Arts, and $3 million for sector-wide workforce development. In that plan, funding comes from a range of sources, including the lodging occupancy tax, car rental tax, and tax revenues from online gambling.
The push for more funding comes as federal ARPA dollars are drying up. Thursday, CT Humanities Executive Director Jason Mancini said that without sustained dollars from the governor's budget, agencies like the Connecticut Office of the Arts and CT Humanities will not be able to support arts and cultural organizations at the level they have during the pandemic.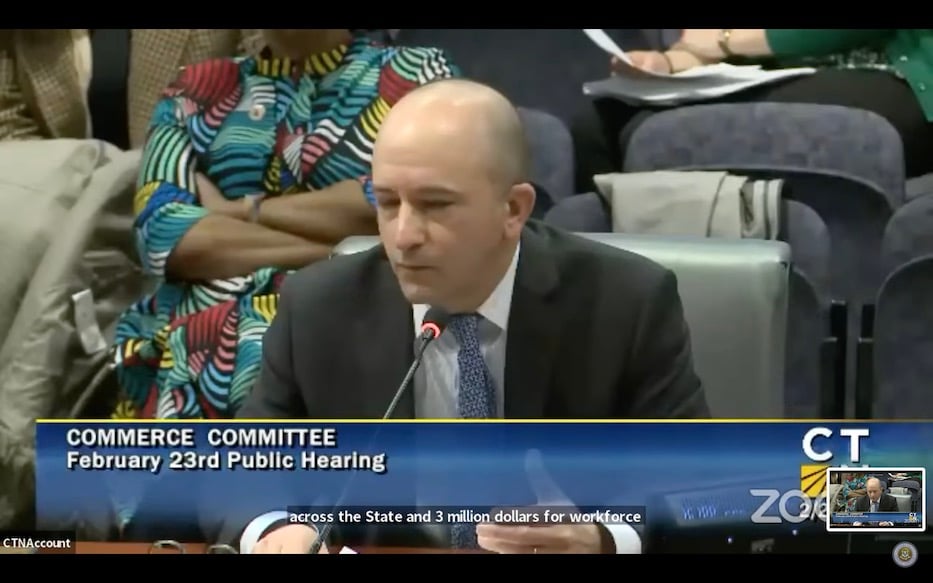 Jason Mancini, who is currently the executive director of Connecticut Humanities. Screenshot from Connecticut General Assembly YouTube.
He noted that a cut in funding could shutter small, already-stretched organizations and cause layoffs and budget cuts across the field. As the former executive director of the Mashantucket Pequot Museum and Research Center, he's seen firsthand how transformative an influx of funding can be.
"The message is clear," Mancini said Thursday. "Our organizations, our cultural institutions, want funding that is meaningful, reliable, and equitable," he said Thursday. "This will help us to become strong, vibrant communities and organizations that best serve our citizens."
Since its launch in 2021, the CT Cultural Fund has provided operating support to over 1,350 cultural nonprofits across 140 Connecticut cities and towns, as well as to two tribal nations.
Some of them include first-time grantees like the Afro Caribbean Cultural Center, Eastern Pequot Tribal Nation, and New Haven's The Majorette & Dance Factory. In his testimony, Majorette & Dance Factory Director Johnny Johnson said that the organization was able to use its $5,300 towards mentorship, rehearsal, and performances—and keep its doors open for the dozens of young people who rely on dance as a form of healing.
"It can help so many small businesses prosper when the chance to do all we would like seems bleak," Johnson said in his testimony. "We appreciate all the effort the committee has put forward to make sure this can happen to us as well as others."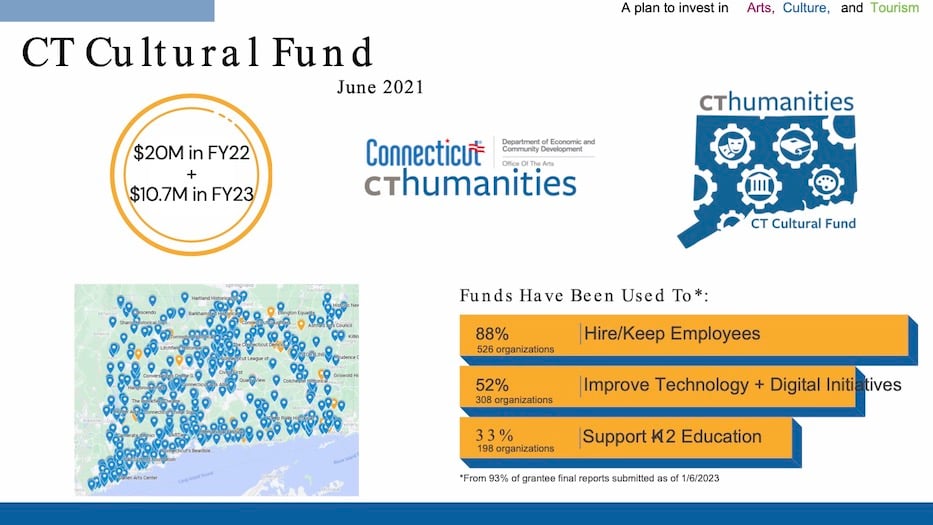 Mancini and fellow arts advocates added that funding arts, culture and tourism can grow Connecticut's economy well beyond the sector. Prior to the Covid-19 pandemic, the sector was responsible for 175,000 jobs and $40 billion in statewide revenue, according to the Connecticut Tourism Coalition. In 2015, Americans for the Arts found that sector had a large return on investment: people spent an average of $31.47 per person for any one arts or cultural event that they attended. Those include nearby restaurants, bars, parking, and childcare.
The Office of Tourism has seen that: visitation numbers have been at record levels since the office received $21.4 million. In the past two years, the occupancy rate has risen over 12 percent. Short-term rental revenues are up almost 20 percent, as are hospitality jobs. In 2021, state parks set a new record with 13 million annual visitors.
As the state reopens, Mancini said, it can help Connecticut bounce back. He added that the timing is key: Connecticut still trails New York and Massachusetts in funding for arts, culture and tourism. In 2026, what is now recognized as the United States will celebrate its 250th birthday. In 2035, Hartford will observe its 300th birthday. He'd like to see Connecticut—where the state motto was until recently "Still Revolutionary"—have a tourism strategy ready to put into practice for both of those milestones.
"The studies have shown that we are not competitive, that we need this added boost to be competitive with our neighboring states and to be competitive with states that are a similar size," he said.
State Rep. Dorinda Borer, a Democrat who represents West Haven, pressed Mancini on the job cuts that he expects to see if the sector does not receive adequate state funding. She pointed to jobs that were only made possible—or retained—because of an infusion of ARPA dollars that the state received. Mancini nodded as she spoke.
"These are all the people doing the programs, the services, running online programs now, these are the front lines," he responded. "These are the curators and exhibit makers that are telling the stories. They're the ones that are going to be left behind."
Somers cleared her throat. "What do you think's gonna happen if you see this funding going in the wrong direction?" she asked. She recalled making visits to small, already-stretched organizations "that would not have survived" without emergency operating support.
"There are a lot of organizations in the state that are not whole," he said. "We still have a lot of work to do. We still have to build a cross-sector connecting with our educators and students, our visitors and our businesses."
"We're More Than A Pit Stop!"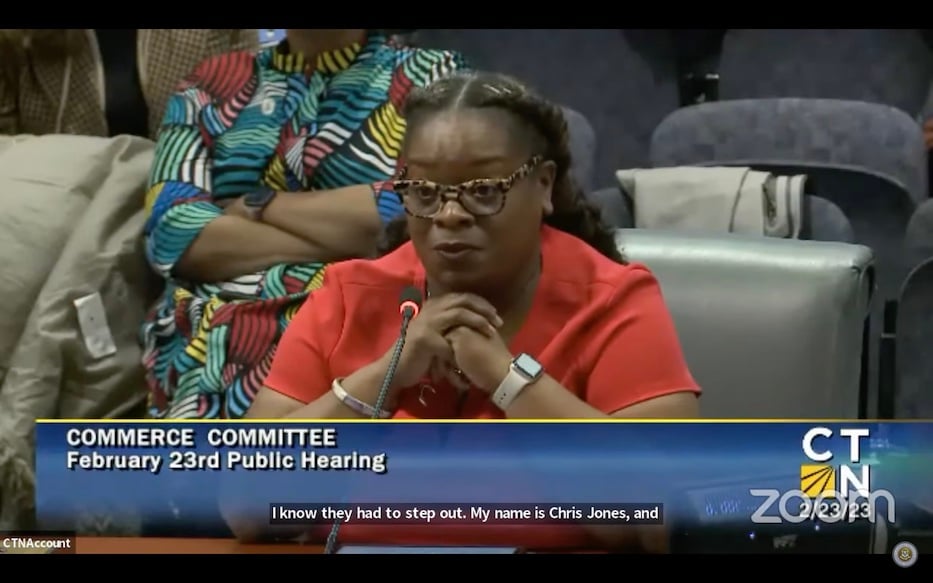 Calida N. Jones. Screenshot from Connecticut General Assembly YouTube.
Thursday, dozens turned up in Hartford and on Zoom to testify, as hundreds more submitted written testimony from all over the state. Together, they represented fledgling arts institutions, house museums, small theater and dance companies, aquarium educators, and regional service organizations. It was a snapshot of the full spectrum of cultural work, from maritime history to storytelling in Connecticut's Hmong community.
Speaking early in the day, violinist and CNJ Associates Founder Calida Jones stressed the importance of funding arts and culture both fully and equitably as the state votes on its budget for the next fiscal year. As the board president for the Connecticut Arts Alliance, a graduate of the Hartt School and a proud resident of Windsor, she noted that Black artists, Indigenous artists, and other artists of color have for years been locked out of state funding.
She added that she is heartened by the roadmap—but sees it as the beginning of a vital and long overdue conversation.
"There continues to be challenges with consistency in how funds are allocated statewide," she said. "I remain hopeful that if our state truly wants to be inclusive and truly equitable, there will be a disruption in the way money is allocated across the state. I'm hopeful that agitating the current systems, processes and voices in the decision room will shake up our current funding practices."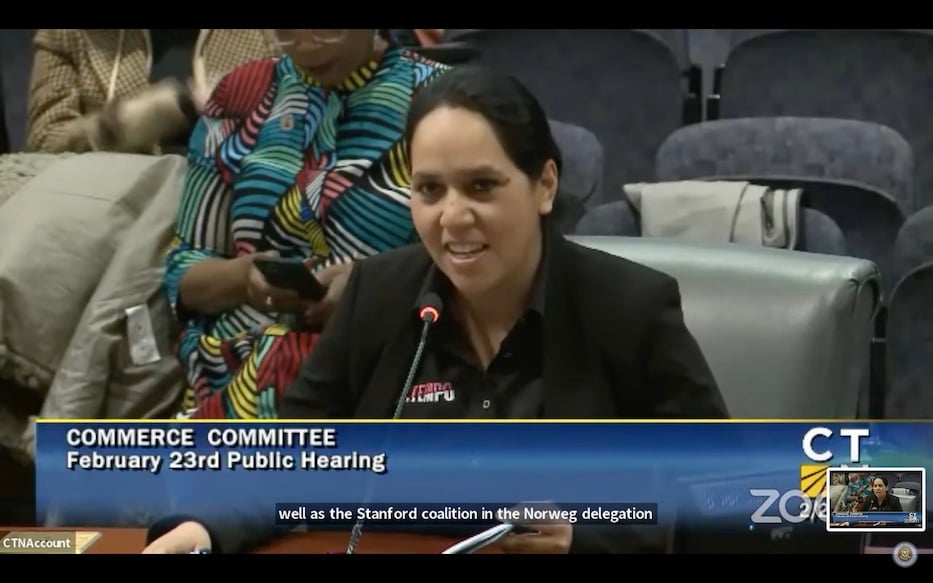 Ecuadorian American violinist Angélica Durrell, founder and executive director of the Stamford-based organization Intempo, pointed to the need for funding among organizations that reflect an increasingly diverse Connecticut. Intempo, founded 12 years ago, uses music and folkloric instrumentation as a teaching tool, opening a cultural gateway through the arts.
Working with the Stamford and Norwalk Public Schools, the organization serves over 700 students a year. For her, when Intempo receives support, it means supporting partnerships that are already in place, including with the Stamford Public Library, Stamford Public Schools, and summer programs for kids.
Recently, Durrell said, Intempo released a national call for a communications associate. One of the most frequent questions she received was "Why would I move to Connecticut? What would make me want to go to Connecticut?" She wants to be able to say that it's a state that supports its artists.
"When we talk about arts and culture, I really want to highlight cultural equity, artistic equity, and the fact that cultures are not a monolith," she said. "That's one of the ways that this bill will support those who are doing this work."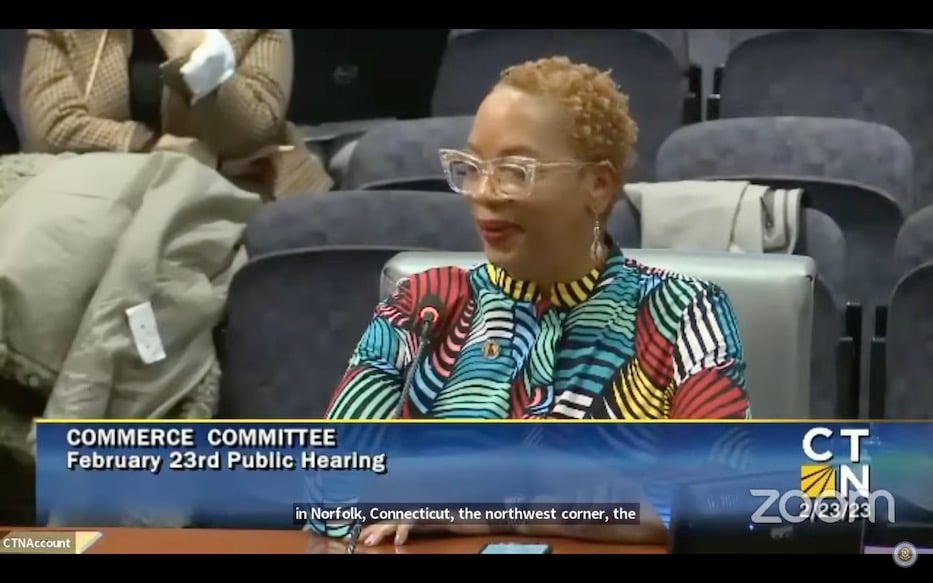 Taking a seat to testify almost three hours into the hearing, Greater Hartford Arts Council CEO Rev. Dr. Shelley Best urged legislators to support arts, culture, and tourism funding as a matter of creating "an equitable arts ecosystem" in Connecticut. The child of a concert pianist—who was barred from playing because of her race and her gender—she's seen firsthand how bias and discrimination are still baked into the arts in this country.
In part, she said, that means helping arts organizations as they navigate a new normal. As Connecticut nears the third anniversary of the Covid-19 shutdown, "arts is what brings people out," she said. "It makes people be a part of community."
Echoing both Mancini and Brett Thompson, executive director of the Connecticut Arts Alliance, Best pointed to the economic impact of the arts on Hartford alone. Last summer, over 175,000 people attended arts events in the city. Over 1,270 artists worked at those events. "That means we're generating over $5.5 million through the arts," she said. "As you uplift the arts, you uplift the entire state."
"We are more than a pit stop between Boston and New York!" she said to a few laughs. "We are existing here as an arts ecosystem!"
Speaking late in the day, Feliciano-Roman took legislators back in time before delivering his final pitch. As a kid growing up in Waterbury, Feliciano-Roman loved the Brass City, so much so that he interned for State Sen. Joan Hartley when he was a teenager. At the same time, he struggled to find support as an Afro-Latino artist. After graduating high school, he left the state, spending time in Chicago, New York, and Puerto Rico, and Massachusetts. It was in those places that he grew his craft as a vejigante mask artist.
Then at the beginning of the pandemic, "I chose to come back home" to help his family. He kept thinking about how to support arts and culture in the district. Two years ago, "ten amazing women of color and myself" founded the Afro Caribbean Cultural Center (ACCC) as a way to celebrate and amplify their traditions and culture. It was through the state's EMPOWER Grant Program that they were able to take flight.
"We literally, truly would not be alive or in existence today," he said, adding that the organization is still completely volunteer run. With the grant, the ACCC was able to grow its programs, add arts and crafting activities, and most recently partner with Seven Angels Theatre to launch the Pa'lante Theater Company. The group's first play, titled Calling Puerto Rico, premiered earlier this month.
"In year one we truly have come out like a phoenix," he said. "The art and culture that we're producing and creating is conscious cultural tourism that is reflective of the beautiful, rich, Afro Latine Caribbean Black and Brown communities. "
"Please take a leap of faith," he added.
Dayna Snell, executive director of the Queen Ann Nzinga Center, pointed to the Connecticut Cultural Fund as a lifeline during the past two years. In 2021, the center received $10,600 from the fund. Then in 2022, the center received $7,600. Together, the funds helped bolster youth programming and support employees and rent at the center, which is now over three decades old (Snell is herself a fourth generation Plainville resident).
Snell stressed the need for such funding to continue. Like many organizations, the center tries to keep its programming free or at very little cost to the community, to remove a potential barrier to access. To do that, it needs outside funding.
"Our youth never stopped having programming," she said. "We were able to provide that same service for the community virtually. Our beneficiaries were not only the children in the programs, but we supported families, institutions, constituents, people at risk, people of color, and the community. Holistically, we have been able to get in the game."
Sarah Ficca, now a communications manager at the Arts Council of Greater New Haven, hung onto those words later in the day. Speaking late in the afternoon, Ficca remembered her own years as a self-described "struggling artist," during which she was unable to access the same kind of resources she now helps distribute and promote.
Years ago, she lived illegally in New Haven's Daggett Street Square, which was ultimately shut down by the city's anti-blight Liveable City Initiative in 2015. At the time, the Arts Council was still a paying membership organization, and she couldn't afford it. It is now free and open to artists, with several affiliate programs like fiscal sponsorship and free rehearsal and performance space.
"I think of all of the things that could have helped me that I didn't have access to," she said. She thinks of what a difference it could have made for her, and hundreds of artists in the same place, had there been the funding to make those services accessible at the time. In the interest of transparency, the Arts Paper is a program of the Arts Council but is editorially independent from it.
"I'm not sure where we'll end up," State Rep. and Committee Chair Stephen Meskers, a Democrat who serves Greenwich, said hours in, as the line for live testimony began to empty out. "This is a wrestling match, and allocations of a budget which is a complicated affair, but I guess what I can tell you is I'll probably be staring up at the ceiling a couple of times as we try to balance the equation, and you'll be making me stare at the ceiling."