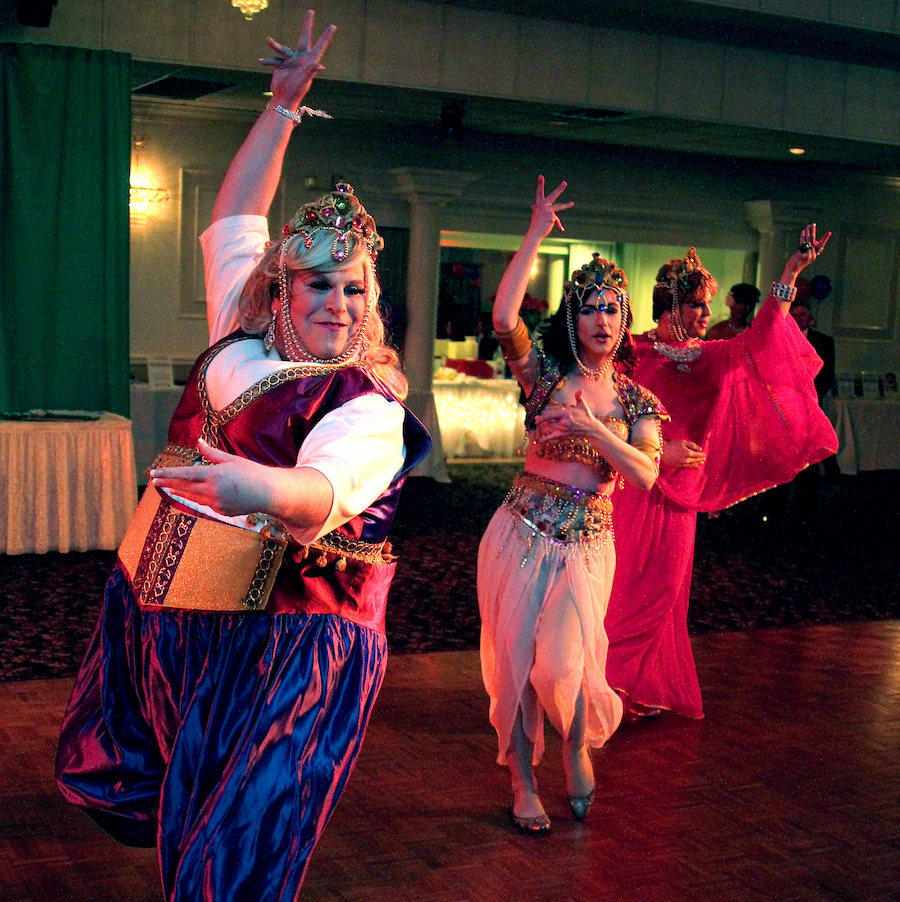 Drag | Hartford | LGBTQ | Arts, Culture & Community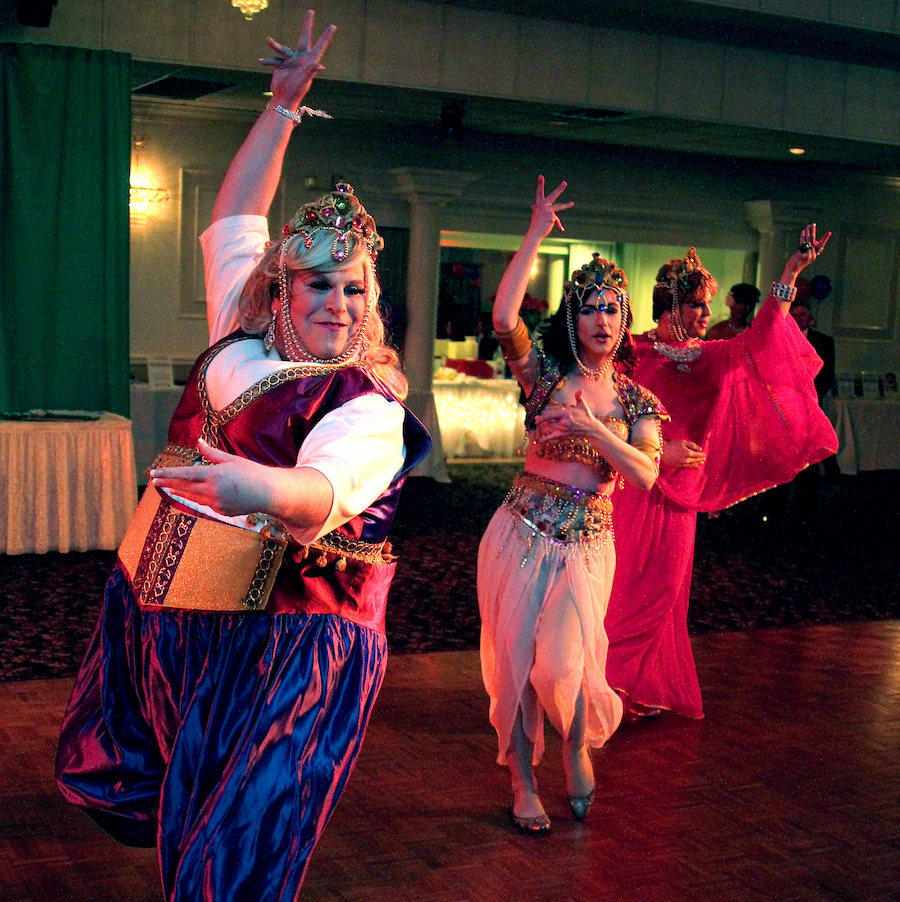 Photo courtesy of the Imperial Sovereign Court of All Connecticut.
There's a certain scene that greets Kiki Lucia exactly once a year. The room is packed. Long gowns and tight corsets multiply, high heels tap the floor. A few kilts swish about the room. Conversation rises; glasses clink and get refilled. Not a hair is out of place—on her head or any others. Two crowns glint nearby, ready to transform mere mortals into royalty.
This February, members of the Imperial Sovereign Court of All Connecticut (ISC or ISCofallCT) will gather in Hartford to crown Kiki Lucia and Jonathan Cuebas Empress and Emperor XX of the organization, a milestone that marks two decades of queer service to nonprofits in across the state. The evening—called the Coronation for its crowning of new royalty—is set to usher in at least 20 more years.
To understand the court, in part, is to understand a history of resilience and community. In 1965, the first iteration of the court was founded in San Francisco by José Sarria, a drag queen and political activist who shattered ceilings in 1961 when he ran for a spot on the San Francisco Board of Supervisors. Four years after that campaign, he formed the first court in San Francisco, satellites slowly sprouting along the West Coast (Portland, Ore. was one of the first) and then around the country.
It marked the beginnings of what would ultimately be Sarria's 43-year reign and dedication to the system, during which he performed under the drag personas the Grand Mere, Absolute Empress I de San Francisco, the Widow Norton and simply Mama José, as he was known to many court members worldwide. Today, there are over 70 chapters across the U.S. and Canada, with several concentrated in the New England region.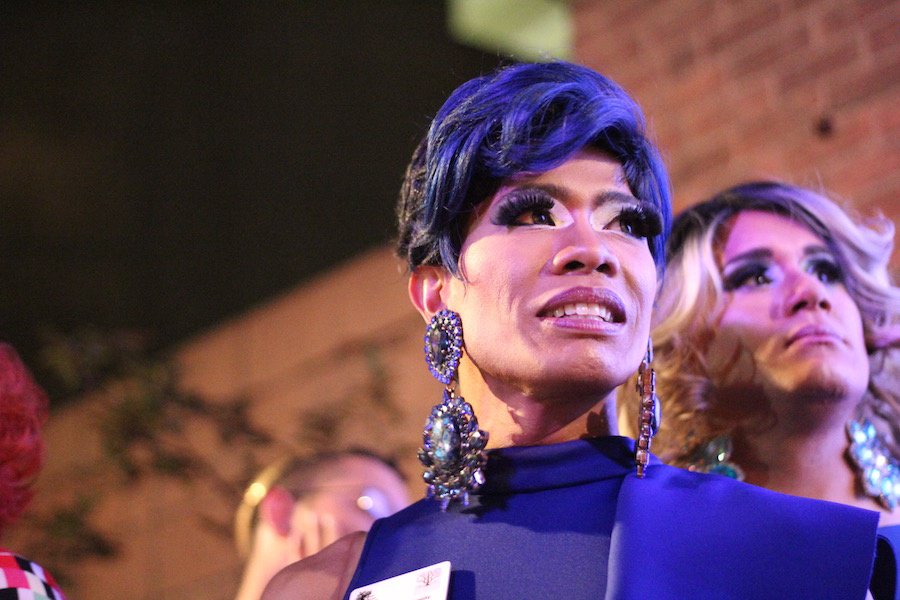 Empress 18 of Reign 2017 Lucia Virginity at Dragapalooza last year. Lucy Gellman Photo.
Those promising beginnings made their way to the East Coast (and up into the rockies and the Midwest) by the 1980s and 1990s. At first, courts ruled regionally: there was an Imperial Sovereign Court of New England, comprising Connecticut, Rhode Island, and New York. But the model was unwieldy: New York City alone was mammoth, with its own distinct culture. Sarria decided that he wanted courts to have statewide reigns, giving rise to something called the Nutmeg Empire in Connecticut.
The Nutmeg Empire was governed by a larger board, and ran into intractable conflicts with the international court system in the late 1990s. According to Morgana de Luxe (a.k.a. Michael Morgan), who acts as court historian and served as Empress MMXIII, the national council had asked for information that the Nutmeg Empire didn't want to provide. When they refused, they lost their recognition, but remained a named entity in the state. While some of the Empire's members split, others stayed on, laying out the plans for a new monarchy that could stand the test of time.
There were murmurs of an old-new court system that could still hold to several of the Nutmeg Empire's founding principles, and also abide by the national court council's rules. Founders emerged: queens Brandy Alexander (a.k.a. John Roush), Cassandra Fiore, and de Luxe, whose own drag identity was still developing at the time. So while the Nutmeg Empire dug in its heels without formal recognition, the ISC began to form its board, balance its books, and run events in the city.
"There was a tension between us … You would go to certain functions and there were both courts, and people from both were there," de Luxe recalled in a recent phone interview, adding that she felt like a spokesperson for both most of the time. "The Imperial Sovereign Court, in my eyes, always took the higher road."
"We all believed in the organization," added Fiore, a founding member of the court who also served as Empress V and remains an active member today. As not to step on the Nutmeg Empire's toes, the ISC developed a different naming system to keep track of its reigning royalty. It was formally incorporated in 1999.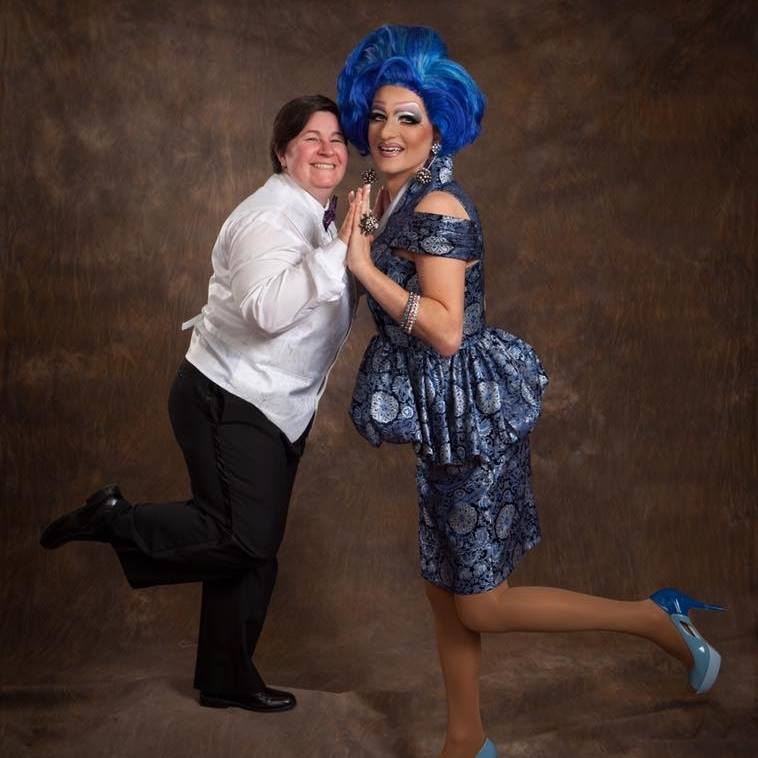 Emperor 2015 Dustin D. Cobwebs and Empress 2015 Dandy Lions. Photo courtesy of the Imperial Sovereign Court of All Connecticut.
In the court's fledgling years, Hartford was also figuring out its queer identity. In 1990, Bridgeport State Rep. Joe Grabarz, Jr. was the first Connecticut legislator to come out as openly gay, an announcement that earned him both threats and hate mail and displays of support across the state. A year later, the state legislature narrowly passed a bill banning discrimination on the basis of sexual orientation, marking slow progress for LGBTQ+ rights in the aptly titled "land of steady habits."
Outside the capitol building, Hartford was sizzling. The city had a thriving house system, known for annual drag balls and events given by the House of Pleasure, House of Nations, House of Flava and others through the late 1990s. Elsewhere in the city, people could find the pom-pom welding Hartford Harlettes, a sort of campy all-drag cheerleading squad that still performs today.
For Morgana de Luxe, the Harlettes became an unexpected entry into the court. While performing with the group at Hartford's Community Center Cabaret, she began to meet figures associated with the Imperial Sovereign Court system, including then-Empress Bambi Lee. The idea of the court tickled her: though she had grown up in West Hartford, she hadn't ever encountered anything like it. She joined the Nutmeg Empire, and stayed on to build the ISC.
"I think I found my niche," she said. "I was a theater major in college [Michigan's tiny Siena Heights University], so I get to perform and act and portray a character, I'm still motivated to stay involved."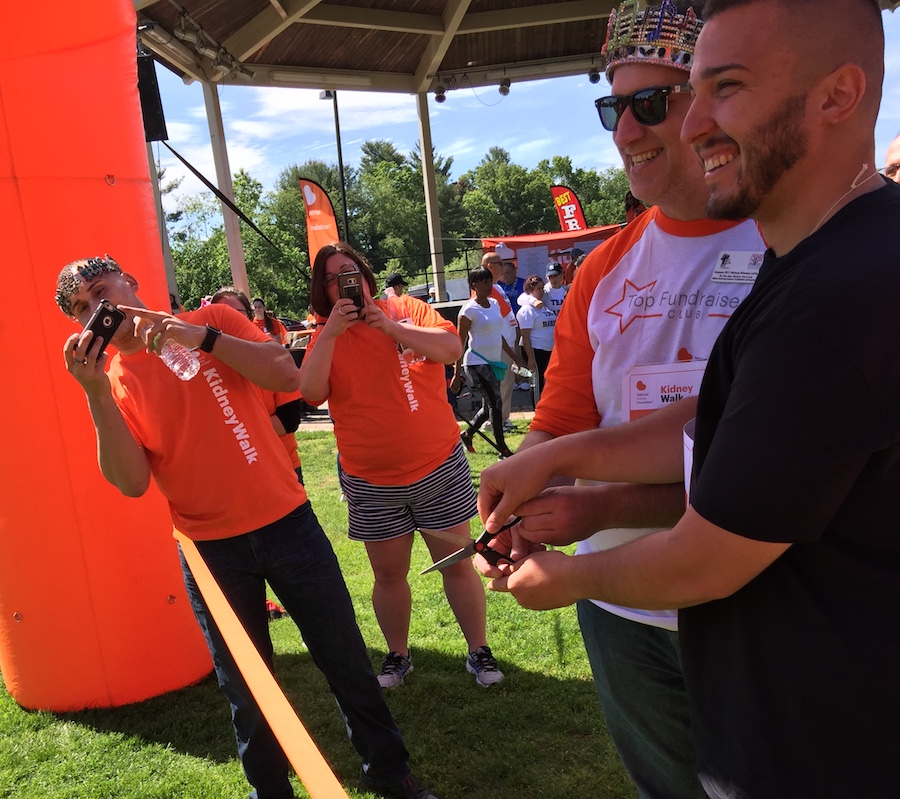 Photo courtesy of the Imperial Sovereign Court of All Connecticut.
That niche has never gone away. Not even a year in, de Luxe found an immediate, and lasting, sense of family. Raised as one of eight boys in a "very Irish-Catholic household," she hadn't experienced a world where being effeminate, or liking "girly" things, was acceptable. During Michael Morgan's childhood, she recalled, "girls that acted like boys were tomboys, and boys who acted like girls were sissies." But de Luxe—who tried to use the term tomgirl, and found that it never quite caught on—liked theater and ballet, activities that attracted bullies in school, and later, bullies who threw verbal slurs in public.
But in the court, she was embraced immediately for exactly who she was, and excited to spread the gospel of the court. During her reign in 2013, she and Emperor MMXIII Trevor Reynolds (who is also her partner) were the first to break $30,000, money that went to AIDS Project New Haven (APNH), the Connecticut Breast Health Initiative, and St. Philip House.
The two devised new initiatives, including a drag brunch at the Pond House Cafe in Elizabeth Park that became wildly popular among not just members of the court, but also straight people who had never heard of the system before. Its beginnings were modest: she and Reynolds footed the bill because they believed in it, and waited to see if folks would turn up. They did, eventually in droves. Years later, their annual "Life's A Drag, Let's Do Brunch" has become a beloved community event.
The two also worked to form fundraising events across the city, and multiple parts of the state. Because they were supporting the Breast Health Initiative, they completed a fundraising walk for the cure in drag, drawing stares and smiles as they made their way through a New Britain course.
"One of the traits my father taught us is you have to give back to the community that you're in and be grateful for the gifts that god has given you," she said.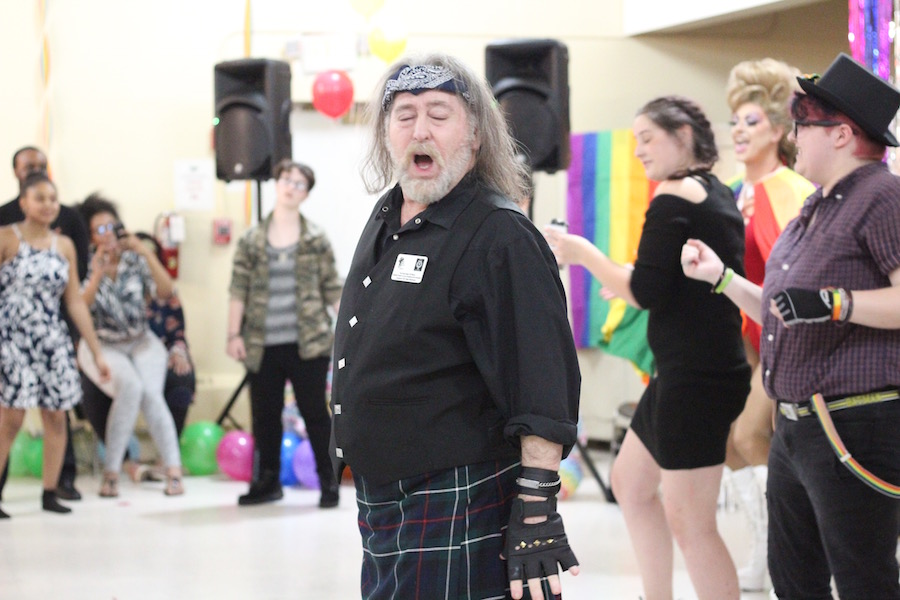 Emperor XIX Dale A. McKinzie at Pride Prom last year. Lucy Gellman Photo.
As the two completed their tenure, de Luxe recalled distributing funds to organizations, and realizing what a difference the money had made. When she handed a check for $7,500 to APNH Director Chris Cole, he did a breakdown that stunned her—how many more meals he could give to APNH's Caring Cuisine program.
"What I love about the court is its fundraising—it's selfless," said Reynolds, who first became involved when he met and then started dating Morgana de Luxe 17 years ago. Like his partner, Reynolds hadn't always felt at ease as himself in social situations. In his 20s, he was married to women, ultimately coming out when his son was 11 years old. For years, it put a strain on his relationships—he was "the faggot, the queer, the homo" to his son's friends.
And then in the late 90s, he met Morgana and the extended ISC family. The rest was history.
"Standing here in front of this crowd, that's what I love," he said. "Being able to raise thousands of dollars for an organization in one event. It's the camaraderie. It's a brotherhood, it's a sisterhood, it's a feeling if we're all here for the common good."
"It's not perfect," he added. "Like all organizations, we have our trials and our tribulations. We're like a family … in the end, when the rubber hits the pavement, we all know what to do, and it's amazing. And that's wonderful."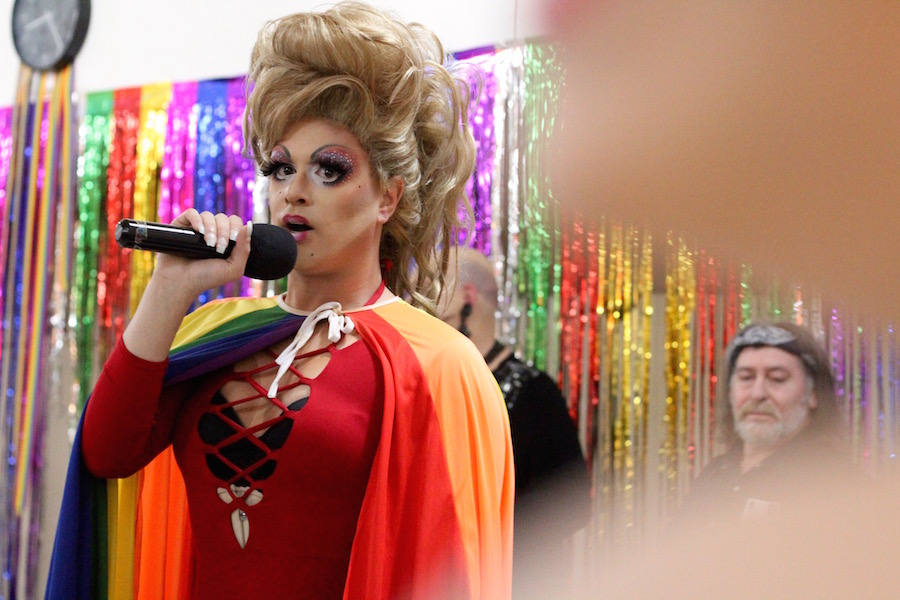 Empress

Kiki Lucia

at Pride Prom last year. Lucy Gellman Photo.
Other founding members found that the court had a way of coming to them. Before she ever had heard of the Nutmeg Empire or the Imperial Sovereign Court, Cassandra Fiore was living in Boston, acting and modeling at the Barbizon School. There was no reason, it seemed, to ever leave Massachusetts: her classmates gave her a crash course on what it means to be gay in the 1990s, and she loved the city's vibrancy. Then she met the man who would become her husband of 25 years—and he lived in Connecticut. Two years later, they were in Norwalk.
"When I moved there, I was kind of depressed," she recalled in a phone interview last month. In the hopes of pulling her out of her doldrums, a friend suggested getting involved in a performance of Whoop-De-Doo! at the nearby Triangle Community Center, which has since been one of the ISC's beneficiaries. With fellow cast members as her guides, she began navigating the drag scene in the region, a queen named Monique—"she was bigger than life," Fiore recalled—opening doors to a new, wondrous world.
When Monique died suddenly in the mid 1990s, Fiore continued that rich legacy, visiting drag balls across the region before joining the Nutmeg Empire herself. When it dissolved, she stayed on to help found the ISC.
In the beginning—and even today—Fiore's role became part-cheerleader, part-watchdog. A longtime member of the board of directors, she said she tends to get into the weeds—policies, procedures, and bylaws that have to be in order, and finances that she can keep an eye on.
But she's also been responsible for growing the organization's footprint in some of its earliest years. After attending one of the first-ever Dorothy Awards, the annual fundraiser for the New Haven Pride Center, she returned to the ISC and suggested that members go every year, because she could see the event's potential. She was right: the Dorothy Awards have grown to one of the best attended and celebrated queer events in the state.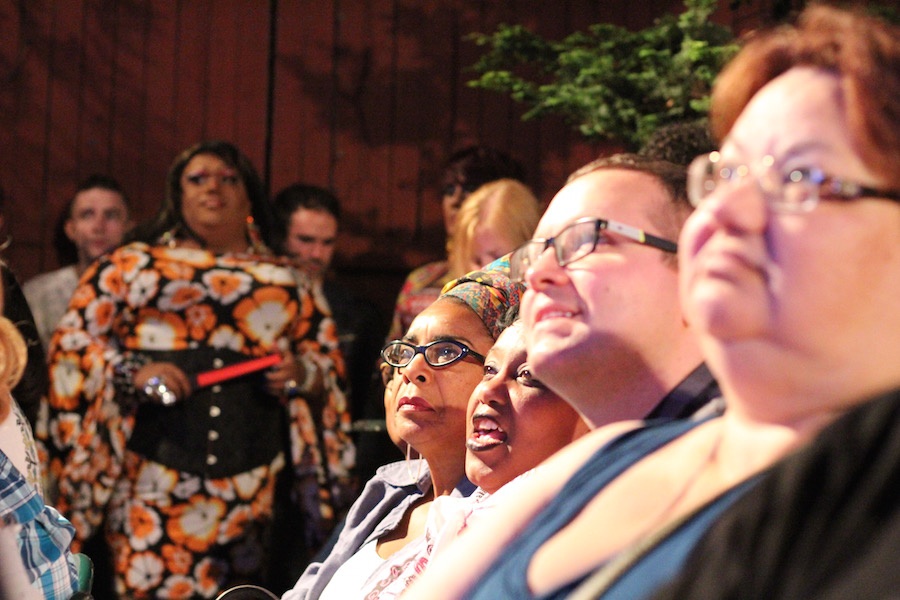 In 2004, Fiore was crowned Empress V, serving with Jason Belanger (who also served as Emperor VII). As she and Belanger raised funds, they received accolades from fellow ISC chapters in Massachusetts, Rhode Island, and New York, and from the Mayor of Hartford. Since, she said, she has viewed it as a duty to look out for the court, and give out information to some of its youngest members.
It has made, she said, one of the single most meaningful impacts on her life. When Sarria died in 2013, Fiore remembered looking across the room to her husband, and saying "I need to find a way to be there" for the funeral. Just days later, she was in San Francisco bidding him a final farewell.
"José started this without realizing that the people who started this organization, 54 years later, found friends and family," she said. "It's not about crown, jewelry, the hair. Some of the people in the organization, they're family. We're always there for one another."
In the intervening years, two decades of emperors, empresses, and the monarchs beneath them have taken cues from their predecessors, putting their own spin on events while raising almost $40,000 a year for nonprofits across the state. From fledgling drag brunches have sprung new initiatives like an annual Pride Prom, held last year in New Haven.
Or a raucous celebration named Dragapalooza, inaugurated by Dandy Lions (a.k.a. Shawn Miller) when she served as Empress in 2015. During those years the court has also deliberately grown its presence in the state, holding a drag workshop at the state's annual True Colors Conference at the University of Connecticut.
In all, that has translated to millions of volunteer hours, emotional support, and hundreds of thousands of dollars donated to community organizations including True Colors, AIDS Project New Haven (now renamed A Place To Nourish Your Health), the Jim Collins Foundation, New Haven Pride Center, National Kidney Foundation and countless others.
Sylvia Heart at Dragapalooza last year. Lucy Gellman Photo.
Robin McHaelen, founder and executive director of True Colors, said that the ISC's support (True Colors has been one of the court's biggest beneficiaries) has "made a huge difference" in the organization's ability to provide programming—and real-time support—for LGBTQ+ young people in the state. While thousands of dollars from the court "have literally helped us pay the bills" over several years, McHaelen added that the court's support extends to helping some of the youth that attend True Colors' annual conference and annual Queer Academy summer camp. She recalled meeting several teens who told her that the conference's drag workshop had spurred them to become braver, more outgoing, and more authentic versions of themselves.
"I think the court plays a huge role in the larger community," she said. "It's part of our history, it's part of our culture. It's emerged out of the need to care for our own because nobody cared for us. And it's keeping our history alive."
That's a sentiment shared by Josh O' Connell, who began as a volunteer at the New Haven Pride Center in 2006, and soon found himself serving on and then leading the center's Board of Directors. In 2012, the center was selected as a beneficiary for the first time. It was a moment when the small organization was starting to weigh the pros and cons of moving from its Fitch Street offices to a smaller place in downtown New Haven. The donation helped make it a reality.
"For a nonprofit our size, suddenly getting thousands you weren't planning for was transformative," he said. "The selection of the center by the court made dreams possible."
That was true—perhaps doubly so— again in 2016, when the court's selection of the center helped it appoint Patrick Dunn as its first executive director. Specifically, a gift of $10,000 covered a transition period, in which Dunn was able to work part-time for the center while wrapping up his duties at the International Festival of Arts & Ideas.
"It was sort of like we had the candle but we didn't have the lighter to light it," O' Connell recalled. The court helped them light that flame, now a roaring fire with packed programming for the 2019-2020 year.
Now, the court is looking at what another 20 years will bring. In the lead up to Coronation, Kiki Lucia explained that this year's choice of a beneficiary will be a little different—the court will retain the money raised, to establish a memorial scholarship fund for Connecticut students. Over time, funders will be able to add names of those they wish to memorialize, as a sort of growing, living document that also provides critical support to young people.
She recalled receiving a similar scholarship when she was a college student, working a full-time job in the campus bookstore while also holding down a full class load.
"My hope is that the scholarship can really be something that changes the lives of people," she said. "Every time I found a $500 or a $1000 scholarship, it took that much pressure off. It meant I could work 32 hours instead of 40 during finals week ... so I understand how life-altering it can really be, even if it's a small amount."
She added that she's has lived the court's mission for several years now, and is "cautiously excited" for her reign. After learning about and joining the court through Dandy Lions—the first Dragapalooza was also one of Kiki's first performances—she served as Imperial Crown Princess to Reign 18, and has grown her number of performances to almost 200 a year. Of those, well over half have been for charity.
"I've dedicated myself to the community," she said. "I was really attracted to the fact that the it was about community service and about giving back. It was really interesting to me to watch an organization of all volunteers raise this money."
"It's the most fabulous black tie affair with bigger hair, more sequins, and higher heels," she added of the coronation. "I'm really excited. I think the goal of the monarch should be to really propel the organization into the future, and take the foundation that somebody built to really push this forward. That's what I' hoping to do."
This year's Coronation will be held Feb. 15-17. Tickets and more information are available here. This article is part of an ongoing collaboration between The Arts Paper and the New Haven Pride Center and also appeared in the Center's monthly print magazine, Centerline.