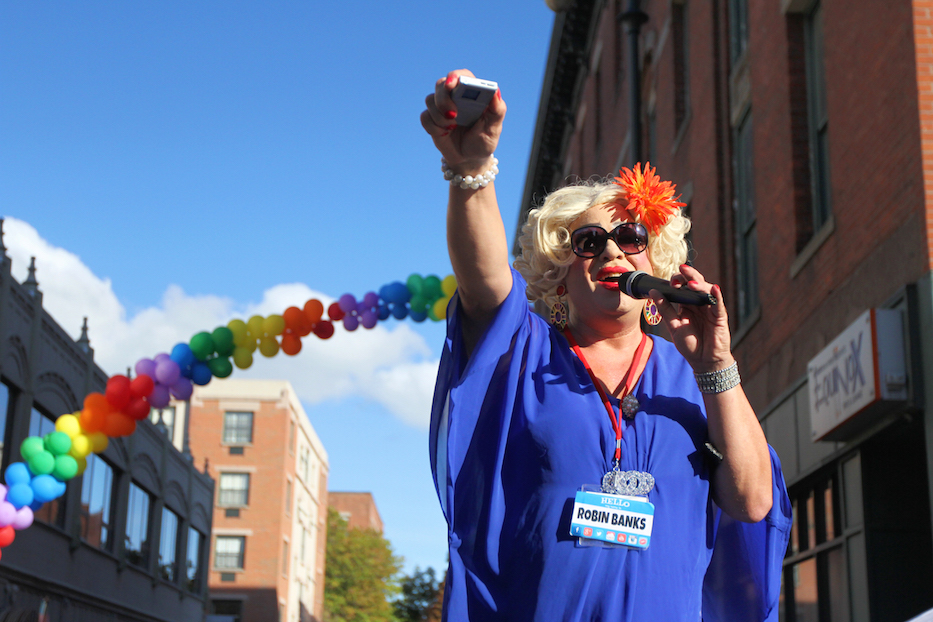 Culture & Community | Drag | LGBTQ | Arts & Culture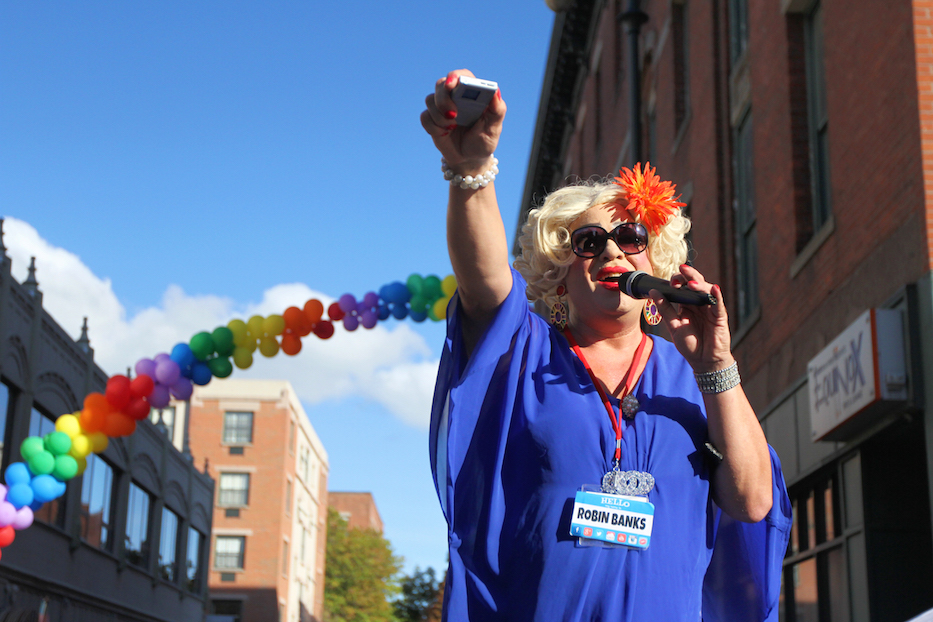 Robin Banks at a recent Pride in New Haven. New Haven Pride Center Photo.
First it was an act of courage and resiliency in front of Connecticut's Old State House. Then, P.R.I.D.E. was spreading its rainbow-colored fingertips to New Haven and Fairfield Counties, with celebrations that stretched from June gradually into September. By a few years ago, parades and festivals had started springing up in smaller towns.
But how did they get there?
Across the state, longtime LGBTQ+ advocates, organizers and supporters are taking the time to remember nearly four decades of pride celebrations in the state, starting in Hartford and spreading to New Haven, Norwalk, Bridgeport and smaller Connecticut towns. As the 50th anniversary of the Stonewall Riots approaches this summer, several spoke to Centerline about Pride's uncertain beginnings and bright future in the state.
LGBTQ+ Pride in Connecticut began 13 years after Stonewall, with a rally and celebration in 1982 in front of Connecticut's Old State House that was organized by the Greater Hartford Lesbian and Gay Task Force.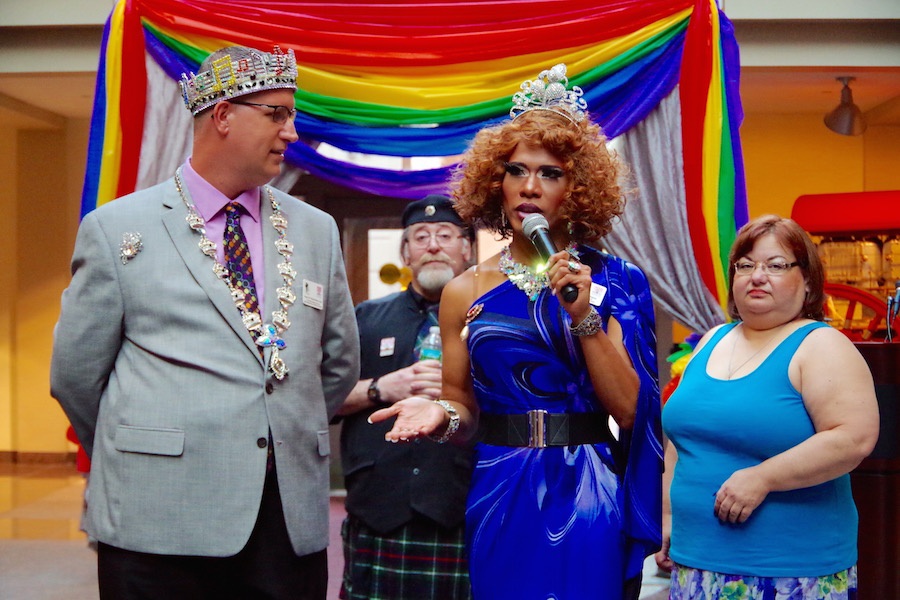 Members of the Imperial Sovereign Court of All Connecticut at New Haven Pride in 2017. Lucy Gellman File Photo.
By that year, Hartford's LGBTQ+-friendly, faith-based "Project H" initiative was already public; the celebration placed the kaleidoscopic community front and center. According to the Connecticut Commission on Human Rights and Opportunities (CHRO), the inaugural event drew hundreds. For longtime Hartford queen Mucha Mucha Placer, that number seemed more like thousands.
"They passed out these opaque, kind of Halloween masks that would protect people's identity [for people who didn't want to be seen]," recalled Placer (ze/zer), who had just started graduate school at the University of Connecticut in 1982, and wandered onto the Old State House's lawn during the inaugural year. "Those of us who were courageous were sitting on the back of the lawn."
In those first years, the celebration was billed as P.R.I.D.E., for People Respecting Individual Diversity Everyday. Thinking back to 1982, Placer recalled watching as real-life partners and Works Contemporary Dance co-founders Ted Hershey and Rob Kowalski took the lawn, performing a number that was "this beautiful, sensual dance together."
The principal dancer at the Hartford Ballet (he later became celebrated for dancing through, and sharing details of, his AIDS diagnosis), Hershey knocked several attendees' breath clear out of them. In the audience, Placer sat transfixed.
"I remember saying, 'Oh my God, I can't believe I'm seeing this in broad daylight,'" ze said.
For the next two decades, Hartford's P.R.I.D.E. continued to shift and expand. From the Old State House, it traveled to multiple locations—Hartford's Gay and Lesbian Community Center in one year, Elizabeth Park in others. It grew, drawing thousands for a parade and celebration as it became a fixture in the city.
"It was amazing," said John Pepe, who bartended at Hartford's Chez Est before taking it over in 2017, and commandeered a float with the Hartford Harlettes in New York's pride parade during the 1990s as well. "Our flag was raised at the Capitol Building. It felt more organized … it was this grand scale."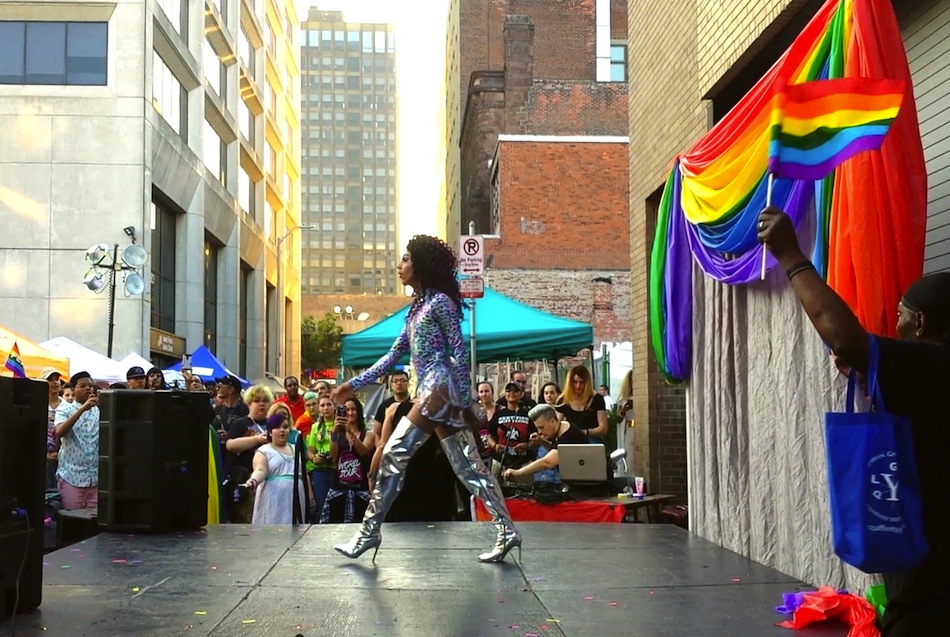 Stephen Urchick File Photo.
For some attendees, it became a springboard into greater LGBTQ+ activism and regional celebrations of pride that still exist today. In the early 1990s, Placer founded the House of Pleasure, inspired by New York City's House system and drag ball culture.
It was one in a sizzling system in the city, providing a sort of larger LGBTQ+ framework for those who were out and growing into their own gender identity and expression. In 1994, the celebration also got an added boost from Stonewall 25, a national effort for which Placer was Connecticut's state representative.
In late 1997, the then-dubbed Connecticut Pride Committee reached out to Robb Bartolomeo, who had opened Gotham Citi Cafe in New Haven the year before, to ask about possible funding going forward. Bartolomeo made an offer: he would help fund P.R.I.D.E., if part of it happened in New Haven. With the New Haven Gay and Lesbian Community Center (now the New Haven Pride Center), Bartolomeo funded New Haven's first pride rally on the New Haven Green in 1998.
"I was always comfortable in my own skin. But I had many friends and many boyfriends who were not," he said. "And I always felt that if I could afford to do something that could help the community, I would do it."
The celebration grew in the following years. Then in 2005, organizers received news that the Green was booked on the day they'd requested. Bartolomeo went back to the drawing board.
"We'd invested too much time and money into it not to have it," he said. He looped in then-Mayor John DeStefano, Jr. asking if he could close down the street in front of Gotham. DeStefano said yes. That year, Bartolomeo said he celebrated the new location with the theme "2005, Pride is alive."
In the early 2000s, Bartolomeo kept the celebration in June, to correspond with pride celebrations in Hartford at the beginning of the month, and New York City at the end of it. But Gotham participated in both, and Bartolomeo found it exhausting. In 2009, New Haven Pride moved to August. Then in 2014, it moved to September, relaunched under the Pride New Haven banner.
It is now celebrated during the second week of the month; this year's dates are Sept. 16-22. In the years since its humble beginnings on the Green, it has grown to include drag performers, family-friendly games and vendor tables, daytime activities as well as evening and late-night offerings, and advocacy work in addition to entertainment.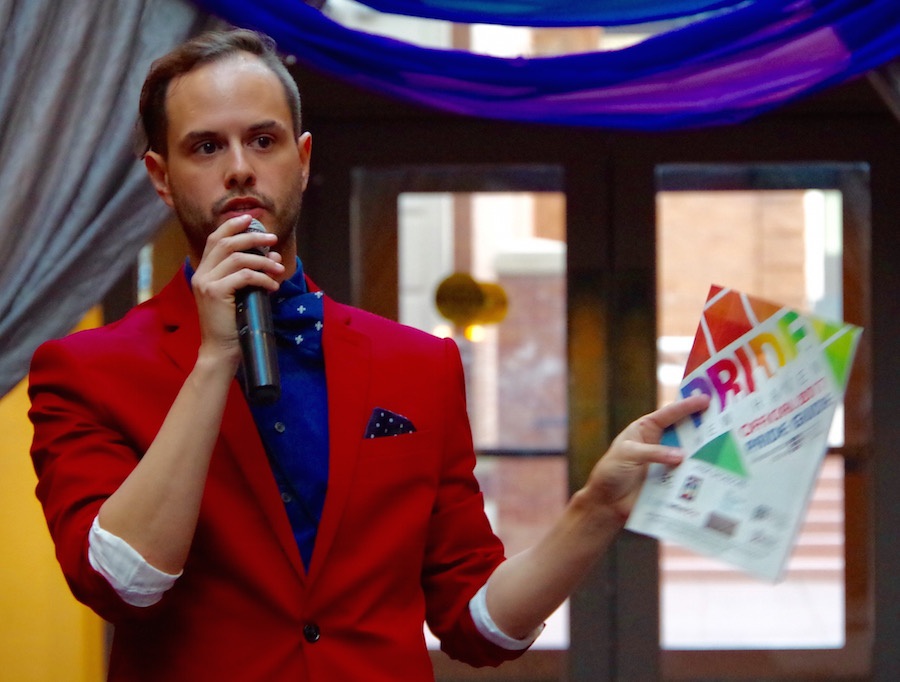 New Haven Pride Center Director Patrick Dunn speaks at New Haven's 2017 Pride, held in September. Lucy Gellman Photo.
Part of that change is owing to longtime cheerleaders like Karen Josephine, who has worked as entertainment coordinator for the last several years.
"I think it's pretty amazing ," she said. "In the last few years, it has become an event for everyone."
She added that she's been moved by the number of young people and families that have showed up in recent years. She recalled watching a few years ago, as drag queens Summer Orlando and Mia E. Z'Lay invited a young girl onto the stage during their number. In a photo from the event, the girl is breaking into a huge grin, holding a memento to her chest as the queens pose on either side of her.
New Haven hasn't been the only location for regional pride celebrations. As a kid in Fairfield, Anthony Crisci grew up hearing about small pride celebrations that ran in the area from roughly 2001 to 2011, but never attended any of them. Then when he became the inaugural director of the Triangle Community Center (TCC) in 2013, he started thinking about what it would take to bring pride back—and frame it as something for all community members.
"When I stepped up at TCC, there was the assumption that people weren't looking for Pride in Fairfield County," he said. "We wanted to make sure families knew they were also welcome as part of the community.
In June 2014, TCC launched a one-day "Pride In The Park" in Norwalk's Matthews Park with a number of collaborators. From that first rebooted year, Crisci helped curate a festival that was wildly inclusive: there were drag queens and members of the leather and bear communities, but also a reading circle for kids and chances for families to roll out picnic blankets while watching the entertainment.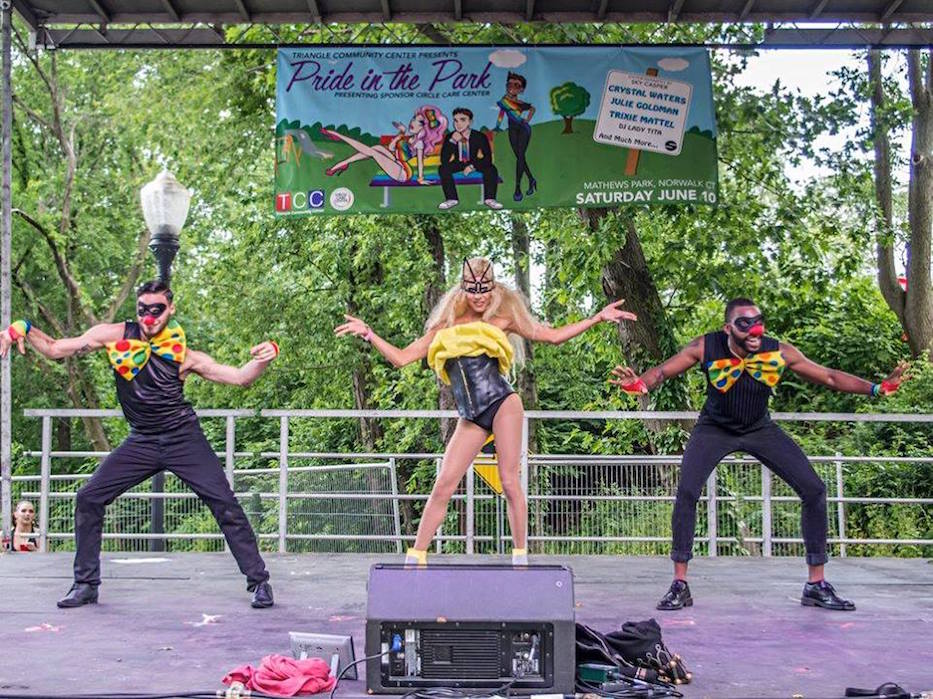 A performance from
Escapade
at
Pride in the Park Daniel Eugene/Studio Fervius Photo.
In the years since, Crisci said the celebration has pulled in approximately 3,000 people per year. While he stepped away from TCC to join Circle Care Center (one of Pride In The Park's major supporters) last fall, he said he is excited to see how the celebration unfolds this year. The celebration is scheduled for June 8; more information is available here.
In the intervening years, regional events have bloomed around the state. Bridgeport has held its annual SameSex Pride March for almost a decade, sometimes accompanied by an exhibition of the same name at City Lights Gallery. Bethel began a pride march in 2016, holding its third in early May of this year. New London has a sizzling event at the end of August. Others continue to spring up around the state.
But the regional changes have also turned Hartford P.R.I.D.E.—now called Capital City Pride—into something very different. From a massive gathering, the festival has moved to a much smaller celebration and block party on Pratt Street in the city's downtown.
According to Placer, that change happened gradually: Chez Est stepped in as a major organizer in the early 2000s until close 2012 or so. But by then, "there wasn't a lot of community to replenish that energy." Pride went quiet for a few years.
But in 2010, Hartford had also elected Pedro Segarra as the city's first openly gay mayor—and he and his partner Charlie Ortiz made good on a promise to support and reinvigorate pride in the city. In 2015, Hartford held its first Capital City PrideFest, supported in part by Ortiz' organization CLARO (Connecticut Latinas/os Achieving Rights and Opportunities).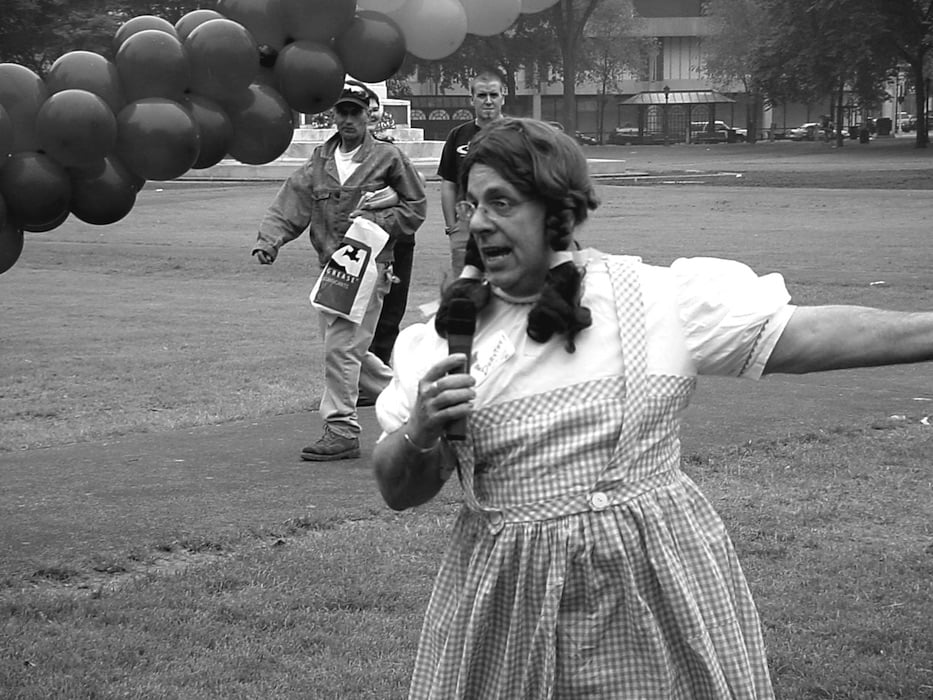 Frank DeMayo, a founding member of the New Haven Pride Center and dressed as Dorothy, hosted proceedings during New Haven's pride celebration on the New Haven green in 2003. Through the Center, DeMayo was one of the original organizers of New Haven's pride celebrations. Metroline Archives Photo.
Pepe, who took over Chez Est in 2017, said he has mixed emotions on the proliferation of regional events. As Hartford's festival has become many festivals, he suggested that the state's LGBTQ+ community has become farther-flung, instead of more unified at a single event that draws thousands. But Placer said ze sees it differently.
"I'm very proud to have been a part of helping to make it statewide," ze said, praising new efforts from Berlin to Waterbury. "I've realized how important it is to be out, visibly, in one's hometown. I can't keep track of all the towns where it's happening! … and I think it's amazing. It's one thing to go to a place where we can be anonymous, and it's another thing to be brave and daring in your own hometown."
"Pride is important because we introduce mainstream society to our community through art," added Bartolomeo. "It builds tolerance."
This article is part of an ongoing collaboration between The Arts Paper and the New Haven Pride Center and also appeared in the Center's monthly print magazine, Centerline. Find out more about Centerline on the New Haven Pride Center's website.