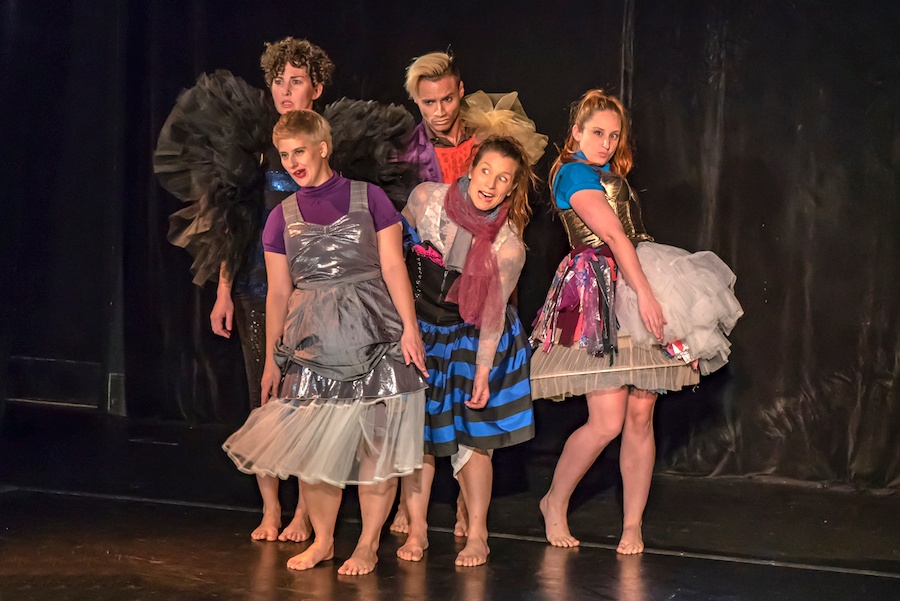 Dance | Elm City Dance Collective | Lyric Hall | Arts & Culture | Westville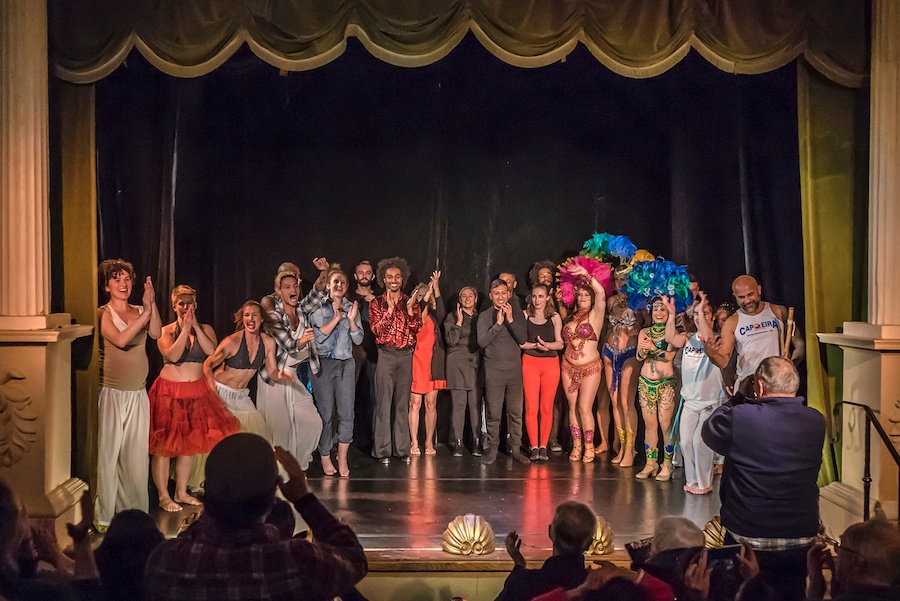 Daniel Eugene Photos. Wells is at the center in the striped red button down.
Anthony Wells was heating up the stage at Lyric Hall with the rhythm of his tap shoes. The audience clapped along with "She's a Bad Mamma Jamma" as he winked and mouthed some of the lyrics, dozens of expressions crossing his face in a matter of minutes. The only thing brighter than his crimson, tiger-striped shirt was his smile.
"What is going on in this place right now?! That was amazing!" someone exclaimed as the audience erupted in ear-busting applause.
Well's "Disco Time Travel" was just one of 11 performances in TINY SHORTS: Brief dances in small spaces, a celebration of community dance and 10th birthday bash for Elm City Dance Collective (ECDC) held Saturday night at Lyric Hall. The show featured dances that were "short, entertaining, and made to fit on a tiny stage," said ECDC Artistic Director Kellie Ann Lynch.
Founded in 2008 by Lynch, Lindsey Bauer, Jennifer Brubacher and Millie VandenBroek, the company aims to "bring disparate styles together" through its collaborations with other dance troupes in the area. In addition to providing choreography and performance opportunities for local artists, ECDC offers dance classes and develops educational programs for area schools.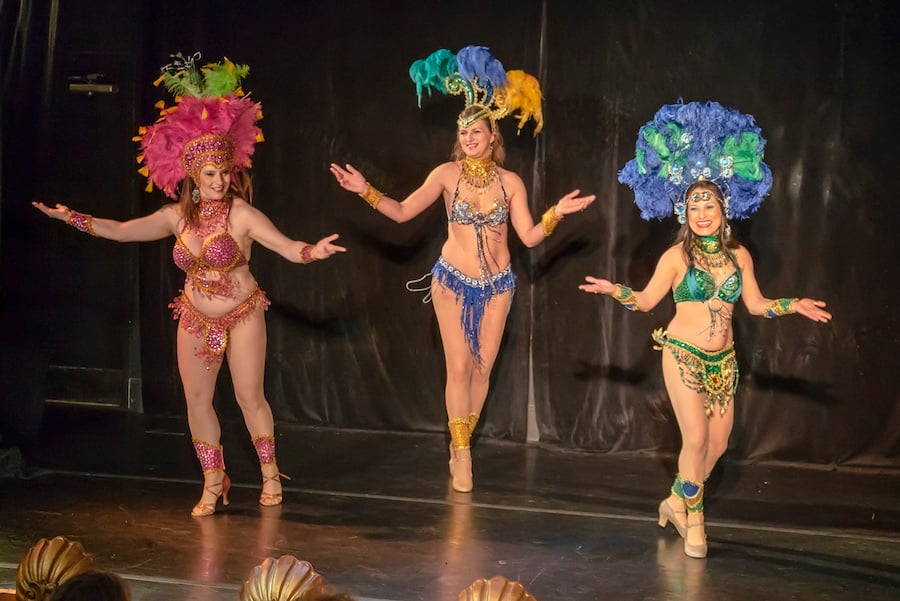 ECDC also organizes community performance projects, which are open to the general public—no dance experience required—and which Bauer called "rich and powerful." In the past decade, the company has used dance as social justice and public art, worked on commissions across state lines, honed in on intimate and introspective performances, and taken a stance on environmental justice.
"We feel so grateful that you are sitting here receiving what we have to share," Lynch told audience on Saturday, during the second of two back-to-back performances. "Collaborators have enriched our program."
That approach was on display Saturday, as ECDC collaborated with dancers from Alisa's House of Salsa, CT Capoeira and Dance, Julien Kanor, Ginga Brasileira Dance Company, GUSTO Dance, Melinda Marquez, and others. Performances ran the gamut from salsa to contemporary to performance art. Hip hop followed jazz; samba shimmied after flamenco; and martial arts mixed with bachata.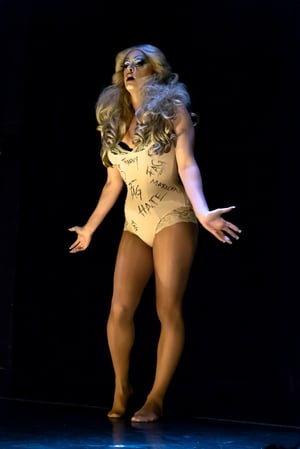 New Haven drag queen Kiki Lucia began her performance on a darkened stage, to the sound of spoken word.
"The name of the game was to fit in," said a woman's voice through the speaker. As that woman and various other LGBTQ people recalled harassment they have faced, Lucia stepped into the spotlight, her movements slow as she covered herself with her arms, sinking down and in.
Then 2WEI's stark and haunting cover of Destiny's Child's "Survivor" began to play and the footlights came up, revealing the words "hate," "tranny," "fag," "queer," and "maricón," scrawled in marker on her cream-colored leotard. The words were etched on her body like scars, but Kiki Lucia was running and fighting as she lip-synched the words, fueled by the strength of the song.
Before he danced, Hartford-based movement and installation artist Arien Wilkerson laid out a string of CFL bulbs connected by a heavy-duty extension cord. The DIY up-lights created a play of sharp light and shadow that added dimension to the performance. Wilkerson started on the floor, kneeling and crawling slowly. Frank Ocean's voice floated over the speakers: "I gotta find peace of mind."
Wilkerson stood up in his long red dress and reached out towards the audience, then began to dance, swinging his legs high and stretching into arabesques, turning pirouettes.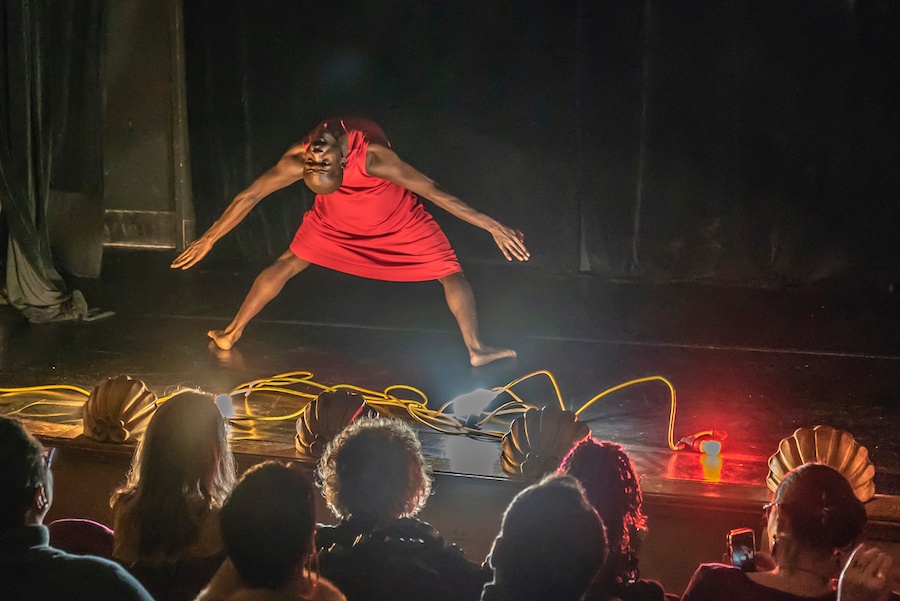 Wilkerson described his routine, called Purity, as "BROWN, radical, queer, sharp and vulnerable" and said it's about "having faith in yourself." The audience was captivated, not wanting to miss a move.
"So great! Who knew?" someone said during the audience's warm applause after Wilkerson finished.
Mestre Efraim Silva, Director of CT Capoeira and Dance Center, approached the stage from the back of the house, a rhythmic twang issuing from the berimbau he was playing. Turning and stepping and smiling, he danced as he played the Brazilian percussion instrument traditionally used in capoeira.
"Created by African slaves in Brazil in the 16th century, capoeira is a martial art disguised as a dance," explained Silva, who sports a tattoo of the berimbau on his arm.
With effusive joy, he taught the audience a clap and chant, and viewers faithfully kept the beat as members of Silva's company kicked and flipped in perfect coordination.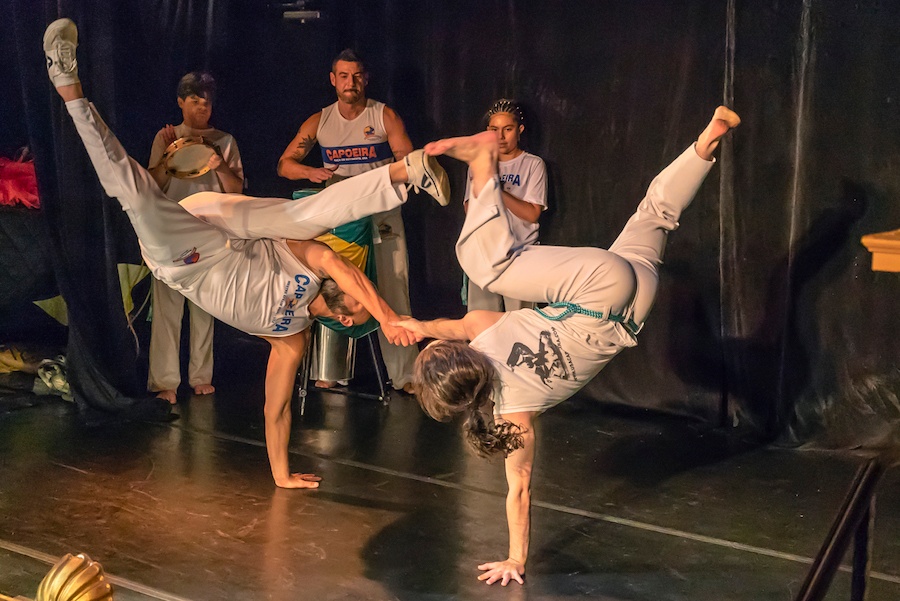 Members of ECDC closed the evening as audience members clapped, whistled, and cheered, calling out "Yes!" and "More of that, please!" as they danced. Their performance, called ECDC (2008-2018), showcased seven short excerpts of the company's ten years of work—each excerpt accompanied by a rapid, on-stage costume change—as well as a tiny glimpse of its next major project, "We Were Princesses."
"I haven't developed much language about that work yet," Lynch said after the performance. Right now it's "just snapshots in my mind."
The company will begin developing and performing ideas for "We Were Princesses" in August 2019, before wrapping them all into an evening-length performance sometime in 2020.
The new work "explores what it means to be female," said Bauer. Lynch added that that's just "a point of departure" for a very complex topic the company will likely explore for the next three years.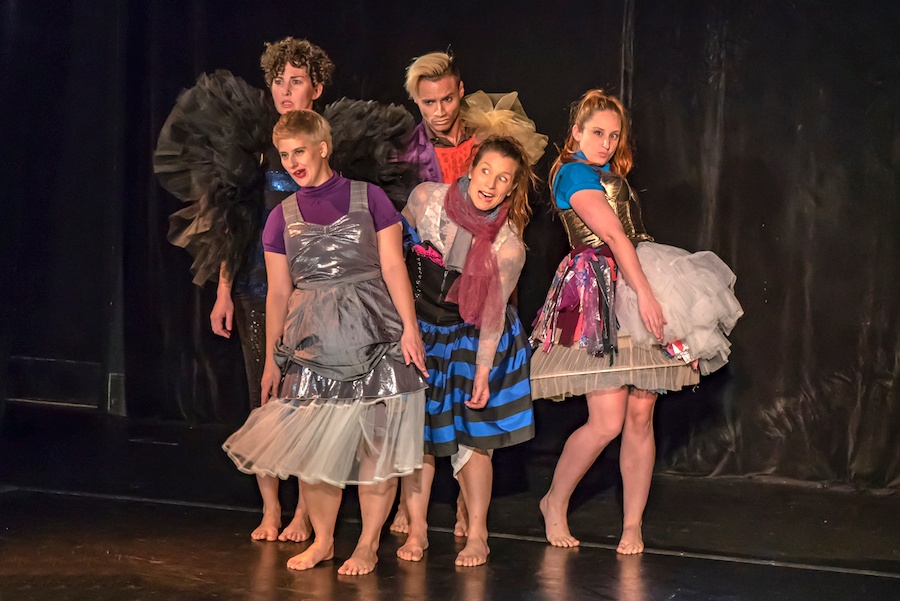 In Saturday's minuscule sneak-peak, two dancers donned petticoats and stood with their arms behind their backs. Two others stood behind the first pair, reaching around to blindly apply lipstick to their faces. All four dancers joined in a jerky step-touch, the armless dancers looking comatose while the others smiled wide like pageant participants.
Then the collective invited all of the night's collaborators to the stage to boogie to Madonna and Michael Jackson before the performers took their final bow in front of a gushingly enthusiastic audience.
While co-founders Brubacher and VandenBroek are no longer directly involved with ECDC, they came as exuberant audience supporters Saturday night.
"I'm a die-hard fan," VandenBroek said. "This show gave me life tonight…This whole thing touched my heart."
Tucked into a couch as the afterparty bustled around them, Lynch and Bauer reflected on the collective's decade-long journey. When the group started, Lynch said, "I don't think we realized what we were getting into." They knew that they wanted to see more dance in New Haven, Bauer said. But they didn't have it all figured out.
Now, more of those pieces have fallen into place. While Lynch said there are still things she gets impatient about—like wanting a brick-and-mortar space for the company—she remains confident that "we're not going anywhere."
"This evening was such an inspiration and lovely celebration of the work that we do and the way we dive into community and art-making," Lynch said. "I think we've accomplished more than we ever hoped to do in ten years … the well of ideas has never run dry."
To find out more about Elm City Dance Collective, visit their website. To watch video from ECDC's performance, click on the video below: