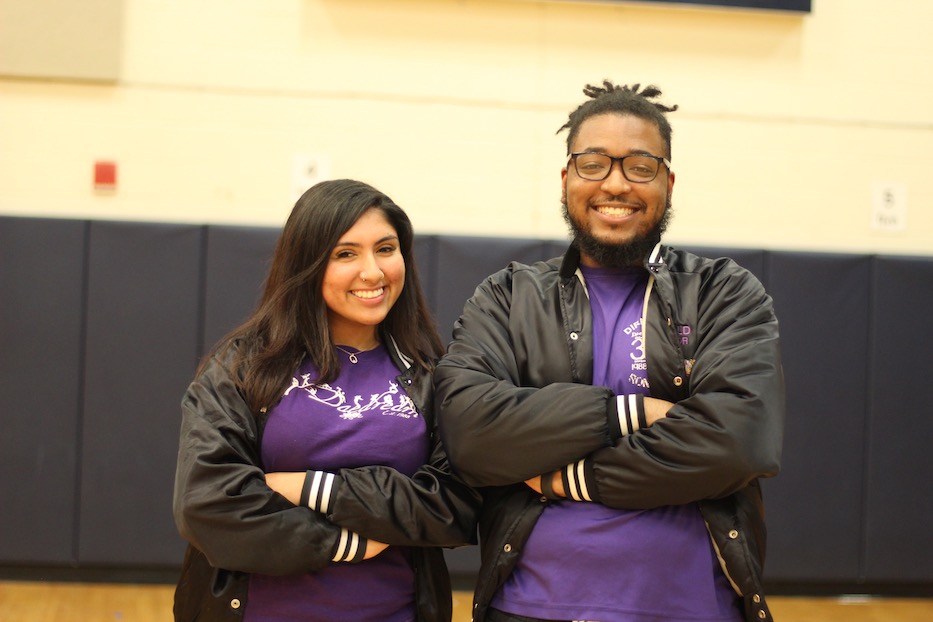 Culture & Community | Education & Youth | Arts & Culture | Musical Theater | Mauro Sheridan Interdistrict Magnet School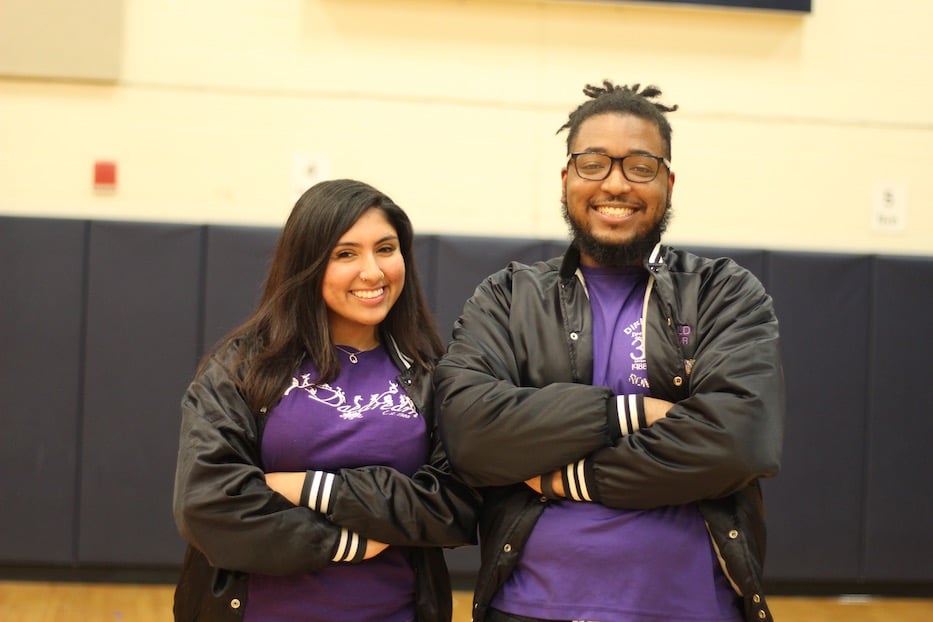 Gillian D'Costa and Ronald Dorsey, who are both program directors. Both started Daedream almost a decade ago, when they were Francis' students at Mauro Sheridan. Lucy Gellman Photos.
The first bars of "The Lion Sleeps Tonight" floated over the gymnasium at Mauro Sheridan Interdistrict Magnet School, waking whole blocks of Fountain Street into being. Two dozen students began to sway, their shoulders rocking to the song. In the second row, Melanie Morano lifted her arms above her head as a smile bloomed across her face.
Melanie is a student at Daedream Theater Arts Co., a grassroots, community-built and sustained after-school arts program for students who range from kindergarten to eighth grade. This year, students and staff alike are bouncing back from Covid-19 as they prepare for a summer cabaret—and grow a tight-knit intergenerational community through the arts. The program operates out of Mauro-Sheridan in New Haven's Westville neighborhood.
"We're very much a family," said Program Director Gillian D'Costa, who started at Daedream as an eighth grader, and is now finishing a degree in bilingual education at Southern Connecticut State University (SCSU). "It teaches us problem solving, how to work with kids, outreach … we call her [Director Kim Francis] our bonus mom."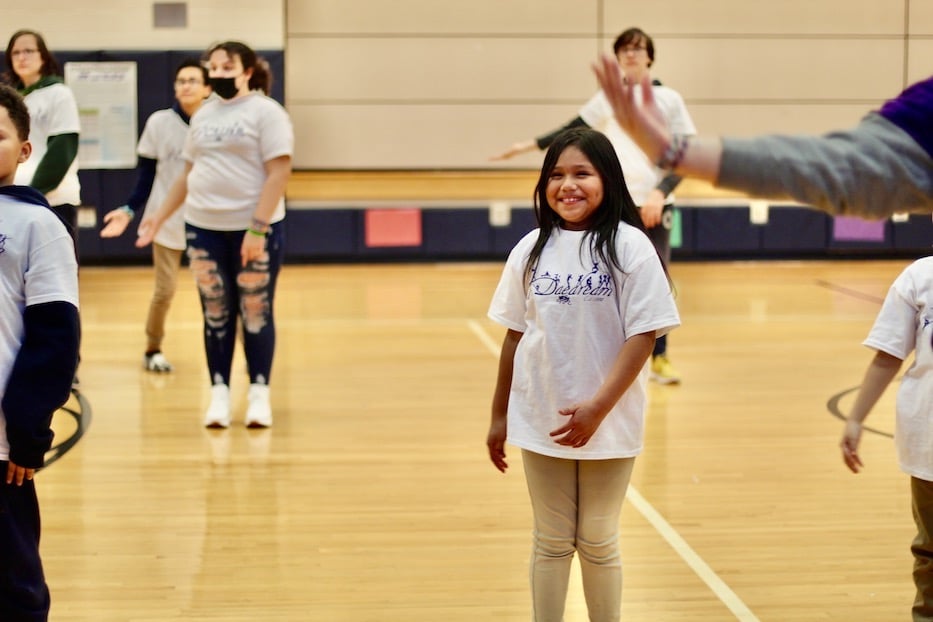 Melanie Morano. "Dance is the best part," she said during an interview. "It makes me happy."
Now in its 35th season, Daedream grew out of Francis' own love for theater, and belief that it should be accessible to all students no matter their school district or income bracket. Born and raised in Branford, "I knew I always wanted to be a teacher," she said in a phone call last month. She also loved the arts, inspired by her dad's career in music and her own years playing the piano. When she graduated from the University of Connecticut at 22, she jumped right into the classroom at Lincoln-Bassett Community School.
Her second year there, she helped stage a school play—and discovered that both students and teachers were hungry for more. That remained true as she transitioned from Lincoln-Bassett to Benjamin Jepson Magnet School, and then Jepson to Vincent E. Mauro. She was still teaching at the old Mauro School building on Orchard Street when it closed in 2009, and students moved to the Westville building, where two aqua-blue arches rise from the sidewalk, announcing themselves to the street.
"My goal was always to provide music, dance and artistic expression as a way for kids to do things," she said. From a fledgling initiative in the schools, it became "more like a small studio," where she also offered homework help and assistance in math and reading. Francis, then working as a social studies teacher at Mauro-Sheridan, used the limited after-school funding that she got from the district for the program to pay staff.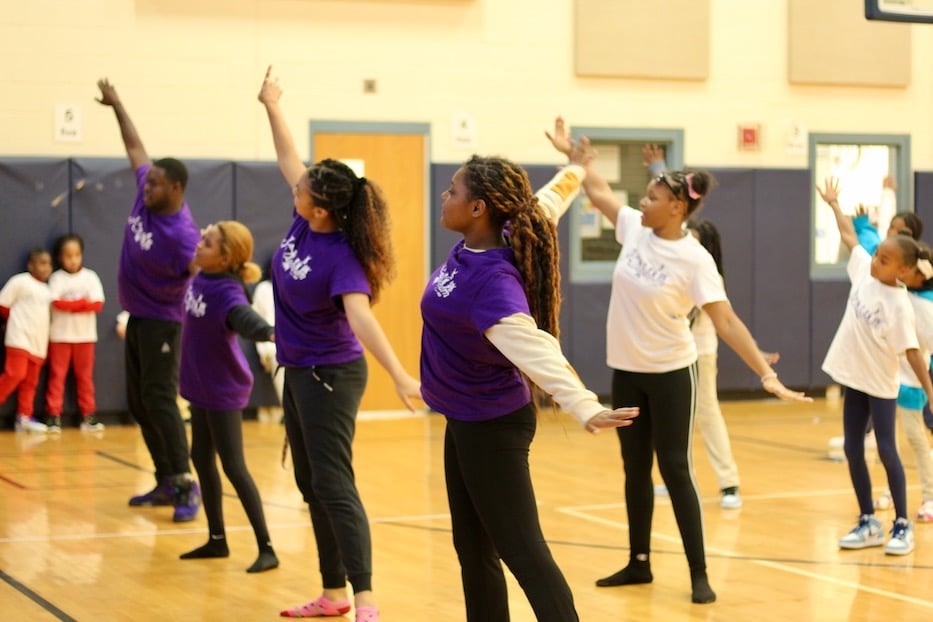 Daedream is staffed by former students, many of whom started in elementary and middle school, and stayed on to mentor.
Several of the program's first members were her students, who have since stayed on to teach as they've navigated high school, college, first jobs and apprenticeships.
When that funding dried up eight years ago, Francis implemented a fee structure, charging as little as she could to still provide staff salaries (Daedream is currently between $250 and $400 per student per year—less than the weekly cost of some day care programs). The space comes from an agreement with the city's Youth and Recreation Department, for which she credits Community Recreation Coordinator Felicia Shashinka.
"I just have a commitment to see kids have an outlet," she said. "I wanted to provide somebody to be there for you the way you wish someone were there when you were a kid. It's a creative outlet too … for some kids, it's like a little bright spot."
Because she has struggled to get funding, she added, she does not draw a salary, and acknowledges that several staff members are not making what they might at a different job. The company is also rebuilding this year: Covid shrunk their student size from 98 to about 50. Some students still haven't returned.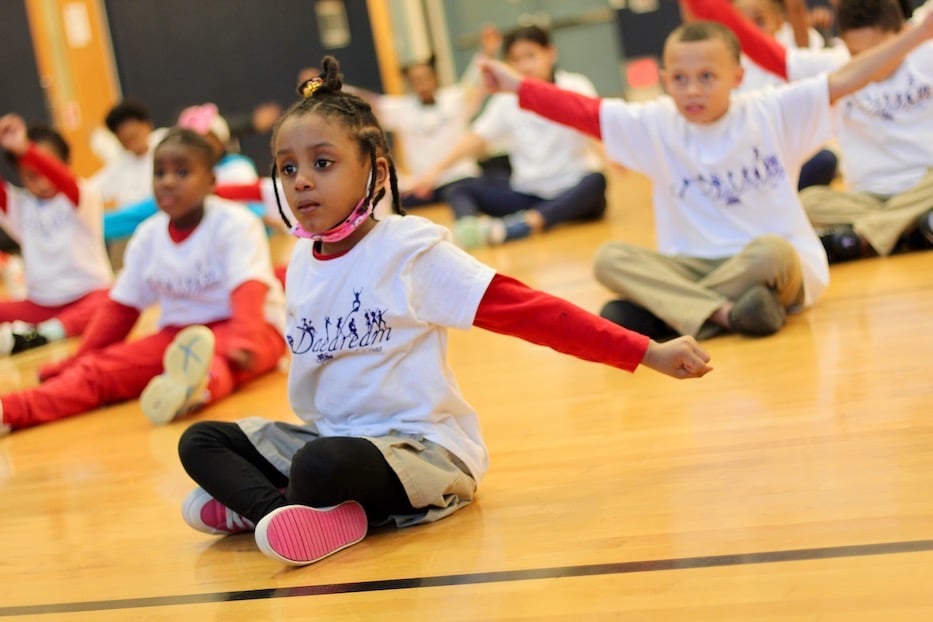 Students start each session with stretching before they dance.
She still thinks of it as a giant family. When she retired after 35 years of teaching last year, several of the counselors came with her on a trip to Maine, staying in a rented house together. Like D'Costa, many of them are now studying education, inspired by the teacher who sparked their love for the arts and for working with young people.
On a recent Thursday, students poured into the gymnasium, excited to dance their way through the afternoon as a wintry chill fell outside. Within moments, they were stretching it out on the floor, then splitting into groups. On one side of the gym, counselors transformed the space into a stage, their bodies suddenly part of the animal kingdom. Someone cued up a playlist, and music from The Lion King drifted up over the room.
Behind them, students in purple-and-white Daedream shirts stepped side to side in time with the music, then turned, windmilling their arms into a circle above their heads. In the first row, Program Director Marlon Harris lifted his hands toward the ceiling, wrists curved at the end. Behind him, students made their bodies into a herd of moving giraffes, fingers outstretched as they sashayed, then brought two palms to their cheeks as if they were sleeping.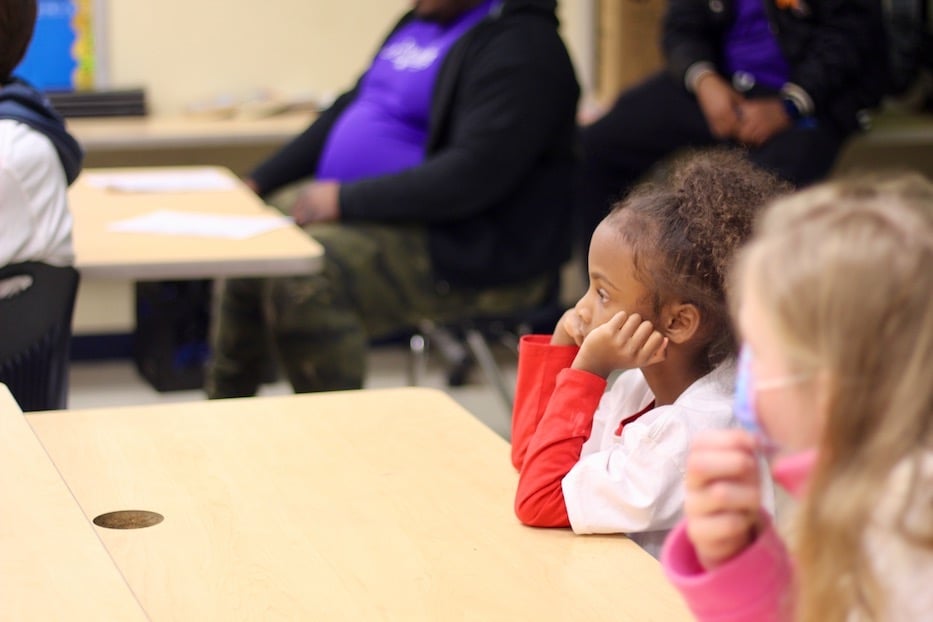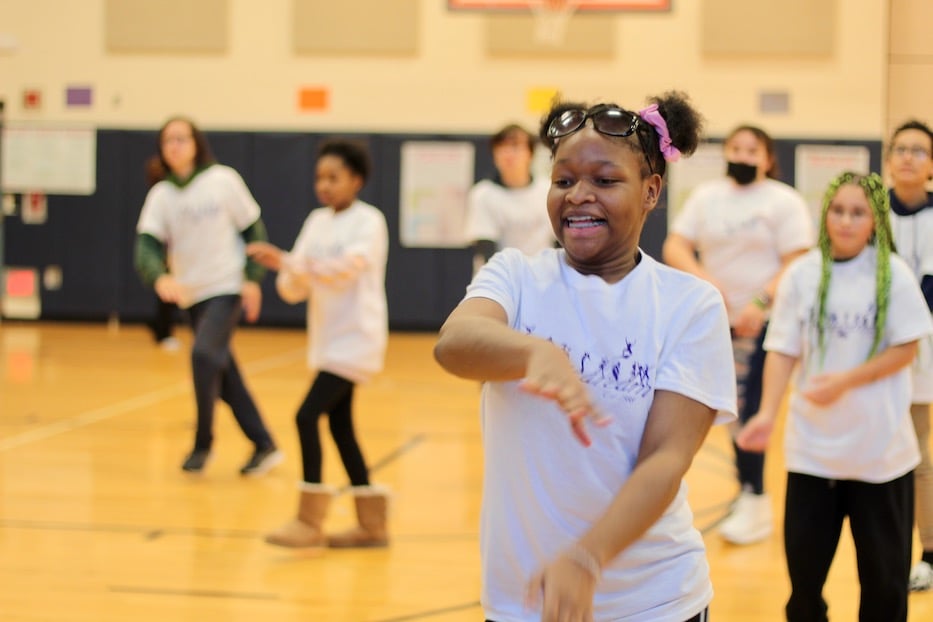 Top: Kennedy Turner, who is a first grader at Mauro Sheridan. Bottom: Christina Forbes, who is in the eighth grade at Mauro Sheridan.
"Good job!" D'Costa yelled, clapping as students skipped off to different corners of the gym, then split into groups that headed to classrooms upstairs. Before an empty row of bleachers, Daedreamer Christina Forbes ran through choreography, breaking steps down with her peers. Nearby, Melanie ran over the first few bars of the song in her mind, dutifully shuffling from side to side as she tipped her head. Every so often, she forgot her place, and started laughing.
Now a fourth grader at Mauro-Sheridan, Melanie started Daedream not long after kindergarten, and has kept coming back because she loves the community, she said. When she entered the program a few years ago, she spoke very little English, and it was D'Costa and fellow mentors who worked with her on language learning, reading and writing. With a younger brother at home, she feels like Daedream is the thing that belongs to her.
"Dance is the best part," she said. "It makes me happy."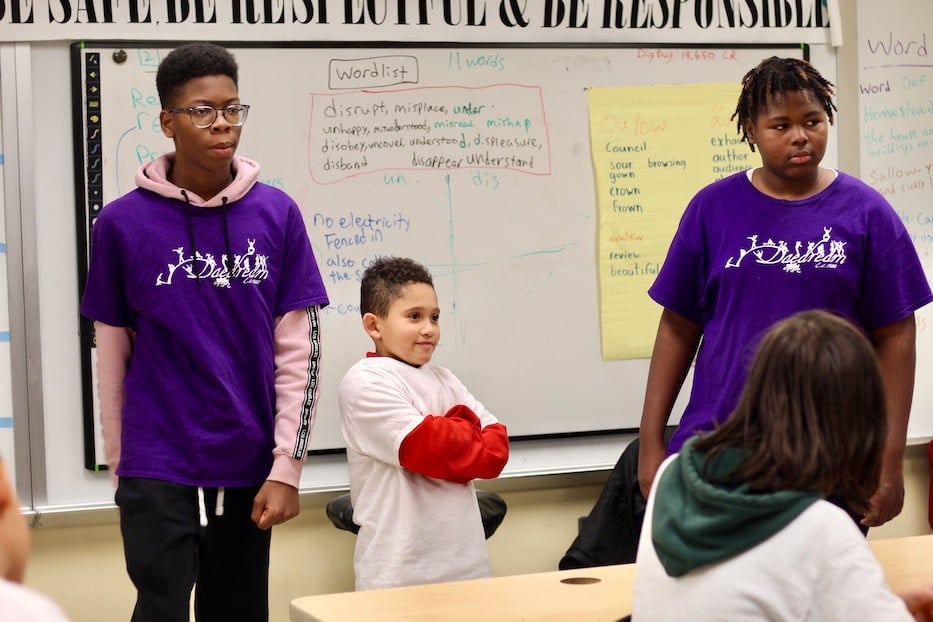 Sammy Rivera, a student at Mauro Sheridan, trying to make it through an improvisation exercise without laughing.
Every so often, Christina paused to look up, then glide through the dance moves again with her peers. That's part of Daedream's approach: older students become mentors the longer they stay in the program. Christina, who started in the third grade, has been with the program almost long enough to become one of its "Freshmentors." Already, students like Melanie look up to her, watching every step when she moves across the floor.
"What I love about Daedream is the family environment," she said. "We laugh and joke [with each other]. It's joyful working with them. I've always wanted to stay with it. I feel great when I'm dancing. It helps me express myself."
In a classroom upstairs, student Sammy Rivera was doing his best to get through a sketch about Spongebob Squarepants without breaking character, and started laughing midway through. No one seemed to mind. Just down the hall, mentor Julieanne Wilkin flipped on a track to "Man in the Mirror," and nodded knowingly with those first chiming, synth-flecked notes. Around her, students fell to a hush, picking up the lyrics as fingers snapped succinctly over the track.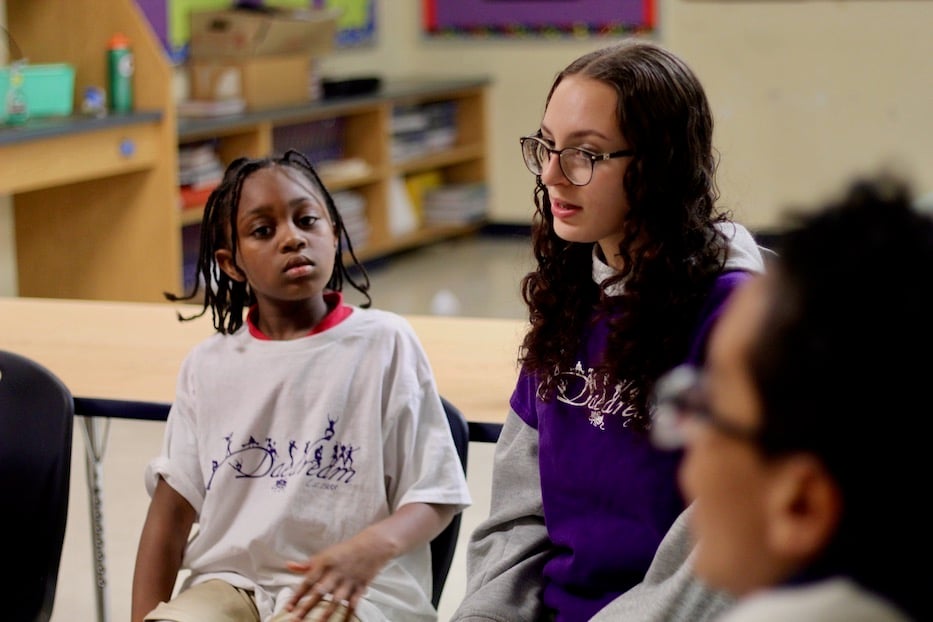 Metropolitan Business Academy senior Julieanne Wilkin. "I think the most special part is seeing kids work on the parts that don't come to them naturally," she said.
I'm gonna make a change/For once in my life, they began, voices rising in not-quite-unison. Gonna make a difference/Gonna make it right! Outside the window, dusk turned to the deep blue of night, a sign that their time together was coming to an end.
"Ok Adrianna, You can take it!" cut in Wilkin, a senior at Metropolitan Business Academy who teaches music in the program. A small, growing voice rose from the left of the circle and ventured in with the next lyrics. A beat. Wilkin could have been directing a small orchestra. "Zachary!" she called out, and sound filled the room once more. "Oky, Delilah and Logan!"
As she steered her students back downstairs, Wilkin recalled starting at Daedream when she was a fourth grader at Mauro Sheridan, and saw a performance from the group at a school assembly. As an elementary schooler, she fell in love with music through the program. Eight years later, she's savoring her time with fellow mentors and students alike.
She laughed remembering how she and other students used to hide in the bathroom if they didn't want to rehearse a specific dance. Now, she's able to sympathize with her students—and coax them to give every part of the program a try.
"It's weird. I remember being a kid, and that kind of helps us," she said. "I think the most special part is seeing kids work on the parts that don't come to them naturally."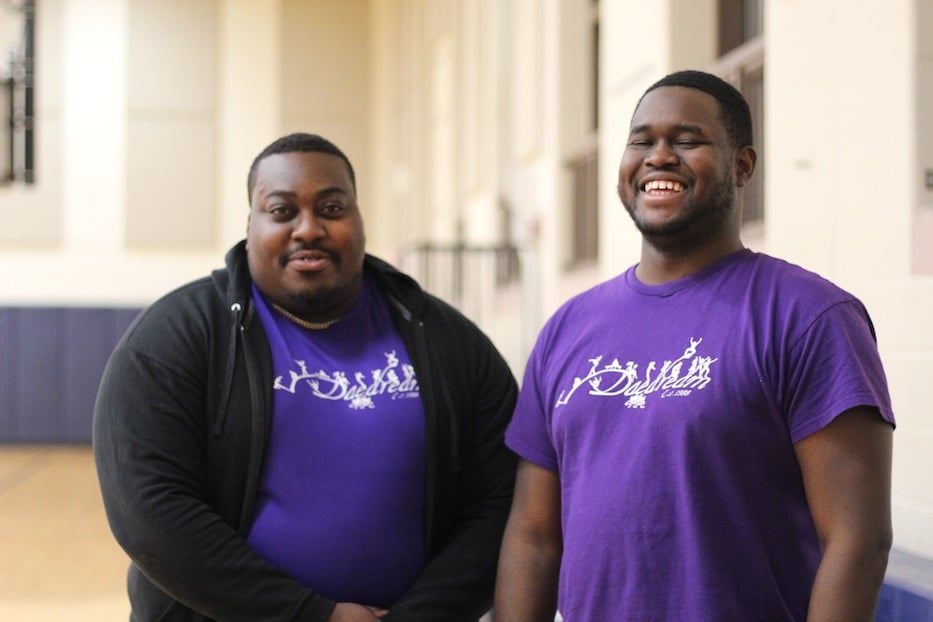 Mentor Deandre Ward and Program Director Marlon Harris.
Back in the gym, students spread across the floor, ready to practice choreography to "The Lion Sleeps Tonight" and "This Is Me" once final time before heading out into the chilly night. Spines straightened, then became relaxed and nimble as students burst into movement. At the center of the group, Christina Forbes turned the work into a meditation, savoring the movements as older students took the floor for solo work.
"Yes! I see you!" Harris shouted. "Yes Christina! You're carrying a diamond!"
Nearby, D'Costa and fellow Program Director Ronald Dorsey beamed at students' progress. After starting Daedream as one of Francis' students at Mauro Sheridan, Dorsey stayed in the program for nine years. Initially, it came as a surprise to him, he said: he hadn't thought acting was part of his future, and then landed the lead in the company's summer production, a play called Color My World. He stayed on for performances of Beauty and the Beast and West Side Story.
He said he credits the program, and especially Francis, with helping him get to college. As he finishes a degree in elementary education at Southern Connecticut State University, he's blazing a path as a first-generation college student in his family.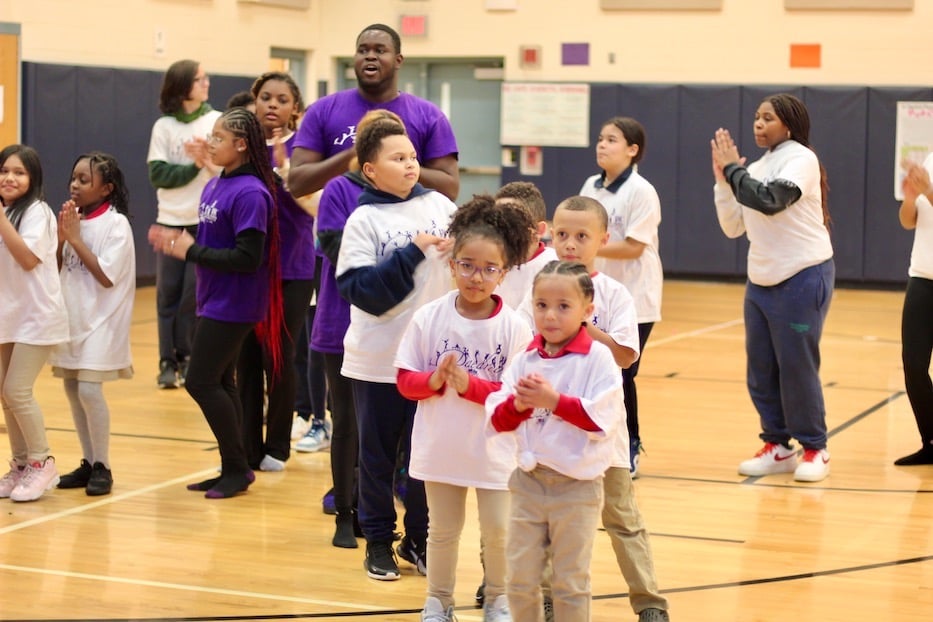 Students start as early as first grade, and stay with the program for years.
"This was the driving force," he said. "When I started high school, I was lost. My path wasn't clear. I remember talking to Ms. Francis, and she said to me, 'If you love what you're doing, it's not like work.'"
It made him realize that he was happiest in a mentorship role. This year is bittersweet, he added—it's his last with the program. He added that he still hopes to see Daedream grow as it steps into another 35 years.
That echoed for Program Director Harris and Mentor Deandre Ward, both of whom started the program when they were elementary school students at Mauro Sheridan, then stayed on through middle and high school. When Harris was a student at James Hillhouse High School, Daedream "was a safe place" to return to as a young artist, he said. After high school, he stayed for the number of students in whom he saw his younger self.
"Even though all of my middle school friends separated, we came back here to dance," Harris said. "With all the adult things that happen, like bills, it's a comforting place. I didn't know when I was younger how long I was gonna be here."
Now," I love watching them [the students] grow up. To see the kids grow is amazing," he said.
"Our confidence comes from here," added Ward, who went from Daedream on to study dance at Cooperative Arts & Humanities High School. "You just have to have the love. It's paying it forward."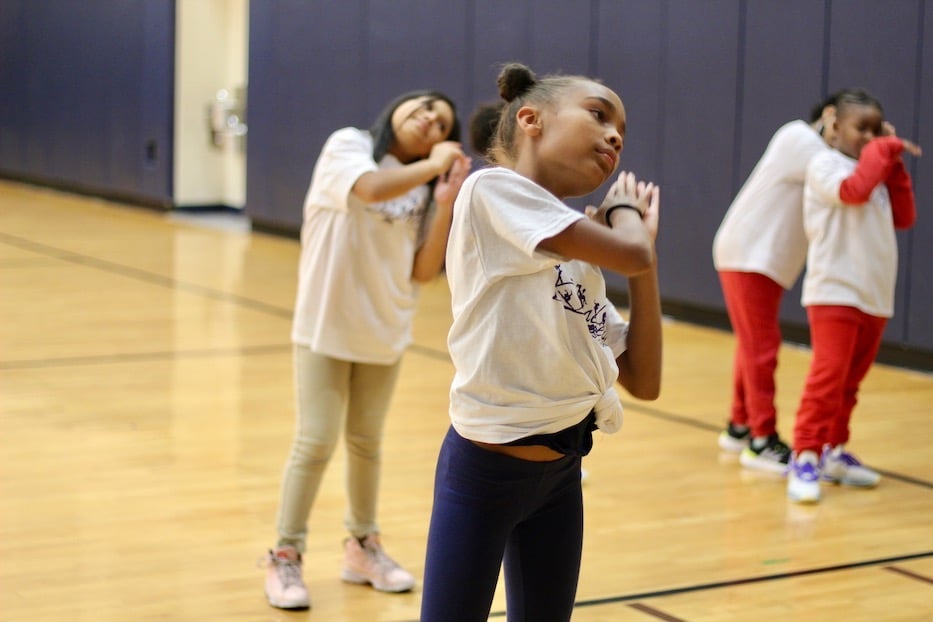 Layla Turner, who is in the fifth grade at Mauro Sheridan.
Back in the center of the gym, sisters Kennedy and Layla Turner took a moment to bask in those words before trying out gymnastics with a few staff members. Both students at Mauro Sheridan—Kennedy is in first grade and Layla is in fifth—they are the newest generation of Daedream, and don't see stopping anytime soon.
"It makes me feel really good. I get to show people that I can do many things," Kennedy said before heading to a newly-rolled-out mat, and waiting her turn for a cartwheel.
"It feels really good," Layla added. "It just makes me happy. Every day that we're here, we learn something new. I want to stay as long as I can and work hard as I can and do my best."
Learn more about Daedream here. To support, email daedreamtech@gmail.com.