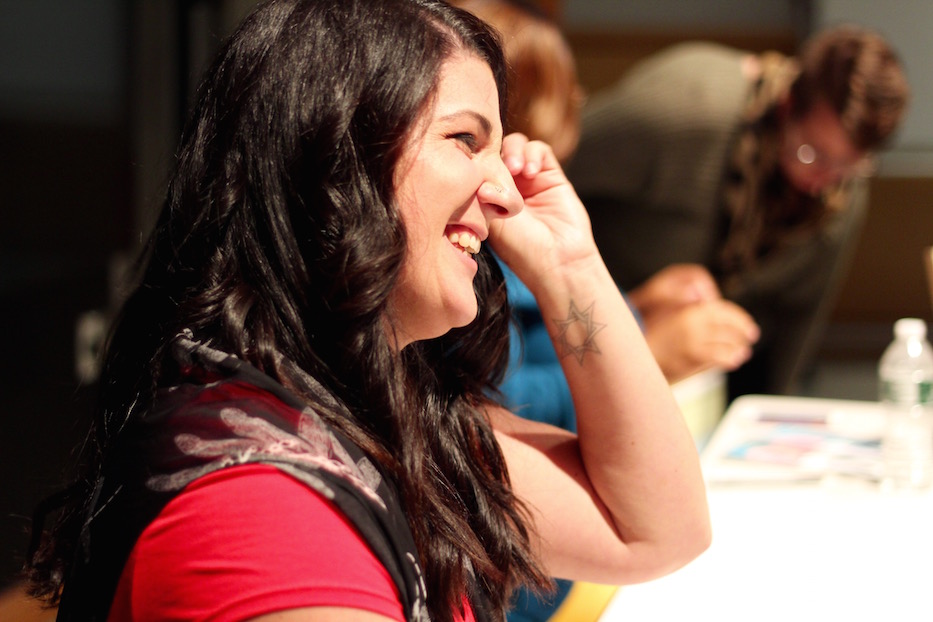 Books | Creative Writing | Fiction | Poetry | Southern Connecticut State University | Arts, Culture & Community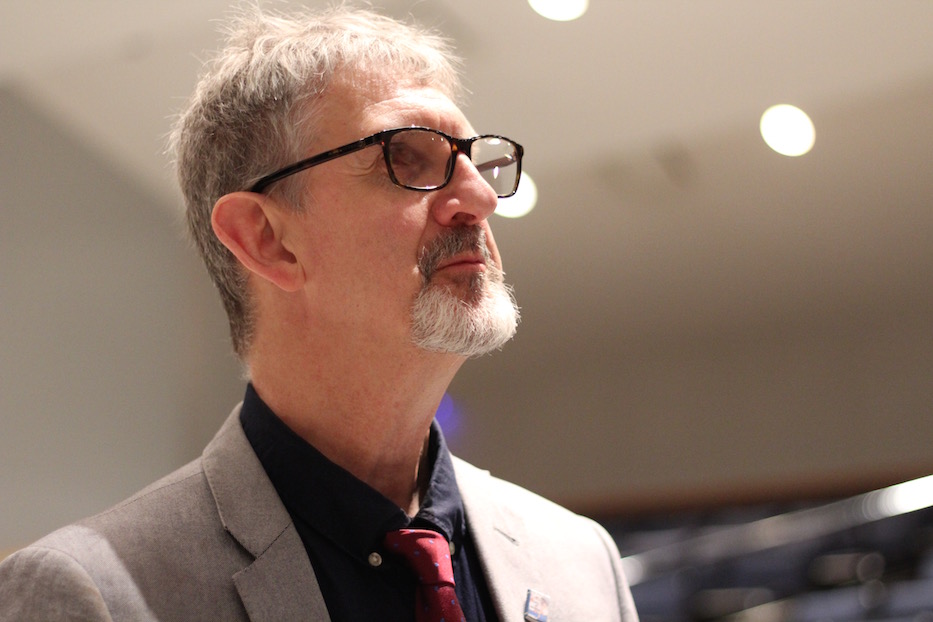 Tim Parrish: "I knew this was home." Lucy Gellman Photos.
Tim Parrish was turned down the first time he tried to start an MFA program in creative writing at Southern Connecticut State University (SCSU). He waited for years to test out the idea again. Then a decade ago, he found out that persistence could pay off.
Parrish, who co-founded and now heads the degree program, told that story Friday night to students, alumni, faculty and writing enthusiasts gathered for a 10th anniversary celebration and reading at SCSU's Engleman Hall. Among alumni were readers M. Mick Powell and Ryan Leigh Dostie, both of whom have recently published books—one collection of poetry and one memoir—rooted in both personal and systemic, intergenerational trauma.
Celebrations continued Saturday with a reading from current MFA students. Applications for the coming academic year are still open.
"Getting to teach writers is one of the greatest joys of my life," Parrish said Friday. "Being part of this underdog, over-achieving program is one of my greatest prides. Seeing people find what they want to say and how to say it is a kind of transcendence."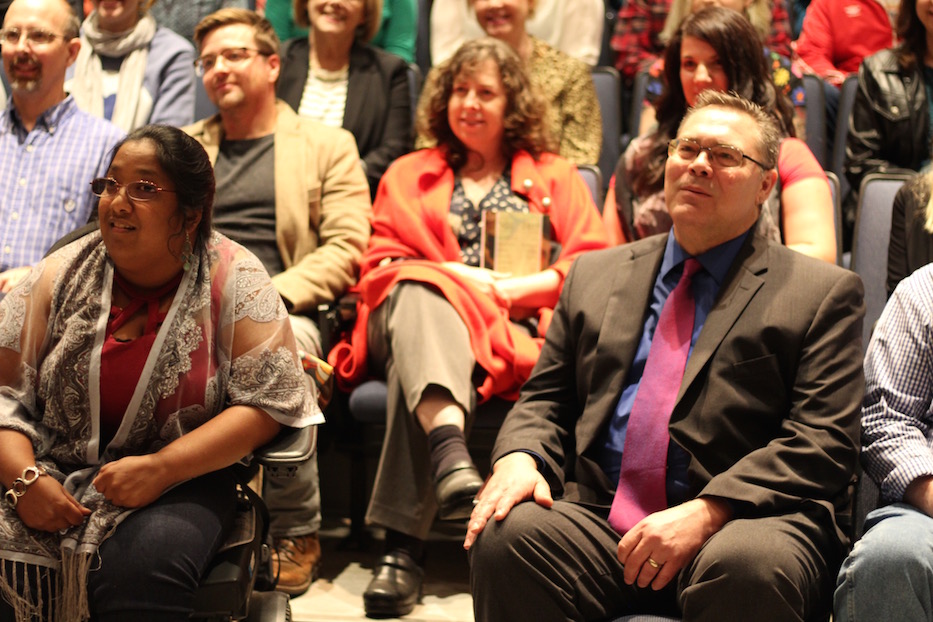 Jeff Mock (at the right) with current and former students.
His own path to co-founding the program began on his own first day at Southern 25 years ago, in 1994. Walking around the building, he stumbled into the so-dubbed "office" of the undergraduate literary magazine Folio, which was not an office at all but "a stairwell landing that sported overflowing ashtrays, paintings set on descending steps, abandoned half-drunk curdling cups of coffee, and the funk of bohemians."
In other words, Parrish said, "I knew this was home."
From that moment, he could feel a pulse to the department, where students spun whole worlds out of words and faculty members rallied behind them. He loved his colleagues, who now include poets Vivian Shipley and Jeff Mock, and fiction writer Rachel Furey.
As he jumped from teaching undergraduates to graduate students in the Master of Arts and Master of Science program, he discovered a similar heartbeat among grad students, and with it a hunger for more professional training in writing. So in 1997, he wrote his first proposal for the program, which the department "supported wholeheartedly."
The proposal was still in its fetal stages; Parrish went back to the drawing board to flesh it out.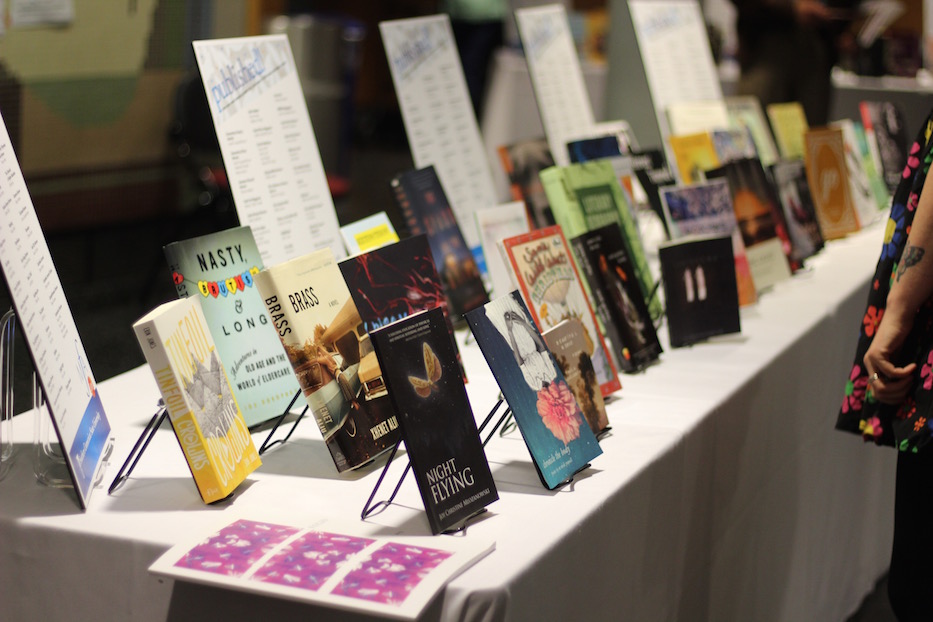 In 2002, he and Mock brought the revised, full proposal to leadership at SCSU—but "were immediately stonewalled, which must've been the universe telling us what we were in for."
They pushed back, with small, meaningful wins along the way, including the arrival of Provost Selase Williams in 2005 and subsequent hire of novelist Robin Troy, who now lives in her native Montana but returned Friday for the festivities. From the School of Arts & Sciences, then-Dean DonnaJean Fredeen had cheered them on. They kept going, often slogging through miles of red tape.
"Jeff, Robin and I soon realized that the reason we'd gone to college to get all those degrees was so we could navigate the soul-numbing, mind-pummeling journey through the bureaucratic labyrinths of our school and the state educational bureaucracy," Parrish recalled to laughs. "A system that made us experts in formatting, reformatting, lengthening, shortening and revising the proposal for every committee seemingly according to their whim. We learned real good."
In 2008, Parrish and Fredeen attended a meeting of the leadership of all four Connecticut state universities, listening to concerns from other programs—Western Connecticut State University was already running an MFA program—before receiving preliminary approval. Little did he know, he joked, that that was the beginning of a year spent commuting to Hartford for meetings, "at which we sat for hours to be asked four or five questions and then sent home."
In fact, it was not until winter 2009 that they received final approval. By then, Parrish said, it felt like a shock to the system. He recalled walking out of a meeting with Fredeen, into a burst on winter air, still letting the success sink in. They had finally done it, she told him.
"And we had," he said. "And it was all worth it."
Ten years later, the program has brought in dozens of students from over 18 states, with several graduates going on to publish and teach in Connecticut, as well as across the country. According to Parrish, students in the program—that's about 12 each year—have scored "more competitive funding awards than any other program on campus."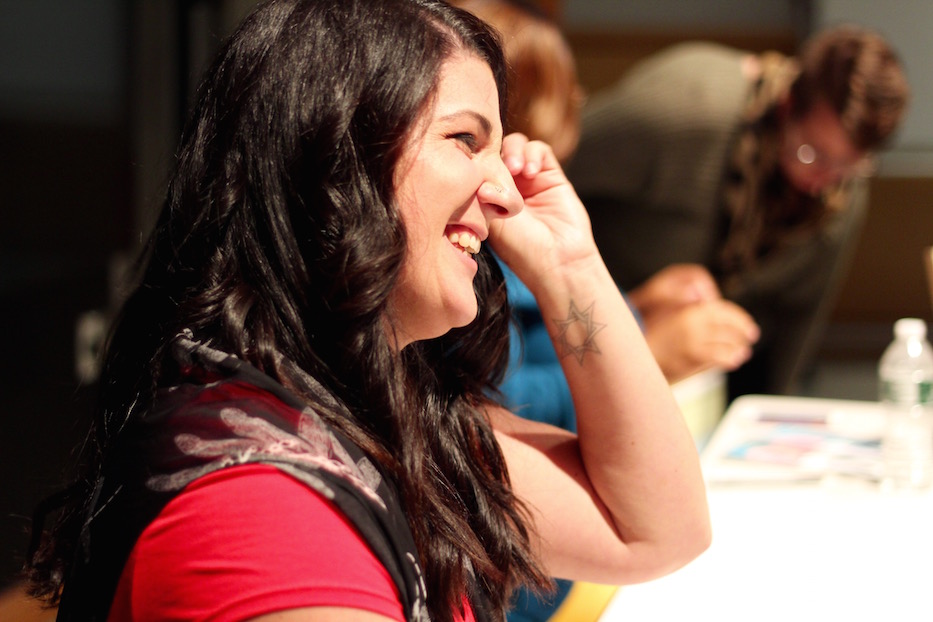 Dostie read from her new Formation: A Woman's Memoir of Stepping Out of Line.
In addition to two full-time teaching assistantships that the department currently offers, faculty have helped students find teaching assistantships in other departments. Parrish noted that the process, filled with "scrounging and pleasing," has been incredibly difficult to do while balancing teaching full time, but provides students with much-needed financial support. Alumna and fiction writer Jessica Forcier and English professor Chuck Baraw and his mother have also started funds that support current students.
Friday, both Powell and Dostie made the case for continued—and increased—support for students not in a plea for funding, but with their words. A poet and professor at the University of Connecticut, Powell read from her chapbook chronicle the body, a new collection of poems out from the Yemasee Journal at the University of South Carolina.
"Mick entered the MFA program in fall of 2016, and when she read her first poem in an MFA workshop, I was immediately aware of her talent and her unique, fully formed voice," recalled Shipley, under whom Powell worked as a teaching assistant and wrote a thesis that became chronicle the body. "I also realized that my best approach to working with her was to do no harm."
Powell carried the audience through all four sections of the chapbook, her voice smooth and measured even as it recounted decades of trauma, racial and sexual violence, grief, and slow, intentional healing. In the poems, she speaks (or, perhaps, writes) into being systems of oppression, tracing a through line from a Jim Crow-era South to the Pulse Nightclub shootings, in which her friend KJ Morris was killed.
In her poem "Last Night I Dreamed KJ Undead," which won Columbia Journal's 2017 Winter Contest, she conjures her friend's body, writing the story of anti-queer violence in literal vivid color.
"Whole, here and in June/The bullet had not wrecked her chest/But it had entered/And it had punctured," she read. "There was an exit wound bruised blue/She showed me the flush of it/Beneath her breast/How blue it had blossomed/And even the light in the room was blue."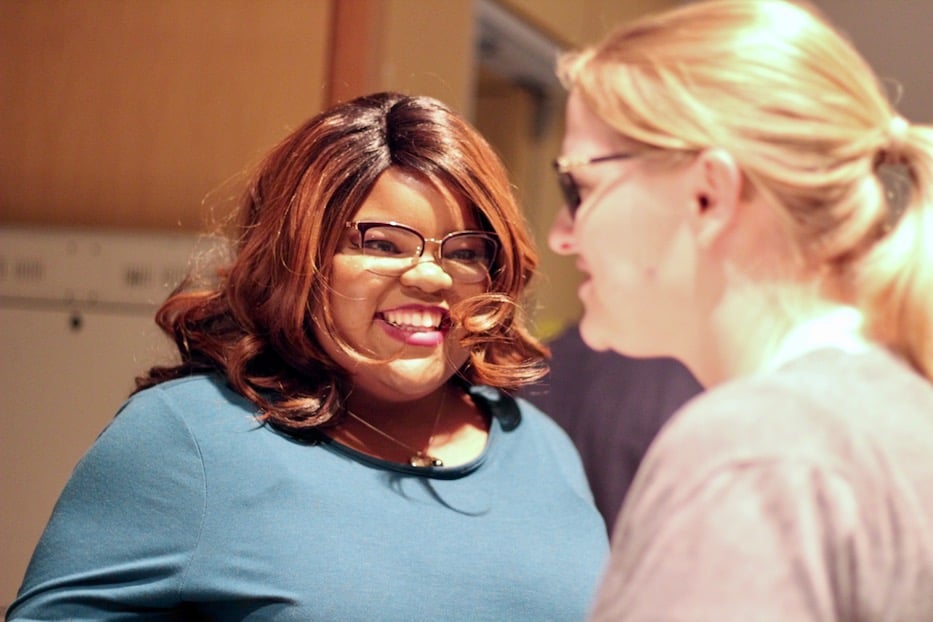 In her class "Women, Gender, and Violence" at the University of Connecticut, Powell has taught the shooting, and said she remains surprised at how much students don't know.
As she cycled through works, she lent to legacy a distinct, melodic rhythm ("Ma, didn't you want / to know how / i mantra'd/my bullied mouth into water sound? how/(i got)/atlantic / atlantis / disappeared the raw red/and became a city of calendar? how i/(haunted)/the ghosts & the gods / turned my body / blacktourmaline? thumbed into the aloe plant). She also took time to praise the program for launching her forward.
"It's so incredible to look at the whole room," she said. "Seeing all the faces is really moving. I'd like to just say thank you to the SCSU MFA program for bringing us all together in this space tonight, and also just for making me, I can say personally, the writer that I am today. And also for giving me the space to write this collection."
Also a recently published graduate—of many, as evidenced by book displays that took up multiple tables—Dostie read from her new Formation: A Woman's Memoir of Stepping Out of Line, which chronicles her rape and its violent silencing and cover-up during her time in the U.S. Military.
Presented with a certificate from U.S. Rep. Rosa DeLauro for her service, Dostie read with grace, taking the audience through her unlikely entry into the military to her rape to its fallout and ensuing PTSD. As she recalled a military interview—which was in fact more of an interrogation—she noted the number of women who have reached out to her since with similar stories. Her goal, she said, is to help them amplify their voices in sharing hers.
Find out more about SCSU's MFA in Creative Writing here.