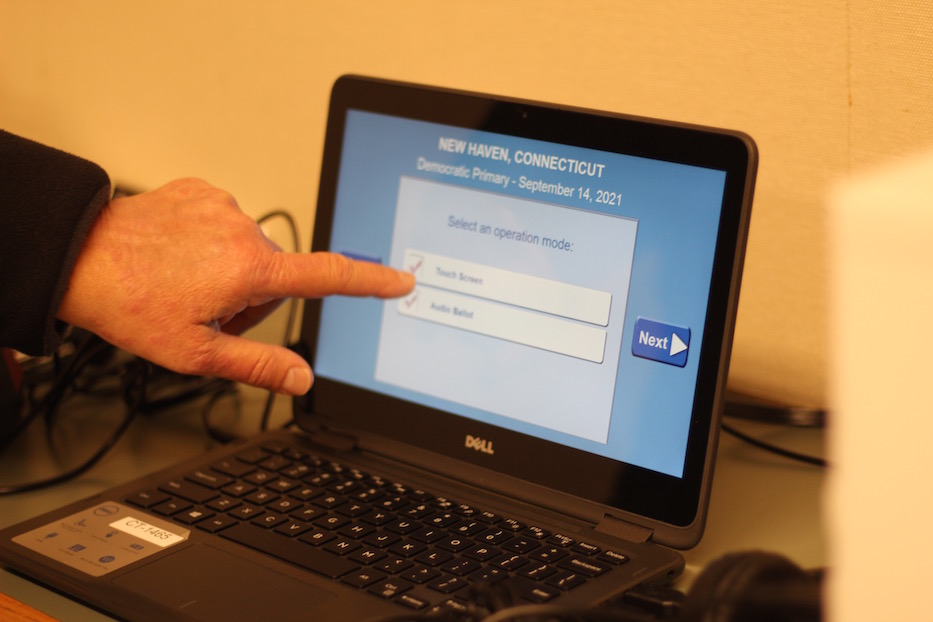 Create The Vote | Culture & Community | Elections | Voting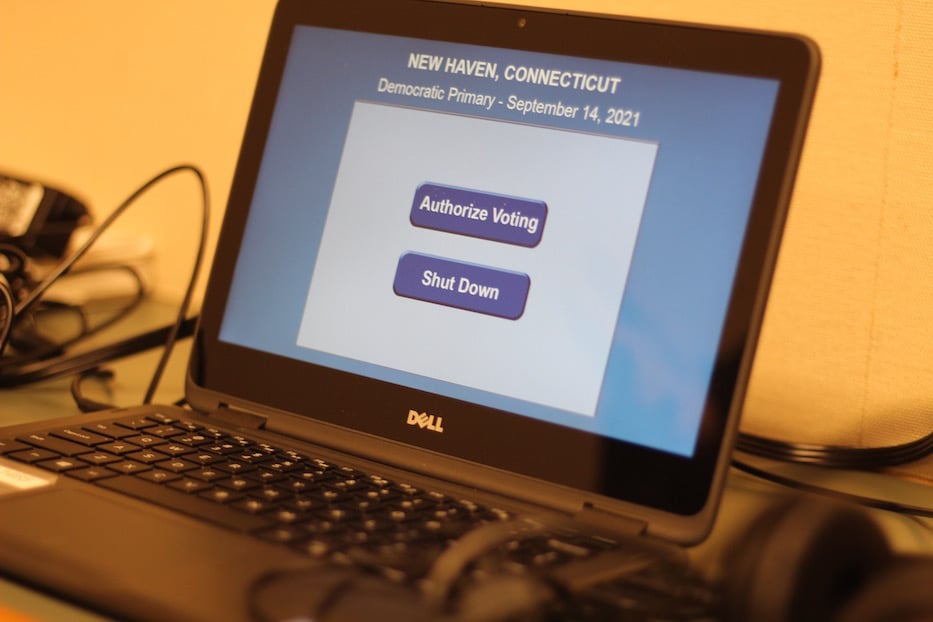 Lucy Gellman Photos.
A voice eases through the headphones, even keeled and clear as a bell. Methodically, it reads off the options for mayor. For Justin Elicker, press five. To hear the next candidate, press six. To go on to the next contest, press eight. A keypad sits at the ready just inches away, waiting for a voter's touch.
That setup, intended to make voting more accessible, will be available at each of the city's 30 polling locations next Tuesday, as New Haveners turn out for the Nov. 2 municipal election. All eligible voters can use it. But they have to know to ask—which is why city Director of Disability Services Gretchen Knauff is working to get the word out beforehand.
"One of the principles that our country is founded on is the right to vote," she said Monday morning, running through a demo of the device in City Hall. "And I think it's such a fundamental right that people should be exercising it, regardless of who you are."
This year, mayoral incumbent Justin Elicker faces Republican opponent John Carlson and Independent Mayce Torres. Tweed Airport critic Gabriela Campos and former Never Ending Books owner Roger Uihlein have also filed as write-in candidates for mayor. There are aldermanic races in Fair Haven Heights' Wards 11 and 13, the Annex's Ward 17, Morris Cove's Ward 18, Newhallville's Ward 20, and Westville's Ward 26.
If you don't yet know who is running for what, here is a sample ballot.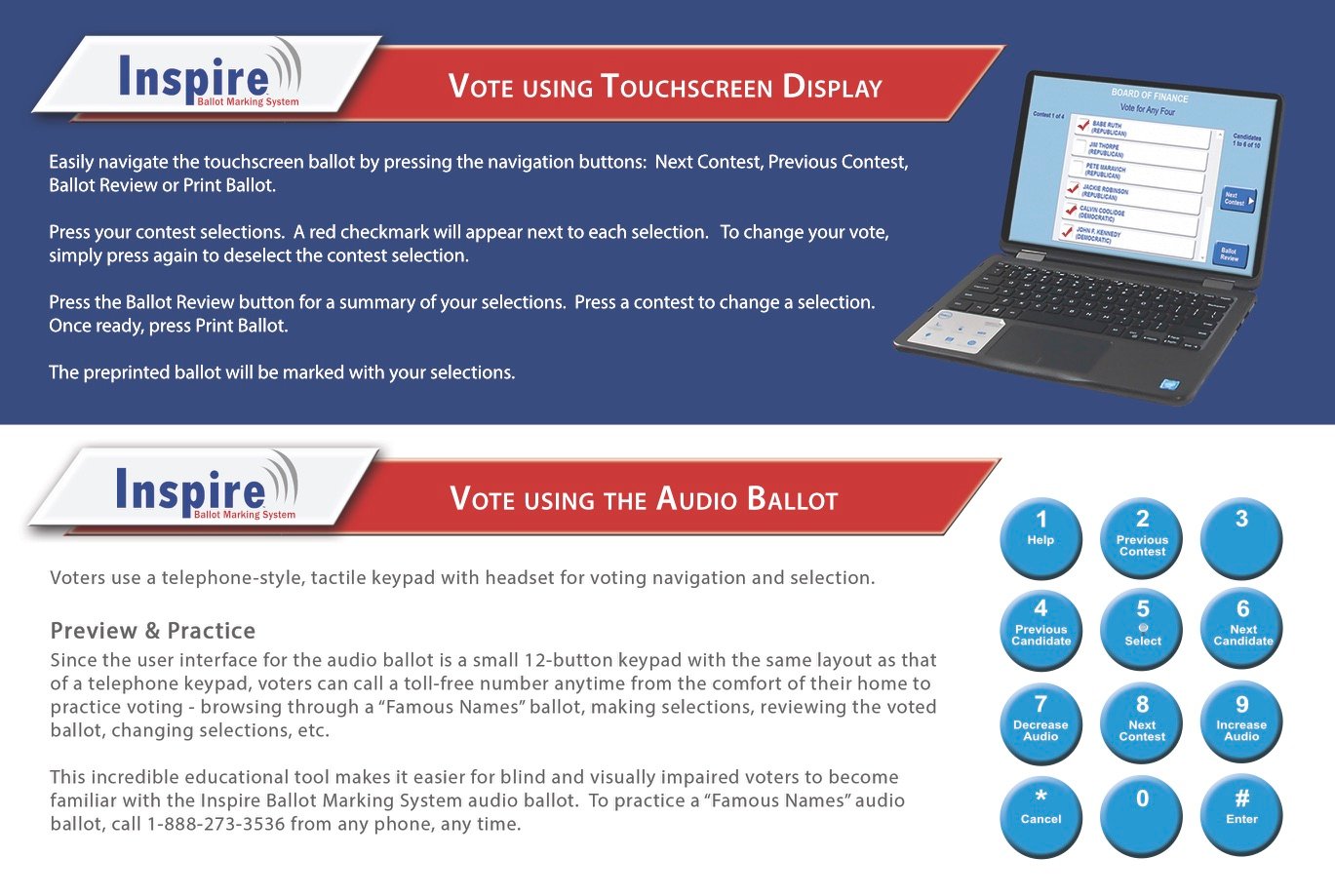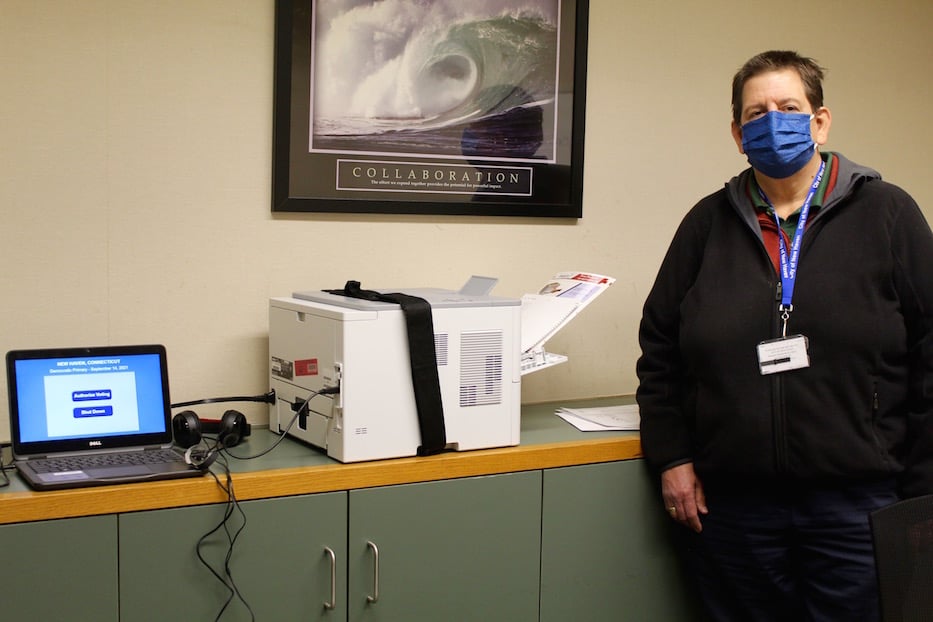 Above: A demo from the Secretary of State's office. Bottom: Gretchen Knauff with the device.
The device, which consists of a laptop computer, keypad, headphones, and printer, is specifically designed for voters who struggle with accessing a paper ballot. On the laptop, a poll worker types in a code to authorize a voting session, and then a voter is able to make their language and candidate selections on a touchscreen or a keypad to which headphones with an "audio ballot" are attached. In New Haven, voters have the options of English and Spanish.
When a voter is done with the touchscreen or the audio ballot, they verify that they have finished and are ready to submit their selections. A printer attached to the device, into which poll workers have fed a blank paper ballot, jolts to life and prints the ballot, as if it has been filled out by hand.
For voters who have disabilities, the device isn't just meant to make the election easier and more accessible: it's also required by state law. Monday, Knauff framed it as a more widespread voter rights issue. While the audio option is particularly helpful for people with visual impairments, for instance, it's also a tool that can open voting to those who have limited or no reading ability for any number of reasons. Likewise, seniors may prefer the touchscreen, because the text is larger.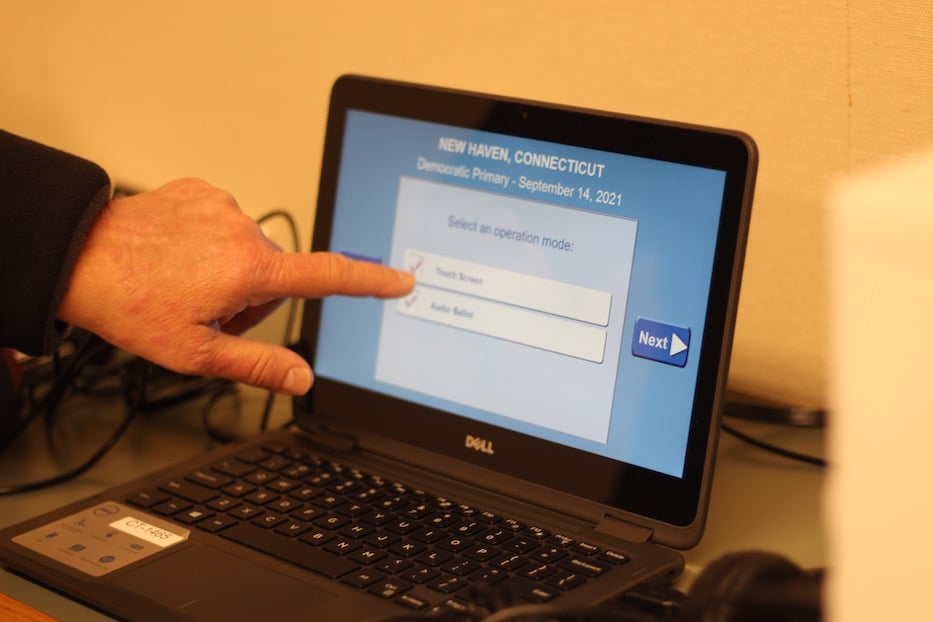 When everything is set up correctly, the whole process takes no longer than it would to go into an enclosed booth and vote on a paper ballot. While the city has had the machines for years, Knauff said, voters typically don't know that they exist. In both audio and touchscreen, the device's memory is wiped clean after each voter to ensure that a vote remains private.
"The thing about this machine is it's just a pencil," Knauff said. "There's no memory anywhere. It doesn't remember a thing. So if you screw up, you can give them back your ballot, just like if you screw up on paper, but then you have to go through the whole thing again."
Monday morning, she demoed a touchscreen ballot for Newhallville's Ward 20 primary, held last month (the ballot was what the city's Registrar of Voters made available, she said). On screen, she selected her language, and then waited for the next screen. Candidates Shirley Lawrence, Devin Avshalom-Smith and Addie Kimbrough popped up with large, empty white boxes beside their names. When she made a selection, a large red check mark appeared beside a single name.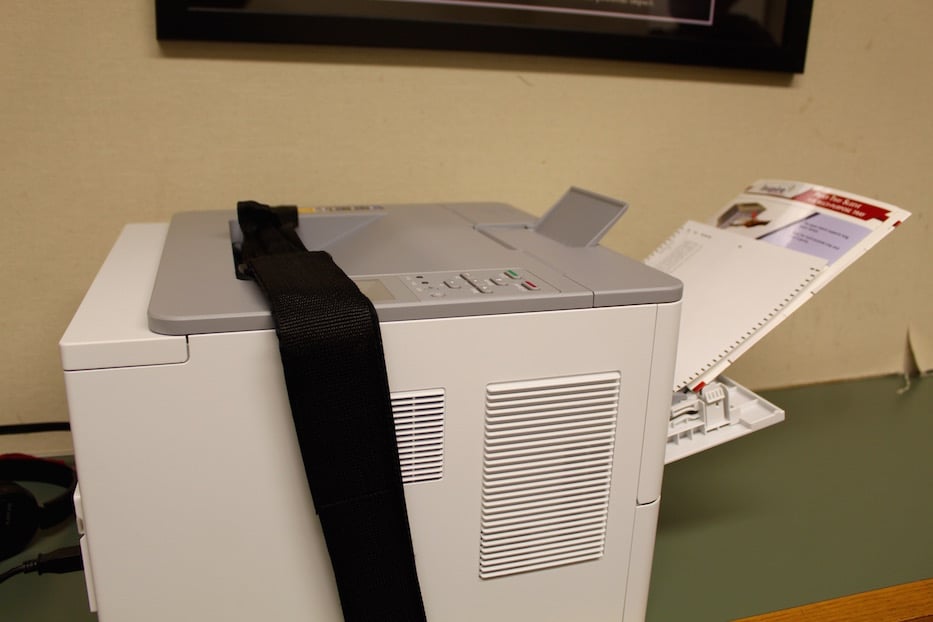 Had she tried to pick more than one, Knauff said, the system wouldn't have let her. In that sense, it's also smarter than a paper ballot; it makes it impossible to overvote.
In New Haven and across the state, the devices are supposed to be set up at every polling location by 6 a.m. on Nov. 2, when the polls open. Knauff noted that they should be in a spot that affords people with disabilities "the same rights as everybody else to vote independently and privately," language that is covered by the state's voting laws. She emphasized that voters must know to ask for the machines; poll workers don't offer automatically.
She added that the devices are part of her wider vision for voting accessibility in New Haven. Knauff started her position last March, just as Covid-19 closures were hitting the city. In June of this year, she submitted a memo to the city's Registrar of Voters outlining accessibility issues at every single one of the city's voting locations, from lack of accessible parking spaces to cracked cement and ramps not built up to code. For each accessibility problem, she left a suggestion.
Monday, the city's Registrar of Voters did not respond to a request for comment on whether and when city officials are acting on those suggestions. In the short term, she said, making sure the machines are up and running is also part of that work.
"I want people to know this exists," she said. "It is available to anyone. Whether you have a disability [or not], this machine is available. Go ask for it to be used! We would love for it to be used."