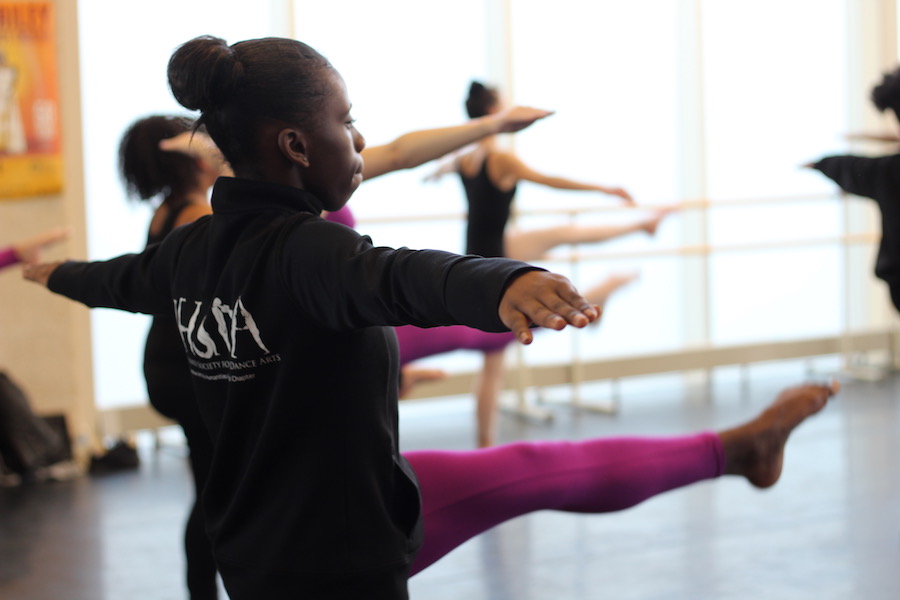 Co-Op High School | Dance | Downtown | Arts & Culture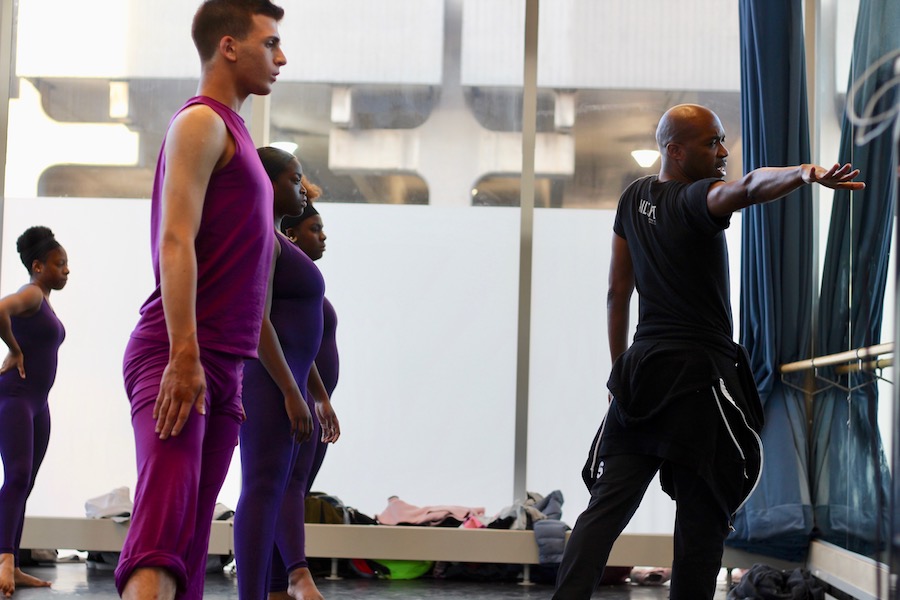 Troy Powell was nine years old the first time he realized he wanted to be a professional dancer, surrounded by company members who looked like him. Now, he's trying to pass that message on to some of New Haven's students who don't see themselves on the stage.
Powell is the artistic director of Ailey II, the barrier-shattering New York City dance company known for its focus on equity, access and inclusion through contemporary movement. Wednesday marked the midpoint of his three-day residency at Cooperative Arts & Humanities High School (Co-Op), where he is teaching through Thursday afternoon.
Next year, the company will return to perform at the Shubert Theatre on March 30, as part of an international tour for Ailey's 60th anniversary celebrations. Tickets and more information are available here.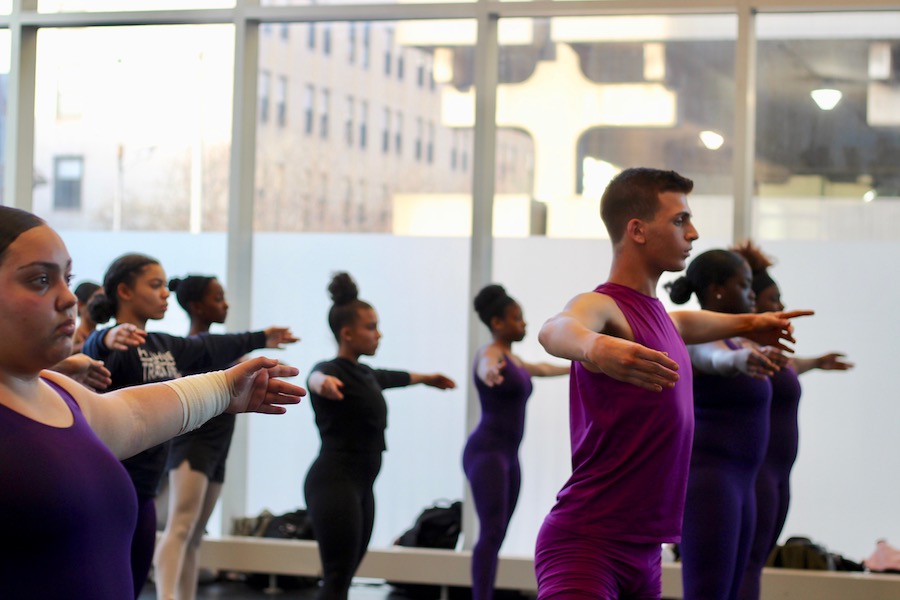 "This is a once in a lifetime experience," said Co-Op Arts Director Timothy Jones, who studied dance at the school before graduating in 2008, then returned as staff in 2016. "I'm really trying to create opportunities that I didn't have as a student."
As over 20 students filed into a second-floor dance studio Wednesday afternoon, Jones' words came to life, Powell guiding the group through warmups with pulsing house music as he devised a routine in his head.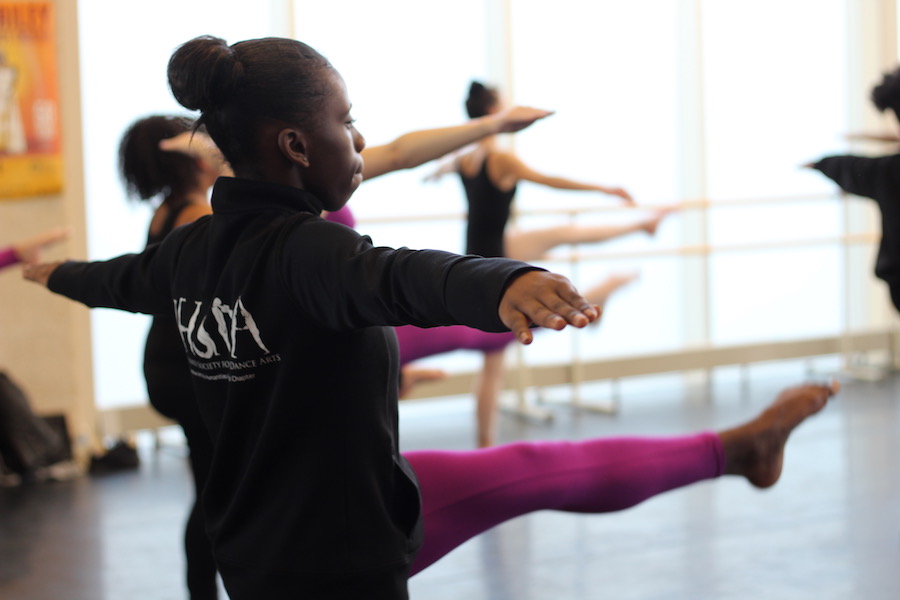 Students lined the studio in matching unitards and pant-top combinations, falling to a hush as he worked through a series of forward stretches, then shifted to the side and the floor. Backs arched and bent gracefully. Ams cut through the air. Limbs became longer. In the front, one student gripped his ankle until his whole body melted into it.
Powell was born and raised in New York City, not sure what to do with a lot of extra energy until he was nine years old, and entered the Ailey School of Dance on a scholarship. It was a world he hadn't experienced before: dancers of color learning from other dancers of color. His mentor was Alvin Ailey himself, who preached dance as an expression of common humanity.
He recalled watching the company perform not long after he had started dancing, on a field trip with his classmates from school. From one side of the stage to the other, all he could see were dancers of color, filling the theater with grace. He left totally transfixed.
"I didn't even know that was something you could do," he said.
The longer Powell studied at the Ailey School, the more dance seemed like a philosophy. After he graduated from the city's High School of Performing Arts, he joined the Alvin Ailey American Dance Theater in 1991, and then became the second director of Ailey II in 2012.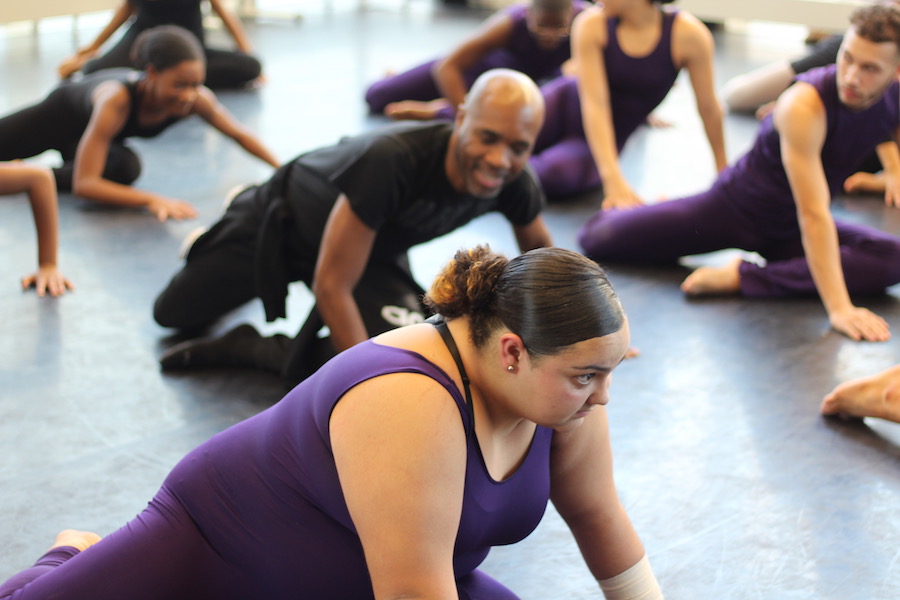 As a man of color who has danced all over the world, he said he sees it as both a responsibility and a source of joy to work with students as part of what he does. Especially students at schools like Co-Op, where a large number of student artists are Black and Latinx.
"You can use dance to get to humanity," he said, noting that he'd been moved by the school's winter dance concert on Tuesday. "Each time you come back to it, you grow psychological—and this is a pivotal age."
"I'm so inspired by the work and the joy happening here," he added.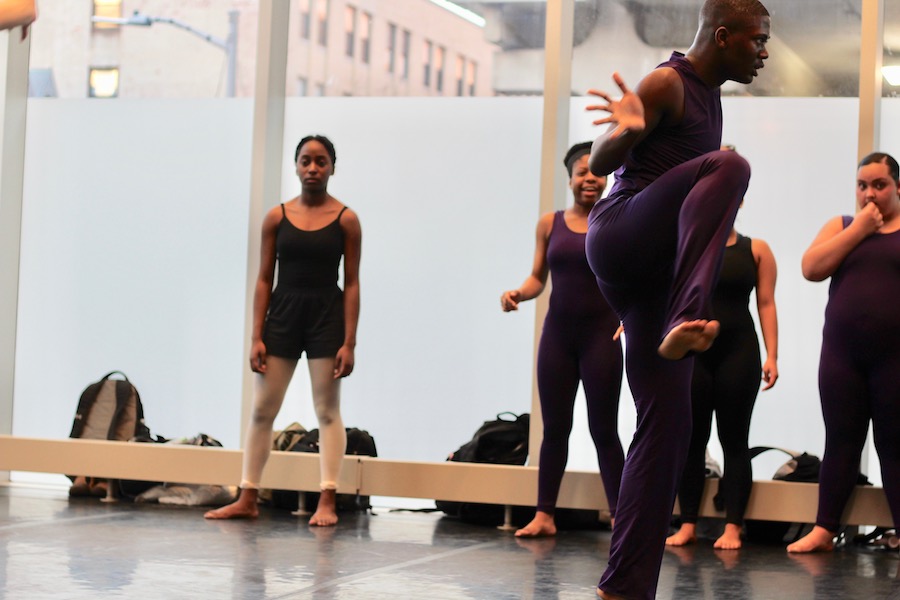 Wednesday, he welcomed students including Bradyn Pettway (pictured above), a sophomore at the school who has been dancing in New Haven since he was eight, and did a one-week intensive with the Ailey School two summers ago. In the time since, he's been honing his skills in ballet, tap, jazz, modern, lyrical, contemporary and African dance at Dance Unlimited in Hamden. By the end of the class, Powell was talking to him about returning for the six week one.
"A lot of people say it's girly, but it's really something to explore who I am and where I come from," he said. "I like a challenge, to work on technique."
He got one. After students had warmed up, Powell lead them through the first steps of new choreography, swooping his right arm beneath him and stepping to the side before bringing one leg back, turning, and falling to the floor. Students worked through it, palms flush to the floor, fingers extended.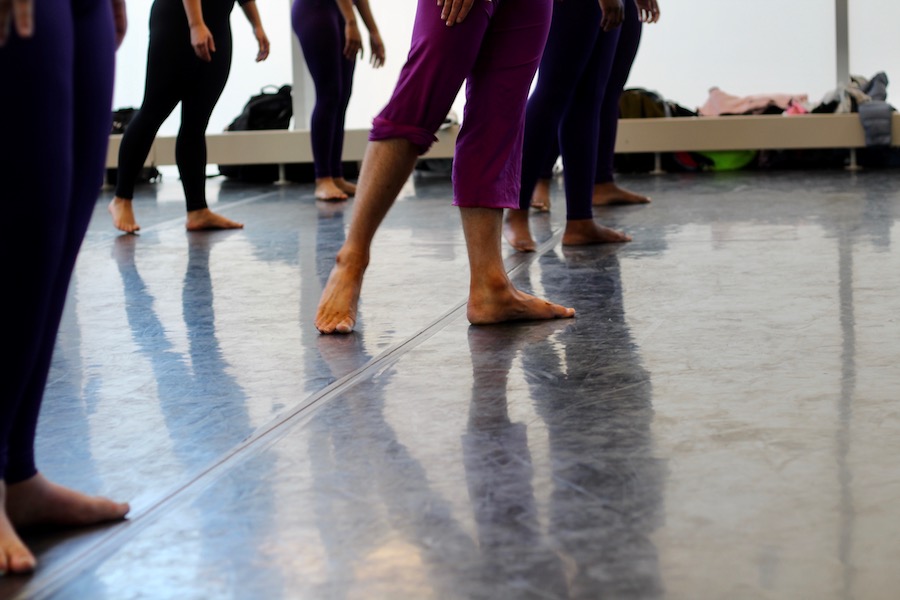 He scrolled through his phone for the right music, a few students breaking into impromptu Bollywood freestyle as a snippet of Vishal Dadlani's "Malhari" blared over the room. They came back to attention as the music stopped, and Powell took them through their paces. Then it was all business. Powell put the music back on, and counted students in.
Bajne de dhadak dhadak
Dhol taashe dhadak dhadak
Bhandara chidak chidak malhari
As lyrics crackled to life, students transformed, their bodies gliding through the movements as they swooped, turned, fell in sleek heaps to the floor, and then repeated the movement three times. Breath, hard but barely audible among applause, built around the room.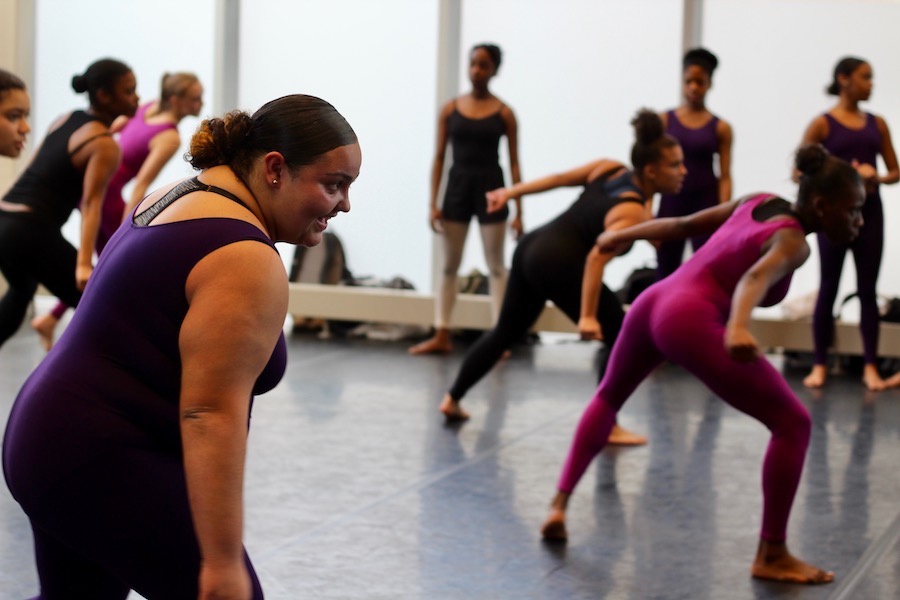 Kadak tadak bhadak jhaali
Chatak matak vatak jhaali
Dushman ki dekho jo waat laavli
Powell, who said he was partly inspired by the song's use in the Bollywood romance Bajirao Mastani, was just getting started. Marking the dance's first moves, he rocked back and forth from each leg while bringing his arms to his heart, rotating an invisible orb there. When he turned to the side and added the shoot, a few students broke composure to cheer and laugh. Then they got back to work, splitting into groups to present the piece in stages.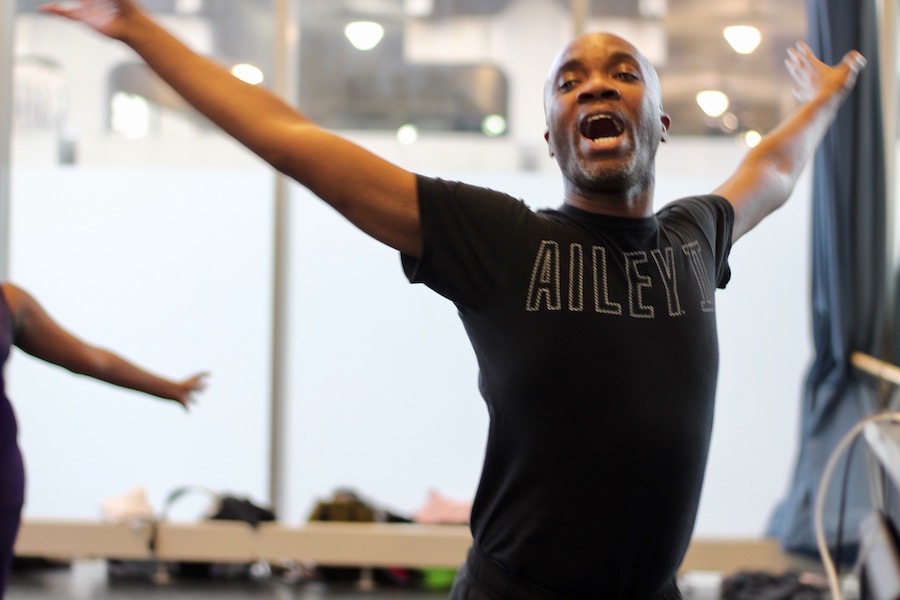 "Arms like you're swatting bees or flies or something," Powell joked from the front as he added another set of movements. Four backwards hops, spinning hips, and a raised leg that turned into a fully fledged shoot. A leap, back arched and legs spread, during which the dancers traveled forward through the air. Heels that hit the floor like their own percussive instruments.
He walked through lines of students, noting an extended leg in one place, an arm in another. His sweatshirt read like a command to the room: "Less Instagram. More Martha Graham." On his command , students took the floor, cheering each other on and dissolving into grins as they sprang through the air, then hit a final stop. He looked to the group, running dancers through the routine one last time before the class had to go.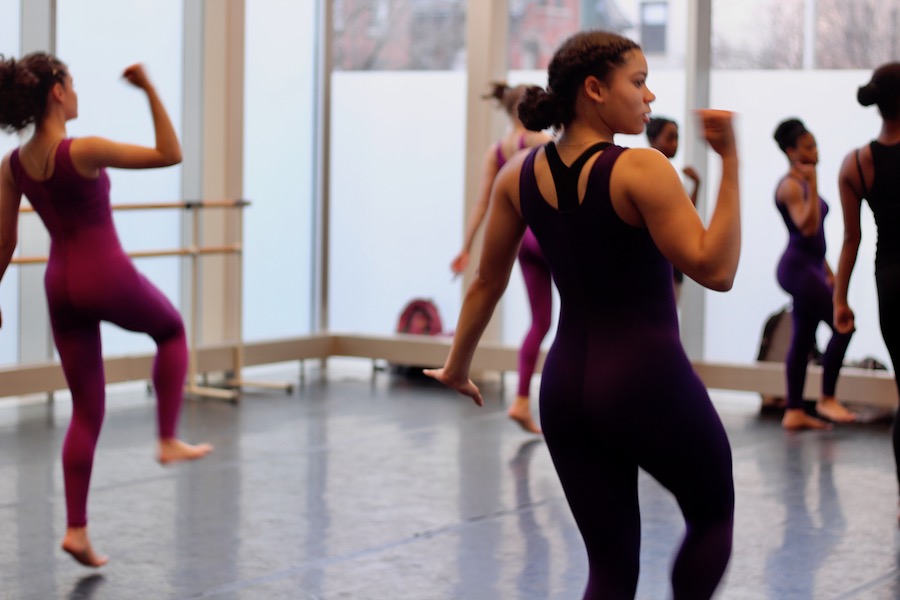 "Yeah?" he asked, taking in a group of flushed but grinning faces around the room. "It's fast. So what? You're young!"
After the class, senior Valamae Jenkins said she had been excited to learn the choreography, and would be bringing her lessons from the day to her next classes at Tia Russell Dance Studio, where she has been dancing for six years.
At 18, she's taken cues from watching Alvin Ailey performances, moved especially by the company's work in Revelations. Next year, she is planning to minor in dance at Southern Connecticut State University (SCSU), with an accompanying major in social work.
"I love seeing someone who looks like me on the stage," she said. "The next generation can look up to that."