Culture & Community | Damian Cashman | Food & Drink | Greater New Haven | O'Toole's | Arts & Culture | Trinity Bar
When Damian Cashman arrives at a fundraiser on Sunday, he won't just roll into town. He'll ramble — all in the name of a building that's gone up in flames.
Cashman is the founder and owner of The Rambling Inn, a new pub on wheels inspired by traditional Irish pubs on two sides of the Atlantic ocean. Sunday afternoon, he and several partners will be holding a fundraiser for the victims of a September fire at 157 Orange Street, the building that housed the Trinity Bar & Restaurant and a series of upstairs apartments.
The fundraiser will take place Sunday from 12-8 p.m. at Temple Plaza, located at 160 Temple St. In addition to The Rambling Inn, several local bands and bartenders will attend the event, for which local vendors have donated beer, wine and liquor. Profits from that event will go directly to the tenants, some of whom have been displaced by the fire, and Trinity Bar employees who have been left without work. Cashman said he is hoping to raise $10,000 or more.
It's part of a charitable streak that runs through Cashman's career, which has ranged from cooking and bartending in pubs to operating The Trinity's precursor, O'Toole's.
"That building means a lot to me," he said in an interview on WNHH Radio's "Kitchen Sync" program. "So it kind of broke my heart. I couldn't believe it … it was terrible. So I thought it would be a good opportunity to do something fundraising-wise."
"O'Toole's, and Trinity, and Anna Liffey's have done so many great fundraising … I think everybody in this city has at some time been to a fundraiser in an Irish bar," he added. "So it's nice to be able to help out the Irish bar for a change."
But the Rambling Inn's story doesn't start in Connecticut. Cashman's original idea for the pub reaches back to his hometown of Tipperary, Ireland, a small town about 90 minutes from the city of Cork.
Born to a creamery manager and hairdresser in the 1970s, Cashman grew up attending Catholic school, helping his mom and three brothers cook when he was at home. His first forays into baking weren't promising: cupcakes "that looked like frisbees," breads that were half finished and didn't always rise, and "a lot of disasters." But he also found himself assisting with dinners, learning his way around the kitchen by the time he was in his early teens.
It was the 1980s, and Irish emigration was higher than it had been in three decades. Cashman watched as family friends and colleagues from the town left Ireland for better work opportunities in England, Canada and the United States. "It was hard," he recalled.
Even in his youth, Cashman said he could feel that change taking place in the country, as towns and counties emptied out. Thanks partly to his father's job, his family always had enough to eat: "Gouda on crackers when nobody else was eating it," with Friday fish dinners, pork chops, lamb, Shepherd's Pie, and "potatoes a thousand different ways" that his mother cooked.
Outside of food, Cashman's family had a love for Tipperary's pubs — a total of 42 for a population of 3,700 people in the town. That's one pub for every 88 people. Each was different, Cashman recalled — large pubs like The Trinity or Anna Liffey's rubbed up against small, intimate sitting rooms and old-school taverns. Each had its own regulars, and each a standard slate of beer — Guinness, Harp's, Smithwick's, Carlsberg, and Heineken.
"Irish pubs are so integral," he said, They're such a vital part of the community. Everything from baptisms to weddings to post-weddings to every life occasion is pretty much celebrated around the community of your local Irish pub."
There were magical things about those pubs, Cashman said. As a young guy, he started off drinking Guinness, modeling himself after his dad. But "it was tough at 17 or 18, with a messy pint of Guinness, trying to chase after a couple of girls." He turned to an unlikely fallback: Budweiser, the top seller in Ireland as he grew up. It was a different beer than that sold in the U.S., he insisted: Guinness had a contract to brew the Budweiser to their own recipe, and Cashman remembers it as "phenomenal."
"It was a lager, like the lager you would have [here], but it had a lot more body to it," he recalled. "It wasn't like the lighter Budweiser. It was really great."
It was "very much a beer culture," punctuated by celebratory nights of mellow drinking. But at some point "You're kinda here in Tipperary, and there's the same thing going on in 42 pubs, you finally get through em all at some stage," Cashman said. "So, you try and do something else. There was definitely a yearning to travel."
By then, Cashman was working as a buyer for Dell Computers in Limerick, a town about 25 miles outside of Tipperary. In 2000, he took a vacation to the U.S. for St. Patrick's Day, coming to Connecticut to visit childhood friends in Connecticut. One, Ollie O'Neill, owned a pub in Norwalk; he introduced Cashman to the phenomenon of corned beef and cabbage, an American intervention on the bacon and cabbage that he had grown up with. It was his first time in the U.S., and he didn't want to go hime.
"I just fell in love with the place," he said. "The hot dogs were everything I dreamed of … I just loved that there were so many different mixes of people. Nobody cared and I was like: 'This is great! I can try anything.'"
During that trip, he also met the then-owners of The Playwright, then in Stamford and Hamden. Cashman told them that he'd bartended his way through college, making sandwiches and teas for catering gigs as a teenager. That he was, in his words, "no stranger to gettin' behind the sticks and pullin pints."
Little did Cashman know, transplantsBernie and Richard Guilfoyle were thinking about opening up an arm of The Playwright in New Haven. They invited him to join them at the bar. Cashman thought they were joking, and headed back to Ireland with a head full of new American ideas.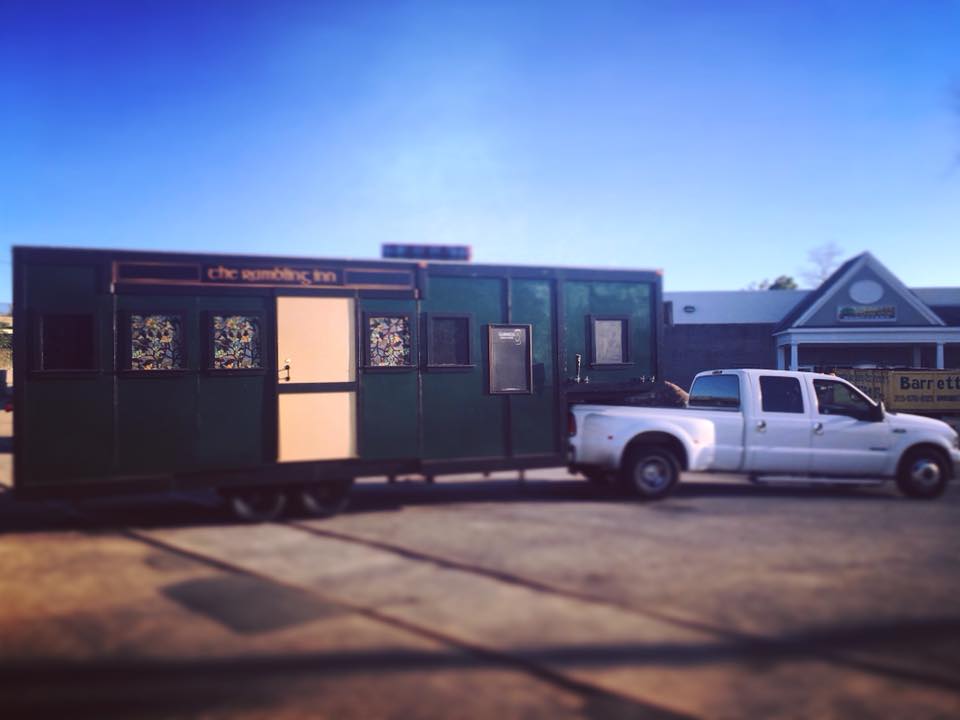 But it occurred to him once he was home that the brothers Guilfoyle might have been serious. Through a friend, he got Richard Guilfoyle's telephone number. When Guilfoyle said the offer was still on the table, Cashman applied for a year of absence from his job. He headed back.
In New Haven, he hit the ground — or rather, the taps — running. He moved to Miami for a few months to tend a South Beach outpost of The Playwright, then back to New Haven in time to get The Playwright refurbished and opened by Thanksgiving of 2000. Downtown was still relatively quiet: only the Omni Hotel and Neat Lounge, at the corner where Olives & Oil now lives, populated Temple street.
"We opened up the doors and downtown kind of lit up," he recalled. "It was crazy. We had a couple of thousand people on a Wednesday night we weren't expecting. It was just nuts. We didn't know where all these people were coming from."
The Playwright's team adjusted quickly. In a back space where they'd planned on having weddings and parties, the owners stuck a local D.J. with low-light. That dance party became the well-known "back room" of The Playwright. Cashman ultimately stayed with the Guilfoyles for nine years.
"I really fell in love with New Haven," he said. He became involved with the Keys To The City, a dueling piano bar. He stayed with that gig for a year and a half, but found that life in the pub was calling him back. And then, one day, he found himself stopping at a "for lease" sign outside of 157 Orange Street — and thinking about what a lovely pub it too might make.
With Colin O'Toole, Cashman transformed the space into O'Toole's Pub, opening it in 2011. He owned the bar for four years, turning it over to The Trinity's team when he was approached by Pernod Ricard, the French firm that represents liquors and Irish whiskey.
With an offer "I couldn't turn down," Cashman started doing whiskey consulting. As he traveled, friends and colleagues mentioned that they'd like to see him behind the tap again, as the full owner of an Irish pub. Cashman shrugged them off for a while. "It was nice to have a steady paycheck coming in, and being taken care of by the suppliers," he said.
But he found himself getting nostalgic the farther away from 2011 he got. He missed aspects of owning a bar, just not the brick-and-mortar part of the equation. He didn't want to repeat the late nights and early mornings, which had included shoveling snow off the roof during the winters. Reopening a pub that was open late would mean more time away from his son, who is now six.
It was an idea that wouldn't quite go away. Cashman recalled thinking "Well, it would be great if I could control the overhead, control the staff, and kind of control working when I wanted to work." Colleagues in the liquor business told him that he'd be good back behind a bar. They asked how they could help him in business.
"I could bring a pub with me," Cashman had answered. It was a joke. Except it wasn't, totally.
Within a year, Cashman had found a 32-foot camper from 1991, on sale from Craigslist. For a year, it sat in his yard. Then he started a rehab, a process that included an aluminum skeleton, dark wood, off-white walls, a keg cooler and tap system, and custom 16-foot slide out bar that expands. It fits about 1 people, Cashman said.
"You're immersed in what pubs in Tipperary of my youth were," he said.
It has restrictions: Because mobile pubs are not licensed to just "pull up and starting beer on the street," it's an event-oriented bar, with catering done out of Portofino's State Street kitchen. People can book the pub through Cashman, or he can roll in to events, like the fundraiser.
Sunday, that's the plan, so he can be part of helping those Trinity employees "get back on their feet."
After the fundraiser, The Rambling Inn will do a little rambling out of the state, driving from Maine to Philadelphia on a contract from Jamison Whiskey.
"We're like whiskey gypsies, I suppose," he said. "It's very important that we represent Irish whiskey, Irish culture, and Irish pubs in a positive way."
To listen to the episode, click on or download the audio above or check out "Kitchen Sync on WNHH-LP" on iTunes or wherever you get your podcasts.