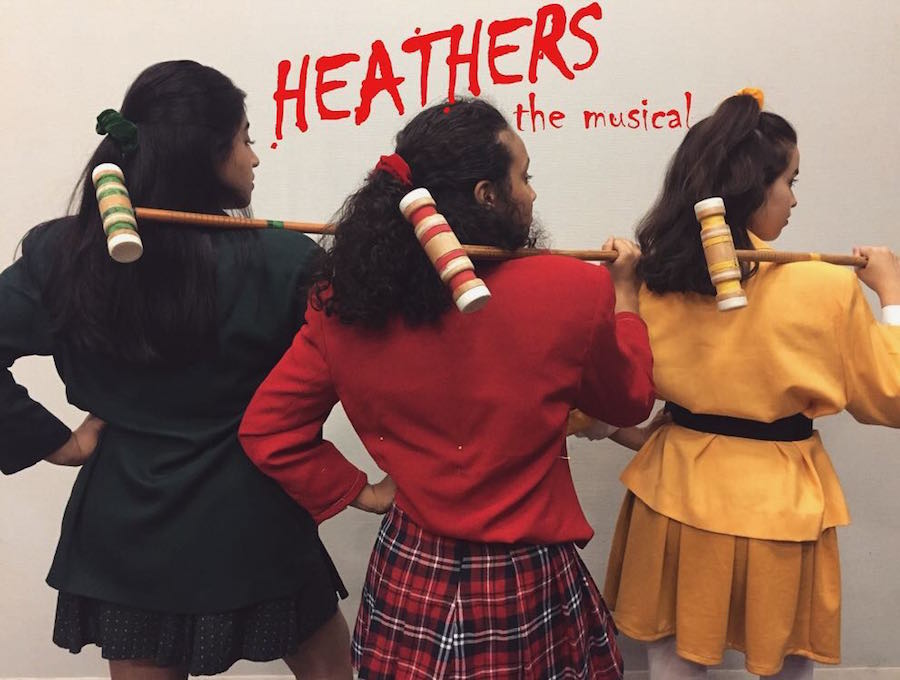 Co-Op High School | Arts & Culture | New Haven | Theater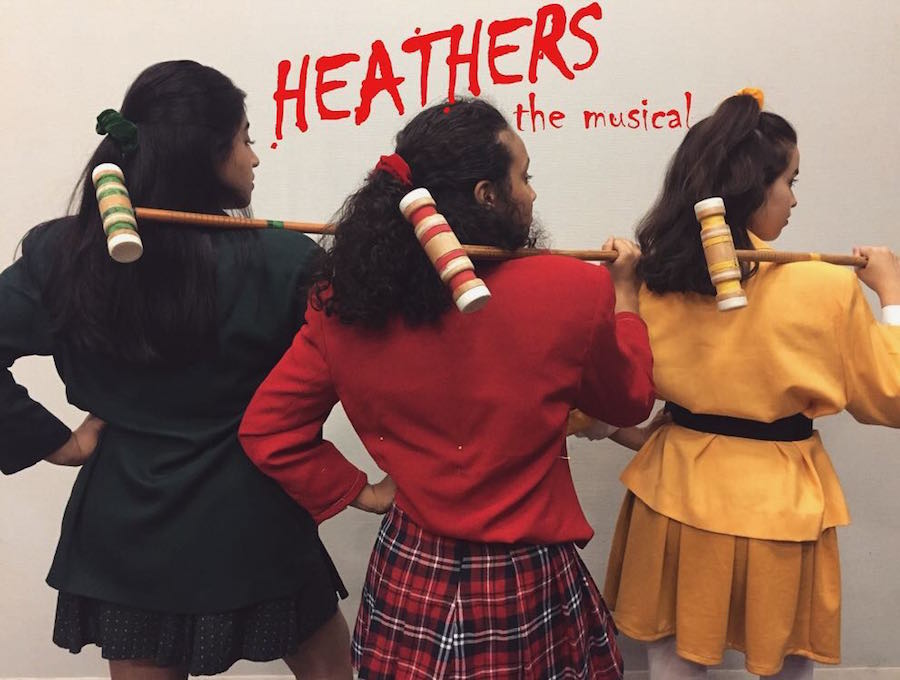 Veronica and J.D. are getting a little lovey dovey. In the middle of a high school hallway—lockers to one side, classrooms ostensibly to another—the two link hands and sing, staring into each other's eyes.
"We'll bake brownies, well go bowling, don't you want a life with me?" Veronica asks, her voice nearing a coo as it climbs an octave or two. "Can't we be 17?"
It's just another mellifluous high school romance. Until, that is, you consider they've already killed off three of their classmates.
So unfolds Heathers: The Musical, on through Wednesday morning at Cooperative Arts and Humanities High School on College Street. Directed by Co-Op teacher Valerie Vollono, the show opened Monday night to a packed house of cheering students, parents and Co-Op faculty and staff. More information and tickets are available at Co-Op's website.
As parents were coming to blows with the Board of Education across town, a different conversation on education and its discontents was taking place on Co-Op's broad stage. Based on the 1988 cult classic film of the same name, Heathers isn't the easiest musical to stomach. It's Mean Girls with an infusion of dark comedy, so murderous it's fetch.
The year is 1989 and Westerburg High School is teeming with its cliques and bullies — dorky best friends Veronica Sawyer and Martha Dunnstock (Gabrielle Christofor and Yashaira Leguisamon), jocks Ram Sweeny and Kurt Kelly (Carlos Pereira and Shalont Dixon), mystery man and trench coat model Jason Dean (Leone Rodriguez) and a handful of nondescript, genial students who hang around in the background. At the top of the food chain sit three scrunchie-armed Heathers, strutting the school in their blazers, shoulder pads and short short skirts.
The trouble is that Veronica wants to be popular. Just for a moment (but isn't it always just for a moment?) and the Heathers are the way to get there. No one's supposed to get hurt in that process, but this is high school, and no one ever emerges unscathed. The Heathers train doesn't just go off the rails: It makes stops at rape culture, teen suicide, mental health, youth and gun violence, and a school bombing.
At Co-Op, that's where the show finds its footing. From the first moment Heather Chandler (Lindsey Cruz) takes Veronica under her scaly, salty wing, there's just a feeling that things won't end well. A series of mental alarms go off at the same time: there's a slow-simmering rage between the Heathers and Veronica—and the Heathers and themselves— that can't not boil over. A scene in a cow pasture that feels like it's going to end in a gang rape, and keeps viewers on the uncomfortable edges of their seats. Actors acknowledge sex, birth control, and self-medication routines.
There's J.D., whose hangups with destruction and abandonment transform him into a shooter when he can't quite deal, or wants to prove just how far his devotion goes. The musical may be set in a year when school-aged revenge shootings could still be the butt of a joke, but it feels fresh and stinging on the 2017 stage.
You find yourself thinking: How can high schoolers be performing this right now? Or, perhaps: Is it really appropriate for high schoolers to be performing this right now?
Which is exactly why high schoolers should be performing it right now. While none of the cast members were alive in 1989, they're all living through the insufferable and awkward high school years that define the show, and they really carry it. We are all some version of Veronica when she sings "Dead Girl Walking," a sort of breakup song with the Heathers that turns into a rompy sexual power ballad.
"The demon queen of high school had decreed it/She says Monday 8 a.m. I'll be deleted," Christofor belts, and we all relive our worst and smallest high school memories ever so briefly. "They'll hunt me down in study hall/Stuff about me on the wall/30 hours to live, how shall I spend them?"
That's just the tip of the angsty iceberg. When Heather McNamara (Cristal Arguello) speaks about her own thoughts of committing suicide ("Lifeboat"), the song swerves from funny into not, Arguello's wide eyes telling the audience everything it needs to know. As Heather Duke, Valerie Luna is a fantastically nasty mean girl, shining after Heather Chandler is out of the picture.
There are lines that land hard. Ms. Flemming's (Marnielle Charles) flippant proclamation that "whether to kill yourself or not is one of the most important decisions a teenager can make!" strikes a nerve. So does "If you were happy all the time you wouldn't be human—you'd be a T.V. host!" delivered to laughs and mmmhmms as the audience takes in its full weight.
But there is also a free-flowing, buoyant and very 17-year-old kind of joy that flows through the show, lifting up even the uneasiest moments. As the group gathers for homecoming, some nefarious acts already in motion, they break to sing "Big Fun," a ballad that revels in its teenagedom with lyrics "The folks are gone/it's time for big fun!/We're up 'til dawn/Havin' some big fun!"
So too at the beginning of the second act, as Ram's dad (Rowan Herbert) leads the cast in a rousing rendition of "My Dead Gay Son," complete with multicolored balloons, rainbow suspenders and pride flags large and small. As he pushes his small midwestern town toward a message of tolerance, the ensemble breaks into wild dancing onstage, throwing their bodies jubilantly into the music.
They're supported by an extensive crew. There's a full orchestra onstage, decked out in marching band regalia and playing along to each number with extraordinary care. Set designers have designed rolling set pieces that spin a world of high school pep rallies, locker-studded hallways and messy teenage bedrooms into being. And taking the wheel for the first time by herself, dancer and recent Co-Op alum Mimi Zschack has created for the group a world in which choreography is no barrier, but will help them express exactly what they want.
They just want to be 17, and loved. Can anyone blame them?
Heathers: The Musical has performances Nov. 21 at 2:30 and 6:30 p.m. and Nov. 22 at 8:15 a.m. The last is an in-school student production. For tickets, click here or check out the musical on Facebook.