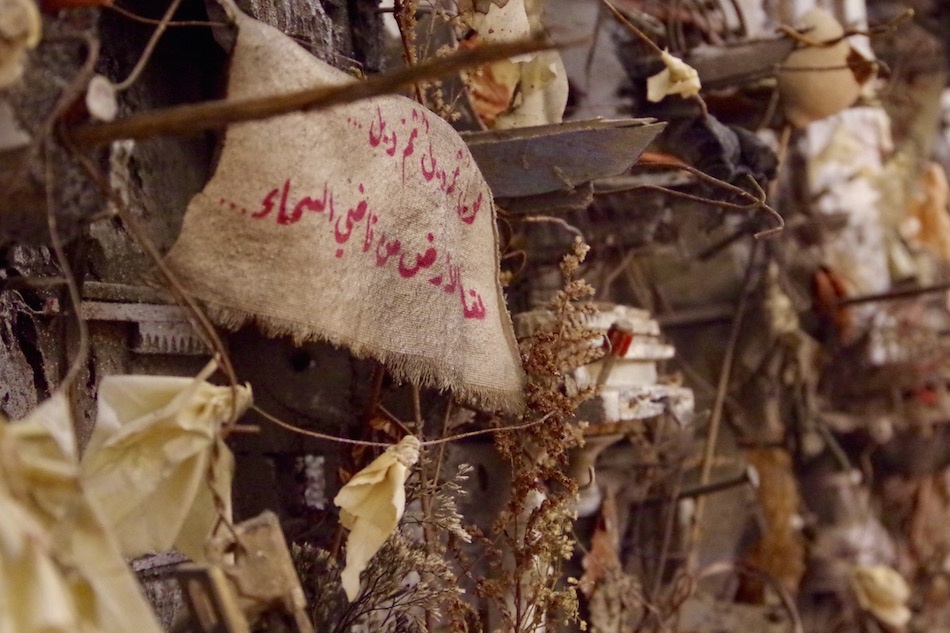 Integrated Refugee & Immigrant Services (IRIS) | JCARR | Refugees
Happy 2017 Election Day, Connecticut. This article is the first in a two-part series we'll be running between today and tomorrow about what has changed for two refugee families, both of whom arrived on Election Day 2016, in the year since Donald Trump was elected president of the United States.
There is a lot A. remembers about Election Day 2016. The teary goodbyes to her family in Syria, and questions she had about ever seeing them again. The plane rattling beneath her as it touched down at John F. Kennedy airport. The questions her children had as they nodded off and awoke with starts.
And the quiet darkness all around, that seemed to grow more expansive as the night wore on. It was the night she and her husband found out that Donald Trump, an advocate for "the total and complete shutdown of Muslims entering the United States," had won the election against Democratic nominee Hillary Clinton.
A. is a refugee from Syria. Last year, she arrived with her children, husband, and husband's family on Election Day, as polls were closing and totals began to trickle in. In an interview earlier this fall, she and her husband looked back at that experience, and what has changed in the 12 months since.
"When I first came to the airport, I wanted to go back that second," A. recalled from her warm living room, speaking through translator Reem Nahlawi. No sooner had she arrived in the U.S. than a woman confronted her at the airport, ultimately involving a police officer in their dispute. "That was day one," she said.
"We came with Trump," her husband added in the same interview. "If we'd known Trump had won, maybe I'd cancel the offer. But IOM (International Organization for Migration) told us we can't cancel the appointment."
"They were telling us, 'no, it's impossible for him to win,"" he continued. "The IOM teacher said that if Trump won, then their job would end. She reassured us, and then we came."
Trying to settle into New Haven took time. Almost immediately, A.'s family was paired with representatives from Integrated Refugee and Immigrant Services (IRIS) and the Jewish Community Alliance for Refugee Resettlement (JCARR), a grassroots outreach group whose members offered to shuttle them around the city, and help with day-to-day tasks like language learning, grocery shopping and school enrollment.
JCARR comprises members of Congregation Beth El-Keser Israel, Congregation B'nai Jacob, Congregation Mishkan Israel, Congregation Or Shalom, and Temple Emanuel who co-sponsor refugee families, helping them resettle in Connecticut.
Despite layers of help from the community, A. and her family were physically separated from her husband's brother and his family, with whom they had arrived in the U.S. Weekends became a journey to elsewhere in the state, where the brother was living. And when they were at home, A. and her husband found their neighborhood unsettlingly quiet, like a tomb.
And then there was the issue of income. A. had assumed that her husband would work and she would stay home with their children. Ultimately he did, in a factory and then at Yale-New Haven Hospital. But in the interim, something happened that neither of them expected: He struggled to find a job that fit his physical limitations, and she began working to bring money into the home.
She had never worked before. But after an American friend's declaration that her falafel was "the best I've ever had," she began to think about bringing her cooking into the wider community. In Syria, she had learned to cook from her brother, a chef by trade and patient teacher as she mastered bean and meat stews, baked goods, and thick, spice-sprinkled spreads. She had cooked for her family, often serving meals to as many as 25 people at one time.
She returned to the friend—author Jake Halperin, who was working with her family on his series Welcome to the New World—with an ask: Help me find some families who will eat this food. She told him she wanted a job she could do from home, to continue taking care of her young kids.
Her first catering assignment came from a professor at Yale, who wanted a dinner for 25 people. Jean Silk, the head of JCARR, offered to help her prepare and figure out how much to charge. Then A. got to work, preparing platters of Malfuf (stuffed cabbage), Mloukhiah (chicken stew with Nalta jute leaves and thick slices of lime), Namura (semolina cake) and other dishes.
"I was just really hoping that they would like it, so I wouldn't feel like a stranger," she recalled, her voice catching on the memory. "They welcomed me and greeted me. I just wanted to burst out and ask them … how was the food!? Did you like it?"
They did, it turned out. A lot. The professor sent JCARR a message that she'd enjoyed the food so much she wanted to work with A. professionally, on a contractual basis. A. wasn't ready for that, she said; her children were still too young for her to leave them alone, and she didn't have a permitted, commercial space. She also wasn't confident with her English language skills.
But JCARR found a middle ground: A kind of informal catering business that operated by word of mouth. When Sumiya Kahn of CitySeed's Sanctuary Kitchen program heard about A.'s cooking, she asked her to join the group. A. signed on with a series of recipes she'd already perfected.
By September 2017, she had cooked for 120 people, led a class in baklava making at Congregation Or Shalom in Orange, and travelled to New York to cater a Syrian breakfast for 35 people. With JCARR volunteer Kate Ezra, she has also applied for incubator kitchen space at CitySeed, a program slated to begin this fall. It is the beginning of what A. said she hopes will become, a year from now, a brick-and-mortar business.
It's an emotional business venture, she added. With each taste test, she is reminded of the family members she left a year ago, and the chance she may never be able to return to the country without fearing for her life. There's still a gender aspect they don't understand, she said, although "they are proud of me."
"I told my family and my parents that I'm working with food," she said. "In our family it's not common to work if you don't have a license or an education. My father expected me to work with crafting … he was very surprised when I told him."
It is also intensely bittersweet. Before leaving Jordan, A. learned about food presentation from her brother, a chef by trade. It has made her dishes instantly recognizable, something to eat with the eyes as much as with the mouth.
But those lessons were born of necessity. A.'s brother cooked for her after Syrian secret police struck her arm with a club, injuring it severely. She had intervened when they arrived at her home for her husband, and threatened to take her son.
When A. placed her body between them, she recalled how the club had come down with a resounding thwack. In the months that she was recovering, her brother gave her a skill set he thought of as fun. Now, she's using it to defy expectations from both her family and fellow Americans.
"At the beginning, I never had an idea to work with food at all," she said. "Working at first was because my husband couldn't … because of that, we thought of the project, the catering. He's the one who communicates with people, like my case manager. He's helping me a lot with this."
Of her dream to open a store, she added, "You never know. Insha'Allah."
An earlier version of this appeared in the print copy of The Arts Paper out this month. Get a copy at over 200 locations in the region.