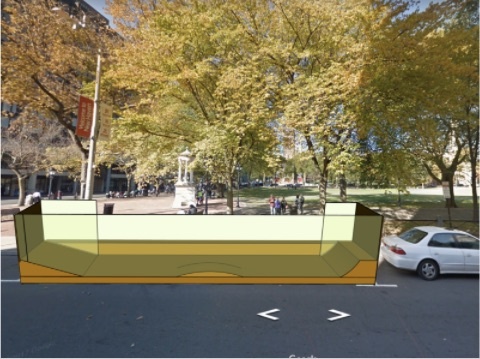 Culture & Community | MakeHaven | Parklet | New Haven | Transportation
You're walking past El Tapatio on Grand Avenue and need a place to rest your feet. Outside. The options are slim: sitting on the sidewalk, or trying to snag one of the limited spaces by nearby Christopher Columbus Family Academy. Just as you're ready to give up, you spot a new, pint-sized urban oasis: tables and chairs, tree-like sculptures, long wispy grasses and a dainty fence around the outside. All small enough to fit inside two parking spaces.
There's no place to actually do that. Not yet. But a year from now, there may be.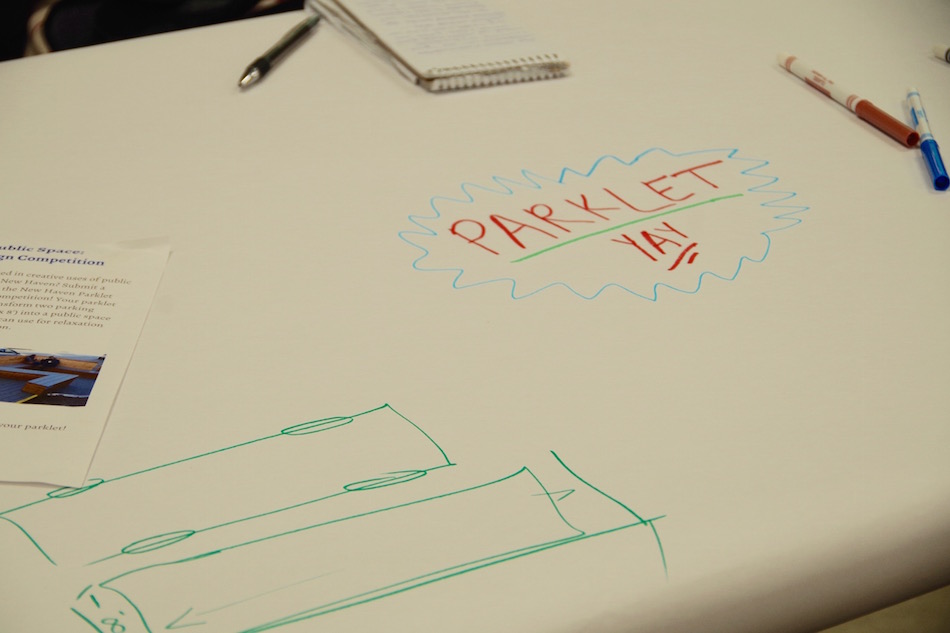 That's thanks to New Haven's first Parklet Design Competition, a collaboration between GoNewHavenGo, the Department of Transportation, Traffic and Parking and MakeHaven.
Tuesday night, transit czar Doug Hausladen, GoNewHavenGo rep Abigail Cheskis, and MakeHaven Director J.R. Logan hosted a parklet design open house at MakeHaven's State Street digs to discuss the competition. 10 people came for the 90-minute session.
Because entries have been so low, GoNewHavenGo has extended its deadline to Sept. 30. Winners will be announced during closing ceremonies for GoNewHavenGo's "CarFree Challenge" in early October.
Here's the idea behind the competition. Following a series of rules set by the city (ADA accessible, no moveable parts that people can walk off with, and nothing larger than 40 x 8 feet), one can design a seasonal parklet—a sort of public, green extension of the sidewalk. Add elements that lower the barrier to entry: bike-friendly stands, tables and chairs, a few places to find shade from the sun. Solar power is fine, although electrical power is not. And then submit it by the end of the month.
After a panel of judges weighs in at the end of the month, the winning parklet design will get a cash prize between $1,000 and $3,000, and help from the city's Department of Traffic, Transportation and Parking to get the necessary permits to build and install. Once built, the parklet will stay up from April through November of each year, removed before the winter.
The amount currently depends on how many winners the contest has; it could be as few as one or as many as two, said Hausladen at Tuesday's event.
That was exciting news to design team Kassandra Leiva and Misha Semenov, second- and third-year graduate students at the Yale School of Architecture and Yale School of Forestry. Tuesday evening, the two brought a rendering of their project "Urban Canopy" to the open house, laying it out to a smattering of oohs and aaahs.
Conceived of as an "environmental education opportunity," the parklet is part rest stop, part ecology lesson. Over a cluster of tables and benches stand four sculptural trees, representing the local varieties of Elm, Sweetgum, Pin Oak, and Maple. Around them, a wooden fence juts up from the ground as a sort of buffer. Four bike racks sit at the far end of the parklet.
Semenov said he didn't know if $3,000 would cover everything, but it's a place to start. If he and Leiva are to win the competition, they may seek private funding for photovoltaic trees, and solar powered charging stations for passers-by who are almost out of battery life.
"If we win … will we have support from the city?" Leiva asked tentatively, motioning to the rendering as she spoke.
"We're not going to throw you out there," Hausladen said.
As Leiva and Semenov finished to a smattering of applause, other attendees offered up their ideas, ranging from renderings in Google SketchUp to working ideas that have yet to appear on a page.
Pulling a PowerPoint presentation up on MakeHaven's projector, SeeClickFix Founder Ben Berkowitz said that his team had been thinking "parklet … why not a skate parklet?"
Specifically, a mobile skate parklet for the New Haven Green. Maybe it could travel to parts of The Hill and Fair Haven that aren't currently served by the skatepark by Edgewood Park's Coogan Pavilion.
"We wanna make skateboarding more inclusive," he said. He pointed to the New Haven Green and downtown as newly off-limits due to the installation of skate stops, which stop boards in their tracks. If skateboarding is going to be recognized as an olympic sport by 2020, and cities like Los Angeles and Montreal have already added public skateboard hours, why can't New Haven take a few steps to do the same, he asked?
"The Green was the place," added fellow skate enthusiast Noe´ Jimenez, who had come to support Berkowitz.
Hausladen raised the issue of liability and age accessibility. Currently "there aren't places for anyone under like, three feet downtown," he said, motioning to his calf for a height visual. What about something that was more open to kids and families? He added that there's a plan in the works for a downtown jungle gym from Luckey Climbers, but at $800,000, it's a way off.
Berkowitz said that he'd considered all of those factors—and still thought that the Green was the best option. Unlike other possible locations in The Hill or Fair Haven, downtown is not a heavily residential area. The closest apartment building is 900 Chapel St., which Berkowitz said he did not think would pose a problem.
Other rough parklet ideas floated around the room, knocking into each other like electrons. Tinkerer and bike advocate Lior Trestman suggested a place where people could simply "enjoy being outside" as much as he did, adding that he liked the idea of outdoor seating for those who did not skate, or share his penchant for napping in New Haven's public spaces. Deputy Parking Director Michael Pinto pointed to the addition of swing sets in downtown Detroit. Yale student Cameron Nelson suggested a parklet with "a tactile quality," to draw people in.
Just as the group was finishing up, transit engineer Stephanie Upson came through with one more idea of the evening. Upon hadn't come with a physical parklet plan, but she suggested a sort of "buffer zone" on the New Haven Green: "something for kids, with a lot of art and artists" and an option to rent it out for public open mic and performances.
"I'm thinking of everything the Festival of Arts & Ideas does on the Green every summer," she said. "We could have something like that all year."
"Like a public soapbox!" Hausladen cried.
"Like a public soapbox," she answered.