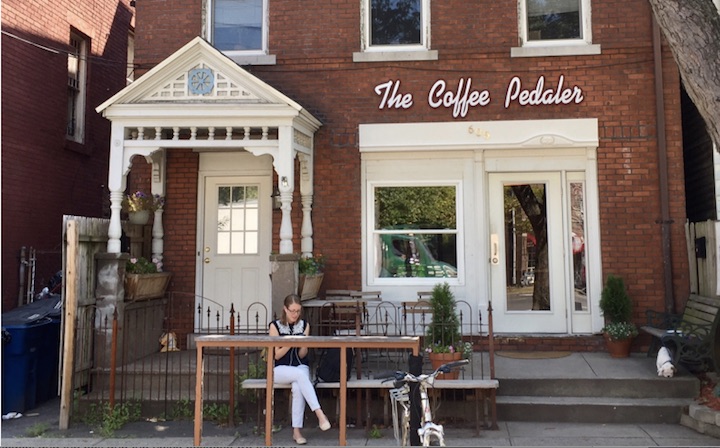 Coffee | Community Management Teams | Culture & Community | East Rock | Food & Drink | Ryan Taylor | New Haven
For months, Ryan Taylor has been trying to expand his East Rock coffee shop into an after-hours wine bar. If his East and State Street neighbors have their say, that may not happen anytime soon.
That was the story Monday night, at the most recent meeting of the East Rock Community Management Team (ERCMT). As close to 40 East Rock residents packed a conference room at mActivity Fitness Center, Taylor made his pitch — and got an earful from neighbors who oppose it.
Taylor is the owner of The Coffee Pedaler, a shop at 605 East St. that turns four years old this fall. In August, he and first-year Quinnipiac law student Katherine McComic filed a zoning appeal for a tavern license, which would allow the sale of wine, fortified wine, beer and hard cider up to six percent alcohol as late as 2 a.m. To obtain the license, the team needs the zoning board to grant a special exception for the property, which is located in a BA or Business A zone.
He and McComic have since expanded the special exception to allow for zero on-site parking spaces where seven spaces are generally required. After moving their appeal back a month, they will come before the zoning board on Oct. 17. (They were originally scheduled for Sept. 12, which was pushed back to Sept. 26 due to the city's Democratic Primary.)
ERCMT members have already voiced some misgivings about the appeal; Taylor's absence was noted at their August meeting. Read about that here and here.
Taylor sought to remedy those misgivings Monday night, arriving at mActivity with a neat leather case of notes and prepared remarks. As 38 pairs of eyes stared back at him, he made his pitch for the tavern license: economic growth for his business and for the surrounding area, without the added commotion of a raucous bar.
While a tavern license allows a property to remain open through 2 a.m, Taylor does not plan on keeping the bar open past 10 p.m. Those are the hours with which he's approaching the BZA next month.
"With just serving coffee, pastries, things like that, we can't really maximize business. So that's why we close at 5 p.m.," he said. "The tavern license is sort of the key to that element … it's the key to expanding business and having more money coming in." He added that a new income stream will allow him to "make things nicer," and embark on overdue projects like completing the shop's front patio and reworking its facade and front signage.
"We are not trying to turn the Coffee Pedaler into a bar," he added, pointing to both August and Chestnut Fine Foods as State Street businesses that have tavern licenses, and don't draw complaints from nearby residents. "There are other places that are already bars in the neighborhood and other things that serve that void."
But neighbors remained skeptical Monday night. No sooner had Taylor finished his pitch than Martha Smith piped up about parking from the back of the room. She later said that she lives on Hine Place just off of State Street, and that State Street parking "spills over" into her space.
"How will this fit into parking?" she asked. "Especially during the day parking's not as bad on State Street, but in the evening there's a real big problem because there's a deficit of parking."
"I would say, 75 percent of our clientele either walk to us or commute by bicycle, " Taylor responded. "Also in the evening over the years I've noticed a lot more foot traffic, and cycling traffic, than there used to be. "
Not all were convinced. "I have more than once witnessed nearby driveways blocked by cars that were driven by Coffee Pedaler customers," said management team member Eva Geertz. "It's a chronic issue for a number of houses that are on that block of East Street."
"Whatever happens is going to have to be handled carefully," she added. "I don't think anyone's against booze … but it's a delicate ecosystem over there."
"Okay," Taylor responded.
Geertz' comment struck a nerve for other State Streeters in attendance. If parking becomes an issue, garbage and noise may follow, some members noted. First in line was management team secretary Deb Rossi, whose house is 17.5 inches (she measured it last weekend) from Taylor's property line.
She pulled out a photograph of her home on East Street, a perky, white three story that sits just to the right of the coffee shop. At the time she took the photo, there was an illegally parked car in the front of the house.
She pointed to each room, describing the house's layout to Taylor. The front-facing windows on the second floor are a bedroom, she said. The window on the third floor, also a bedroom. The two windows on the bottom floor? Her study, where she stays up and works from 10 p.m. to 2 a.m. several nights a week.
"One of the reasons I'm able to get the work done that I need to get done is because it kind of calms down at 10 p.m. And that's a good thing," she said.
She doesn't think Taylor is ill-intentioned, she added. She just doesn't think he's a good neighbor.
"I'm concerned that I was literally sitting on your patio four days before I got the BZA notice talking with the future alder [Charles Decker], and you never said anything about going for this," she told Taylor. "There's no garbage can, there's no [cigarette] butt can … there's no place to put your butts, except on the ground. There's no place to put your coffee cup, except on the hedge."
Taylor listened, pressed against the wall as Rossi listed her concerns from across the room. The illegally parked cars aren't solely his problem, he insisted. They're also due to congestion from what he called "the bodega," or Gloria's Grocery at State and East Street.
"Actually, I know by the car which place to look to get it out out of the driveway," Rossi countered. "If it's a Subaru or an SUV, it's usually your place, and … if it's some earlier model vehicle, I'll go in there and I'm usually correct. So it is happening for both places and it's not just you."
Taylor soldiered on. "And the trash disposal," he said. "It would be very easy for me to put a cigarette outpost out there, and a trash can, and I can do that no matter what happens."
"It just seems odd that it took four years and wanting a tavern license to do right by the neighborhood," Rossi countered.
"I think we've done a lot right by the neighborhood," he said.
Rossi said she worried that Taylor might get the liquor license and then move in a few years, leaving behind a business now legally allowed to sell liquor. (That's not exactly the way it works, countered management team co-chair Kevin McCarthy: if there is a subsequent business in the same property, their ability to sell liquor is still pending under BZA approval.)
Meanwhile, East Rocker Paul Wessel echoed the concern that Taylor hadn't been a good neighbor.
"Deb is one of the nicest people on the planet, and somehow you haven't been able to figure out how to have a good relationship with Deb," he said. "But when you're running a business you've gotta get along with your neighbors, especially when you're 17.5 inches away from them. It doesn't seem like it makes sense for you to expand your business if you haven't figured out that piece yet."
"I don't know if we need another wine bar," he added, a few nods rippling across the table. "I think there's enough activity on State Street … it doesn't seem like your track record is really good." He pointed to Contois Tavern, which he lives next to, as a successful example: quiet, and respectful of nearby tenants.
Taylor had his supporters there too. Speaking frequently on his behalf was McComic, who will be representing The Coffee Pedaler at the Oct. 17 BZA meeting.
"If we ever hear ourselves complaining that New Haven doesn't have enough jobs or cool businesses or ways to attract young people, this business in it's hopeful expansion is one of the best ways of trying to correct that grievance," she said.
"What doesn't come through is that he's gonna bring his passion for wine the same way that he brought his passion for coffee," said self-described frequent customer and coffee enthusiast Rob Bettigole. "Ryan's got the best coffee in town—probably the best coffee in Connecticut—and I'm really excited about having a place like that, that really cares about the people in the community right around Coffee Pedaler."
Rhonda Voos, who serves as manager at East Street Arts, added that the coffee shop has increased foot traffic on the street, which she sees as a boon to the area. Since The Coffee Pedaler opened four years ago, she said that she'd noticed people that will park further down East or State Street, and dip into East Street Arts while they're getting their coffee. When a concern about parking arose at her organization, she found that it was easy enough to print out notices that illegally parked cars will be towed.
Ultimately, some neighbors weren't swayed. Rossi was the first among them. She recalled an earlier time when she might have been—when Taylor first moved into the space four years ago, and she told friends including Geertz that "this [cafe] will be a good thing."
Back then, she said she was impressed with what Taylor had done to the first-floor space, and with the patio and landscaping outside. But then trash, cigarette buts, and the occasional errant workman showed up on her property. And illegally parked cars that blocked her in.
Taylor tried to sway her. "When I spoke to Mr. Rossi before, he recommended not putting something out, he said. "But he said: If you put something out … a trash can would breed more trash. So that's one of the things."
Rossi looked at him with unblinking eyes.
"He is my ex," she said.
This article is part of our partnership with the New Haven Independent. It is published directly to their platform as well.