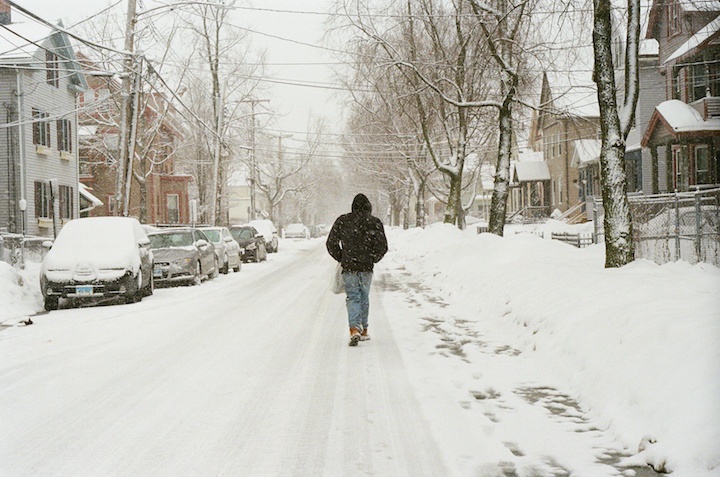 Bomb cyclone | Monica Bunton | Photography | Snow | Arts & Culture | New Haven | Visual Arts | Whall
Maybe it was the point and shoot in high school, small and light enough to hang from her like an oversized charm bracelet. Or the unexpected snow days, leaving New Haven blanketed in white. Or the 35 millimeter camera that came from her dad, loaded with film that would change with the cold. But at some point, Monica Bunton started using her snow days to take and edit photographs—and think about how she wanted to show New Haven through a lens.
A teacher, activist and devoted member of Unidad Latina en Acción (ULA), Bunton doesn't have a lot of free time. Snow days, she said, are surprising gifts: they open up unexpected, unstructured time for her to return to her photography and zines, of which she has made three.
The subjects vary: Her routes downtown, from her home in Beaver Hills down Elm Street to First and Summerfield Church, where she volunteers with ULA. Her pilgrimages to East Rock, solitary and in small, intrepid groups. Her studies in contrast, where the bright white of snow casts branches in a different light, and her shutter risks freezing with dropping temperatures.
On the eve of a predicted and much-maligned "bomb cyclone," she sat down with The Arts Paper in the basement of First & Summerfield United Methodist Church to talk about how she's planning to spend Thursday as the cyclone hits.
The Arts Paper: Do you remember a specific moment when you first got engaged in, or started realizing that, you could use a snowstorm to sort of reset, or be productive? As a kid, I remember getting super excited on snow days but not being particularly productive.
I honestly think it goes back to when I was working with the union [Unite Here Local 217] … I came here in 2004, and I worked with them through 2009. I I don't remember what year it was, but there was a series of Mondays in January that we had off, where it was snowing.
Because we did a lot of work with local public school cafeterias, university cafeterias, there was always work to be done. But during a snowstorm, you're at home. When you're working 70 hours a week, you don't really have that time. I literally feel like it was that month where I was like "Woah. This is something that is actually … it almost feels necessary." Especially the unplanned nature of it, where you get these little bubbles of time that weren't expected.
And have you always done photography in some form? Now, I think of you as doing it intentionally. But was there a time when it was a hobby?
This is what I remember. When I was in high school, I had one of those little old point and click cameras, and I was always the photographer. I have all these old photos of my friends and I hanging out, and we would just look at them and laugh, and talk about how my camera would always take the best photos.
Was it one of the early digital cameras? Not early early, but not like they are now.
Yeah. It was a late nineties style digital camera. I think it was a Sony.
In those times, I always used it to tell a story of a night, or a group of friends. At that time, I was in the punk scene, and so it was like: the punk scene in Pittsburgh. Or, at least, the punk scene that I hung out with, in, and around in Pittsburgh at the time.
It's funny. Jesus [Morales-Sanchez] and I were talking about this the other night … using photos to hold memories. Sometimes I think I do too much. That's a whole other story.
I really like that. Say a little more about that.
I think there are different ways to think about photography and think about photos. Depending on what I'm doing at any given time, I can see it as what I think of as documenting an important event. And that might be taking photos of what's happening here [at First & Summerfield UMC], or more specifically going to protests and rallies and documenting those moments.
I think there's something to be said about documenting everyday lives. It's changed a lot now, with everyone having phones, and Instagram, and Snapchat, and Facebook, but there's something to be said about … looking back at old photos and saying: This is a personal story. This is someone's story and this is someone's memory. There's something special about that. But it's also a certain perspective on a very particular point in time.
There's a documentary called Finding Vivian Maier. It's amazing because it's just this woman that took hundreds, if not thousands, of street photos. They found most of these after she had passed away. And so I think about that. I think about how special it is to have that in a time when not a lot of people were doing that kind of work. And also the question of—whose stories aren't getting told? Who doesn't, or didn't, or still doesn't have access to being able to share their stories in that way?
Tell me about some specific projects that you've worked on during actual storms.
It's funny. You asked if I've always done photography. My dad always used to do photography. And I remember our basement—his photos on the walls all over the place. And he had this old 35 millimeter.
For years and years and years, I begged him for that camera. Like, begged him. I'd go and visit them and he'd be like "well, it needs batteries." So we'd get batteries. "Ok, so we need film." And every time, he wasn't ready to part with it. And then a few years ago, he gave it to me for Christmas. I cried. It was when I got that that I started doing it more intentionally—where I would go out and take the camera, and have a different eye than you have when you have your phone on you.
There's been times when I go out with my camera. I remember walking in East Rock one day, and it was so cold that when I got the photos developed, the shutter had started not working properly. So half the photos, half of them are black. I remember it being freezing cold and knowing that I was taking black and white, which also affects the way I see things. So looking for contrast, but not expecting to get these photos that were like so full of contrast, half of them were all black.
Have you ever taken a sort of course or are you just trusting your gut?
No, and sometimes. I took a photo class when I was in sixth grade and learned how to develop film, but that was really it. I could go into all sorts of excuses about why I never did in college. I think it's a lot of: "That looks interesting, I'll try, I don't want to waste the film but it's worth it to see how it comes out" type of a thing.
So now, do you work exclusively in film? Or do you do film and digital?
I do some digital. I've done, like, some photo shoots of friend's bands in digital. But I like working in 35 millimeter. I do feel like what I notice changes when I'm carrying the 35 millimeter, and it changes whether I have black and white, whether I have color. Some friends have given me some expired film, which means you never really know how it's going to turn out, and so that kind of changes what I'm taking pictures of—I might not take pictures of things I want to be so clear, because it might not be.
And then there are other times that I'll go out, and I'll want to take pictures of people. Or I'll find people. I remember one day—this is not actually a great photo but it's one of my favorites—it's this guy on his second-floor porch. I was walking down Elm Street during a snow day, and he called my name, and was like: "Hey! will you take a photo of me?"
That makes me think of the Jim Goldberg and Donovan Wylie show at the Yale University Art Gallery. Goldberg has this technique of shooting from the top of an R.V. It completely changes your relationship with your subject, I assume. So this guy on Elm Street, do you know him?
I don't know him. I've never seen him before. He told me his name, and of course I forgot it. But it's on Elm Street. Like, I walked by it tonight.
Woah. I find that really interesting. And have you ever seen him again?
No! There's a guy who has two dogs. And I took a picture of him and his two dogs when I was just leaving my house. And I've seen him since, but I don't think he recognizes me.
There's other times that I just go out and don't know what I'm going to take a picture of.
On snow days?
In general, but also on snow days. I remember leaving one day and thinking I was going to take a picture of all the snow on the branches. I took some, and I got them back, and I was like: "These are really boring." It was a waste of film.
And are you working on something now that strikes you as new, or different, or exciting? Visually or thematically?
I think I realized that I have been more focused on abstract images, in a way. Before—and this was on snow days and not—I had been doing portraits. Not like, sitting down portraits, but trying to catch people off guard type portraits. Or I really like looking at sites where you've had some sort of development or industrialization, and then it's been left to nature. Seeing nature take that over, and that process.
Recently I've been drawn more to patterns and abstract images. So some of the stuff that I've been taking recently is reflective of that. I'm just remembering that I have a whole roll at home that hasn't been developed yet.
Color or black and white?
That was color, and it was during a rainstorm a few weeks back. I went down to West Haven beach.
And when you think about tomorrow [Thursday], do you know what the day will hold?
I don't. So, part of me—this is always my struggle—is like, "I wanna go outside, and I wanna take a walk, and I wanna shoot photos." Especially times like these, where I'm trying to get into it more. And at the same time, there's always work.
Last year, I was like: "I'm going to do two zines." And I didn't do any. And that is really bad. And I could do that. I could look through some of my old photos and see if there's a theme there that I want to explore, especially connecting personal and political as they are often connected. Especially now.
So I'm not sure, exactly. If it's not super bad, I might go out and shoot. Or I might sit by my window. I like being an old grandma, sitting by my rocking chair, be on my computer and look outside.
And does that sort of help you reset? Is it restorative?
There's a reflective aspect of looking through photos. There's a meditative aspect of sitting and allowing yourself to just be away from your phone or Facebook for a second … and to focus on art instead of organizing. Or instead of: "What am I going to teach the next day?" Or, "What am I going to teach next year? How can I be a better teacher?" To be able to focus on something outside of that is definitely healing.