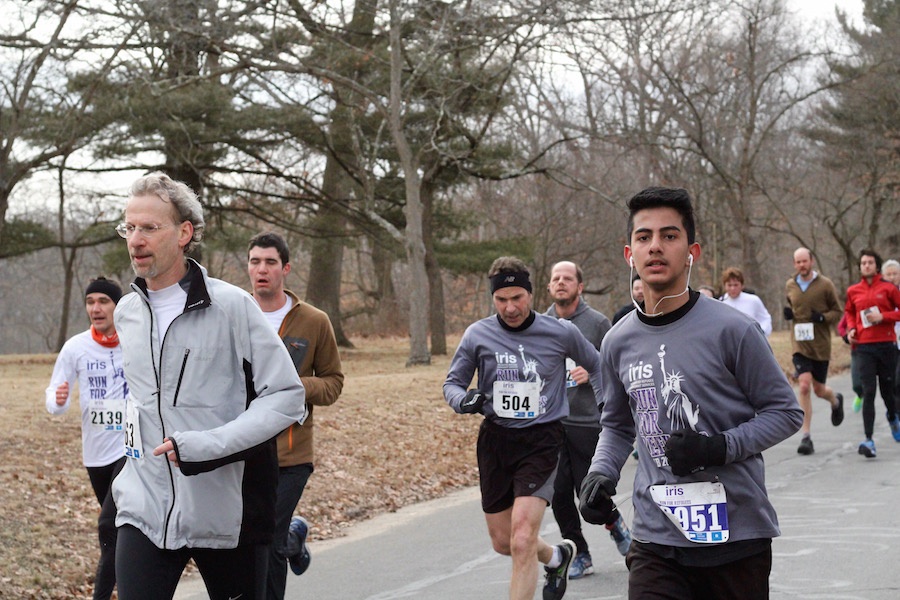 Culture & Community | East Rock | Immigration | Integrated Refugee & Immigrant Services (IRIS) | Refugees | New Haven
Some walked. Some ran. Some rolled in with their strollers and others carried only their water bottles and an extra shirt for the cold. Thousands strong, they moved united in a mission—keep immigrants and refugees in the United States, while fighting an administration that has cut their entry into the country drastically in the past year.
Sunday morning, over 2500 runners gathered at Wilbur Cross High School for an annual five-kilometer "Run for Refugees," hosted by Integrated Refugee and Immigrant Services (IRIS). Breaking last year's record number, over 3000 registered for the event, with roughly 2300 finishing the race and more heading back into the school before crossing the finish line. Referencing another minor sporting event scheduled for Sunday, several came out in blue-and-red football jerseys to show their support for the New England Patriots.
"We are sending a message around the world—that might also be heard in Washington—that Americans welcome refugees!" said IRIS Director Chris George, addressing runners before the race. "We need your support."
Behind the starting line, runners from 40 states and four countries stood shoulder-to-shoulder, walking their feet back and forth in the brisk morning. Rows and rows of them reached back onto Mitchell Drive, eyeing the course as it reached out ahead of them.
"We are Americans," said Connecticut Gov. Dannel Malloy. "We take in folks who need our help. We don't subject people to murder. We won't send them back to slavery or to be raped … The words on the Statue of Liberty say that we are open to take in those huddled masses. Let us not allow someone in Washington to change who we are and what we stand for."
U.S. Sen. Richard Blumenthal nodded at those words as he took the mic. "We ought to be celebrating, not denigrating, our tradition as a nation of refugees," he said.
Despite record high registration and conditions for smooth racing, IRIS is facing an uphill battle. In the past year, the organization has received fewer refugees overall, although it saw 100 Special Immigrant Visa (SIV) holders in September and October. Last year, it lost a quarter of a million dollars in federal funding, a number it managed to make up with a "Run for Refugees" Crowdrise campaign that raised $190,000 in early 2017.
This year, that number stopped just short of $65,000, an amount that IRIS Communications Director Ann O' Brien ascribed to Trump's attack on "other causes," including reproductive rights and healthcare, over the course of last year. Reached by phone after the run, O'Brien said that IRIS "can't make it [the funding] up anymore" through individual giving, because donors are spending money on other causes including Midterm elections.
She added that the need to make up that funding gap comes as part of their federal funding, once allotted to refugees who had been in the country for two to three years, has been cut 20 percent. She said that "we've been told" to expect more dramatic cuts in 2019.
Those cuts also come with a smaller client base this year. IRIS has been told it will receive up to 300 refugees this year—down from 530 in 2016. O'Brien said that it will be "lucky to get that" given the administration's slow admission process. While there is a cap of 45,000 refugees for this year, she added that that "with the rate at which they're admitting refugees to the US, they won't come close to 20,000."
Back on Mitchell Drive, 2500 bodies sprang into action, cheering as George counted down to the beginning of the race and "Eye of the Tiger" came booming over the street. Turning left onto Orange Street and them Farnham Drive, runners blanketed East Rock Park in a sea of white mesh and lycra running tights, pussy hats competing with Patriots gear as they flew past mile markers.
As they ran, walked, and bounced along with babies in tow, a runners slowed down to talk about why they were running, turning to activism in their own communities, and already planning to be at the starting line a year from Sunday for another race.
Nelly Cumbicos, Meridan. Earlier this year, she received deportation orders from Immigrations and Customs Enforcement (ICE) to return to her native Ecuador after 18 years in the U.S.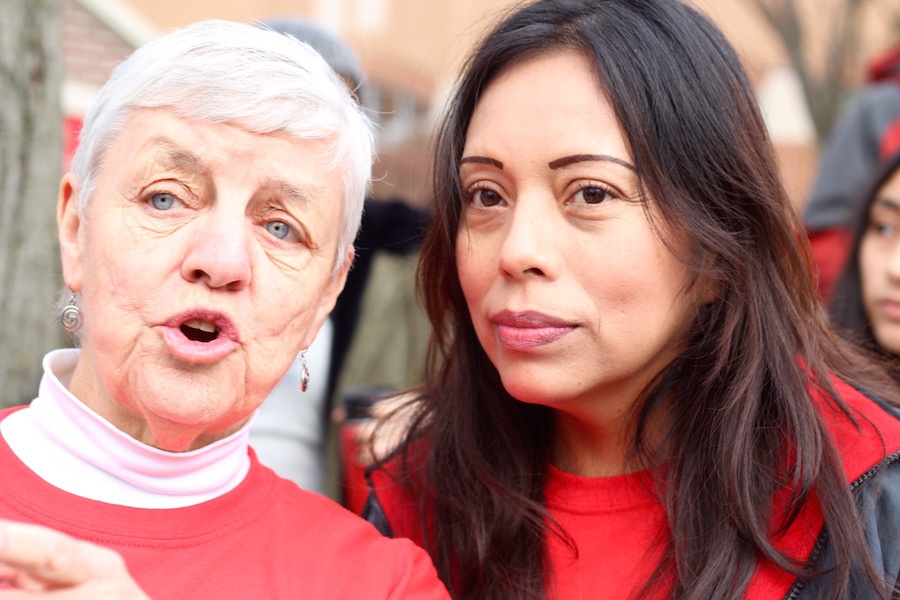 "For me. That's why I'm here. It's very difficult right now, and I'm doing it for me."
Nour Alzouabi, Student at James Hillhouse High School and Syrian Refugee, Running with friends
"Everyone should support if they can. So I'm here to support the other refugees. I came as a refugee in 2016, from Syria. Now I'm in high school, and I'm taking classes at Gateway Community College too."
Leslie McClashie, New Haven via Trinidad and Tobago, walking with a team from Griswold Home Care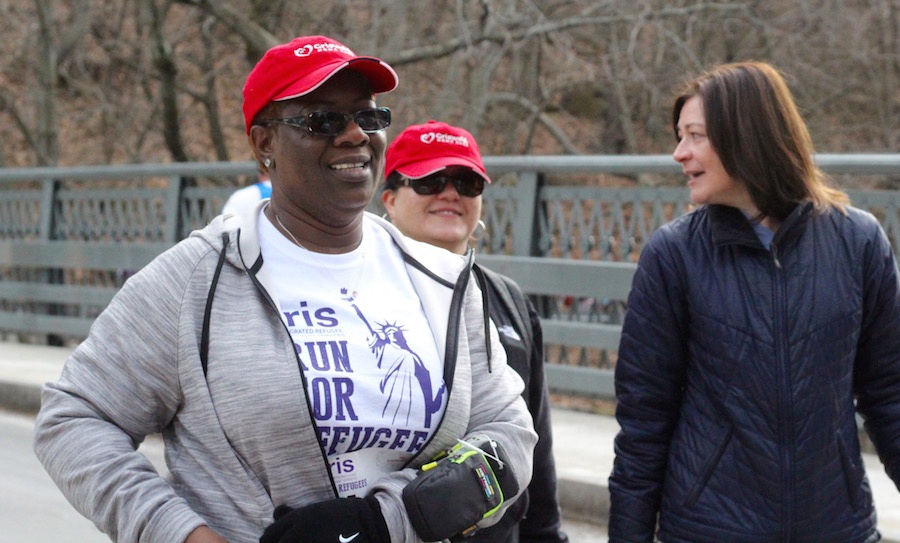 "I'm an immigrant myself, and I want to send a message to Washington that we all welcome immigrants. No one should be left behind. This is my contribution."
Bayan Abunar, Third year medical student at University of Connecticut, Running with a team from the University. With other students, Abunar helps run a clinic for refugees and immigrants.
"One of our missions is to serve the underserved. I come originally from Jordan, and my family came as refugees when we first moved to Jordan from Palestine. So I understand the struggle it is to be a refugee. With Connecticut being one of the states that supports the most refugees, anything we can do to support them, we try to do the most."
"I didn't personally have to go through the struggle (Abunar clarified that she was one year old, and does not remember the first few years in the U.S.). But my family did. I remember them saying that everybody was so accepting. But in this new political climate, you don't really understand people's true intentions. Sometimes, the people who you thought were friends weren't."
"I've been here for 25 years in this country. 20 years ago, people were much more accepting. You were my neighbor, and anything I can do to help you [I did]. So to see thousands of people turn up here, it's amazing. With Connecticut being one of the states that supports the most refugees, anything we can do to support them, we try to do the most."
Jaime Durkee, Bridgeport, Histologist in Shelton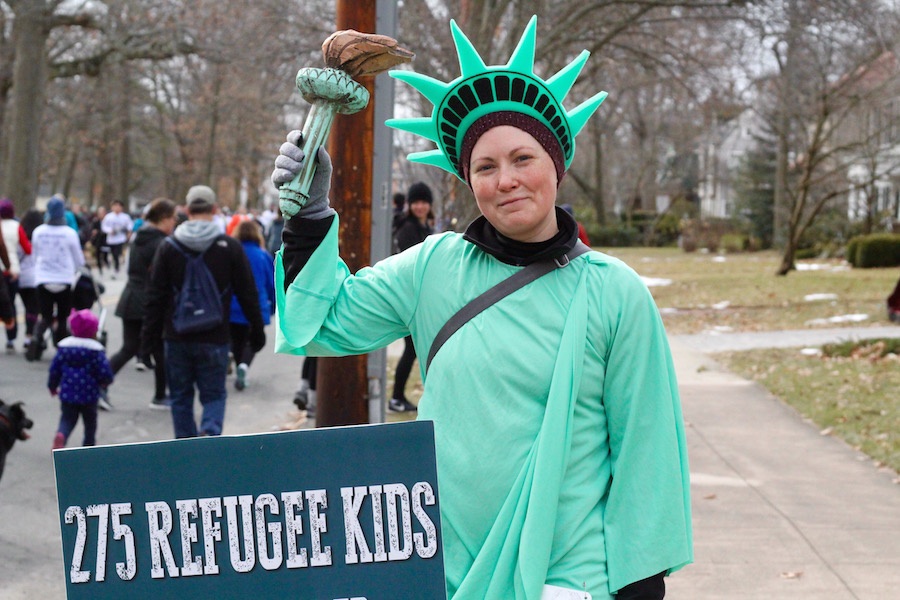 "I'm just here to support refugees and IRIS. I think they do wonderful things for the local immigrant community. I'm really dismayed and disappointed at what this current adminiistration is doing. I think it's terrible. This country was founded on immigrants, and everything that's going on right now is really depressing. I'm out here supporting everyone, and trying to do the best that I can do."
Samuel Rose, GreenLeaf Persian Catering, Southington and New Haven, Serving soup to runners
"We are a refugee family who came to America seven years ago from Iran. We were under persecution for our beliefs—we're Christian, so because of our Christianity, there were a lot of opportunities that were taken away from u sin Iran. We were not able to get the education and the jobs that we deserved. We had to escape, run for our lives, come here and start everything from scratch."
"We ended up being very grateful. My father, who is a chef, can finally cook for himself now. So we want to show people that the refugees that come here, to America, they don't only come here to take jobs—they come here to make jobs. They come here to support other Americans, other refugees. We come here to learn more about American culture."
"We're very proud to be here. We recently became two citizens, two years ago. It's really amazing how something we could not achieve during our whole life, my parents' life of 40, 50 years in our own country, we could achieve in America in a couple of years. We could get to our dream. That's the message we're trying to put out—if people didn't support us, we couldn't have come here. If someone didn't sponsor us, if someone hadn't listened to our story, we never would have made it here. We want to be the voice of those people who can't get their voice heard."
Safiyah Bae, Springfield, Mass., Sophomore considering immigration law at Madina Academy in Windsor, Walking with a group from her school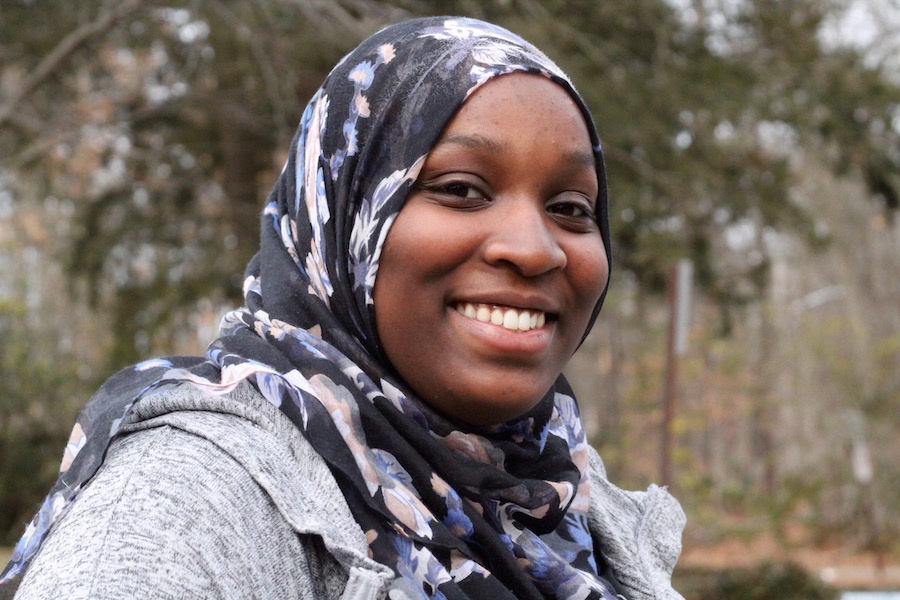 "Supporting immigrants is something that we should be doing! I have a lot of immigrant friends, so I feel like coming out here, donating, is an act of charity that I can do."
Gladys Mwilelo, New Haven via Democratic Republic of Congo, Running for IRIS
"First of all, I'm supporting myself as a refugee. Not only myself, but I'm also supporting all refugees. It is never easy. When we come here as refugees, it's never our choice, but our obligation. And when it comes in terms of telling us to come back home, it makes no sense. So I'm here to support myself, and more refugees out there."
"I did not want to come here today. But I had to come, for my brother. My brother passed away in a car accident and we buried him yesterday. So I'm doing this for myself and for him, as a refugee who is not here anymore. And supporting everybody out there. We are here to contribute, to coordinate with everybody to make this country stronger."
"I'm from Democratic Republic of the Congo. My brother was here. He was here. It is sad. We came together with a big dream but now I'm gonna fulfill that dream myself."