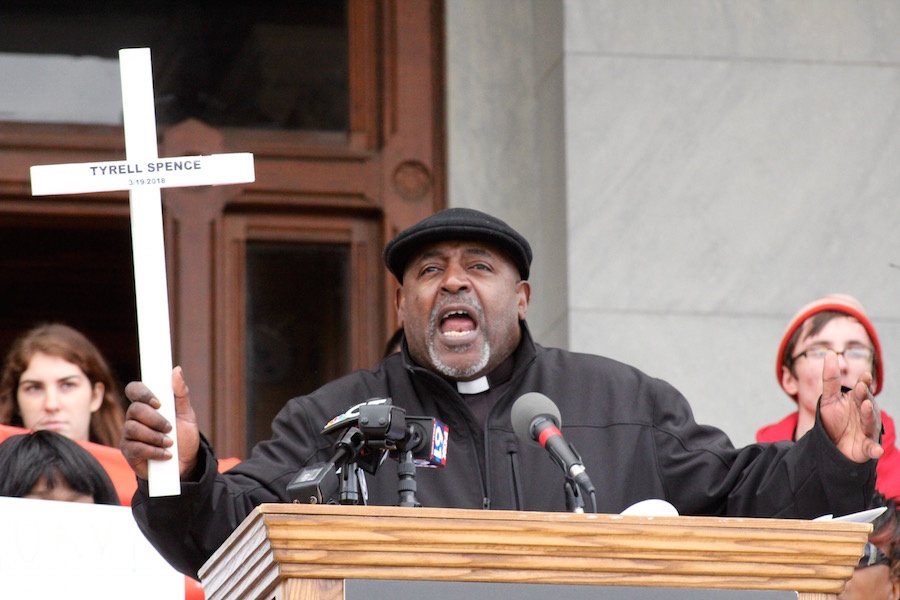 Culture & Community | Education & Youth | Greater New Haven | Hartford | March For Our Lives
Jeremy Stein raised his cell phone over his head, turning around to capture a bright, still-swelling mass of people holding handmade signs denouncing gun violence. The teachers among them stepped forward. On the count of three, they raised their arms above their heads.
"Enough!" they cried. Stein pressed down on the photo button.
He grinned and leaned back into a microphone. "I'm going to send that picture to every politician who doesn't believe in common sense gun reform!" he announced.
The director of Connecticut Against Gun Violence, Stein was one of over 20 to speak at the Hartford chapter of March for Our Lives, held Saturday afternoon at the State Capitol in Hartford. Organized by University of Bridgeport student Tyler Suarez, Connecticut Against Gun Violence, and Women's March CT - We March On, the event brought out students, teachers, parents and legislators from across the state. At least 10,000 people turned out for the event, according to Hartford Police.
March For Our Lives was born earlier this year, as a national movement and demonstration against gun violence. Its conception and date was announced last month, after a mass shooting at Marjorie Stoneman Douglas High School in Parkland, Florida. In mid-march, students across the country voiced their support for the movement with school walkouts. On Saturday, Suarez announced that the March for Our Lives would double as the kickoff for CT Students Demand Action, a student-led group dedicated to anti-gun violence measures, phone banking and political organizing at the grassroots.
As sister marches unfolded across the country, Hartford's March For Our Lives delivered a strong, emotional plea for statewide and national gun reform, more restrictive gun laws, a blue wave to vote Republican legislators out of office, and a unified front against gun violence not only in schools, but also urban communities and cities that are often on the front lines of gun violence, but excluded from a national media spotlight.
"For every student who goes to school wondering if today might be their last … every parent who sends their child to school, wondering if that was the last time they kissed them goodbye … change is coming," said Suarez, whose aunt Dawn Hochsprung was the principal at Sandy Hook Elementary School when a shooter entered the school and opened fire in December 2012, killing 20 children and six adults.
"Arm me with glue guns, not handguns!" he chanted, his plea directed to teachers in the crowd who joined in. "Arm me with proper resources! Arm me with the resources and funding to help students! Arm me with the mental health solutions to allow students to thrive! Arm me with smaller class sizes! Arm me with kindness! Arm us all with kindness."
March attendees had arrived earlier in the day, greeted by voter registration booths and orange-clad volunteers as they inched toward Connecticut State Capitol Park. Among cries of "Vote Them Out," "Enough is Enough!,"and "Hey Hey/Ho Ho/The NRA Has Got To Go," thousands of marchers gathered at the Corning Fountain, waving homemade signs that read "Enough," "Schools Are For Learning, Not Dying," "End Gun Violence," and "Keep School Safe" among other slogans.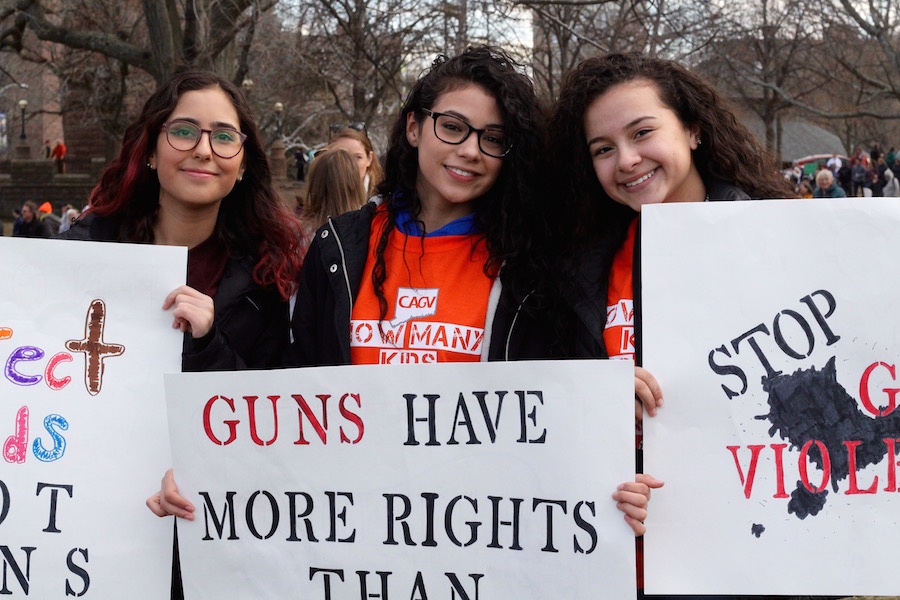 From Meriden, 15-year-olds Elizabeth Pasion, Tatyana Maldonado, and Jailine Carrero (pictured above) stopped for a moment to pose around Maldonado, whose sign read "Guns Have More Rights Than My Vagina."
"Honestly, I just don't want to be scared to go to school," said Pasion, a sophomore at Lyman Hall High School in Wallingford. "I don't want to be scared that out of the blue, my school is gonna get shot up one day. That tons of my friends lives are gonna get lost. I just don't want that to happen."
As aspiring trauma surgeon and student at Francis T. Maloney High School, Carrero added that she'd come out with friends because she can't stop thinking about the number of lives that have been cut short prematurely.
"It's just awful that so many kids have lost their lives, and that they had such great futures ahead of them," she said. "I want to be a trauma surgeon, and I'm thinking about all those other people who could have become something to save other people's lives, but instead their lives were taken. The lives of the innocent."
Meanwhile, non-students hovered nearby, making new friends as they chatted about gun reform. A police officer for the Connecticut State Attorney's Office, Durham's Jo Schaller said that she believes in gun ownership—she is a licensed gun owner, and has been for much of her life—but believes in "common sense gun reform" even more.
"I'm a gun owner and I'm a Second Amendment person," she said. "But there's nothing about the Second Amendment that says guns can't be regulated. And guns should be regulated. These are instruments of war."
"People that are telling you that they need rifles to protect their homes—they're lying. There should be reasonable gun control. There should be background checks. Dangerous people shouldn't have weapons of war. More people say 'Oh, more gun laws aren't gonna stop the problem.' Well then, why do we have any laws?"
From somewhere in the park, John Lennon's "Imagine" pumped out through a speaker, and a cheer went up from the middle of the crowd. As more attendees gathered at the Capitol Building and on the hill above, marchers wove their way up Capitol Avenue, some passing under its large red brick archway as others cut away from the crowd, and ambled up the hill to a makeshift stage.
There, a jam-packed lineup of speakers was assembling on the capitol steps. As the program swung into motion, Suarez welcomed Stein, clad in bright orange as he stepped up to the podium.
"Kids are told now to go through lockdown drills that simulate mass murder in schools," he said. "What have we done wrong that this is what we're teaching in schools, about how to hide in a closet so that you don't die? We can't have this. I say not one more. Not one more child dead. Not one more senseless shooting. Not one more fatherless family. Not one more school shooting."
Raising his hands as he spoke, Stein told the crowd that it too could play a role—by supporting measures for stronger gun reform that are currently under consideration in the state legislature. In Connecticut, House Bills 5540 and 5542 would ban the sales of do-it-yourself ghost guns and bump stocks respectively,
"We need to ban these things, and ban these things now" he said. He brought over a student with a Marjorie Stoneman Douglas school spirit banner, displaying it for the crowd.
"This really happened," he said, his voice cracking. "This is not a joke. We are dealing with real lives. Let's not let this happen again."
That message was echoed over and over again, as speakers from Hochsprung 's daughter Erica Lafferty to U.S. Sens. Richard Blumenthal and Chris Murphy took the podium.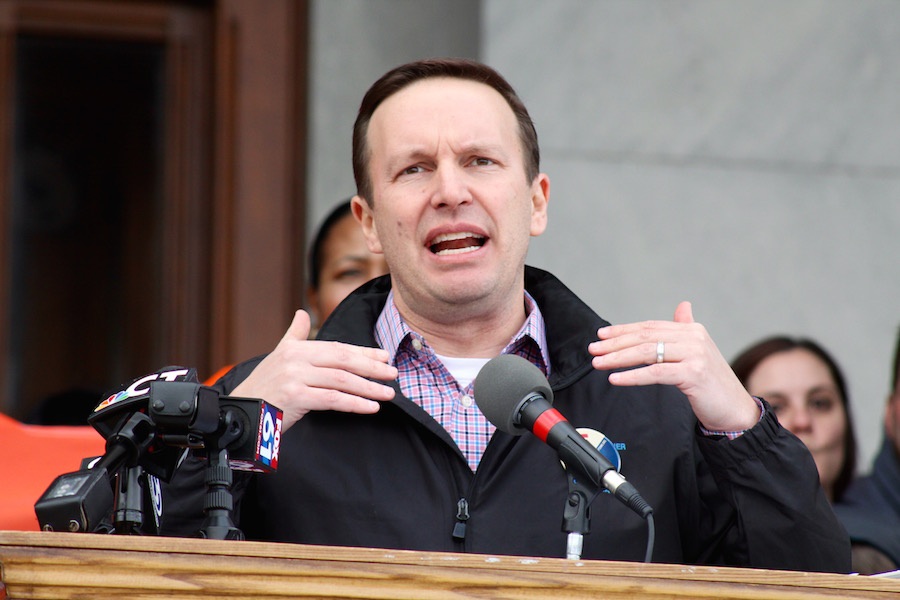 Speaking candidly to the crowd, Murphy told marchers that he'd come home two weeks ago to learn that his six-year-old son had gone through an active shooter drill at kindergarten, locked in a small bathroom with 25 of his classmates and told to stay completely quiet.
"I can't stop the tears from running down my face as he says 'daddy, I didn't like it,'" recalled Murphy. "No child should have to go to school wondering if they are going to survive the day."
He added that the conversation about gun reform cannot be limited to schools, and must extend to all victims of gun violence, as it has historically failed to do.
"No child in Hartford or New Haven or Bridgeport should have to wonder whether they are going to survive the walk to the grocery store to pick up milk for their parents," he said. "No one in this nation should have to wonder if they are safe in school, on the streets, or in the movie theater … and we are going to change their lives."
It was just part of an overarching plea: Don't forget communities of color, often the first to suffer from gun violence and the last to get a mention. During the last 30 minutes of the speaking program, representatives from Hartford-based Peacebuilders, Mothers Against Gun Violence, and Hartford and Bridgeport's anti-violence groups spoke out, asking that the largely-white crowd practice some serious white accompliceship going forward.
"You must look inside our inner cities, and see the pain and grief that our families are suffering every day" said Rev. Henry Brown, the founder of Mothers United Against Violence and a pastor at Hope Street ministry, in Hartford. "The only change that's gonna matter is that we learn how to love one another. I don't look like you, but I feel like you. I feel the same pain that you feel. We grieve just like everybody in America."
He held a white cross over his head, printed with the words "Tyrell Spence 3/9/2018." Earlier this week, 20-year-old Spence was found in his car on Hartford's Westland Street, shot several times. He died later that afternoon.
"I talked to his mother today, and she feels just like everybody else," he said. "Grief is hurtful. Can't talk. Don't wanna talk. Don't wanna do that. But I told her I was coming to this march today, and she had some encouraging words. She said, 'Tell them, don't forget about my baby. He matters. His life matters. Our lives matter.'"
That was true for Bridgeport native Bobbi Brown, pumping her fist as she spoke.
"More than anything, I want everyone here this afternoon to understand, we're doing something that others are not doing," she cried. "We are standing together. And because we are standing together, our message will be heard. They will hear our voices. They will hear our cry. We will make them listen!"