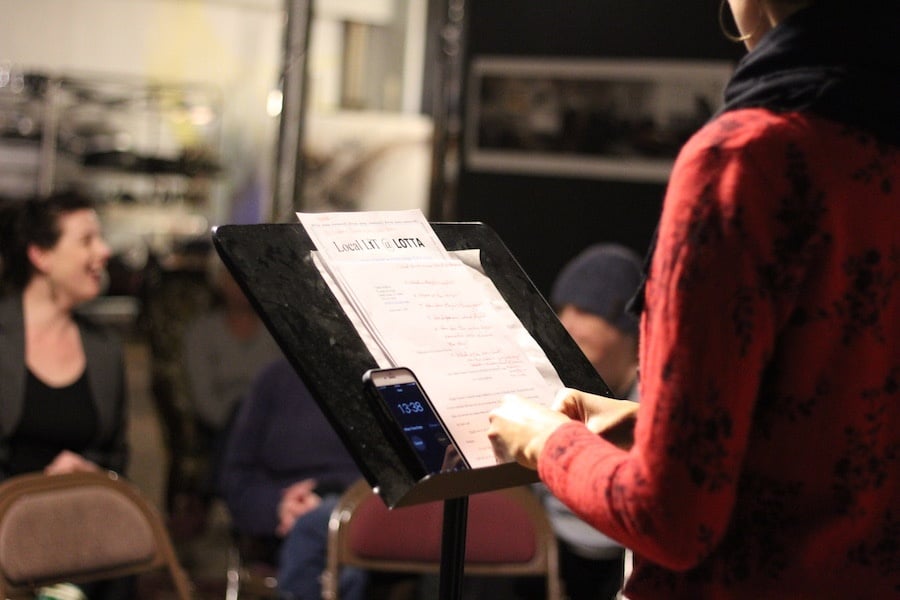 Creative Writing | Greater New Haven | Local Lit | Lotta Studios | Arts & Culture | New Haven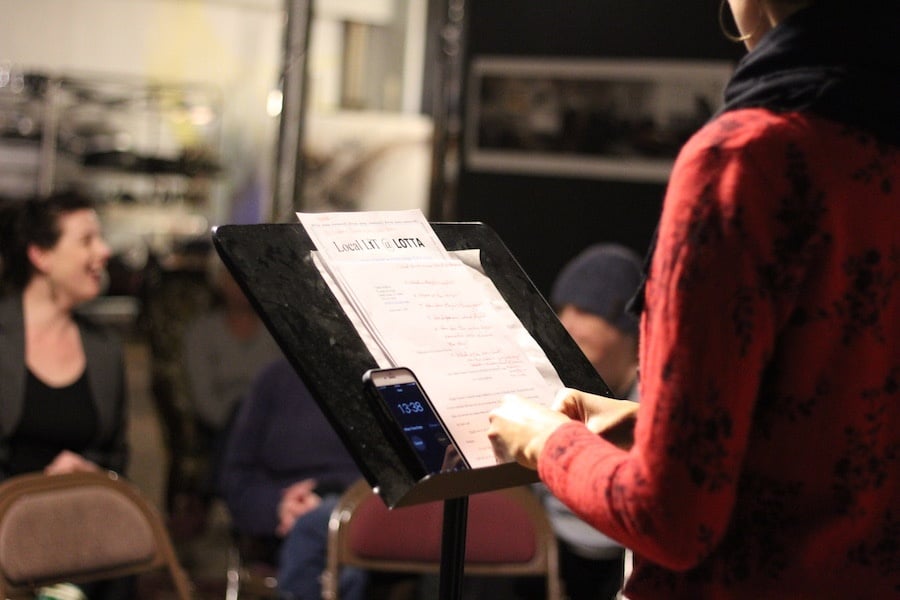 A winding, narrow road in snowy Pennsylvania, with a curious inn alongside it. A psychiatric hospital in the sticky New York City Summer of 1965. A small family in Poland or Russia, scrambling to finish cooked oil-flecked, gristly angel meat before midnight.
These worlds collided Tuesday night in Westville, as the inaugural Local Lit at Lotta unfolded at The Range at Lotta Studio. Curated by writers Rebekah Fraser and Erin Townsend, the series features three writers per session, who present works of published or unpublished prose and receive audience feedback.
Tuesday brought writers Robert Beech, Annita Sawyer and Charles Rafferty to the stage. The next event takes place at Lotta Studio on June 5 at 7 p.m. The deadline for submissions is May 1.
The series was born earlier this year, as Fraser and Townsend—both members of the Greater New Haven Writers' Group—were looking for a space to read, critique, and discuss fiction and nonfiction with both writers and general members of the New Haven public. As they looked for workshops around New Haven, they discovered several literary groups that already existed: The Word and Lit Happy Hour for local poetry, Storytellers New Haven at ConnCAT, Listen Here at the Institute Library for published stories told by actors. But there was nothing exactly like what they wanted.
Earlier this year, the two partnered with Luke and Mistina Hanscom at Lotta Studio and opened submissions, choosing three pieces by early March. Fellow writers hopped in to help: Fraser said she took advice from Bennett Lovett-Graff, who leads Listen Here, on "how to plan this." By a March deadline, they'd received far more submissions than they could take and picked what they deemed the three strongest, with both published and unpublished authors in the mix.
"A number of submissions came from authors who are new to the craft, and that really thrills me," Fraser said as a trickle of attendees headed into Lotta, shaking off the rain from outside. "I want this to be a venue and a space for people who have been doing this for years and are making it a career, as well as a space for people who are just exploring what it means to express themselves through writing."
---
Tuesday, that expressive thread began with writer and psychiatrist Robert Beech, there to present a work of short fiction that he'd written a few years ago, but not yet published. From a music stand at the center of the room, he began to read against a bright backdrop of Lotta's signature smiling faces, large-scale photos tacked to the wall.
"It was a few days before Christmas, somewhere along that long stretch of interstate in Pennsylvania when you know you've left civilization far behind and won't be seeing it again for a few hundred miles." he began. "The sun goes down early that time of year, and the nights are long and cold."
The small audience, scattered on a crescent of chairs, collectively sat up a little straighter. Rain streaked the windows outside as Beech's protagonist continued on his journey, pulling listeners ever farther into a network of small, catheter-like Pennsylvania roads, where a dusting of snow had turned into a full-on blizzard, and the only way onward was down, into a valley below. The GPS beseeched him to turn around. He pressed on.
In New Haven's world, a slight chill ran through the studio, right on time. In Beech's, a large house had shifted into focus, its lights flickering as deep voices came from inside. Freyja Hof Inn, a small sign on its door read. A woman in a Delft-patterned, flowing gown answered the door, and Beech's protagonist stepped inside. Hanging onto each word, the audience got its first look around the house: low-lit wooden insides, a room with wooden benches and tables, a roaring hot fire, and boisterous guests, laughing away.
"They were not speaking English, but some kind of Scandinavian language," Beech noted, his voice clipped as he stepped in and out of character. "There was a large fireplace at one end of the room that provided light from one side of the room, and candles set at various places along the tables, but no electric lights."
Behind Beech, a photographed family of five half-hopping through the Beijing airport didn't seem to note anything out of the ordinary. But his protagonist had, slurping a meat stew and spiced beer, then more beer. His head began to swim with the concoction. A bitter-and-sweet porridge landed on the table in front of him. He bit down on something hard, then spit out a red stone.
"You have been chosen to bring the sun back to the world," the inn's owner informed protagonist. Shirley Jackson's The Lottery was rising up to meet Donna Tartt's A Secret History. But suddenly, maybe in an altered form or maybe more fully himself than he had been before, the protagonist was going along with it.
He was dressing in deerskin and antlers. He was preparing to dance wildly in the snow. He was reckoning with fate and faith. From far away, he could hear wolves crying out. Then his senses shifted.
"Soon I knew that we were the beasts of the forest!" he declared, with the smallest edge of glee in his voice. Over the inn—or was it Lotta?—the goddess Freyja's soft, round face appeared in the moon. Beech, now nearly one with the protagonist, sailed into the ending of the story.
---
Silence, then applause. Audience members released a collective exhale. Beech unsnapped his glasses and settled back into his seat, letting the lenses rest on his cheeks. Fraser walked back to the center of the room to begin Local Lit's second pillar: asking questions of the audience, to help the author further shape their story.
"Who is this protagonist?," she asked. "What do we know? Is it a male or female?"
Members of the audience shifted in their seats. "Male," weighed in artist David Chorney. A chorus of "male," "male," "male" followed.
Fraser wasn't totally sure, she told the group. She'd assumed male—a fact that Beech later confirmed—but then she'd gone back over the text, and realized that there was no indicator of gender. She wasn't completely sure it mattered.
"There's also the not asking for directions," chimed in writer and professor Sarah Harris Wallman from the center of the audience. Laughter blanketed the room.
"And not turning around," suggested her neighbor.
"I'll be going now," joked Beech.
The questions pitter-pattered over the floor, keeping tempo with a drizzle outside. Did it matter if readers knew the protagonist's sex and gender? Was the story believable, or was there too much chance? What narrative devices did it use? Had the character been drugged, and did it ultimately matter?
---
Beech had warmed the room for authors Annita Sawyer and Charles Rafferty, the latter of whom had Fraser read for him because he was unable to make it. Taking the floor with a narrative from her memoir, Sawyer pulled the audience into the hot New York City summer of 1965, as a 22-year-old version of her sat inside a psychiatric hospital, trying to fight the urge to burn herself.
Vivid descriptions flashed before the audience. Humidity creeping its wet, fat fingers into every corner of a hospital ward. Thighs that "snapped like masking tape from dispensers as we shift position on the vinyl covered chairs and couches." A sunburn that left Sawyer looking like there were grate-marks on her body, which reflected the roof of the building. Even her doctor at his desk, working his octaves up as he impersonated her mother.
The audience stuck with her, getting lost in the details. Through the instance that she burned the inside of her ankle, and walking on it "felt like somebody was shoveling red-hot coals into my leg" with every step. Through the suicides she's witnessed over five years in the hospital. Through the snakes that knotted and slithered in her gut, as she watched a fight unravel in the ward and found herself unable to break it up. Through her discovery that coping could taste exactly like ice cream.
With each sentence, a whole hospital sprang up around 22-year-old Sawyer. So too with Rafferty, whose story left the audience watching a family eat angel meat—"dark and oily and smelled like turtles"—and puzzling over the meaning.
"Is there any question you'd ask the author?" asked Fraser.
"I hear it as a prologue," said Beech with a small grin creeping over his face. "So, where's the book?"