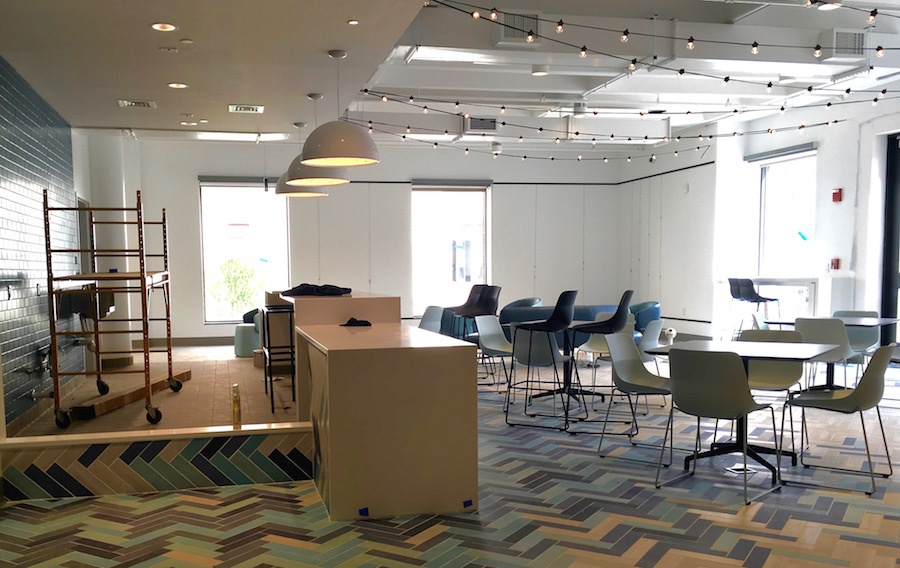 Books | Culture & Community | Economic Development | New Haven | New Haven Free Public Library
You're feeling a little groggy when you enter the library for that 3D printing tutorial you've been wanting to do. So you swing by its cafe to get a cup of coffee, and then listen in on the latest news from the library's entrepreneur-in-residence while you wait. Your class starts right on time. By the end of the evening, you know how to use the machine all by yourself. And you haven't paid for anything except parking.
That's the pitch the New Haven Free Public Library (NHFPL) is making for Ives Squared, a new 5,820-square-foot "innovation commons" on the building's first floor. Comprising a cafe, patio, digital "switchboard," nonprofit networking space, and tinker lab, it is set to open with a ribbon cutting on June 27.
On Wednesday evening, City Librarian Martha Brogan and Community Engagement and Communications Manager Ashley Sklar confirmed that G Cafe Bakery will be the vendor for the cafe, opening in mid-July. Reached via phone Thursday morning, Owner Andrea Corazzini said that he is "very excited" about the new space, calling it a "great complement to the city."
"It's not going to be like Starbucks," he said, noting the cafe's place within a sort of innovation ecosystem. "It's going to be a destination. And in order to make it a destination, it's gotta serve a purpose."
"The place is already very beautiful," he added. "Now it's about attracting the right customers … people that are interested in not just going there and having a coffee, but to meet with colleagues, have intellectual conversations, talk about books. Making it a cultural cafe."
Ives Squared began two years ago, when the library scored $150,000 in funding from the Elm City Innovation Collaborative (ECIC), the local distribution channel for a $2,000,000 grant for statewide organization CT Next (other projects include The State House, Collab, and expansion at The Grove on Chapel Street). Another $970,000, which included a match for ECIC funds, came from the city. In September of 2016, the library rolled out a strategic plan for the project, then referred to as the "Innovation Commons on the Green."
Before launching into the redesign, Brogan and staff members looked at similar programs around the country, including in New York City and at the Free Public Library of Philadelphia, which is working on a project called the 21st Century Libraries Initiative. She assembled a team that is still growing: Sklar, Business Outreach Librarian Gina Bingham, Community Technology Librarian Kyle Litscher, Project Manager Tricia Hetherington, Library Technical Assistant Celeste Tapia and others.
Last year, the library brought on Buchanan Architects. The interior design, from plush new chairs with and without backs to long tables, comes from Margaret Sullivan Studio in New York City.
Construction began in the winter, as the library was still circulating a proposal for cafe vendors. Now, Brogan said the space includes a threefold plan to innovate, network, and encourage tinkering—while never asking library patrons to pay.
The space itself begins with a wide entryway on the library's first floor, still covered with a plastic tarp for the final stages of design (Brogan said the tarp will be gone by the end of the month). Where shelves of fiction books once stood, library-goers can now enter a lounge and seating area with new, plush chairs and blue carpet sprawling across the floor.
Taking a hallway on either side they reach the library's branch of G Cafe, where Corazzini said they will be able to find "the best coffee and pastries" in the city.
While the cafe is not set to open for another month, its setup is nearly complete. Twinkling lights hang from the ceiling. Outlets dot a blue, tan and aqua zigzag pattern on the floor, with tables set up across the room and on a seasonal outside patio. Brogan said that she's already thinking of it as a new place for cultural and community connection.
"We're excited to offer it as a gathering space," Brogan said. She was quick to add that the library's covered drink policy will still be enforced in the rest of the building.
To the right of the cafe, in what was once a high-ceilinged reading room with shelves of periodicals, a reference desk, and burgundy paint, is the innovation hub's ground zero. Against a blue-and-white wall design—blue shelves, white walls, blue flourishes—carpet colors subdivide the space into three sections: the "Switchboard," "Exchange," and already buzzing "Tinker Lab."
Just off center is a reference desk marking "The Switchboard," a name that channels George Coy's 1878 subscription-only switchboard called the Telephone District Company of New Haven. Brogan said the area will "be a front door" to the community: library patrons can "check in" to the space with their library cards, and access digital resources that include a nonprofit resource center, foundation directory, and other services "to connect their interests … inside and outside the library." It's not fully digital; print periodicals will line the shelves by late June. Beside them, cushy stools stand at the ready for readers with straps, so that they can be picked up and moved.
To its left is "The Exchange," a collaborative meeting and co-working space that is also named after Coy's early innovations in New Haven. There, Hetherington said, groups including Collab and Elmseed Consulting will hold weekly office hours, as the library grows its institutional partnerships with other entrepreneurship-focused groups in the city. She added it will be a "flex space" for networking and community groups who currently may not have a place to meet, or wish to move to more central location downtown. The library is also piloting its first "Entrepreneur-in-Residence" program, in which Knack Director Will Geiger hold weekly office hours in the space.
Facing out toward Elm Street on the right is the roomy, obsessively clean tinker lab, home to long wood tables, laser and vinyl cutters, a 3D printer and Computer Numeric Control or CNC machine, and several of the library's first-ever Apple computers. Calling it a long-awaited place to build "all those 21st century skills," Sklar said that staff has already had great success with the equipment, piloted during a "make and take" tinker day a few weeks ago in the library's basement. After announcing it on the library's PA system, Sklar said that visitors from all walks of New Haven dropped in to experiment.
In its first stages, the lab will be open to anyone over 18, and teens with adult supervision. Overseeing it, Litscher said the space is not meant to replace area resources like MakeHaven, but to provide a primer to them free of cost. Sklar said the library is "actively pursuing digital badging certification method in consultation with local educational institutions and digital learning experts."
The area will also be home to the library's first "Creative-In-Residence," writer, filmmaker and virtual reality developer Alex Gonzalez.
"It's designed with adults in mind—workforce and economic development," Brogan said. "We know how the gig economy is growing and this plays into skilling up."
She paused and looked around the whole space. "One of our great strengths is the diversity of everyone who comes here," she said. "So it levels the playing field. This is an investment in New Haven's future."