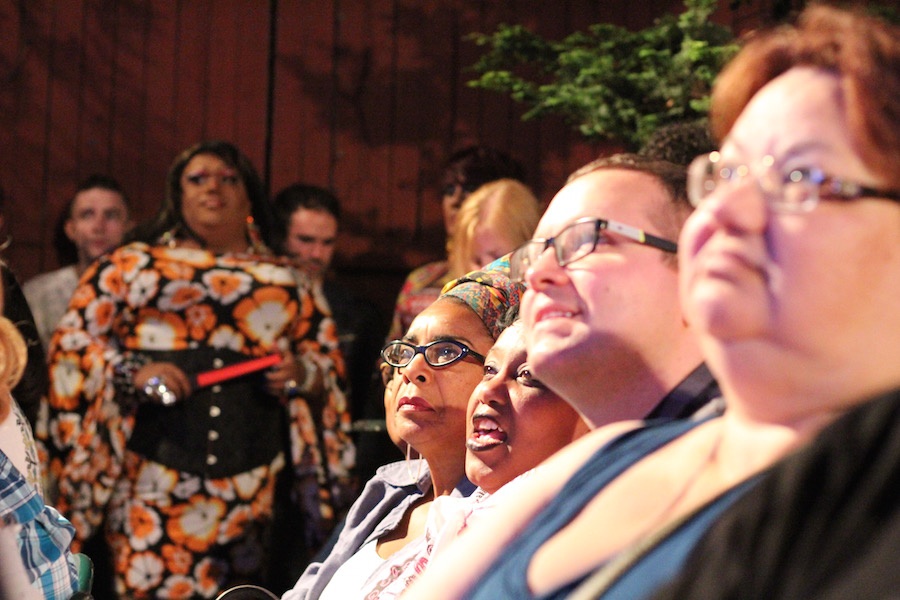 Drag | LGBTQ | Patrick Dunn | 168 York Street | Arts & Culture | New Haven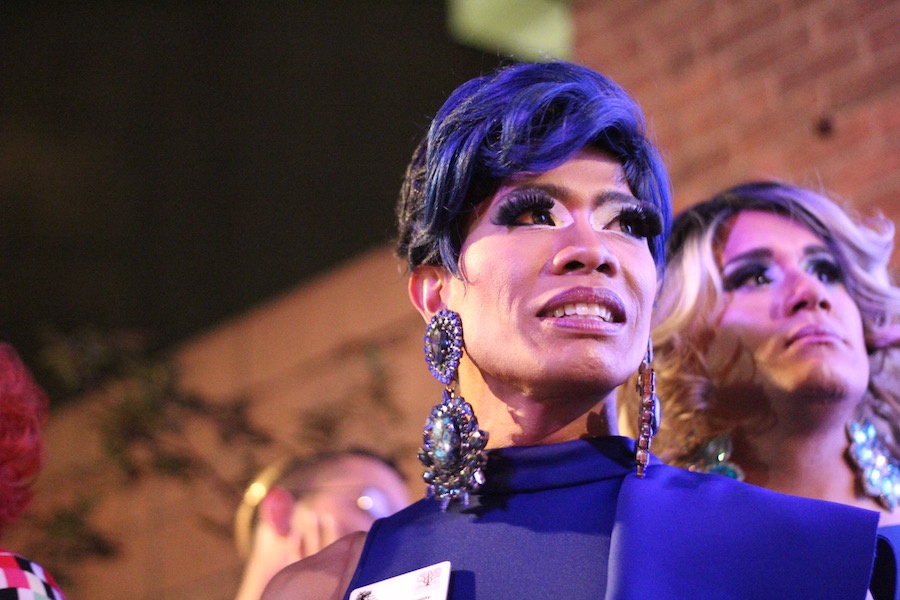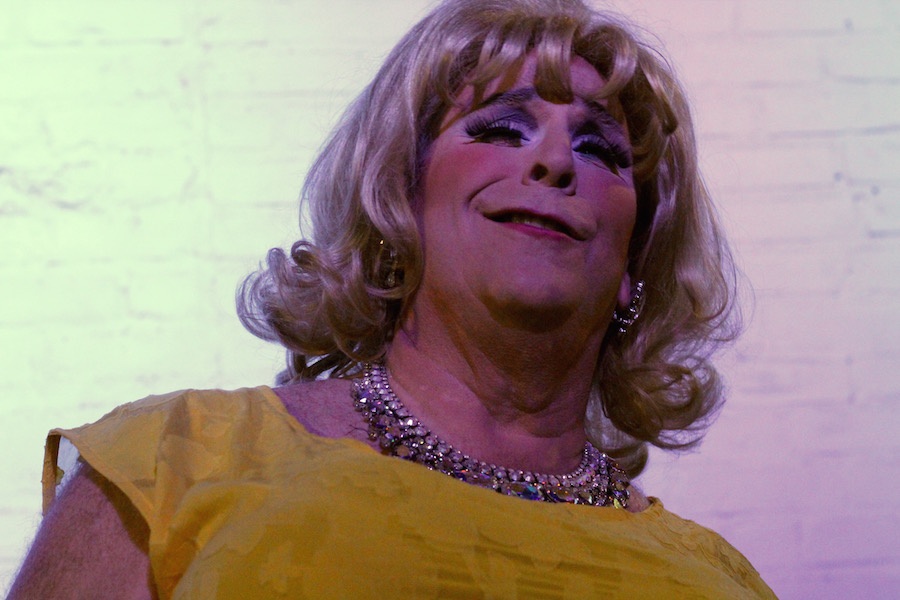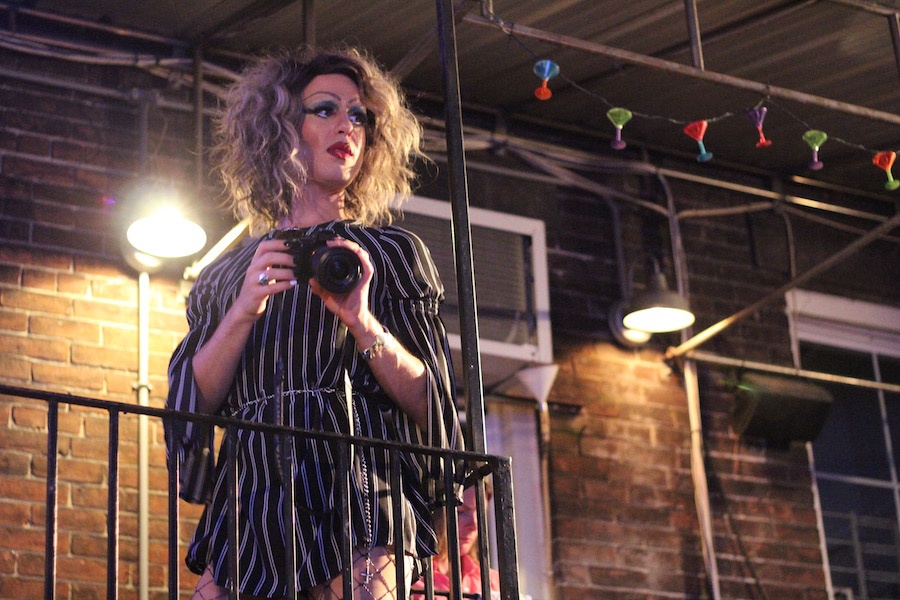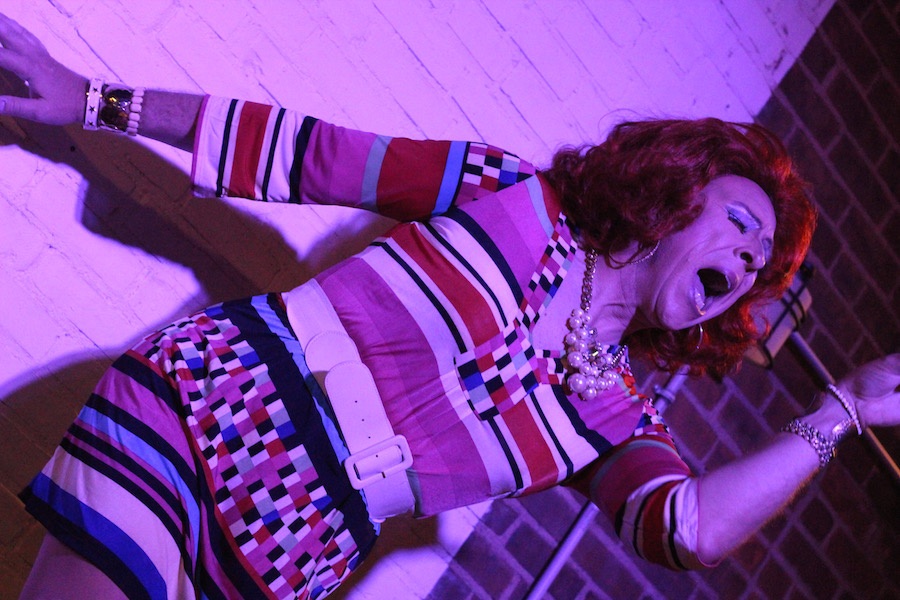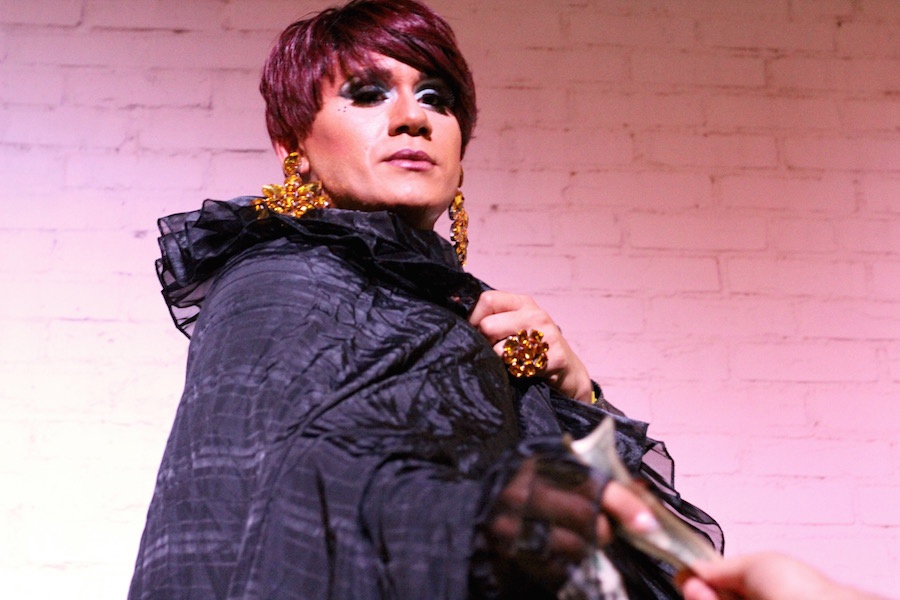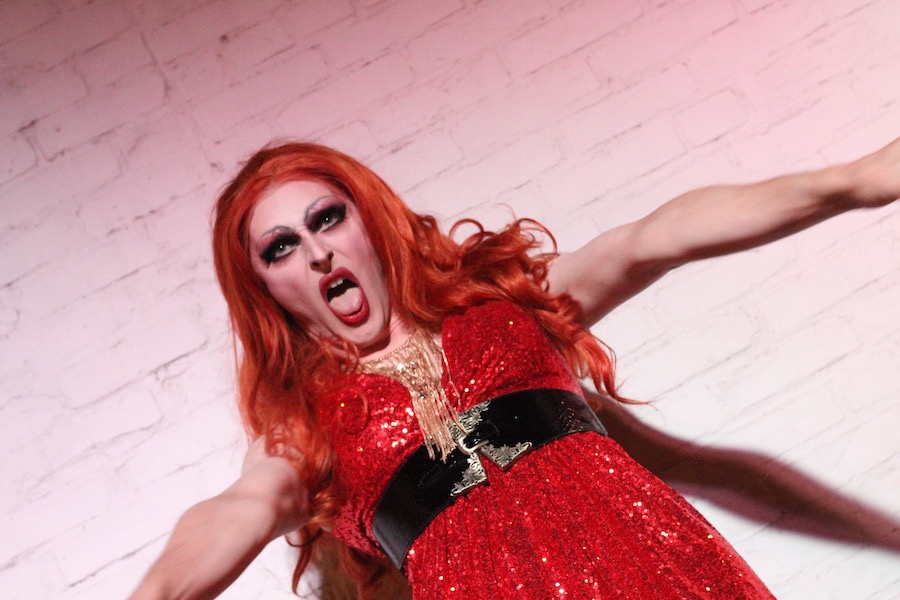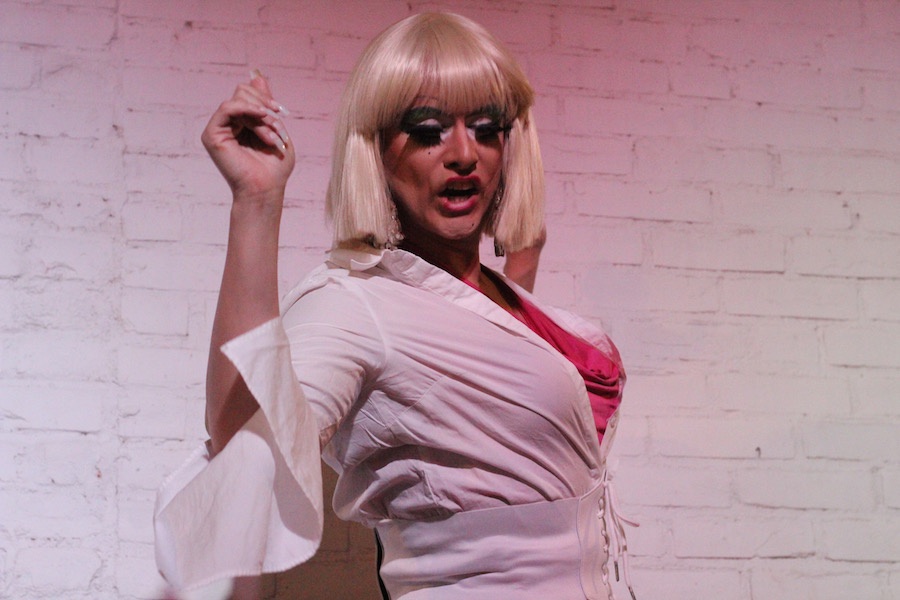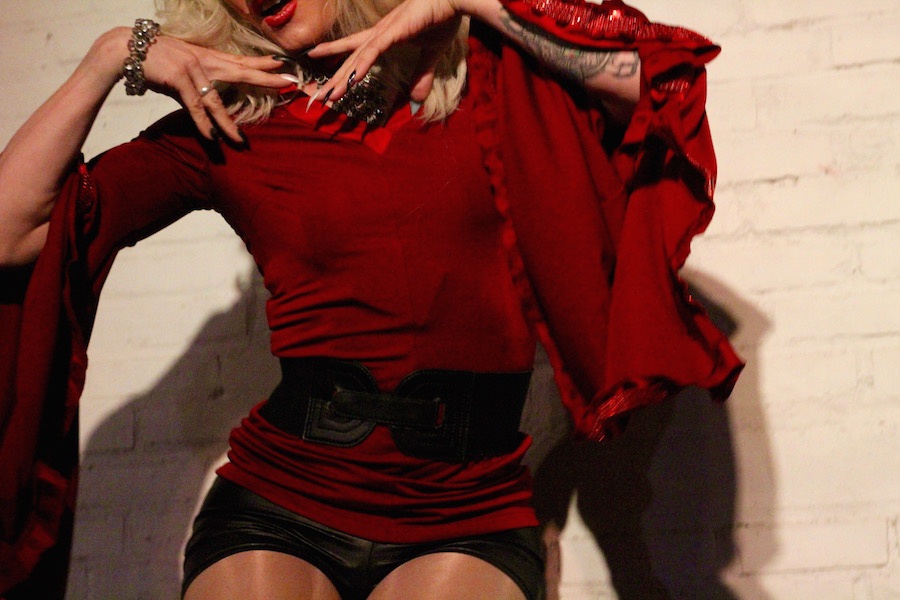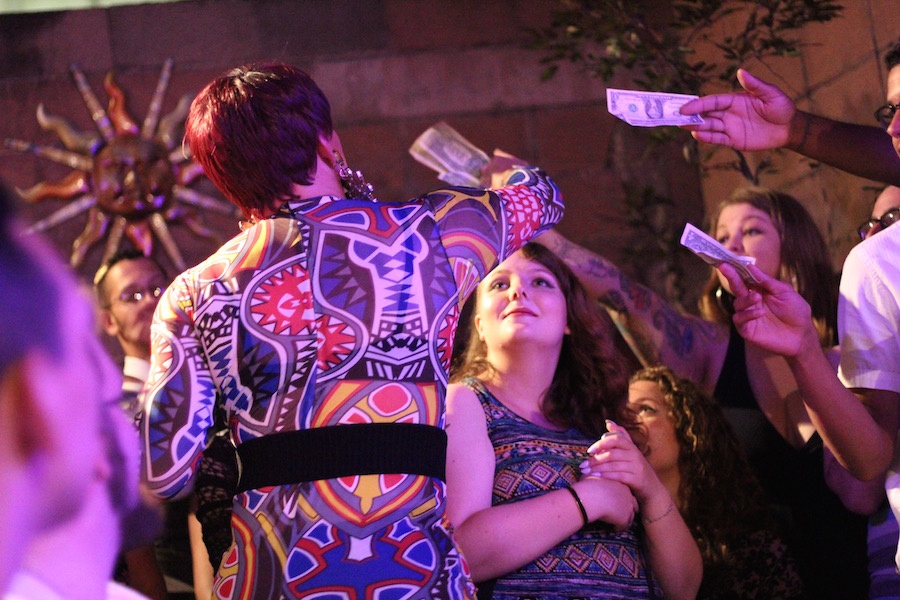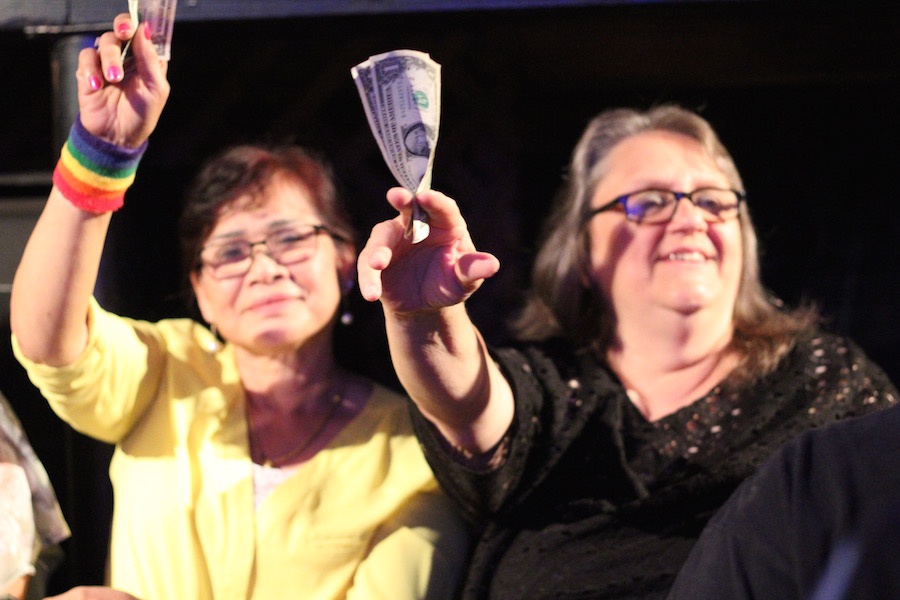 Morgana Deluxe was all in on a techno beat. She worked the crowd, winding through a sea of hoots and hollers as a rustling, froofy yellow skirt spun around her legs. Her heels hit the ground and then lifted off again. "I just want to dance," a voice belted over the speakers.
She whipped her face around to the other side of the audience, and sent her wig flying. A blonde mop landed somewhere near the first row. More dollar bills came out of pockets and wallets. The audience cheered, and she kept on dancing.
Late Saturday night, Morgana Deluxe was one of 24 drag queens, gender benders, and bio divas to perform at the third annual Dragapalooza, a statewide drag fundraiser from the Imperial Sovereign Court of All Connecticut. Held at 168 York Street Cafe downtown, the event brought in over 200 attendees, and raised close to $3,500 for the New Haven Pride Center's Scholarship Fund and Stetson Branch of the New Haven Free Public Library.
The evening was sponsored by 168 York Street Cafe, Stoli Vodka, Yale New Haven Health, and the Community Foundation for Greater New Haven.
With six more performers than last year, co-host Kiki Lucia said the show is holding steady as the largest drag show in the state. Like last year, performers ditched their booking fees—$50-$100 per performance–to do the show pro bono. Any tips they raised also went directly toward the scholarship fund and Stetson, which Kiki Lucia lauded as a " an open and affirming place for Dixwell Neighborhood's LGBTQ+ community for years."
Dragapalooza began in 2015, when New Haven queen Dandy Lions (boy name Shawn Miller) proposed expanding the Court's charitable mission in a statewide drag show. After a first annual success and 2016 hiatus, she handed it off to New Haven queen Kiki Lucia last year. The event raised almost $2,000. This year, Kiki Lucia co-hosted the event with Dandy Lions and Moana Cash, who is usually in the Imperial Sovereign Court's male line as Vu Tran.
"There's two aspects of this," said Tran before the show, leaning back on the stage in a dress that fit like sausage casing. "The first is to raise money and give back. That's why the entire Court exists. But for me personally, I get way more out of the court than it gives to me. And I want to give that to other people."
Tran said that when he graduated from the University of Connecticut eight years ago, he lost connection with the LGBTQ+ community. It wasn't intentional, he said—there was just a lot happening in his life. For three years, he was completely severed from queer life while learning how to navigate "the real world." Then he heard about the Court, and began attending events.
"The Court really brought me back into it and became sort of a second family," he said. "And it lets me give back in a way that I wasn't able to before."
He stepped back into Moana's world, preparing to open the show with "Meet The Plastics" from Mean Girls: The Musical with Lucia and Lions. But long after it had begun, that sense of giving back hung in the air for a jam-packed night of performances. Stepping toward the stage with dollar bills in hand, fellow queens and audience members slipped singles to performers, a green plastic bucket onstage growing full by the minute.
Some of the evening's performances showcased a rare continuity in Connecticut's drag community, with what Kiki Lucia joked was "over 300 years of drag" on one stage. There were drag institutions, with queens like 2001 Empress Kiko Amore, 2004 Empress Cassandra Fiore and New Haven's Robin Banks joining more recent queens Diamond Darling, Middletown phenom Scarlett Bleu and Dragapalooza's documentary drag photographer Sorcia (in slideshow above).
Others smoldered. Taking the stage to Salt N' Pepa's "What A Man," 2017 Empress Lucia Virginity whipped her hair back and forth, ran her hands across her body, and used the stage's brick wall as a sort of frame, ultimately lowering herself to the stage.
So did Lady Sylvia Heart, shaking her whole body in a little, brightly decorated costume and then going into a full split and aerobic choreography. Laying down on the stage, she showered herself with money, audience members oohing and aaahing as she looked out from the stage.
Bringing members to their feet with Jennifer Lopez' "I Ain't Your Mama," Anita D. Visa rocked the stage (and rode up on the front row in a turn toward audience participation), then appeared back with reigning Empress Electra B. Flowers Devereaux to perform Nikki Minaj's "Pound The Alarm." In the song's most powerful moment, both threw off their wigs, straddling worlds feminine and not.
Gender-bending Miss Frank drew wild cheers from the audience, ending a routine with a kind of backbend over the stage. Queens DC DeVille and Hella Swagg-Tragedia came from Imperial Sovereign Court chapters in Massachusetts. And while riffing on "Yentl The Yeshiva Boy" and waiting for her music, real-life crooner Barbra Joan Streetsand said that she'd chosen the song "People" (video here) as a testament to "us being around our community."
"We are people who need people to survive," she said.
There was also a feminist slant to some of the performances. For the first time in three years, performers welcomed Rory Rowe Heart (Mimi Zschack) as Dragapalooza's first bio diva—a drag queen who is biologically female.
Moana Cash staged and won a fight in a piece about domestic violence underscored by Ingrid Michelson, Brandy and Monica, and Kelly Clarkson, pushing a male performer off of her before she charged the crowd with Clarkson's full-lunged chorus.
Performing just before intermission, Dandy Lions began with a lip-sync to Christina Aguilera's "You Are Beautiful" when comedian Adele Givens came bubbling over the speakers, spreading a gospel of body positivity through old-school comedy.
"Ladies we've got to stop buying into the bullshit that they sellin you!" Givens' fast-talking voice sailed across the crowd. "Stop it!"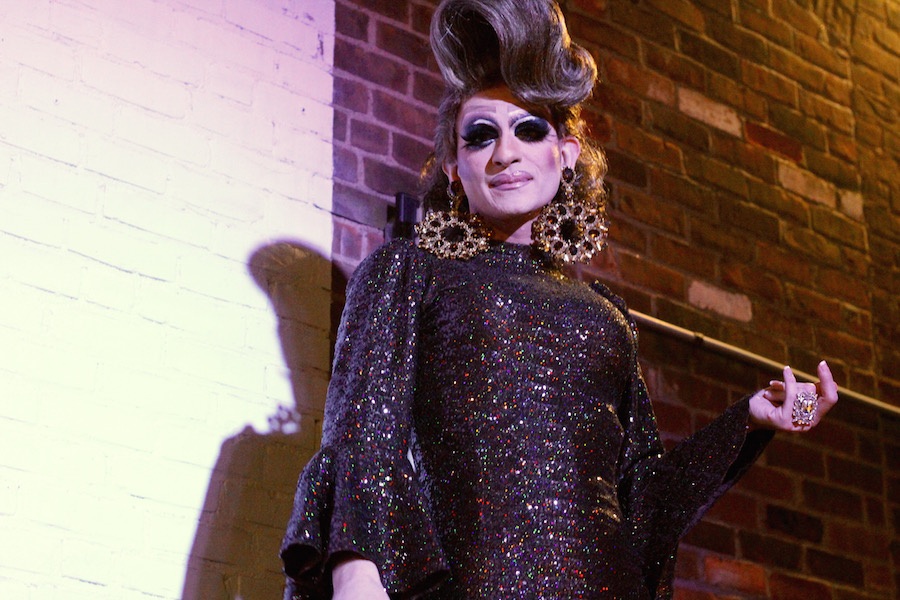 Aguilera boomed back for a moment I am beautiful, no matter what they say. Words can't bring me down. Then Givens. Then Aguilera. A weird, body-loving back and forth that had audience members nearly doubled over from laughter.
And for the second year in a row, Kiki Lucia ended the night on a political note, the words "Me Too" scrolled in pink paint over her right breast as Kesha's raw "Praying", specifically about the artist's sexual assault by longtime producer Dr. Luke, came over the crowd.
I'm proud of who I am
No more monsters, I can breathe again
And you said that I was done
Well, you were wrong and now the best is yet to come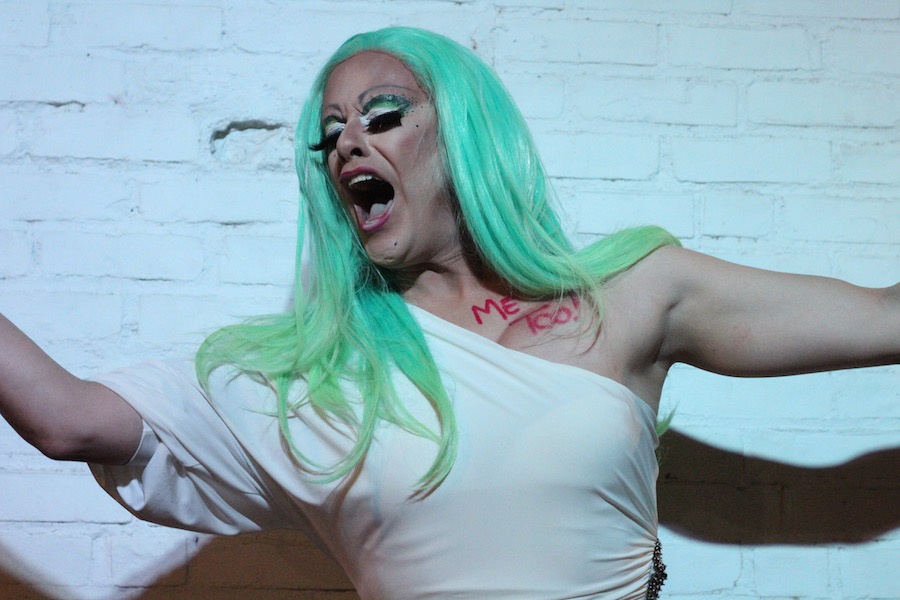 In a flowing green wig and white dress, she pulled her arms into herself, backing up against the bar's wall. She bent at the knees and looked toward the sky, black with the wee hours of the morning. Then back at the crowd, as attendees came forward with their last dollar bills of the night.
"It's this great moment where we can all come together and share an incredible experience of art, of community, of support," she said after the performance. "And this is what makes a difference … being able to come together across all lines of diversity. Whether it's racial minorities, whether it's religious minorities, whether it's your sexual orientation, your gender identity, or you fall somewhere on the LGBTQQIP2SAA spectrum."
"The most important thing that we can do as a community is come together because when we are together we are stronger," she continued. "There is too much division in our community and too much division that is forced on our community by people that don't understand us. You are all my family."
To see more photos from Dragapalooza 2018, check out the gallery below. To see video from the event, check The Arts Council's Facebook page.