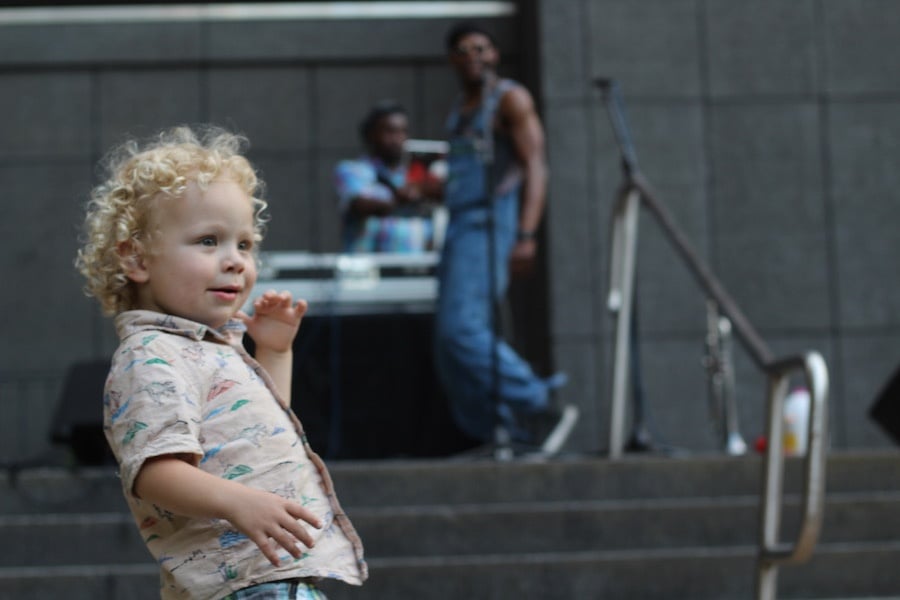 Greater New Haven | Make Music Day | Music | Arts & Culture
A drum circle to greet the summer solstice. An attempt to break a Guinness world record that has been on the books for years. A musical dedicated entirely to the inner-workings of a coffeeshop. A handful of DJs, spinning records across 18 square miles of city.
Thursday, these acts and others marked the first annual Make Music New Haven, a citywide celebration of music and musicians that spanned New Haven from the top of East Rock to the porches of Westville. From 7:30 in the morning until 9:30 at night, artists spread out across the city, springing into action with acoustic guitar solos, folksy, handwritten songs, original musical scores, techno beats, rap lyrics, and covers that they made entirely their own.
The event came together this year as a program of the Arts Council of Greater New Haven, with support from the Connecticut Office of The Arts, Town Green Special Services District, Connecticut Department of Community and Economic Development, Make Music Connecticut, the City of New Haven Mayor's Community Arts Grants Program and Suzio York Hill, as well as a special advisory committee of local musicians. It is inspired by the decades-old Fête de la Musique, a citywide celebration of music conceived by France's then-Cultural Minister Jack Lang in 1982. Unveiled in Paris that year, it has since spread to over 120 countries and hit the U.S. 12 years ago.
This year, over 800 cities participated worldwide (in the state, these include Bridgeport, Fairfield, Hartford, Middletown, Milford, Stamford, Stratford and Waterbury, as well as Northeastern, Northwestern, and Southeastern Regions). In all, New Haven's contribution included 42 artists in 21 locations, with many of the musicians performing at multiple venues.
Make Music New Haven got an early start, with drummers and drum enthusiasts reaching the summit of East Rock by car, foot and bike just before 7:30 in the morning. Over New Haven, the sky was still a little grey, with a yolky yellow and smears of light blue pressing through the clouds. On an outlook by the Soldiers & Sailors Monument, Mark Zarrillo and Thomas Fortuna had already begin drumming, their movements meditative as they worked. For a few minutes, they played largely alone, accompanied only by Barnett, Musical Intervention Founder Adam Christoferson and his dog, Copper.
But the rumble of a car engine signaled someone coming. With precision, New Haveners Kerry Brown and her husband Pat lifted a suite of drums—and some still-sleepy boys—out of their car, setting up a corner of the circle while bobbing to the rhythm. Drummers seasoned and novice alike appeared not far behind, the group growing to over 10 by 8 a.m.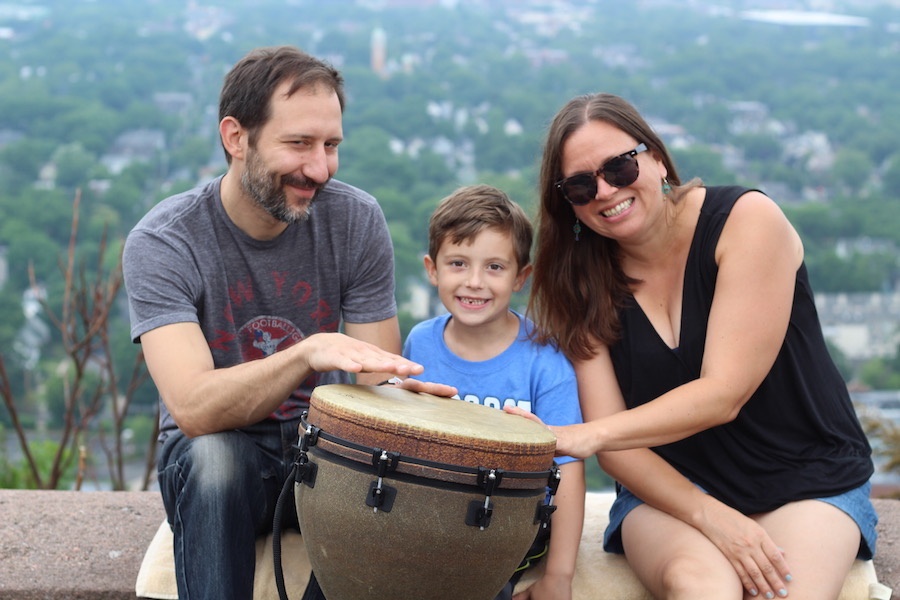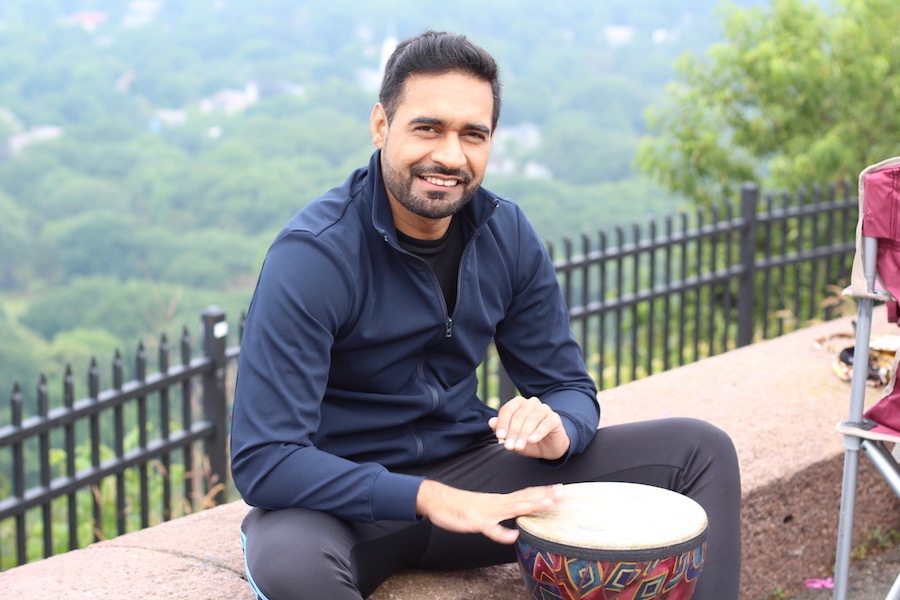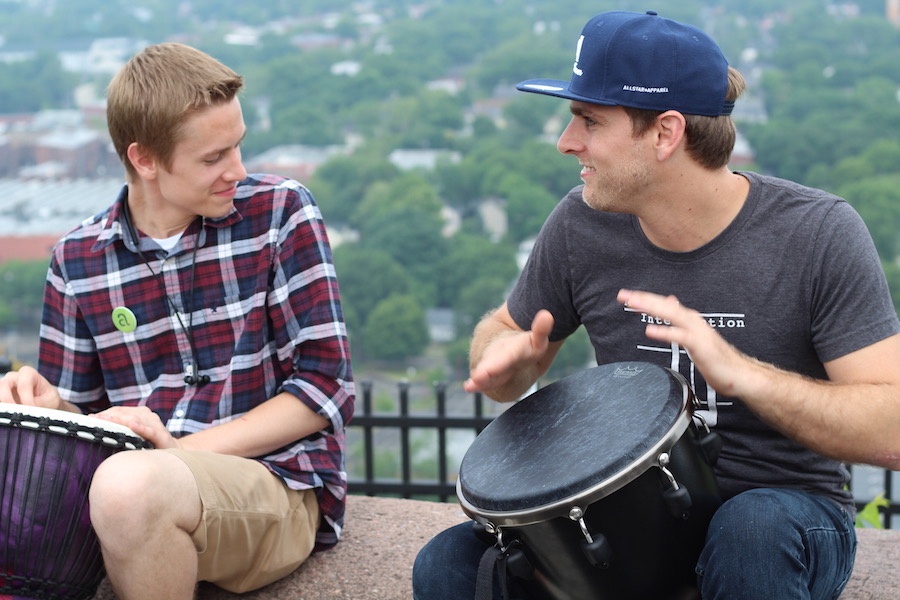 "When we are all playing, we get to talk to each other," said drum leader Mark Zarrillo, nodding to an asymmetrical not-quite-circle that had formed around him. "That's why we're in a circle."
As started in on another strophe, attendee Faheem Ul Haq (pictured above, at center) paused by his drum, and then started back in to join the rest of the group in a bah ba duh duh dah rythm. Now a doctor in Bridgeport, Ul Haq said he doesn't have a lot of free time to make music. But he'd come to the day's first activity because it reminded him of his grandfather
Born and raised in Pakistan, Ul Haq grew up attending Sufi rituals, bathed in mystical music, dance, and drumming. If he could tap back into that for free, he figured, why not?
As the sun climbed higher in the sky, musicians began to pop out of the city's woodwork, and into its public spaces. Outside the New Haven Free Public Library, 17-year-old singer and songwriter Quinn Harley set up a small nest of cables and launched into a mix of covers and originals off of her digital album By The Pines. Accompanied by her friend Mateo Spano on guitar, she leaned into a microphone, half-whispering the words.
And just because you aren't perfect
Doesn't mean that you're not worth it
Don't nobody tell you different
'Cause you are yours
Her voice ran over the crowd like water, then hung delicate and sweet in the air. From the library's sun-soaked steps, teacher Christoph Whitbeck enjoyed his first day of summer, soaking in the sound. A few parents stopped on their way out of the library, babies bounced on hips or held at dancing distance. In his signature flow white, Eric Triffin conducted an invisible folk symphony around him. NHFPL Deputy Director John Jessen doubled as House Manager, bringing out chilled bottles of water at the end of the set.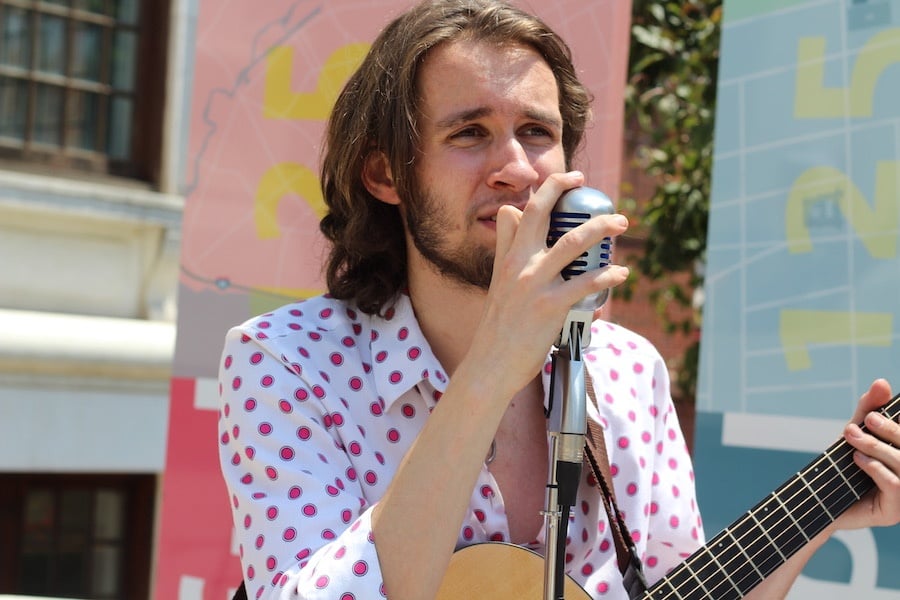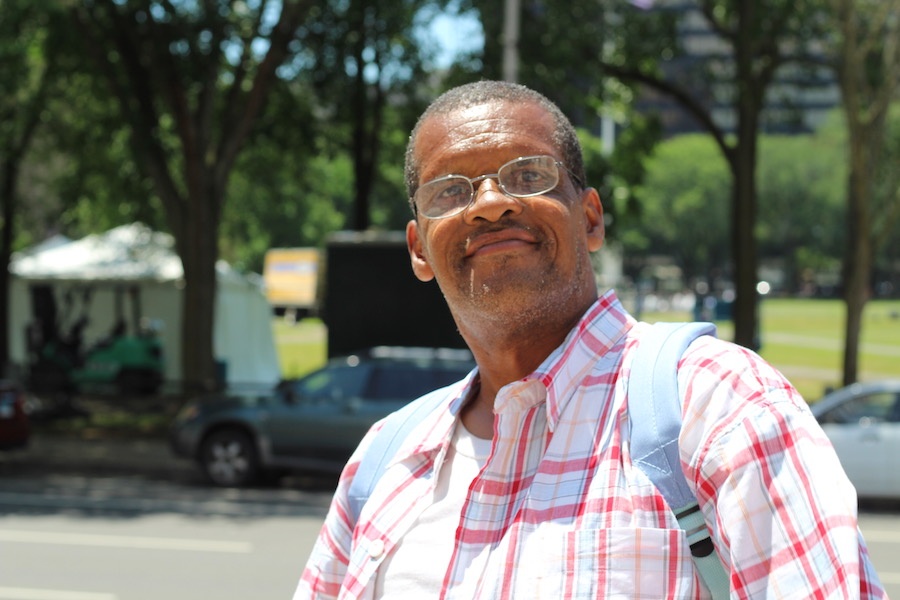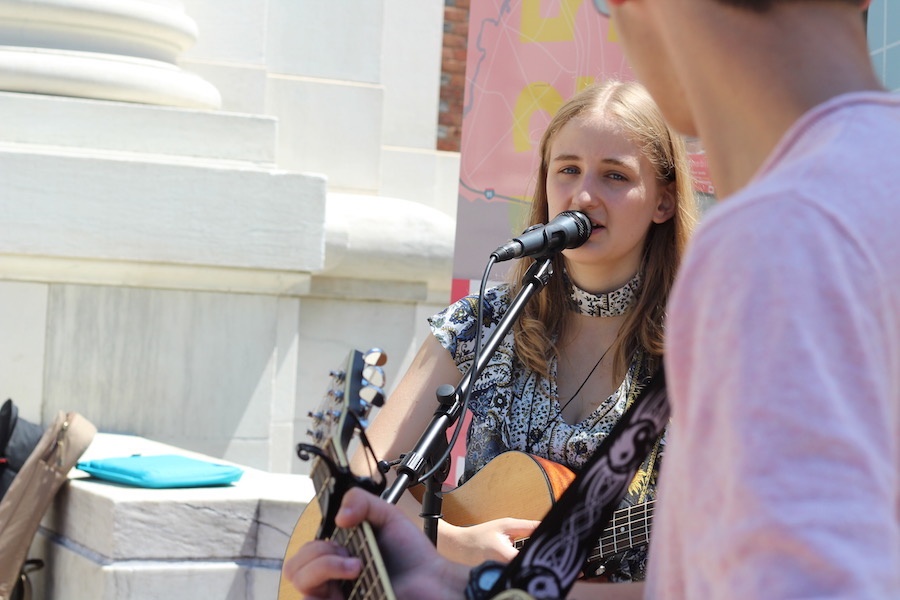 As Harley sped off to another gig—she performed a total of four times before the day was over, noting that it was also her birthday—performer Killian Mitchell took her place, delivering a mix of funk-flecked, soulful covers and originals that had a small crowd on its feet. As he launched into a cover of Carole King's "Chains," with vocals by George Harrison, a patron at the library extended his right arm in a sort of hasty benediction as he ran up the steps.
"Sounds good, brother!" he yelled out.
Close to Mitchell's speakers, New Havener Mike Jones (pictured above) also joined in, letting his arms guide his body as he grooved. The member of a New Orleans Brass Band, Jones said he seeks out music in the city whenever he can. He wasn't planning to come across it at the library. But when he heard Mitchell crooning into the mic, he was intrigued.
"I love this music!" he said. "I love it."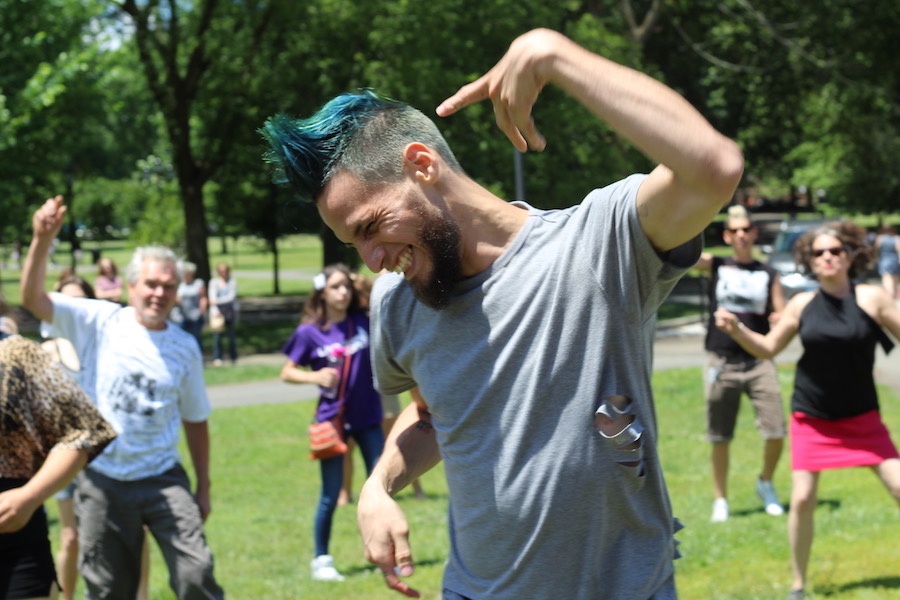 Meanwhile, acts had begin to work their way across the city and into Branford and Guilford, with musicians at the Henry Whitfield State Museum and Love Tribe Open Hearts Center. In New Haven, they were heading downtown, and into the city's Edgewood and Westville neighborhoods. On the New Haven Green, a flash mob took over the space, running to different sides of the site's flagpole to a mashup of Madonna, Michael Jackson, and Gloria Estefan.
They rocked their hips and threw their arms to the sky, exulting the sun. They shimmied and shook, working their way from one side of the flagpole to the other. They triangulated and jumped as one great mass, dancer Luis Antonio leading in front. As they formed a line around the flagpole, a crowd gathered (catch the video here), phones and point-and-shoot cameras flying from pockets as members rushed to record the moment.
Down Orange Street, electronic musician Alon Gordon, a.k.a. A/8 opened up Artspace's Make Music New Haven programming just after noon. There from West Haven, he'd heard about Make Music through a friend and thought, "this sounds like a lot of fun"—and like an opportunity to get his music in front of an audience.
"It's tough to do it on Thursday in the afternoon," he said, eyeing the small lunchtime crowd. But he was game to perform. His originals ranged from moody to soothing and even a little ethereal, all set to eminently danceable rhythms. For a friend in the audience, he included a cover of Nine Inch Nails ("this could either go really well or I could get shot.") and a Joy Division song. His set closed with a banger that brought a flavor of 12:42 a.m. club dancefloor to the 12:42 p.m. art gallery.
Then Binwanka was up.
"I'm Binwanka. I'm going to be a resident here soon," said visual artist and musician Bryant Davis by way of introduction. He explained that his first piece of music was made entirely from feedback from the mixer, which he proceeded to manipulate through a series of pedals chained together, finding the tones and the rhythms inside it.
He then began to incorporate samples — pastoral chords and radio commercials, pop rhythms and organ tones — that he pulled off the radio, distorted, faded in and out, overran with waves of sound, turning his entire set into one long, continuous composition that mingled with the conversations in the gallery nearby as the afternoon crowd grew a bit and the traffic passing by on the street.
He explained after his set that he left a lot to chance. "I never know how it's going to come out," he said. The trick, he said, was just to keep changing it until it was "interesting."
"This was my first time doing that in front of people," he revealed.
Les Tordus —"a french word for crazy, crooked, bent, twisted things," the band mentioned in its description—sailed through a set of traditional music from Quebec and other regions, played on accordion, guitar, mandolin, whistle, fiddle, and piano.
"Feet start," said mandolinist Sarah Prown, and the accordionist obliged, tapping and stomping out the beat before the instruments fell in on a tune called "Carnival." As they reeled through through tune after tune, the small audience grew a little bit, drawing a couple people in from off the street to sit down in the Artspace gallery to listen.
"That tune almost made me cry," one woman in the audience said. She added that the band had made her day just a little better. The musicians smiled and played on.
Just three blocks away at College Street Music Hall, venues traded world music for the global tradition of busking, as six artists of the nascent Sage Sounds Studios took a mic one by one, guitar cases propped open before them. Over them, a black-and-white marquee announced them as the "Buskers of Acoustic Rock." Stage Sound progenitor Nathan Sage and Elinor Slomba, who works with him through Verge Arts Group, said it's part of his hope to have "the cream of indie rock rising to the top."
In the shade of the marquee, musician Zach Andersen took the mic (get the video here) to deliver a series of originals. Around him, fellow buskers and curious onlookers stopped to watch, and then cheered as he rounded each next narrative bend.
The forest no longer tranquil
Wolves howl, spectres laugh, Andersen sang.
No sign of courage and strong will
Hearts split right in half
He eased into it, voice deep with longing but also certainty. In the lyrics, faint echoes of Phosphorescent and Lumineers' frontman Wesley Schultz floated over the street. Sage looked on like an expectant parent, the hint of a smile tugging at the corners of his mouth. Before Andersen had even finished, he was getting into position to applaud.
Vast forests can be puzzling
But Eros shall lead the way. They shall lead the way.
Other musicians came with their voices—and a few scripted numbers with three-part harmony, adult romance, and complicated friendships. Performing selections from Just One Sip-A Caffeinated Musical, cast members drew a crowd outside Willoughby's on York Street, with some patrons staying to watch after they's picked up their coffee.
Introducing the group, director Kate Simpson described Willoughby's on York—a building, unbeknownst to her, owned by Yale Properties—as "perfect" setting for the musical, which tells the story of baristas Taylor and Sam and difficult customer Courtney. As Courtney enters the shop each morning, her privilege as a college student makes her rude to everyone at the shop.
But there's a twist: Courtney is in love with Taylor. Can she move beyond the trappings of the ivory tower (and her sizable pocketbook) to realize that goodness comes from within?
As the group performed, numerous new arrivals to Yale's "Explo" and global summer programs shuffled by with their heads down. On the sidewalk, "Just One Cup" parents lingered to watch. So did New Haveners like Tea Montgomery, who stopped to watch with his son Haven. A musician himself, Montgomery said he doesn't perform in New Haven anymore, but is excited to see other musicians taking up the cause so publicly.
Back on the sidewalk, the group was chattering about the show's genesis and future. "Just One Sip" originated in a Starbucks, when co-writer Carly Steere and a friend tried out a caffeinated "rap" (they declined to recreate it) and "realized that this could work" as a musical. Now, Steere said, the Bushnell Theatre has approached the cast with interest in producing it.
Her co-writer, Gaby Onorati, waited to get a word in. She said it had been exciting for the group when it was accepted to Make Music New Haven, because it had never done anything like it before.
"I am 15 years old and I am not afraid to say that I have been drinking coffee since I was three years old," she added.
Willoughby's wasn't the only coffeeshop to transform for the day. At Koffee? on Audubon Street—already a year-round music venue and proper coffeehouse—a rotating door of bands came through the space before it hosted its customary Thursday vinyl night.
As The Lessers, Hudson Howard, and Ez Bluez played among the smell of roasting beans and iced chai, additional sounds from Neighborhood Music School (NMS) next door drifted through, wisps of German opera and Duke Ellington rising up to meet flute, guitar, and drums.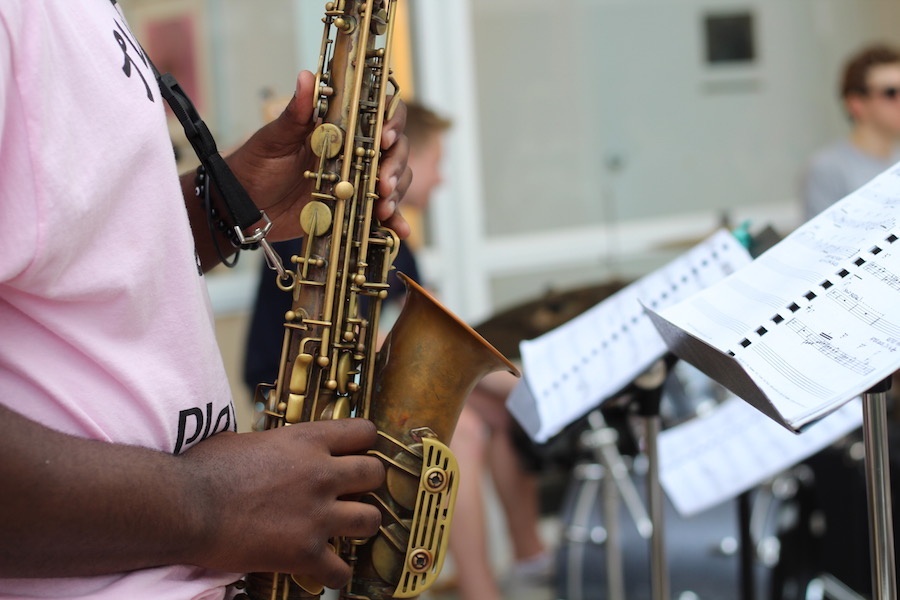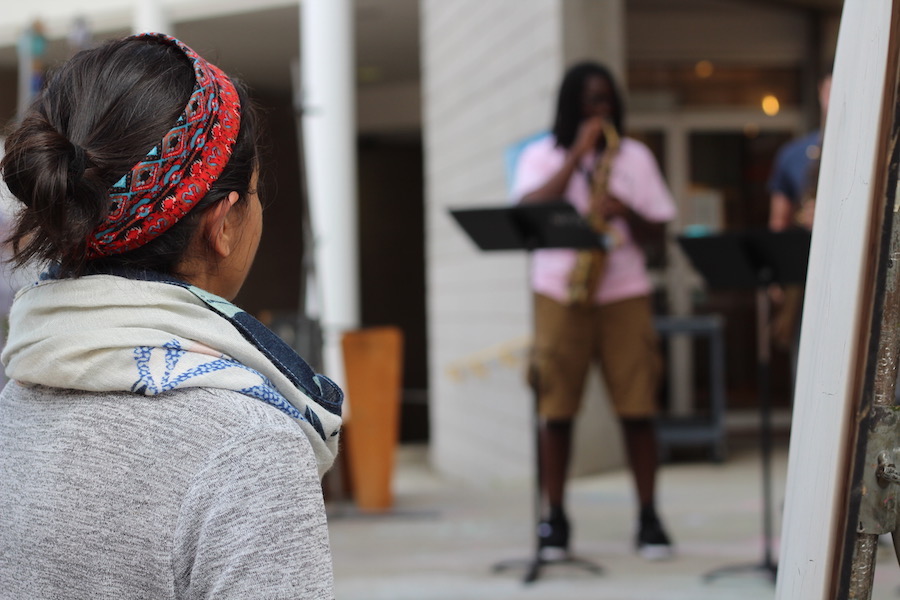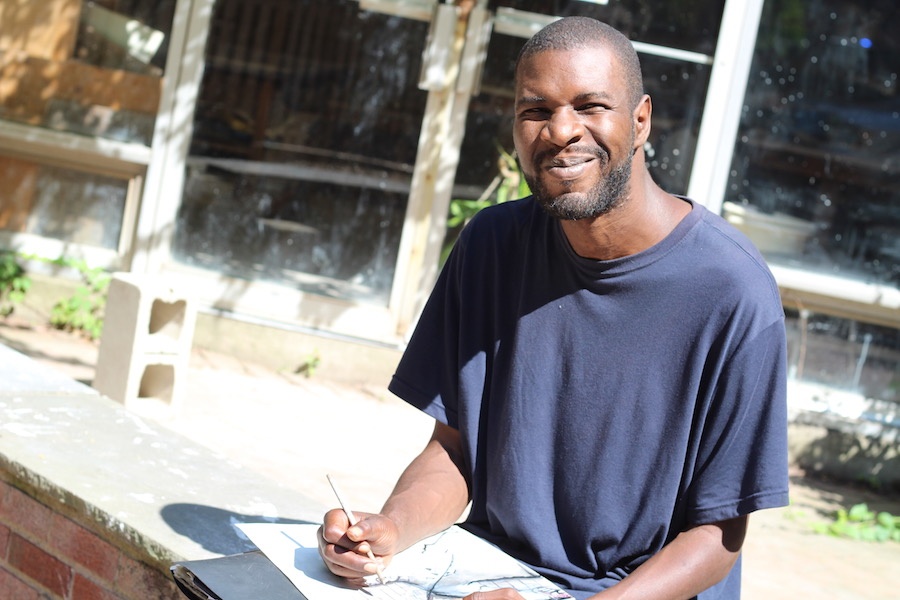 Down the street, NMS and Creative Arts Workshop (CAW) had joined forces for a few hours, to beta test a "sketching the band" idea from instructor Matt Stevens. As artists rolled in and sketched for free, jazz standards from NMS' group "Jazzphoria" drifted over them.
In NMS back patio, artist Tizzie Mills (pictured in triptych below) was also taking advantage of the musical cue to draw, letting the notes guide him. While he said he had come originally for the quiet, he stayed so he could draw along to the music.
"It's a nice change, you know?" he said.
The temperature dropped; it was getting chilly outside. And yet, Make Music seemed to just be getting started. Acts sprang up at Brother Jimmy's Barbecue, Space Ballroom, and ever the Connecticut Hospice. As Adam Christoferson stood on the roof of the Temple Street Garage and tried to beat the Guinness World Record for most solos in one piece of music, another big party was unfolding across the street at Temple Plaza. There Hartford-based rapper, vocalist, and dancer Tang Sauce and DJ Stealth took the stage,.
"Let me hear you say peace!" he shouted over crowd, holding out the mic.
"Peace!" members bellowed back.
"Let me hear you say love!" he returned.
"Love!" members shouted.
"Positivity! I love myself I love everybody else!" he was jumping by now. Two ecstatic dancers moved to the front, one gyrating fervently as the other reappeared as Eric Triffin, making his signature The audience cheered back at him and he launched into a set, mixing trap, funk, R&B and something that was totally his.
At the end of Tang's set, the International Festival of Arts & Ideas called the evening—Make Music New Haven was done for 218. But another venue was still unfolding on Westville's Central Avenue, as Thabisa planted her feet in the long grass outside a neighbors's home, and queued up a band behind her.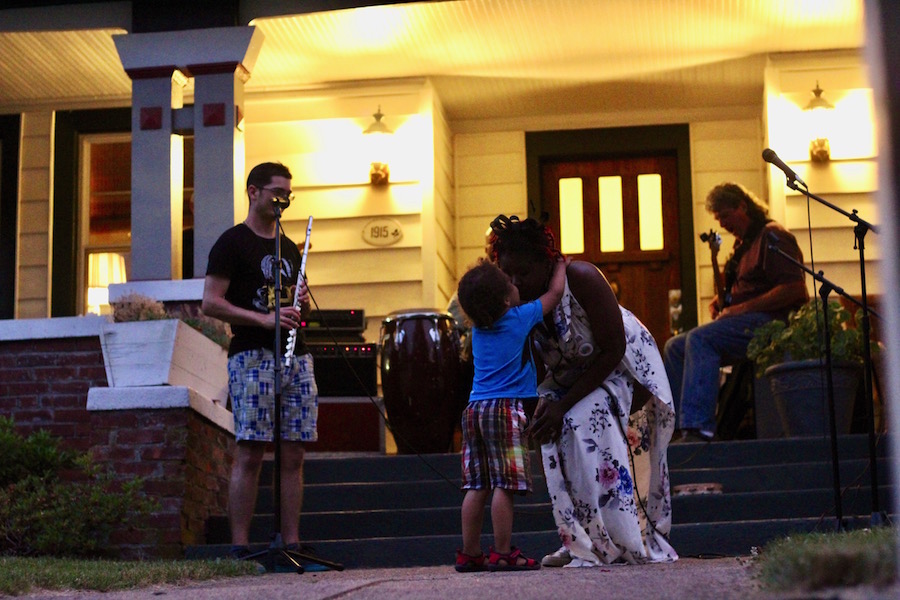 Inspired by Bridgeport's annual porch fest, artists had been gathering at 582 Central Ave. for most of the day, sometimes playing to just one or two audience members. But as dusk fell and Thabisa's voice coasted over the street, close to 25 neighbors spilled out onto the sidewalk, their kids testing the house's stone stairwell and sprawling front yard.
What was going to be a practice round for her World Refugee Day Concert turned into community music making, . As she summoned Miriam Makeba, she called up flautist Dylan McDonnell, kids running through the grass as his flute joined her rising, tidal wave of a voice.On the sidewalk, families played and chatted, enveloped by the lyrics of "Eyodidi" as and the sillier "Scooby Doo" as they bloomed amongst the flowers.
Thabisa's voice is powerful: she can bring it to a boiling, urgent thing full of life and then halt it to a whisper just as quickly. As she performed barefoot, rocking in the grass, kids joined her on tambourine and, at least once, microphone, adding some unintended scat to a piece. At points, she would crouch in the grass to play with them, singing as she did.
"Thank you!" she said as dusk, then dark, fell on the street. "Thank you universe for reminding us that we're human. We're going through a lot right now. But the universe reminds us that love will never be defeated. Love will prevail."
"Black, Latino, blue, green, yellow … I'm preaching now," she said to laughs. "Gay, transgender … we are one. We are all one."
The New Haven Independent's Brian Slattery contributed reporting. For more photos and videos from Make Music New Haven, check out The Arts Council of Greater New Haven's Facebook page.