Economic Development | Arts & Culture | Artspace New Haven | New Haven | Visual Arts
There are new tenants in Vovo Organics on Orange Street, standing at attention with bright, declarative messages scrolled across their faces and enough power to keep the lights on all night. And in the old Fresh Yoga, beaming out onto the block where downward-facing dogs and chaturangas used to occupy the green walls. And at ACME furniture, refracted pink light floating through rooms where chairs were once stacked.
They're just electric, not human. They are all part of Artspace's Light Up! Ninth Square, a new, sites-specific installation intended to brighten the vacant storefronts in New Haven's Ninth Square Historic District. Friday night, Artspace Curator Sarah Fritchey led a tour of the works as part of Town Green's On9 series, which celebrates the neighborhood on the first Friday of each month. June's festivities also included live taping from Baobab Tree Studios, a community canvas from Artist & Craftsman, food from local merchants, and booming beats from DJ Dooley-O.
The installation runs through July 28 at Artspace (50 Orange St.) and the former homes of Reynolds Fine Art (96 Orange St.), Neville Wisdom's Fashion Design Studio (63 Orange St.), Fresh Yoga Studios (49 Orange St.), Vovo Organics (28 Orange St.), and ACME Furniture (33 Crown St.). It is presented in collaboration with Town Green Special Services District and the Community Foundation for Greater New Haven.
Light Up! is intended to address a growing problem in the area: an increasing number of vacant storefronts, and the rising crime that comes in their wake. After the assault of an Artspace employee in February, merchants have been meeting on a monthly basis to "share reports and build a neighborhood network," said Artspace Curator Sarah Fritchey.
During those meetings, Town Green Director Win Davis has made a connection between the Ninth Square's location and the 265 bus line, which makes stops in West Haven and in front of the APT Foundation methadone maintenance clinic on Congress Avenue, lets passengers off at Church and Center Streets downtown, then continues on to the New Haven Green and has connections that go to another APT Foundation clinic that in North Haven. When it stops around the Ninth Square, Fritchey said, she thinks that passengers may get off there and then linger in the neighborhood.
"We've been sharing stories where we've seen crime on the streets," she said Friday, leading back-to-back tours of the installation. "Normally, these things are happening during the day, when we're all at work. These aren't violent crimes. These are really seeing people urinate in public, sell drugs on the street. We're seeing this relating to a public health crisis that doesn't really have an easy solution."
"I think that this [installation] combats it by bringing life to a city and to a street so it doesn't necessarily feel abandoned," she continued. "When you are around a place that's cared about, you don't tend to do things that you feel might not be seen or heard because you feel a sense that it's occupied. There's people around. Giving places TLC (tender loving care) ensures the future health of that space and safety for people that are in that space."
Digested as a whole or piece by piece, the installation is a mash up of Broken Windows Theory, light art, and community organizing. From its first stop on Orange Street, the exhibition sneaks up on the viewer with Matthew Schreiber's Wraith, a criss-crossing web of red beams in the window of what was recently Reynolds Fine Art.
Framed just so behind the window, the work dips and undulates, straight lines playing tricks on passers-by as they collide and overlap with each other. Pulling its title from Lord of the Rings—a spirit that sticks around, not quite dead or undead—the work pushes itself out toward the viewer, as if it is ready to shake hands with the dark, and make the night a little safer.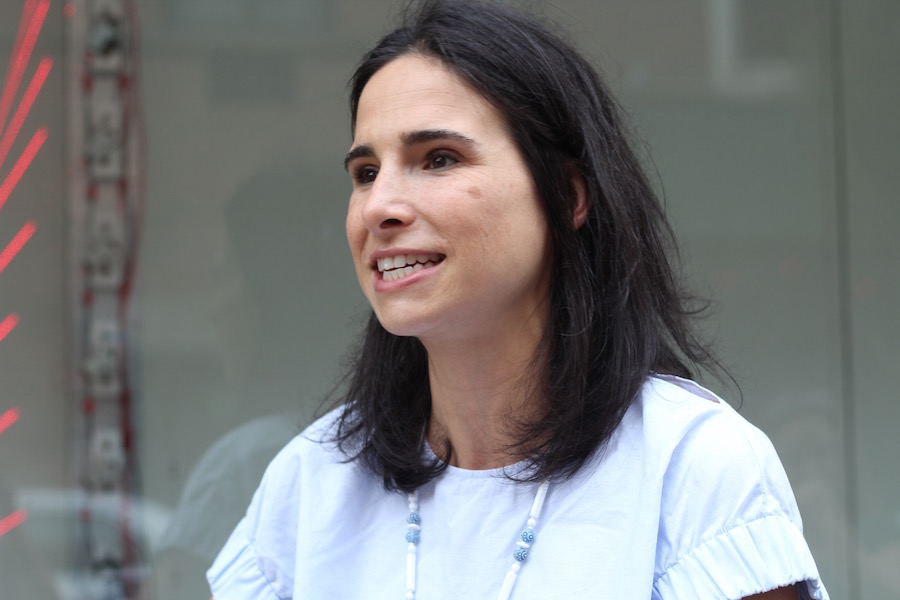 From there on, installations punctuate the walk down Orange Street, seeping out from windows in blue-white beams, purple blocks and pink dribbles. In front of Artspace's window, a sign from Hartford-based Joe Bun Keo (pictured at top) begs to be read, red and black words falling into a playful, poetic rhythm as they stretch across a bright expanse of white. On either side of the sign, the front and end of a red arrow point onward.
Made Sense 2 Spend 100
Cents 2 B Seated & Seeded
With Roots In The Elm
Space Takes Helm
Orange U You Glad For 50
It's one of his first-ever projects with light, a spectrum with which he's experimenting in honor of his young son, who is on the Autism spectrum. And it sticks, a sort of unexpected, crooning and funny love song to the street.
That's true as his artistic footprint heads down Orange Street, and dips into 28 Orange, the former home of Vovo Organics, and Graffio Jewelers before that. Mounted on a series of white pedestals with snaking power cords, a handful of light boxes allude to the building's past life, with slogans like "Oldspice/New Wave" and "Bathsalts & Pepper Spray."
"In these small light boxes, you really have to truncate your thoughts," he said.
Fritchey said that the install team has already noticed more activity on the street with the work, some potential tenants coming in to ask if the spaces are still open to rent.
"It's better than putting up a big 'Available for Rent' sign," she said (some 'Available for Rent' signs have remained up). "Via the activation of the spaces, you gets much more action on the street."
The light installations continue back up Orange and down Crown Street, where Gray Organschi Architecture is now working on plans for an apartment complex in ACME Furniture's old home. Putting building's gutted, cavernous innards to use, Brooklyn-based artist Siebren Versteeg has played with the ideas of real, digital, and reflected imagery, re-hanging the building's mirrors and installing time-lapse cameras in the front of the building.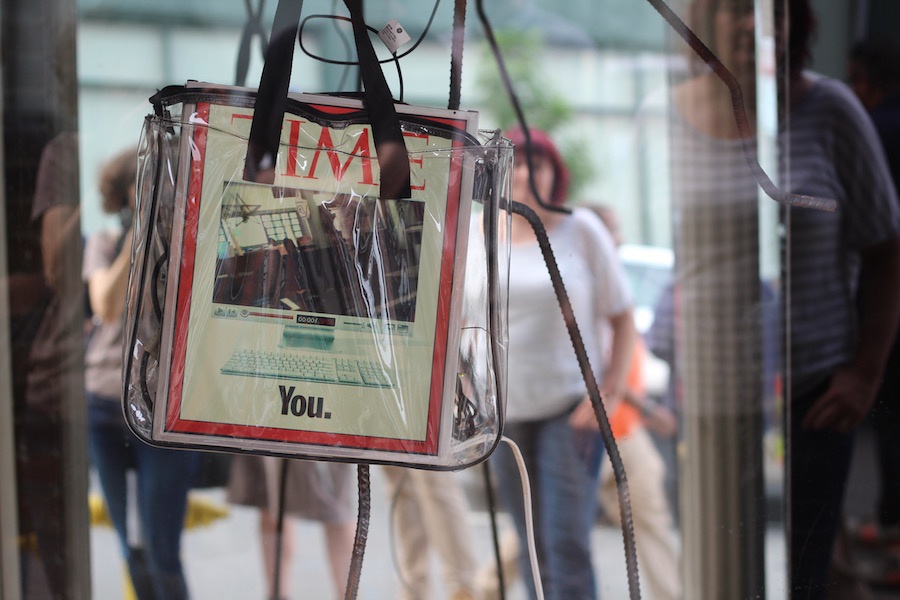 Where signs advertised "Everything Must Go!" months ago, a series of those digital snapshots rotate in a "TIME" Magazine cover meant to evoke TIME's 2006 "person of the year" cover, when magazine chose "You." From inside the building, two backlit transparencies beckon, everything bathed in a strange pink around them.
So too at 49 Orange St., where artist Alexandria Mento has used Fresh Yoga's bright green paint and exposed paint to turn the space into an installation where wires are exposed everywhere, as if a computer lab has shorted, then thrown up on the floor. Looking in from the street, the shop is transformed, a sort of neat, minimalist statement undone by its own mess.
There's great playfulness to the exhibition too. Where brightly painted mannequins and fitted, brightly pattered dresses once stood in Neville Wisdom's shop, artist Nancy Davidson has placed mammoth, whimsical light sculptures, a sort of fantastical circus as they unspool. Bright rope ladders hang from the ceiling to the floors, with serpentine forms sprawled out and a large, bulbous shape like a great, playful extraterrestrial force at the center.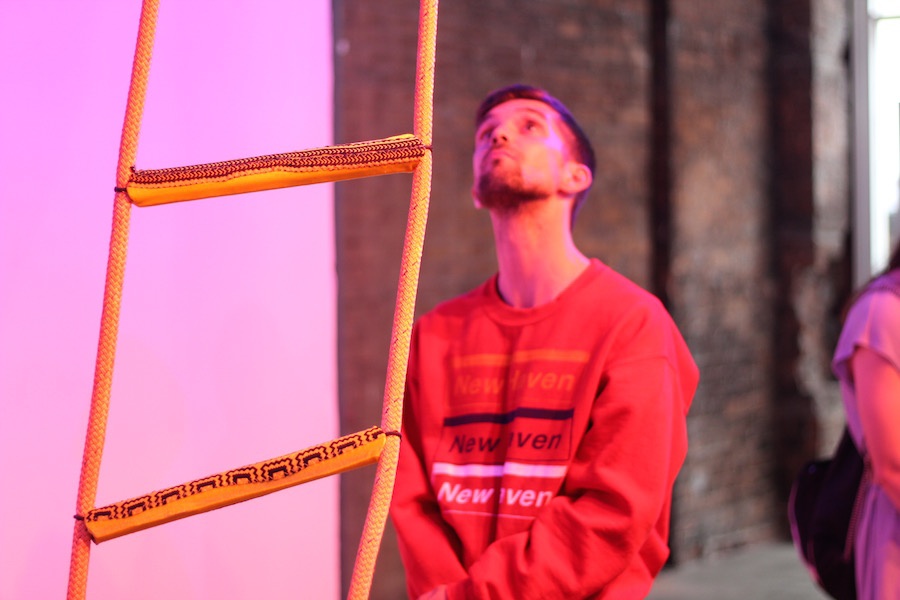 "We don't know where we're going, and we've left something, and now we're here," said Davidson, joining Fritchey in the space. "'I wanna see what these pieces have to say in a place like this. It's this kind of strange, other place. Which is not what you see every day."
"When it gets dark, the building looks like it's on fire," Fritchey added. "You can see it all the way down the street."
Reached on Sunday, Davis said that he's hopeful about the installation's potential to literally brighten up the area, and bring new businesses in.
"Town Green is thrilled to partner with Artspace on this 'light up the Ninth Square' project," he said. "The light artists did such a great job showcasing their skills, bringing life to these empty storefronts in a way that adds to the interest, walkability and positive perception of the Ninth Square neighborhood. We hope to continue working with Artspace and expand this program!"
To check out a photo gallery, scroll through the images below. Light Up! Ninth Square runs through July 28. For more information, visit Artspace New Haven at 50 Orange St. or its website.