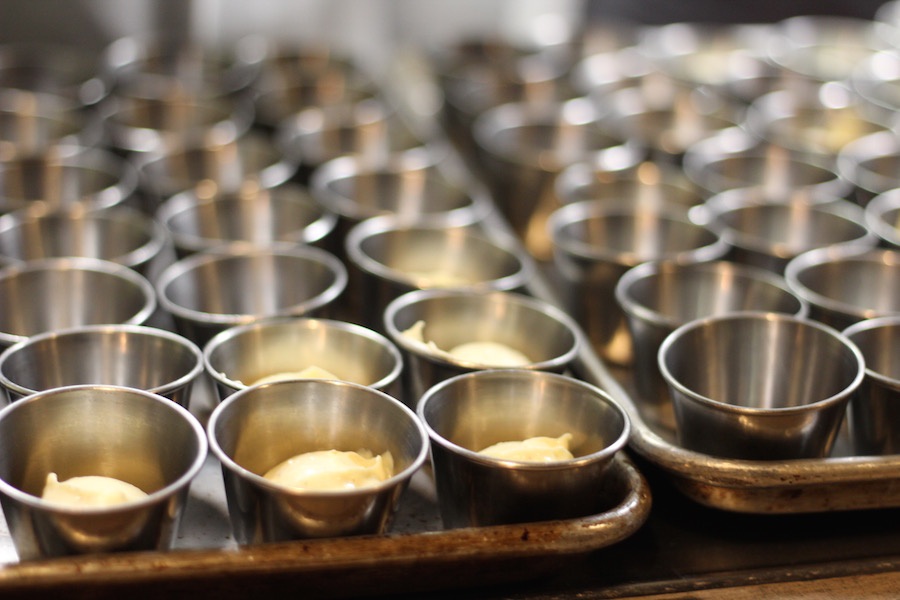 Caseus | Craig Hutchinson | Food & Drink | Jason Sobocinski | Arts & Culture
Jason Sobocinski is ready to close the doors at Caseus—and reopen them with more support, a new name, and a different model.
Sobocinski spoke about that decision Monday, just before an expected lunch crowd of over 100 filled Caseus Fromagerie & Bistro for its last week of a 10-year run. On July 21, the restaurant will hold its final dinner service, serving thickly sliced, oozing grilled cheese sandwiches, gooey mac n' cheese in cast iron skillets and glistening beef patties draped in cheese for the last time. In its place, Sobocinski will reopen a new restaurant in mid-September with business partners Craig Hutchinson and Alex Lishchynsky. And instead of calling all the shots, he'll defer to them.
"Lots of people loved what was going on here, but I'm, like, so excited that we're going to do something new and that I get to bring on partners and still keep the same staff," he said Monday, greeting staff members as they trickled in. "And just take a little bit more of a backseat and not be the person who makes all the decisions."
He added that the cheese truck will still be around for people who want their "crispy melty things."
For his partners, Caseus is familiar territory. Hutchinson and Lishchynsky—who go by "Hutch" and "Nuevo" as they bounce around the kitchen—are the culinary duo behind the now-defunct [oink] pop-up series that began in New Haven in late 2015, and hosted a month of locally sourced Sunday brunches at Caseus the following January. Both have also served as chefs at the restaurant for several years, after returning to Connecticut after respective stints in Boston and New York.
While their plan two years ago involved opening an Italian restaurant of their own, Hutchinson said that the partnership is the best outcome he could imagine for himself right now. Already, he, Sobocinski and Lishchynsky—who was rushing around town trying to find extra loaves of bread at the time of the interview—are thinking about how they want to change the model for the restaurant, which will include more vegetables, far less beef, locally sourced wheat and bread, homemade bagels, and takeout options.
"This has been a dream for a while," Hutchinson said, spreading seeded mustard and think, pink slices of ham on sandwiches that would soon travel from counter to oven, oven to hungry belly. "My goal was to open a restaurant by the time I was 30. Now I'm 32, and I'm so glad I haven't owned a restaurant yet. I feel as though I'm really ready for this opportunity, and I'm really excited to be in New Haven and doing this where I grew up."
In the months between closing Caseus and reopening the new restaurant, the three partners are planning to revamp the menu and build out a sort of upscale takeout joint where the cheese shop is currently located. There will still be cheese, Sobocinski said—there will always be cheese—but instead of cool cases of Manchego, Reggiano and Fourme d'Ambert, customers can expect to see more prepared foods, recipe kits, and homemade bagels that could return the city to a Lenders-era glory. And vegetables. Many, many more vegetables.
"The change that would need to happen around this country in order to make meats truly sustainable is more than a one-year, two-year effort," Hutchinson said. "So by supporting vegetables and by highlighting vegetables as the main focus of the dish, and using meats or fats from animals to back them up and give them more flavor … I think that really is where food needs to head in order to make a statement. In order to make some real change happen."
For Sobocinski, it's a bittersweet moment—but more of an auf wiedersehen than a straight up goodbye. The first of his culinary ventures, Caseus has since become part of Sobocinski's benevolent "Cheesepire," with The Ordinary and Black Hog Brewing expanding his reach into craft beer and cocktails. Both of those are partner venues: Ordinary with Tom Cabral and his brother Tom, and Black Hog with brewer Tyler Jones and several others.
So when Hutchinson and Lishchynsky approached him, he said it felt right. He'd changed in those 10 years. He needed more time with his family. And he needed to slow down, or he was going to burn out. After several discussions with his wife, he "just came to the conclusion that I was ready to do something else."
"It's going to be awesome," he said. "I think that as I get older, my priorities are changing. This place is my first business that I started, and it's definitely the most complex. At the beginning, I made it about me. At the end, I tried to make it about the business … and I was just ready for a change."
In the past five years, he added that he's also watched the restaurant industry "changing, and morphing into something different." When Sobocinski opened Caseus 10 years ago (click here for a blast from the past), "you couldn't get artisan cheese everywhere." Now, it's at grocery stores and specialty shops across the city, creating more competition for what once was a novelty.
The economics of the restaurant business have shifted too—more people are ordering takeout ("this is all Netflix' fault, really"), but fewer are going out to restaurants and cooking in their own homes—a move that food writer Michael Pollan began to lament 10 years ago. In the past five years, several brick-and-mortar establishments have popped up explicitly for the purpose of take out, while services like Uber Eats continue to change the face of food delivery.
It's a trend that Sobocinski said makes him sad—but to which he has to react to to keep up with the market. While he never wants to go to a model of all takeout or all delivery, he said he wants to show patrons that it's available to them when they want it. Before reopening in mid-September, the restaurant will be removing 10 seats to expand its kitchen.
"I don't know that the brand at Caseus ... would be able to whether that storm going into the future," he said. "I would hate for it not to go out on top. So I'm excited to say—her. We did this, a lot of people really liked it, and awesome. Let's start anew and do something that a lot of people really like as well."
He added that sourcing sustainable beef and seafood has become increasingly harder, while local farming and locally sourced sustainable pork and chicken are more common. At the new restaurant, Sobocinski said he wants ordering a beef burger to be something customers can't do whenever they come in—so that it feels "special" when it does make a day's menu, and they have the chance.
But the change also comes from a personal place—in 10 years, Sobocinski and his wife have welcomed three kids, all of whom are under the age of seven. He said he wants more uninterrupted time with his family, which he struggled to take as owner of the restaurant, often tasked with making sure Caseus was running smoothly while also rushing between Black Hog, Ordinary, and Mystic Cheese and fielding questions about the cheese truck.
He recalled a moment last year (it is also captured in Jim O' Connor's latest documentary, Family Meal) when his oldest son's teacher asked the class what their parents did professionally. The answer: texting.
In the film, Sobocinski pauses, faces the camera, and drops a declarative "fuck." Now, he said, he's relieved to be opening a new chapter where he can turn his phone off, without feeling like he's abandoning his staff.
"I think change is good," he said. "I hope that in 10 years from now, people will have the same reaction. They'll be like 'Noooo!' But they'll also be excited."
To listen to the full interview, click on or download the audio below.