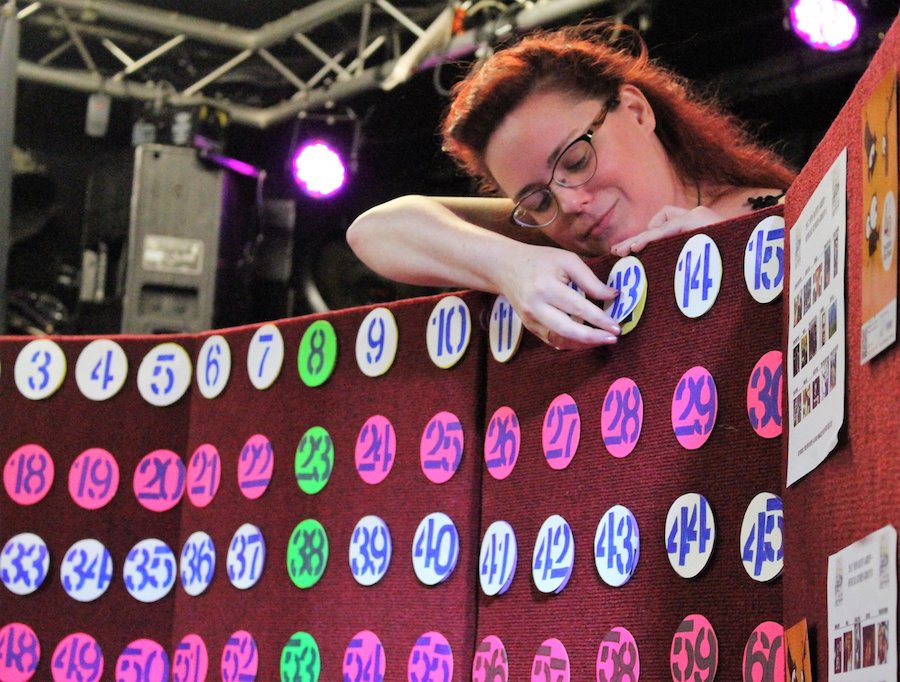 Film | Greater New Haven | 48 Hour Film Project | Arts & Culture | Trish Clark
The scene is set, stage lights on. Warm bodies and black-and-chrome equipment crowds the frame. Slowly, a chosen few dip their hands into the box that will seal their fate for the next two days. And then, genres and rules in hand, they're off.
On July 27, an anticipated 50-some teams from the region will gather for New Haven's eighth annual 48 Hour Film Project, an international celebration of on-the-fly filmmaking that gives participants exactly 48 hours to plan, write, shoot, edit, render, and turn in a short film. In keeping with tradition, the kickoff takes place at The Rough Draft in Hamden that Friday at 6 p.m. More information on registration, which is still open, is available here.
Founded by Mark Ruppert and Liz Langston in 2001, the 48 Hour Film Project—often just referred to as "the 48" by participants—has grown from a small festival in Washington, D.C. to an international undertaking, with prize-winning films shown at a Filmapalooza summit and the Cannes Film Festival in France. In addition to its two-day timespan, it has rules: all participants must use the same prop, a specific line and character, and a genre that they pick at random.
New Haven's involvement in the 48 dates back to 2010, when local producer and filmmaker Trish Clark heard about the festival from a friend in Cleveland, Ohio. At that point, the national festival had just turned nine years old, and didn't yet exist in Connecticut. There were murmurs of it expanding into Hartford, which didn't sound right to her. So she began advocating for a chapter in the Elm City.
"I responded to something that was in the generic 48 newsletter, when they said they wanted to be in Hartford," she recalled in an interview at B-Natural Cafe on Orange Street. "I said, 'I believe you have a misprint there, and you meant New Haven.' And I convinced them that we're the arts capital of the state."
Originally, Clark saw it as a way to get back into production in Connecticut. After college, she moved to New York City, working in television production for several years. When she moved to New Haven, she was struck by how hard it was to ease into film, television, and production. The infrastructure, as she saw it, just wasn't there. Something like the 48 provided a concrete way to change that from the inside of the profession, while extending a hand to novices who just wanted to learn on a small project.
In its first stages, it was small—just a handful of teams, willing to give this new format a try. But slowly, the project continued to grow, gaining steam as instutional partners hopped on, and team numbers grew by word of mouth. In almost a decade, she said she's used it as a chance to help filmmakers network with each other. She has tried to talk to "as many teams as possible, as early as possible," securing commercial and private locations for shoots, working on permitting with the City of New Haven, and making sure team members know what's involved, and are prepared to work with each other. She's learned when to give advice—that sometimes keeping it simple and thinking on your feet is the best policy—and when to step back, and let teams learn from their mistakes.
"Being on a cast or crew for any type of production—it is very familiar," she said. "Like, you get to know and love these people because you're working with them so closely. I love people who think doing film or production work is an eight-hour job. That's so cute. A 12 to 16 [hour day] is a short day. And you really have to know that, and be passionate about this to really make it work. And so when you find those people, they really are your family."
That networking has worked for her, too. Early into New Haven's 48 experiment, she met local filmmaker Stephen Dest. Now, the two are working together on his latest project, Grace.
Eight years in, she's thinking about how it fits into a larger filmmaking ecosystem in the state. She's watched that landscape grow: The New Haven Documentary Film Festival has expanded while new initiatives like the Nasty Women Film Festival have entered the fray. With co-founders Patrick Whalen and Michael Field, she launched The Nutmeg Institute late last year, rolling out a film series in January 2018, film community updates, and a blog that she updates regularly.
She said she's seen that growth spread to the 48. In the past two years, over 50 teams from not just Connecticut but Rhode Island, New York, and Massachusetts have participated in the project, with some of the films winning local and national awards. Three years ago, Wax Idiotical Films' "Falling In Love in a Coffee Shop" made it to Cannes, willing local awards for best film, best actress, best directing, best writing, best sound and audience favorite among others. Two years ago, "5150" best supporting actor winner Alex Kamb went on to be a Sundance Fellow, then relocated semi-permanently to the West Coast to study film at the University of Southern California.
And last year, Making Pretend's "All Points in Between" won best editing overall locally, and then internationally. Clark recalled hearing the film's intro music while streaming last year's Filmapalooza winners (the ceremony was held in Paris, making it prohibitively expensive to attend), and realizing the team was headed to Cannes.
"Just the fact that I could tell them that … it was probably one of the most, best professional moments of my life," she said.
But the ripple effect of the project is also farther reaching, she said—she's become "the go-to" person for helping local filmmakers, grips, lighting and sound people find paid film work during the year. She said she now gets calls from producers in Los Angeles, who are shooting in Connecticut or New York and need extra help. Sometimes they're as close as New Haven; sometimes they require a one- to two-hour commute into the city. But without the 48, she said the same kind of pipeline wouldn't exist.
"You can learn very quickly on a weekend if you can work with these people or not," she said. "You can learn different sides of something. If you say, like, 'well, I know how to do camera but I want to learn how to do sound.' It can teach you that … this is a good spot to learn a new skill, or to get under someone's wing."
"It's a weekend," she added. "No one's going to kill you."
For more on the 48 Hour Film Project, check out its website. Screenings from the 48 will be shown at 7 p.m. at The State House. A "Best Of" screening will take place Friday, July Aug. 24 at the Bijou Theatre in Bridgeport.