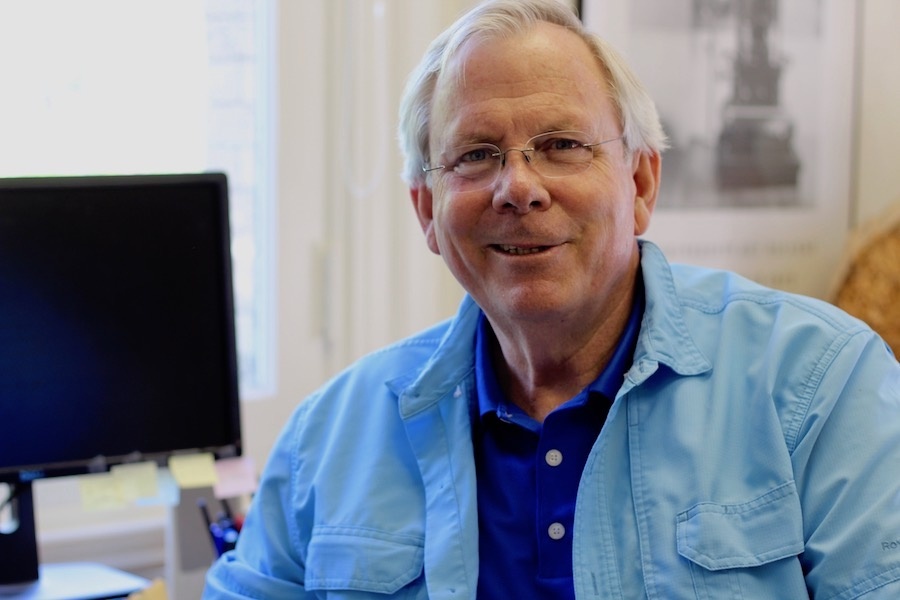 Jock Reynolds | Arts & Culture | New Haven | Visual Arts | Yale University Art Gallery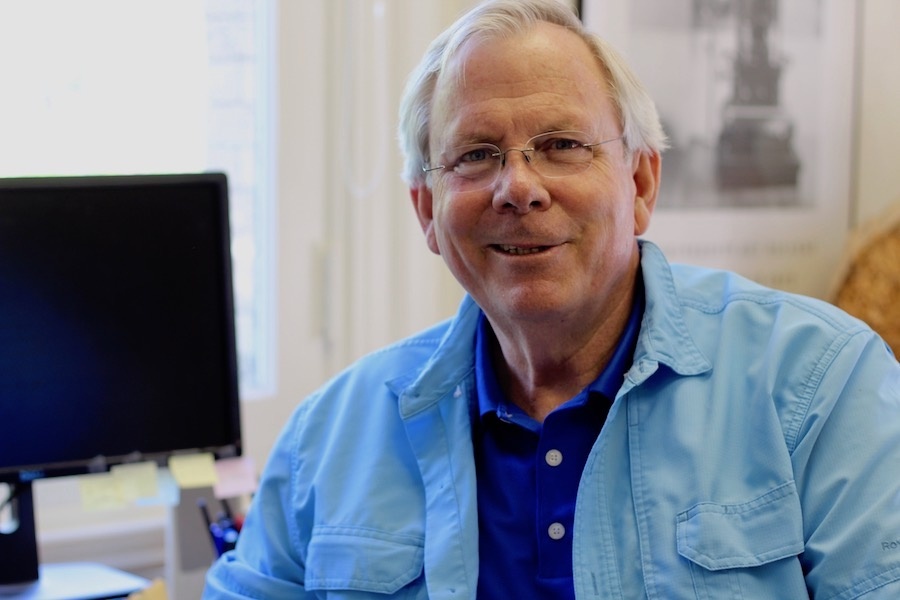 Jock Reynolds has advice for nonprofit leaders in the city: invest in New Haven if you can afford to. Find donors if you can't. Combine your resources with other groups that see eye-to-eye. Or step back, and watch your organization wither.
Reynolds gave that advice earlier this month, as he stepped down from a 20-year tenure as the Henry J. Heinz II Director of the Yale University Art Gallery. After two decades, he has been replaced by Stephanie Wiles, who served most recently as director of the Herbert F. Johnson Museum of Art at Cornell University.
As he goes into retirement this month, Reynolds said his first goal is to finish a project at Yale University's West Campus, where he is helping build classroom space for the gallery's collections. But the longer term one is to become a cheerleader for New Haven—because the city has turned him into something of one himself.
The child of two university professors in Davis, Calif., Reynolds never intended to be a museum director. Instead, it was art making that called to him—first from a pint-sized workbench beside his dad, then as a kid experiencing an expanding University of California system long before the state slashed its higher education budget. In high school, he headed to Phillips Academy in Andover, where lessons at the school's Addison Gallery of American Art held more interest than his math and science classes.
The course that caught his interest was based on Josef Albers' teaching tenure at Walter Gropius' Bauhaus, where object-based teaching replaced jargon-filled lectures and sleepy chapters of reading. After graduating from high school in the mid-1960s, he joined the inaugural class at the University of California Santa Cruz, which was focused on visual and performing arts before the school had an arts major or school of fine arts.
The plan, he said, was to study marine biology. But as an undergraduate, Reynolds found himself thrust into a period of intense creative flowering: artist Gurdon Woods had just stepped away from his position at the San Francisco Art Institute to sculpt Santa Cruz' arts curriculum, and encouraged Reynolds to pursue visual studies. Soon, he was surrounded by artists who included Manuel Neri, Willem De Kooning, Mark Rothko, and Robert Watts, and found himself intensely interested in learning more about the work they were doing. He saw them investing in the place around them, and began to take note.
By the time he was a senior, elements of the Fluxus movement had come to the school, with performance artists John Cage, Merce Cunningham, George Segal, and James Lee Byars all bringing their work to the school from 1968 to 1969. And so, in his early 20s, Reynolds stepped into the world of Fluxus, and pursued a graduate degree at U.C. Davis. After finishing his degree and teaching there for a year, it launched him into an exhibition and early career in San Francisco.
"It was a very generous community," he recalled. "Because there was no market for anything, we had the freedom to create, and we did it across disciplines. With all that comes certain obligations, and certain responsibilities to pay it back."
He began to heed that sense of responsibility even then, he said. While living in San Francisco in the early 1970s, he purchased the last surviving casket factory in the city for $95,000, paying the amount out in $500 monthly installments after an initial down payment. It became New Langton Arts, a powerful artists' collective in the city. He met, worked with, and later married the artist Suzanne Hellmuth, teaching as he continued to soak up knowledge from other artists.
And then in 1981, as he watched artists spread into cities and try to figure out how to find jobs, he got an invitation to return to the East Coast from Marcia Tucker, founder of the New Museum in New York City.
The opportunity was originally for a year—a residency at the Massachusetts Institute of Technology, after which he and a growing family could pack up and head back to California, the place in which they had laid their artistic stakes. But one year turned into an offer to replace Al Nodal at the then-nascent Washington Project for the Arts (WPA) and curate some shows at his old stomping grounds at the Addison.
Reynolds didn't expect to stay in Washington for more than a year or two, he said. But one year turned into three, and three turned into six, and suddenly and he was taking on the controversial exhibition Robert Mapplethorpe: The Perfect Moment just months after the artist died from complications of AIDS in 1989. The same year, he joined the Addison full-time as its third director, making a plan to shepherd it into the millennium.
"I never dreamt that I'd have to come back to a position where I'd have to speak so much and write so much," he said. "I thought I was going to get away from that for good."
Instead, he oversaw a renovation at the Addison, expanding its endowment and collection as he grew visitor numbers and welcomed members of the public who hadn't been invited into the gallery before. While still puzzling over low attendance numbers, he recalled hearing an office assistant telling a school group that the Addison wasn't for them—and correcting her sharply.
"I realized we were going to have to change this real fast," he recalled. "It led me, very early on, to know that a place like Andover or Yale—every single day, you have to make it well known that people are welcome. Most people are going to look at it as a privileged, elite place that they don't belong. You can never say that this is free and open to the public and you're welcome enough. And you have to say that all the time. You can't just say it once."
It was there that he gained the skills he needed eight years later, when he got a call from former Yale president Rick Levin asking him to serve as director of the Yale University Art Gallery. Reynolds recalled that Levin was direct: he explained that he needed someone who could oversee a massive renovation, and grow out the gallery's collection as the university adapted to a more global world. Reynolds said he felt like the time was right for the position.
The transition to New Haven surprised him. Reynolds recalled arriving and getting warnings from colleagues who heard that he'd be living in the city proper.
"And I realized very fast that that was code for 'You're going to live in this dangerous Black city?'" he recalled. "And it was like—well, they had no idea where I'd lived before. This place seems like the friendliest place going. But at the same time, there was a sort of uneasiness and fear I sensed about New Haven, about its racial composition. A fear that the businesses here were frail."
He credited the late Richard "Chip" Benson, a Brown University dropout who became dean at the Yale School of Art, with easing him into a smooth transition, and facilitating new relationships between the School of Art and gallery that still exist today. Reynolds said the two were "like brothers from the minute we met"—and they endeavored to open the gallery to the public in a way that had never been done before.
"Don't forget that Yale is the only Ivy League college or university that has a school of art, a school of music, a school of drama," Reynolds said. "They have architecture and they have art history but they aren't the place of makers, where the artist has equal stature of a member of the academic community."
Reynolds said he wanted to make a gallery that reflected that. When he arrived, it was in a very different place: a museum with a staff of 60 (that number has since more than doubled) with a strategic plan to split off, and become a gallery of American art like the Yale Center for British Art (YCBA) across the street.
"Well, I thought that was just terrible," Reynolds said.
There weren't yet departments of African or Indo-Pacific art, numismatics (the study of coins and currency), or education—the very thing for which a whole center at the gallery now exists. And there were major gaps that Reynolds saw: few Black and Latino artists, few alumni in the collection, and not enough manpower to build an encyclopedic museum.
"The collection had to start to reflect the diversity of students and faculty and people who were here," he said. "As well as the fact that the town had an interesting cultural diversity."
A self-described "endowment freak," Reynolds planted a stake in the museum that he said he wanted to extend to the city. He grew collections, luring curators including Ruth Barnes from Oxford University's Ashmolean Museum and Laurence Kanter and Suzanne Boorsch from the Metropolitan Museum of Art in New York. He did some of his own teaching and curating in the galleries, working to shift the museum's focus to education. Early on, he ended a docent program of "retired older ladies" to make room for undergraduate and graduate gallery guides.
And he began planning the ask behind Levin's call—what became a $135 million renovation and expansion of the gallery, yoking three distinct buildings to create the space for the collection. Four years before that renovation reopened to the public, he recalled navigating the the financial crash of 2008, cutting the gallery's budget by 7.5 percent, without issuing "a single layoff." And as he extended his tenure, he grew the gallery's endowment to $550 million.
The way he has done it all, he said, is by learning how to be a good fundraiser—a skill that New Haven nonprofits should be taking to heart to survive in the current economic climate.
"Fundraising is frankly very easy if you're doing it around meeting people, and you're willing to invest the time to see what they care about, what their values are," he said. "It's just like going to a great restaurant. Give them a good menu. Maybe they want a full, three-course meal or maybe they just want a salad. In other words, find out what people really care about and then give them something they might try."
He doesn't think he's done everything right, he added—that the gallery has earned "a gentleman's C minus" for diversity of its staff, despite student guides from different racial, socioeconomic and national backgrounds. Earlier this year, graduate gallery guides raised concerns with their training, noting that a rotating cast of white curators and educators did not reflect them, or the students and community members they often found themselves talking to.
They aren't wrong: in the past five years, the already-small number of curatorial and administrative staff members of color has shrunk, with only one (Japan Foundation Associate Curator of Japanese Art Sadako Ohki) remaining. But Reynolds said he thinks that Weil, paired with returning students who used the gallery as their training ground, will lead to a more equitable future for the museum.
Outside of the gallery, he said he wants to see more New Haveners with resources investing in city institutions that need them. During his 20 years in New Haven, he said he's gotten to know the city's smaller artistic institutions and forged relationships with local artists including Winfred Rembert and more recently Titus Kaphar, both of whom now have works in the gallery's collection. (Rembert was also the subject of a two-man exhibition in 2000, early into Reynolds' tenure).
In the past year, he's become close with Branch Manager Diane Brown at the Stetson branch of the New Haven Free Public Library, learning about its $2 million capital campaign for a sort of Stetson 2.0 in the new Q House. He said he's excited watching plans unfold for Kaphar's arts incubator NXTHVN nearby. And he thinks New Haveners—or at least, New Haveners who can afford to give—can learn from that example.
"What I think this town needs to strap it on a little more to be more generous philanthropically," he said. "Given the wealth that's here, and given the quality of education … I think we should all think of investing more dollars. If a whole lot of us start giving $1,000 to $5,000 to these places, you change the landscape right away."
He said he's noticed a new population springing up downtown—wealthier, and often older, people who are moving into new luxury apartments, and taking advantage of the city's walkability. Young people who are in tech, and have money to spend. He said he sees potential in asking them to give back to the arts—if institutions know how to feel out the changing city. And he said he's starting with himself, mentioning donations to Stetson and Creative Arts Workshop.
"What you have to do when you're running an institution, not that people don't like change, is when things change, you better figure out how to change too," he said. "Whether it's how you use your building or how you reallocate your staff or your money. And if you don't, you're gonna die. You're not gonna prosper."
"There's still a lack of confidence philanthropically in this community in terms of its community-based institutions," he said. "So will I be a cheerleader and advocate for more investment? Yes."
To watch a conversation between Reynolds and artist Titus Kaphar about New Haven's future, click below: