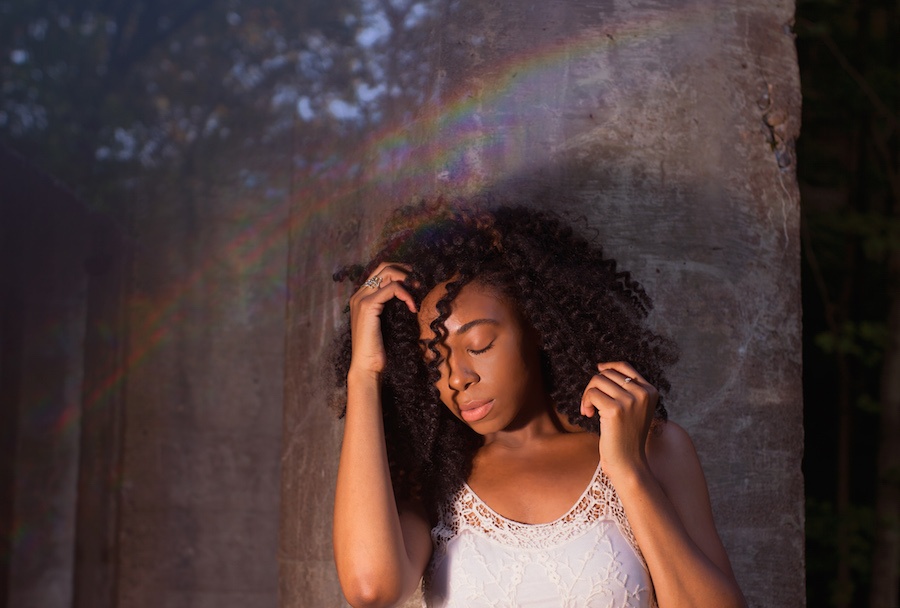 Greater New Haven | Photography | Sonique Paige | Arts & Culture | The Lineage Group | Visual Arts
This is the first installment in an ongoing collaboration with The Lineage Group highlighting artists of color in the New Haven region. All of the artists featured are members of the group's Rev.A.A.R.T.lution series.
A woman tilts her head upward, eyes closed to the camera. Eyelids relaxed, long lashes wet. Her mouth, open just a little, is a neat oval with curled edges. Her hands press into her neck and chin, nails bright white and pink against her brown skin. Beneath her, a river rushes onward. Somewhere in this, there is a prayer.
The work is by Sonique Paige, a New Haven photographer who is part of New Haven's burgeoning Rev.A.A.R.T.lution series, held at different spots across the city to celebrate and amplify artists of color. This year, Paige has burst onto the scene with not just her wedding and commercial photography but specialized projects, dedicated to highlighting women of color around the city and the region.
Paige grew up in New Haven's Newhallville neighborhood, the youngest of four kids to local photographer Ray Paige and his late wife. From an early age, she found herself drawn to her dad's lens kits and old-school cameras, helping him assemble photo albums after he worked weddings.
It was, for her, a sort of magic. Her dad would disappear with a camera, and return with a series of moments frozen in time. By the time she was attending elementary school—the now-defunct Sacred Heart St. Peter School on Columbus Avenue—she had a sense that the medium was her siren song, too.
"When I was there, I was able to try a lot of different things," she recalled. "I played piano. I was in the book club. I was a cheerleader. I went to dance school. I liked to write poetry."
But it was photography that she kept coming back to. There were little signs from the universe that she should pursue the craft—her talent for knowing just where to place the right wedding photo, a thought about framing a shot, a red, plastic toy camera that came to her as a Secret Santa gift. She continued working with her dad, helping him put together wedding albums while poring over contracts to understand the business side of the field.
"He's been doing photography since before I was born, and so he's really good at taking great pictures and not having to edit them," she said. "I learned a lot from him."
By high school, Paige had caught the photography bug. As she navigated young adulthood, photography itself was undergoing a transformation from film to digital single-lens reflex (DSLR), and digital camera to point-and-shoot and cell phone screen. She hopped on MySpace as an unlikely place to experiment: she could take digital photographs at no cost, test out what photoshop could do, and put them online.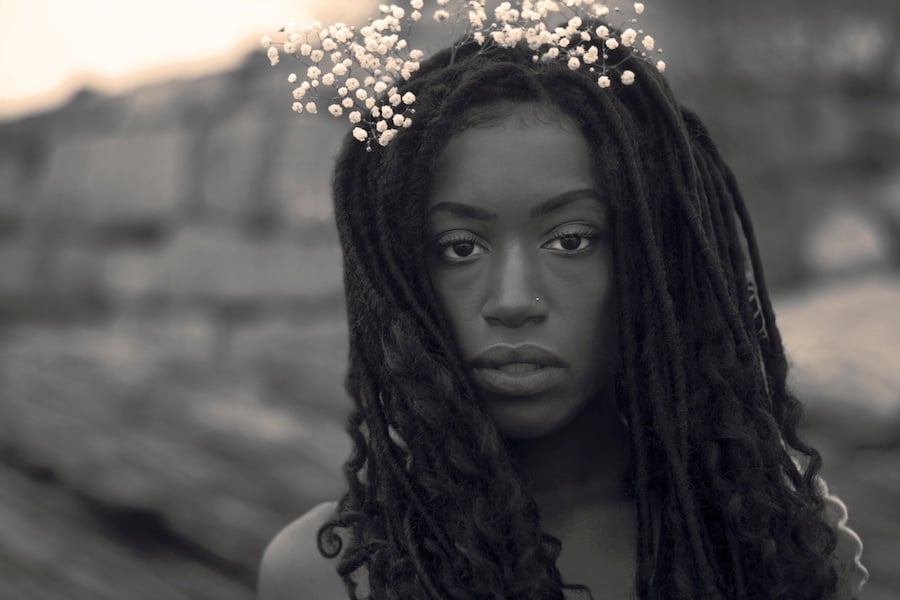 But she had a problem. Everywhere she looked for inspiration, she saw photographs by white artists, mostly of white women in oversexed and compromising poses. She didn't know where she fit into the narrative.
"It started with me looking in magazines and not seeing myself represented," she said. "Not seeing women who look like me. Even within the photography world, I'm not seeing a lot of Black women being photographed."
So she decided to take matters into her own hands—after an academic detour. In college, Paige placed photography on the back burner. A student at the University of Connecticut, she majored in Human Development and Family Studies, with the intention of becoming a mental health professional. She tried to make time for her visual practice, taking a class in digital photography, but found herself too immersed in her books to stay with it.
But when she graduated, an unexpected turn led her back to it. She had started a job in mental health and human services, and realized she didn't have the bandwidth for it. A job search led her to a children's portrait studio called Kiddie Kandids, nestled inside North Haven's now-defunct Babies R' Us.
It was an unexpected jump back into a field she loved. Bobbing between a small parade of babies, infants and expectant parents each day, Paige learned about aperture, lighting, poses and framing. She developed an interest in photographing infants, expanding her specialty to maternity shoots. She learned, she said, that a photographer can hone her skills anywhere—including amid the commotion of a massive toy store.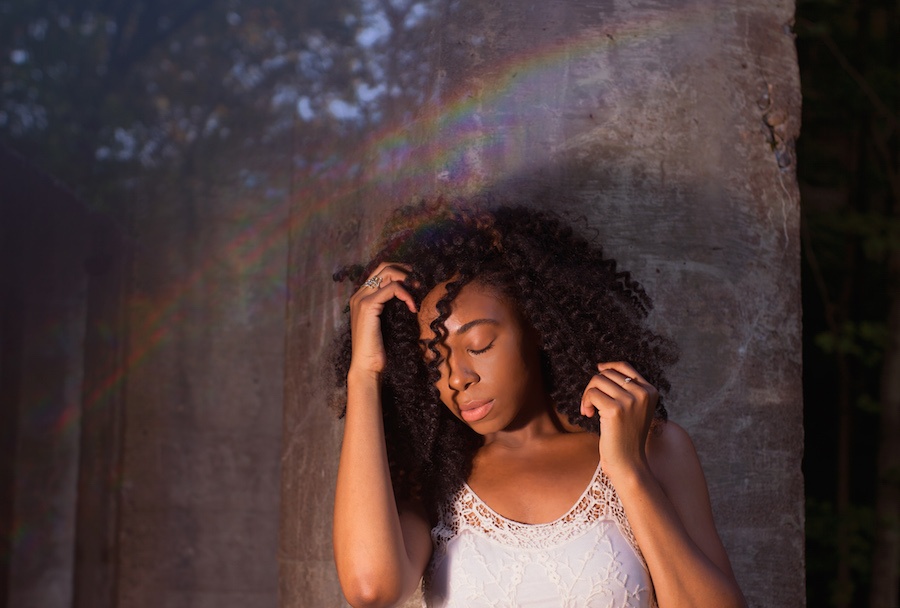 When the business shuttered, she was forced to put photography on pause again, working "a string of jobs" to make ends meet—admissions counselor at Post University, customer service representative at Anthem and Comcast, and Edge Technology Services, where she still works now. She bought a starter camera, pulling it out when friends and family were around, or something caught her eye. But the photos were for her.
Then in 2017, she was visiting one of her brothers in Washington D.C. and pulled out that starter camera—a Canon Rebel—to take a few shots. Her friends stopped her when they saw them and asked: Had she ever thought of working as a photographer? Like, for money?
When she returned to New Haven, Paige said the idea wouldn't leave her alone. She asked a few friends—all Black women—to model for her for a few hours in Edgewood Park. At first, she recalled, it was relatively informal—she'd ask her friends to "put on something nice and dance or move" through the park, while she snapped shots and got comfortable with settings.
But the photos were also an opportunity to take back a narrative that she had never seen belong to her, she said. As she planned more shoots, she found herself more involved in the process, planning poses, location, hair, makeup and wardrobe. She started making playlists, planning each shoot around a certain mood.
"I wanted to show alternative ways that women can exist," she continued. "More powerful. Like—looking up at them, not looking down at them. Not trying to be sexy or not trying to be anything, just being yourself. That's what I wanted to show."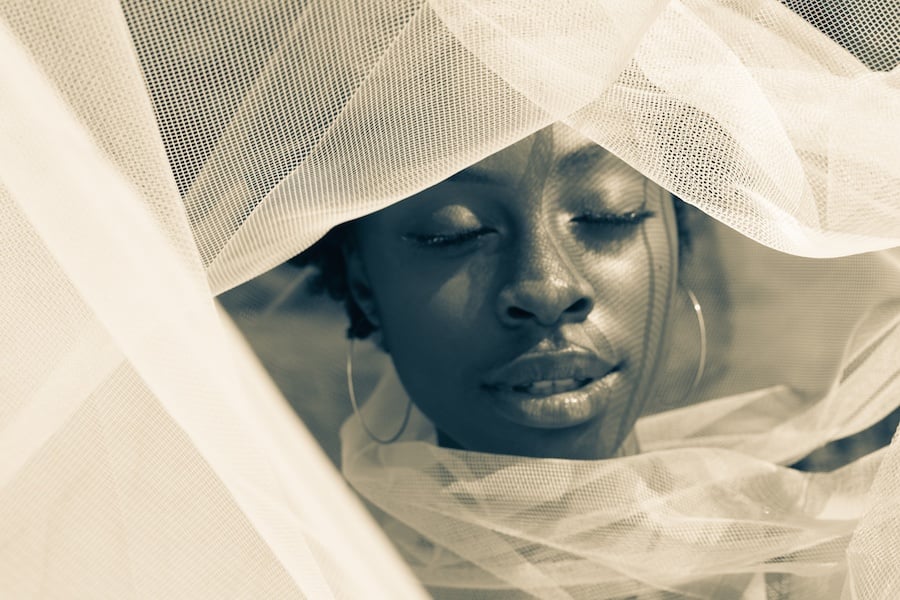 Photographs became reverent, the women she photographed holy. In one, a model closes her eyes, breath almost audible as it passes through her teeth. Big silver hoops dangle from her ears. Layers of tulle, white as milk, billow past her face. A spray of shadows falls across her skin.
In another (pictured below), three friends stand against a foreboding iron gate. The wind, we can tell, is shifting: curls fly, sun falls over the three of them. Someone has just told a joke, and they all smile. They seem like they will be young and fearless forever.
As Paige recommitted herself to photography, she bought a film camera to teach herself how to capture light as it bent, to manually adjust aperture and F-Stop, to work the focus without feeling like she was weak in the knees. When she finally could shoot in manual—a milestone, she said—she made a website. And her phone started to ring. Couples wanted to book her for their weddings and engagement shoots. She recalled arriving to the first one stressed out, afraid that she was in over her head.
"I couldn't sleep after the first wedding," she recalled. "There's that question: 'Oh, what if they hate everything?' There's always that pressure when you're being paid to do something instead of doing it for yourself."
Just a year later, she said she still gets those nerves, but knows how to calm them. In their place is a slow-burning excitement that rises up when she goes for a shot, makes a split-second framing decision, and nails it.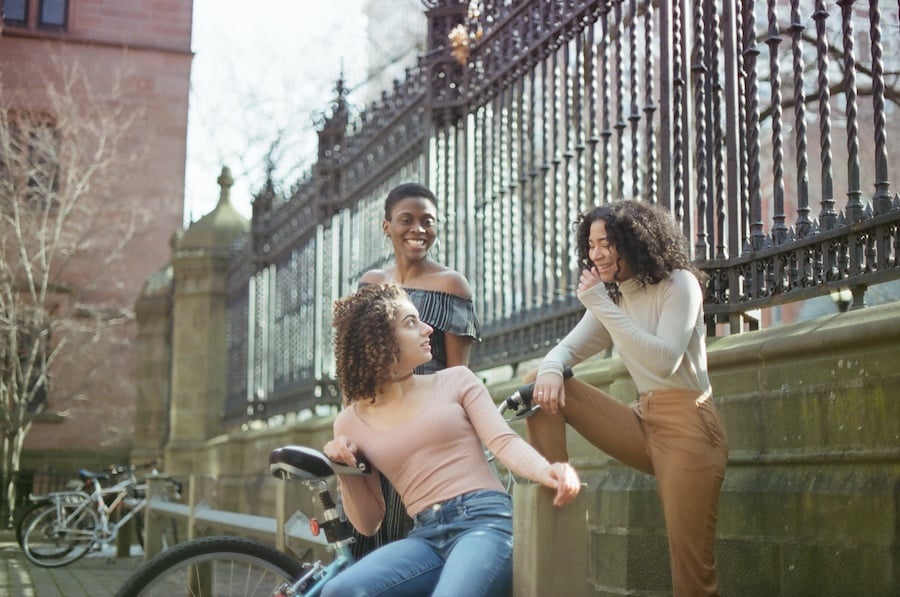 "The best part is being able to create something that wasn't there before," she said. "In my photography, I like to create different sides of femininity from my point of view. Different ways that you can be powerful as a woman—not just sexual."
This year, she began to exhibit her work with the artists of Rev.A.A.R.T.lution, a rotating series curated by The Lineage Group's Malcolm Welfare, Faith Lorde and Ariel Herbert. She said the series has left her "inspired to create at a higher level" as she meets artists who both look like her, and genuinely want to hear more about her story.
"As a collective we fell in love with the work of Sonique Paige," recalled Herbert. "She captures exquisite stills of beautiful women of color, black femininity along with an abundance of textures and movement of materials ... as a curator it has been an great opportunity to display her photography especially for our community. She displays an array of representational figures that the youth can see themselves in."
"She is a great pioneer and risk taker in utilizing her tool—camera—to show the beauty and importance of representation of people of color and women in a positive and not sexualized aspect," Herbert added. "When looking at her work, I see a glow of shimmering melanin wrapped in a world that is accepting of the identity of women and people of color. Her collection of photography speaks to this heavily and she is fearlessly conquering it all."
Earlier this year, Paige also hosted New Haven's first "Femme Photo Walk" in New Haven's Edgerton Park with local photographer Kolby Brianne. A celebration of women and woman-identifying models, photographers, and photo bloggers, the event drew artists from as far as New York with one rule: no men allowed.
"I think it's important for women to have spaces like that," she said, noting that she is planning more events for later this year. "What men don't realize is that when they're at these events, there are women there … but it's like one or two female photographers. It can kind of be like a boys club. And so I thought it was important for us to get together—not to bash men, but to create a sense of community."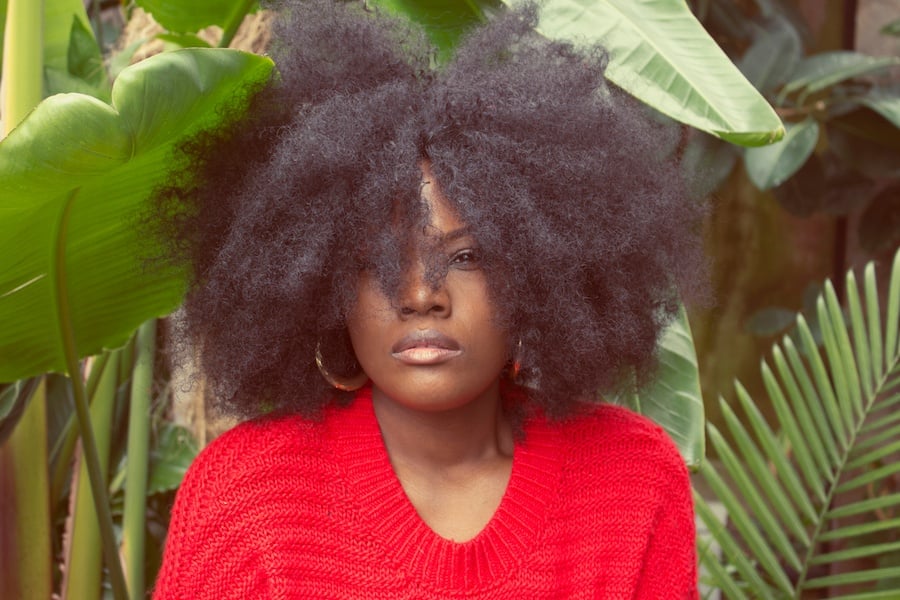 "To the people who are looking from the outside in, I would ask them: Are you ever in a place where you don't see yourself represented?" she continued. "Think about how you could change that."
Going forward, she has started work on a project on Black spirituality, featuring women of color "in different spiritual representations." She said she's been inspired by the Brazilian photography duo Mar + Vin to think of alternative framings, populating her work with women she doesn't expect to see in the mainstream media. She doesn't expect all of her viewers to get her work. And that's okay.
"Some of the photos—not everyone is going to feel the same way when they look at an image," she said. "I want to get more artistic with the photographs. I want to take more risks."
Sonique Paige's photography is on Facebook and Instagram. You can also visit her website.