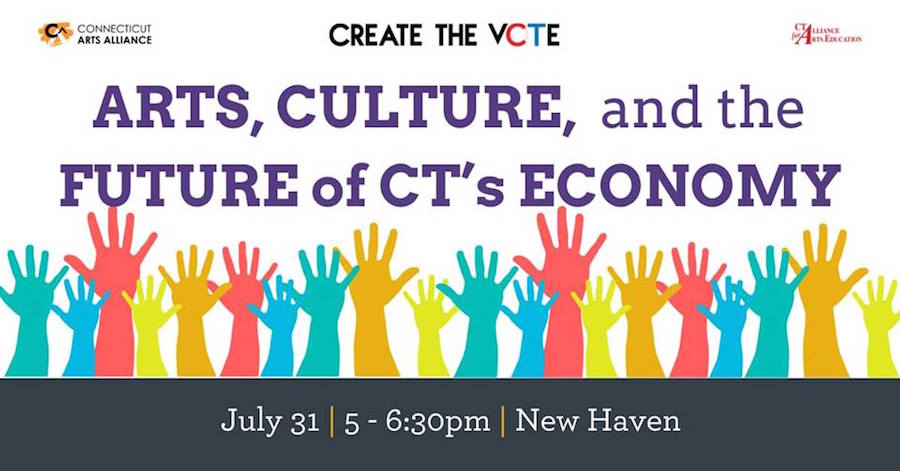 Create The Vote | Economic Development | Education & Youth | Greater New Haven | Politics | Arts & Culture | Campaign 2018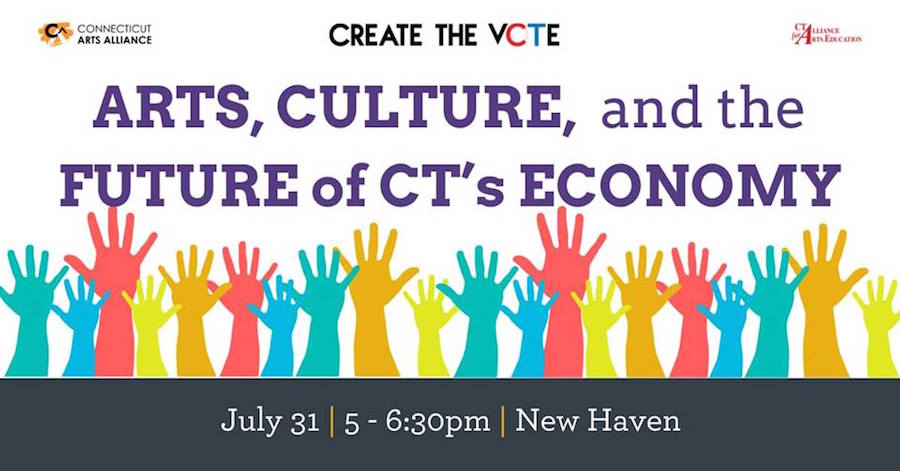 More public concerts on city greens. New arts funding in urban school districts. A cut to state line item funding to benefit smaller museums that really need the money.
Those are just some of the ideas that emerged earlier this summer, as gubernatorial candidates took a six-part questionnaire on arts and the economy from Create The Vote CT. A new nonpartisan effort to get candidates talking about the arts, the initiative focused on six areas: candidates' personal connection to the arts, arts and economic development, arts and education, arts and talent retention, arts and return on investment, and arts and tourism.
Tuesday night, those answers will be part of "Arts, Culture, & the Future of CT's Economy: Gubernatorial Candidate Forum." Hosted by Create The Vote CT, the event will be held at Co-Op High School in New Haven. A link to registration is here.
Create The Vote CT is a joint initiative of the Connecticut Arts Alliance (CAA) and Connecticut Alliance for Arts Education (CAAE). Based on MassCreative's 2017 initiative of the same name, it has now gained almost 100 co-sponsors from across the state.
Its premise is simple: if candidates aren't talking about arts and culture as an economic engine, engage them by asking questions about arts and the economy. And then keep asking those questions all the way through the primary in August, and state election in November.
Expected candidates for Tuesday include Democratic frontrunner Ned Lamont, Bridgeport Mayor and Democratic candidate Joe Ganim, Republicans Tim Herbst and David Stemmerman, Independents Oz Griebel and Marisa Manley, and Libertarian Rodney Hanscomb.
Republican-endorsed Mark Boughton as well as candidates Steve Obsitnik, Cameron Scott, Bob Stefanowski, and Micah Welintukonis all declined to attend.
As the state works through a financial crisis, funding for Connecticut Humanities remains precarious. Yet the arts have proven themselves as a literal economic engine—reporting from the American Alliance of Museums (AAM) suggests that Connecticut museums bring the state $834 million a year, generating $223.5 million in taxes ($146 million in federal and $77.5 million in state and local) and 10,229 jobs. On a national level, those numbers total $50 billion for the economy, with $12 billion in taxes and 726,000 jobs.
In the weeks before the forum, only Herbst, Griebel, Lamont and Ganim submitted responses addressing those questions. None of them have professional backgrounds in the arts—the closest they get are Lamont's days as a keyboard player for "Flower Pot," a short-lived band he formed his freshman year at Phillips Exeter Academy (his mother suggested the name).
But all said they had experienced moments when the arts changed their view on the worlds, political and not, that they inhabit. Herbst was first moved by "a wonderful art teacher that not only taught us about the different art mediums, but emphasized how art has evolved historically and how history is reflected through art." During his time as First Selectman of Trumbull, he said that kind of knowledge base led him to make the connection between free summer concerts on the Trumbull Green and the Trumbull Arts Festival and a bump in the town's economy, as concert-goers stayed to attend restaurants.
Griebel said he has been affected by the arts-focused boards on which he's served, including the Connecticut Science Center, Greater Hartford Arts Council, Mark Twain House, The Bushnell Center for the Performing Arts, and Wadsworth Atheneum among others. In addition to plunking out those notes for "Flower Pot," Lamont developed a great love for Norman Rockwell's painting of Ruby Bridges, "The Problem We All Live With." He later served on the board of the Norman Rockwell Museum.
And for Ganim, it was 1960s and 70s music, theater, and counterculture (read the full response here) that ultimately led to his political aspirations.
"It was a time when HAIR was bringing the Age of Aquarius to Broadway audiences, Black was beautiful, and Jimi Hendrix re-wrote the rules of what it meant to be patriotic or what you could do with an electric guitar," he wrote in what has become the longest and most detailed survey yet. "The determination of the artists to say something of social relevance completely re-shaped our culture."
"It was an integral part of my own career path taking me into public service in an urban community," he added later in the response, also noting Vietnam and the Civil Rights movement.
On arts and economic development, Ganim added that "I want to help every local community have some type of featured arts venue, and stabilize funding for arts institutions and visual and performing arts." He cited the development of Bridgeport's 10,000-seat Webster Bank Arena during his first tenure as mayor in the 1990s, calling it a boon to the city's tax base that continues today. He praised Waterbury on the redevelopment of its historic Palace Theater, and Torrington on its use of the Warner Theater to bring economic vitality back into the city.
He also referenced Bridgeport's current plans with New York based developer Exact Capital Group to renovate the historic, but defunct, Poli and Majestic theaters downtown, and transform the Harboryard minor league baseball stadium into the "Harboryard Amphitheater" by spring of next year. According to preliminary plans, the amphitheater is projected to bring in 250,000 people per year and create 1,246 jobs in and around Bridgeport.
In a much shorter response, Lamont suggested he would "be a partner to our urban and rural communities in creating alternative funding streams for the art," citing Massachusetts Museum of Contemporary Art (MASS MoCA) as an example he'd like to replicate. He did not include mentions of Titus Kaphar's current project NXTHVN or ConnCAT's latest project ConnCORP (Connecticut Community Outreach Revitalization Program), both turning blighted buildings into arts incubators in the Dixwell and Newhallville neighborhoods of New Haven.
Herbst did not give any long-term vision for economic development, but said that he understands the strong connection between arts and the economy from watching it unfold each year in Trumbull. He said that he believes that supporting arts and culture in the state's cities is a key to talent retention and economic revitalization. He suggested that cities including Bridgeport and New London especially "offer a blank slate of opportunities to create vibrant communities" if they are able to attract and retain artists, something Bridgeport has already redone with the newly renovated Read's Artspace, a former department store that is now affordable artists' housing.
Griebel said that "each of our fiscal and public policy decisions will be evaluated through the prism of whether the decision will enhance Connecticut's ability to secure 200,000 net new private sector jobs by 2028."
Both Lamont and Ganim added that they are proponents of arts education, and would not decrease funding for the arts. While Lamont has said that he cannot promise to increase arts funding, he vowed that he would hold the line on the state's current arts budget by working "with my own network and our leaders statewide to support the arts and communicate the aesthetic and real economic value of the arts and culture industry."
Turning his attention toward schools, he criticized a myopic focus on STEM (Science, Technology, Engineering, Mathematics) education, invoking his experience as a volunteer teacher at Bridgeport's Warren Harding High School. He did not note that STEM has since become STEAM in many schools, changing its acronym nationwide to support the arts in its curriculum.
"I will champion arts education by working with local leaders, the private sector and the legislature to ensure that more of our young people and communities have access to arts education," he added.
Ganim, meanwhile, said he would advocate for increased funding for public schools in urban areas across the state, stressing the lack of access poorer kids have historically had to arts education. He cited the arts a pipeline to economic prosperity, proposing a "comprehensive arts beautification program for Connecticut's cities" funded by a mix of state, federal, private, and foundation dollars and powered by Connecticut artists.
While he did not give details on funding specifics, he said that it would include murals, outdoor sculptures, vibrant lighting displays—all to bring vitality back into cities, and employ Connecticut's arts base instead of watching its members leave for other states.
Republican candidate Mark Boughton, who won endorsement at the state Republican Convention earlier this year, said his campaign does not do surveys. Boughton, meanwhile, issued the following statement.
"Connecticut has a longstanding rich tradition of cultivating the arts. As a proud supporter of the arts in Connecticut, I look forward to working with all stakeholders as we begin to chart a new course for our state."