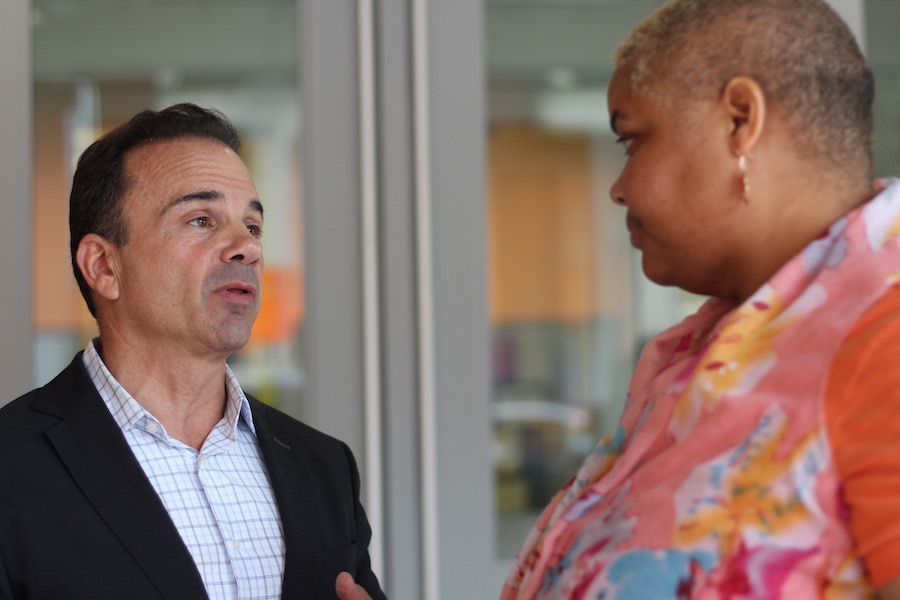 Co-Op High School | Economic Development | Greater New Haven | Politics | Arts & Culture | Campaign 2018
The following is an entry in our political theater series. To read a straight news piece on last night's candidate forum on arts, culture and Connecticut's economy, check out the New Haven Independent's coverage of the event. To read a piece on where some of the candidates say they stand more broadly, click here.
Do the arts just make us feel good, or are they the secret economic weapon we never knew we had? Is equitable statewide arts education a pipe dream, or could new public-private partnerships make it happen? Does business have a stealth role in saving the arts, or the other way around?
Tuesday night, those were the questions at the core of Five White Guys Talk About Art, a one-night only cabaret and candidate forum at Cooperative Arts & Humanities High School in downtown New Haven. The play followed the months-long run of Dude, Where's My Budget?, a large and contentious ensemble musical in Hartford that closed in May of this year.
Women and nonbianary actors dissatisfied with the audition process are encouraged to check out the Women's Campaign School at Yale.
Two more performances are planned: a messy choose-your-own adventure on Aug. 14, and a more restrained operetta on Nov. 6. Audiences have been warned that the latter may feel more like a funeral and may not be appropriate for children. More information is available here.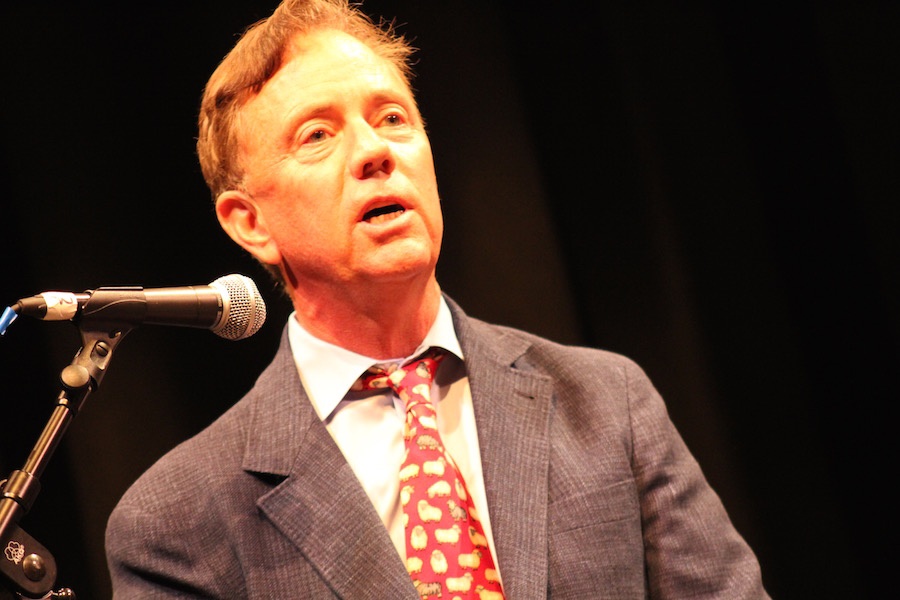 When Five White Guys begins, it seems like a familiar script with a new, creative twist: how can the arts save Connecticut? Do any of these people know? Seated for the entire show—a move perhaps intended to increase the gravitas of the performance—characters are introduced in order, playing some slightly better version of themselves in almost-matching costumes. In a subtle but powerful choice, the final character (we'll get to him) wears dark jeans, a brown blazer and comfortable shoes, marking himself as an outlier and before he has ever said a word.
But a whole parade of personalities come before him. There's perpetually sunny Ned Lamont, a self-funded candidate from Greenwich who grew up playing the keyboard by ear. Pseudo-millennial Tim Herbst, whose biggest regret at 37 years old is giving up the piano and saxophone for football (not unlike last year's performance of Kafka and Son at SoHo fringe, there's an overbearing father, this time a football coach, involved).
There's Oz Griebel and David Stemerman, who seem more polished but haven't decided what side of history they want to fall on. And the unexpected Joseph Ganim, a former felon who has gained a mighty supporter base by presenting his case as a flawed human, pulling out a record of economic support for the arts, and shortening his name to a genial "Joe" whenever he can.
The elements are there for a kind of Cabaret meets The Realistic Joneses meets Waiting for Godot—that the tantalizing promise of change is always on the horizon, but remains more of a aspiration or feel-good punch line than realizable goal. As the lights go down, we in the audience are pretty sure we've seen this play before—the arts protagonists come from the left side of the aisle and the bad guys are further to the right and center, ready to gut arts funding with the flick of a pen. A sure harbinger of evil, there is no melanin as far as they eye can see.
But there's a twist: the supposed bad guys are articulate. They say things that the audience so desperately wants to hear, like Herbst's patented line that "it takes a governor with the capacity to not tell people what they want to hear to win an election, but to tell people what they need to hear to save our state." And they say they have solutions that involve the arts, which involve a massive return on investment for the state's economy.
Around them, the guys to the left of center fret and fume and stick to their scripts, describing a general support for the arts that begs for more particulars (Ganim has submitted very promising audition tapes in the past two weeks; those are available here and here.)
Griebel, for one, came on during Tuesday's performance as a surprise. Seated by Stemerman, he began a string of word-packed monologues by praising New Haven artist Chloé Lomax-Blackwell, a high school student who had performed a monologue from August Wilson's King Hedley II to warm up the audience. He criticized the state's Educational Cost Sharing Formula and proposed new private-public and institutional partnerships to increase arts education in schools. He suggested—much to the audience's chagrin—that state funding cannot save equitable arts education, but might be part of a larger solution.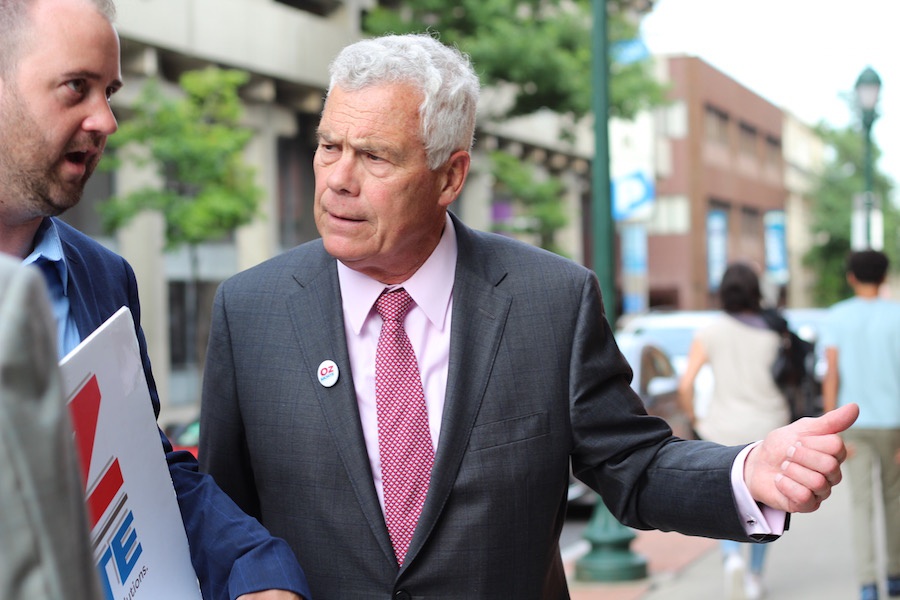 On the other end of the stage, cast member Lamont scrambled to keep up. He pulled from his days as a volunteer teacher at Warren Harding High—that show, a one act titled But Was He Really?, closed in Bridgeport a few years ago—suggesting adding "a little extra" to classrooms wherever it was possible. He remained fairly mum on whether that "little extra" would come from the state.
Meanwhile, Stemerman shocked the audience—somewhat retroactively—with the news that he holds a special place in his heart for August Wilson's Fences and Lin-Manuel Miranda's 2015 Hamilton, the hip-hop retelling of America's West Indian immigrant founding father. He's down with the fact that it recasts America's founding fathers as immigrants and people of color. He's even ok with lines like "immigrants, we get the job done" during a campaign where he's threatened to strip sanctuary cities of state funding. And he thinks it's connected to his vision of saving the economy.
"What was remarkable about it was that the people who were performing were of every race, color, creed, sexual orientation—and they were all celebrating together," he recounted of Hamilton during Tuesday's performance. "They were all celebrating … [that] we are all one people here."
"That is our story," he added of Hamilton's immigrant background. "When we tap into that, and the arts remind us of it, we can be our very best selves."
As Tuesday's performance pushed forward, he staked his claim: that the arts can help Connecticut's economy succeed, and vice versa. Tuesday found him slick and charming and easy-going, a sort of Marco Rubio acolyte with fans and groupies dotting the audience, holding signs emblazoned with his name in their laps. Around him, characters struggled to keep pace.
Like Griebel, he was also fired up by audience participation. Addressing Southeastern Connecticut Cultural Coalition Director Wendy Bury during an audience interlude, he emphasized the importance of using arts to turn Connecticut cities into hubs where people want to not just live, but also work. Bury had set up the vignette: she's seen a rise in jobs with General Dynamics' Electric Boat, a submarine maker with several manufacturing facilities in the state. How are candidates going to use the arts to attract and retain workforce talent?
"I think we need to look at doing more especially in regards to young people," he said, adding that better public transportation and infrastructure are also part of the equation. "Culture and entertainment needs to be a part of it … young people want that vibrancy. And you need to make that a part of … a strategy for livable cities, livable cities and towns."
"We try to do that on a local level," he continued. "More comprehensively, I'd like to be part of doing that on a state level."
Other cast members rallied around his point, as if a liner note on their scripts read "yes, this is a way to pull people in!" Praising Hartford's Bushnell Theater, Herbst launched into a monologue on the arts' return on investment, noting that arts events bring in seven dollars for every one dollar spent. Tourism, meanwhile, has a lower return on investment—three dollars—a point that Herbst stuck to when explaining how he'd rejigger the funding formula in Hartford, which currently sticks the two together.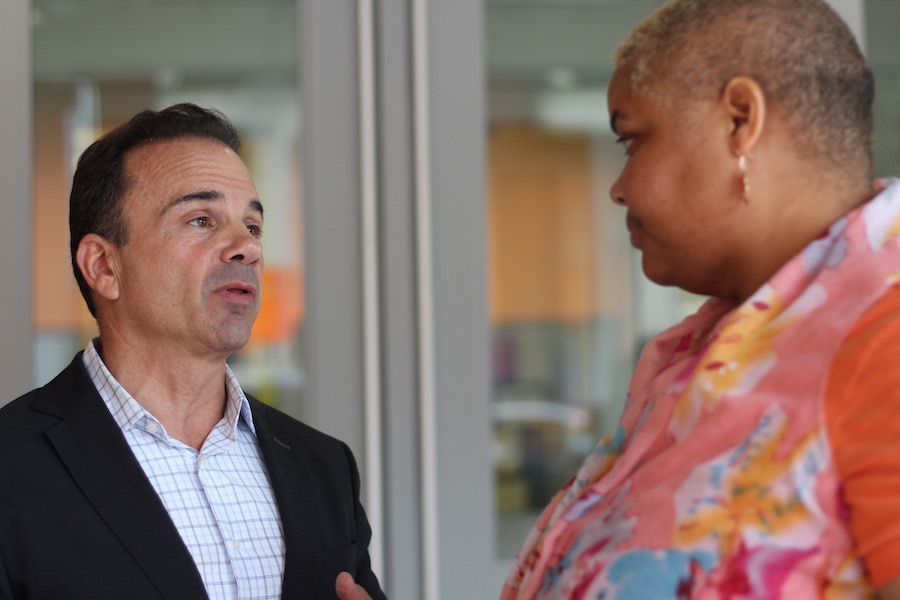 Both Ganim and Lamont advocated for putting investment into cities, but took different tacks, doing a delicate song-and-dance that has become a signature part of the show's run. While Ganim suggested beautification city by city, Lamont drew on what he learned when he met with representatives from General Electric when they left the state.
He'd discovered, he said under mood lighting that made him glow white, that they couldn't attract the millennial workforce that they needed to work at a campus in Fairfield. And that was an issue of getting the business community to work with arts and culture.
"We've got to do everything we can to attract and keep young people here," he said. "We need to have vibrant cities and towns that are happening … and that gets right back to culture and arts."
But what results from Five White Guys, by and large, is an ongoing play that dangles a version of what Connecticut could be—and then takes it away. It's a performance that suggests the audience (and those watching at home) does not get the show, the theater, or the season that they deserve, but the one that they've inherited. Even the play's most suave characters are undone at climactic moments.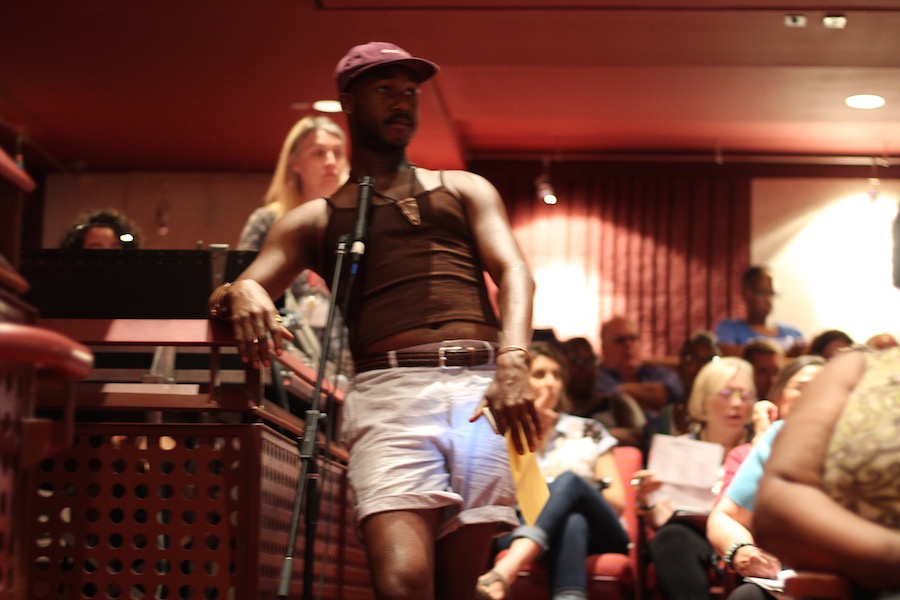 In one of the earliest and most powerful Tuesday, cast members collectively fumbled as TNMOT AZTRO founder Arien Wilkerson (pictured above) asked what they'll do to support women, nonbianary, and queer artists of color. In another, Jones had to bring home a point that all of the candidates tiptoed around, explaining that she understands inequity because she's dealt with it as a Black woman in the state.
After the show, Wilkerson said they weren't convinced by the performance, and didn't feel particularly moved to see an encore.
"It was okay, I was just disappointed to see no women on stage," they said. "To not even have a woman nominated for governor was disappointing. To not have a woman, a person of color, or a queer person of color or a queer person also on that stage is very disheartening."
"It made me think a lot about what is the state that Connecticut's actually in," they added. "What is . If we are gonna vote for these people to try to represent the entire state, it really talks about how conservative this state is, and how this state is really struggling with its 'liberal identity.' It made me think about how much harder, and how much faster, I want to get involved."
To listen to the full audio from Tuesday's forum, click here.