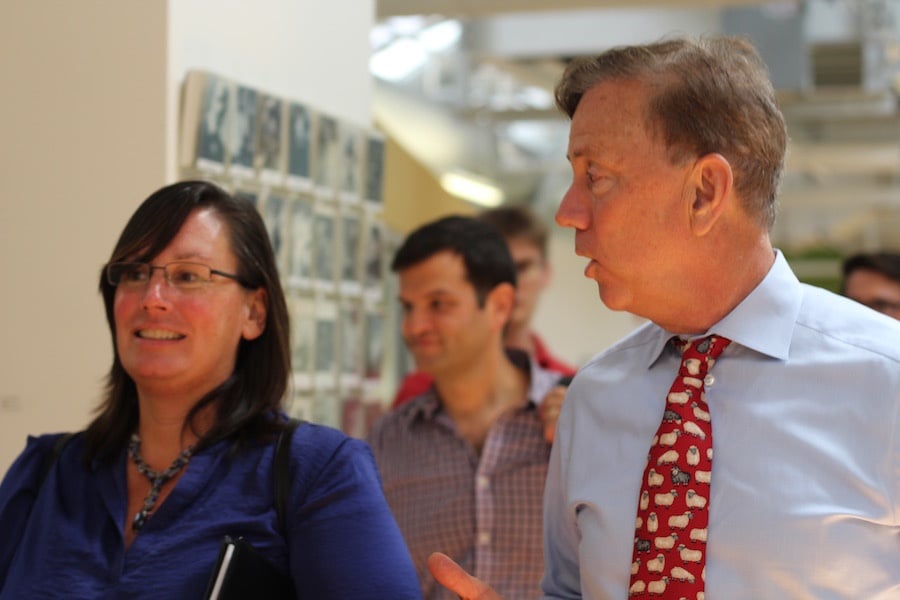 Create The Vote | Greater New Haven | Politics | Arts & Culture | Ned Lamont | Campaign 2018
Ned Lamont supports your arts endeavor. He wants to see your nonprofit thrive. He's blown away by the caliber of your students. He just can't overpromise his support in a bad budget year.
Lamont, the Democratic frontrunner and party endorsed candidate for governor, made that pledge over and over again Tuesday, as he stopped for site visits in New Haven before heading to a gubernatorial candidate forum at Co-Op High School downtown. That cautionary message has become a common refrain for Lamont, for whom moderation seems to be a political strategy. He faces Democratic candidate Joseph Ganim in the Aug. 14 gubenetorial primary.
Traveling from the Connecticut Center for Arts and Technology (ConnCAT) to Kwadwo Adae's Women's Empowerment Mural on to East Street Arts, he both voiced support for the arts and said that he could not "overpromise" more financial support from the state, as Connecticut works through an ongoing budget crisis. He suggested that it would be irresponsible to do so and then not deliver—but added that he wants to find solutions to the arts' constant quest for more funding.
Lamont has long been a casual supporter—and hobby practitioner—of the arts. Beyond his appreciation for the artist Norman Rockwell, he is an amateur keyboard player, and said he will occasionally plunk out a few notes on campaign stops to relieve stress. Early in his education, he learned to play the piano by ear, forming a band called "Flower Pot" in middle and high school. He said he has a great affinity for music, mentioning Motown heroes Stevie Wonder and Diana Ross.
At ConnCAT, An Arts Awakening
Those figures were front and center during Lamont's first stop at ConnCAT, a job and workforce training center in New Haven's Newhallville neighborhood. Inspired by Pittsburgh's Bidwell Training and Manchester Craftsman Guild (now Manchester Bidwell Corporation), the center offers job training programs in medical billing and coding, phlebotomy, and the culinary arts, as well as General Educational Development (GED) classes and year-round youth programming. Like Manchester Bidwell, ConnCAT is totally free, so students don't have to deal with a barrier to cost.
Currently, the organization is the end of its sixth annual free summer youth program, offering music, dance, and graphic arts around a "Motown" theme (it has previously been based on the Harlem Renaissance). Of the 80 students that the program was able to take this year—a total of 145 applied— 78 have shown up every day.
Lamont got to work meeting some of those students as he headed down the second-floor hallway with Youth and Community Programs Manager Steve Driffin. Half-chatting with Driffin, he wandered into an alcove of student photography, where Sanaa Gordon and her friends Sanai Garrett, Brooke Tavares, and Alanna Greene were working to emulate Diana Ross and the Supremes.
"How 'bout the Supremes!" he said. The girls laughed and kept working, giving him an appreciative nod. "Are they gonna perform?" he continued, not directing the question to anyone in particular. It hung in the air before Driffin suggested that they were saving the routine for next week's summer showcase. He ushered the group onward.
Lamont bounded down the hallway with Driffin, peppering him with questions as the two headed for another set of rooms. As they talked, Lamont stopped to listen to music students, then studied a hallway-long exhibition of photographs by artist Benedict Fernandez of Martin Luther King, Jr. during the last year of his life. He mentioned that King's son, activist Martin Luther King III, is due for a cultural event in Hartford next week.
"He should come here," Lamont said.
Driffin reached a door at the end of the hallway, and opened it. Inside, a group of students orbited teacher Harry Dicker as they worked on a series of Motown-themed photoshop designs. Lamont approached 12-year-old Byron Reshard, and leaned in. "What's this?" he asked of the screen, a two-toned album cover with small text at the bottom.
A student at Engineering and Science University Magnet School (ESUMS), Reshard described his choice to make the top register of the image a flickering, rainbow design that showed the vibrancy of Motown. He said the coolest part of the project had been learning more about Motown giant Barry Gordy, the virtuosic songwriter who founded the once-renowned Motown Record Corporation in 1960.
Behind them, ConnCAT President and Chief Executive Officer Erik Clemons slipped into the room. Lamont finished his conversation with Reshard and headed over. He nodded as Clemons described the center's relationship with New Haven's public schools, which has led to it becoming a bus stop for K-12 students across the city.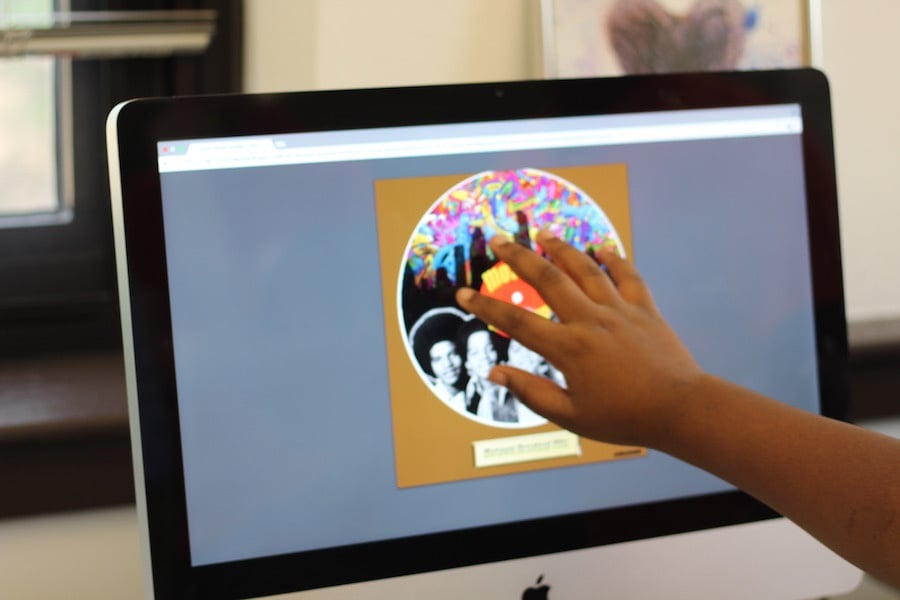 "How 'bout the old guys?" Lamont asked, to a smattering of laughs from the group. "You take care of them?"
Arts Council of Greater New Haven Director Daniel Fitzmaurice stepped in. "Yes!" he said. "We're going there next." He motioned to the door as the group prepared to head to the culinary training program downstairs.
Before Lamont followed the group out, he stopped by one last group of students, a thicket of eight middle school girls gathered around a few computers. "I like your tie," offered Lilli Greene, a rising sixth grader at St. Thomas School.
Lamont looked down, as if to remember what tie he was wearing, Against a red background, a few black sheep floated amongst a herd of fluffy white ones. He grinned at her.
"Yeah!" he said. "Sometimes I'm a black sheep."
He Won't Take The Company Car, Either
Downstairs, Lamont traded youth program for a whirlwind tour of ConnCAT's culinary arts program, now in its third year. As he made his way around the center's sparkling chrome countertops and clean, soap-scented back hallways, he encountered Chef Larry Murphy, who assists Head Chef Jenna Martin with the program.
"I have one question," Murphy said as Lamont leaned in to shake his hand. "You going to take the company car?"
Lamont chuckled and shook his head. No, he wasn't planning to, he told Murphy. He listened as Murphy described the path that led him to ConnCAT, paved with classes at the New Haven Restaurant Institute, a precursor to the Culinary Institute of America, in the 1960s and multiple catering businesses through his retirement.
When ConnCAT was looking for help in its culinary program, he jumped in as a helping hand, and was later promoted to staff. As long as Lamont didn't plan on using that company car, Murphy joked, Lamont could count on his vote.
"You and I would be a great team," Lamont said. "Because you love to cook and I love to eat."
"School is not from 9 [a.m.] to 3 [p.m.], and it's not just inside the classroom, and that's what I'm reminded of today," he added as he headed outside, to get a quick look at ConnCAT's raised garden beds (a collaboration with Love Fed New Haven) and head to the next site. "I love schools being part of the community, where the greater community can be involved. I love teachers who love what they're doing."
Women's Empowerment Gets His Vote
On a tight schedule, Lamont headed from ConnCAT's sprawling gardens right to artist Kwadwo Adae's sprawling image of women's empowerment, an 18 x 106 foot mural project featuring women from 17 different stages of life, and 17 different cultural backgrounds. Welcoming Lamont and a small press entourage, Adae pointed the women out one by one, describing each as his finger traveled the length of the building.
There was an Iranian ballerina, feisty abuela, immensely pregnant mother with a crown of flowers. All the way at one end were a tall, Black Yale-New Haven Hospital doctor and likeness of Diane Brown, manager for the Stetson Branch of the New Haven Free Public Library (NHFPL). He described the project's various sources of funding, which started with a grant from the Connecticut Office of the Arts and has expanded to multiple funders. And then he made his pitch.
"Arts, music, dance—it's always the first thing to get cut," Adae said. "I would for once like to see an augmentation of funds. If we could get some support and some help … art is a powerful thing and we have to have representatives that showcase this."
"I can't overpromise," Lamont responded, squinting as the sun soaked their section of the Farmington Canal Heritage Trail. "But I can promise that the arts is not something that is nice to have, but is core."
Adae explained to Lamont that the mural's central premise—the thing that had drawn him to the topic in the first place—is the unity of cultures represented. Nationally, Adae said that he doesn't see politics representing that kind of diversity and acceptance—or aspiring to them at all.
"No, they're not!" Lamont agreed. "Id like to invite president Trump here sometime."
Adae asked Lamont if he'd like to paint. It wasn't hard, he assured the candidate and his team—just "like painting a rice krispie treat." The ease of painting the mural's lover register, he continued, is what has allowed it to be such an immersive community project.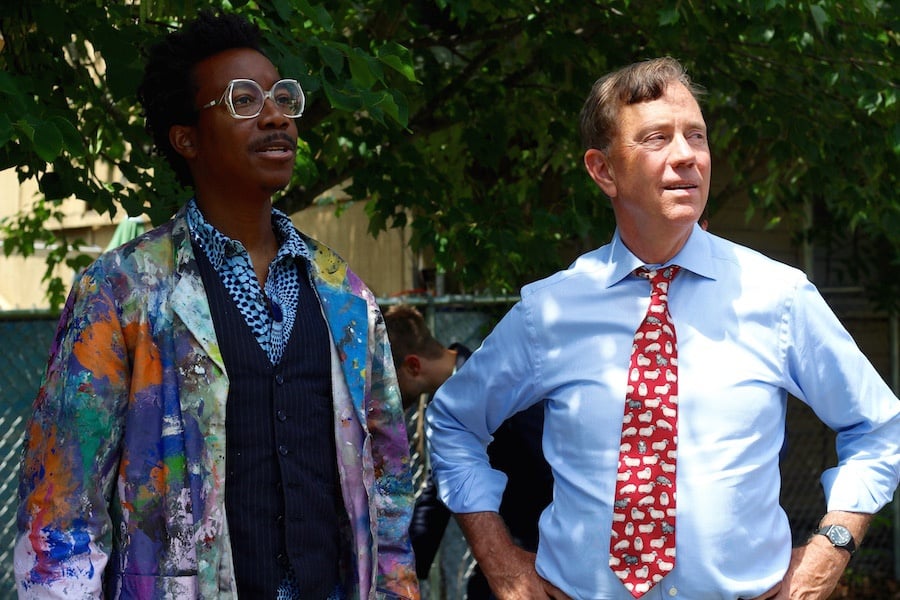 Lamont donned a paint-splattered smock from project assistant Toni Giammona, noting that it struck him as closer to a Jackson Pollock painting than protective outer layer. Adae handed him a brush, lifting a bucket of shiny black paint. They both praised the smock.
"I like it," he said. "I was geeing tired of wearing blue blazers."
Five minutes later, Lamont had added a careful, thin black outline to one of the figures.
"Did you like it?" Adae asked of painting.
"It felt damn good!" said Lamont.
But, Can We Talk About More Funding?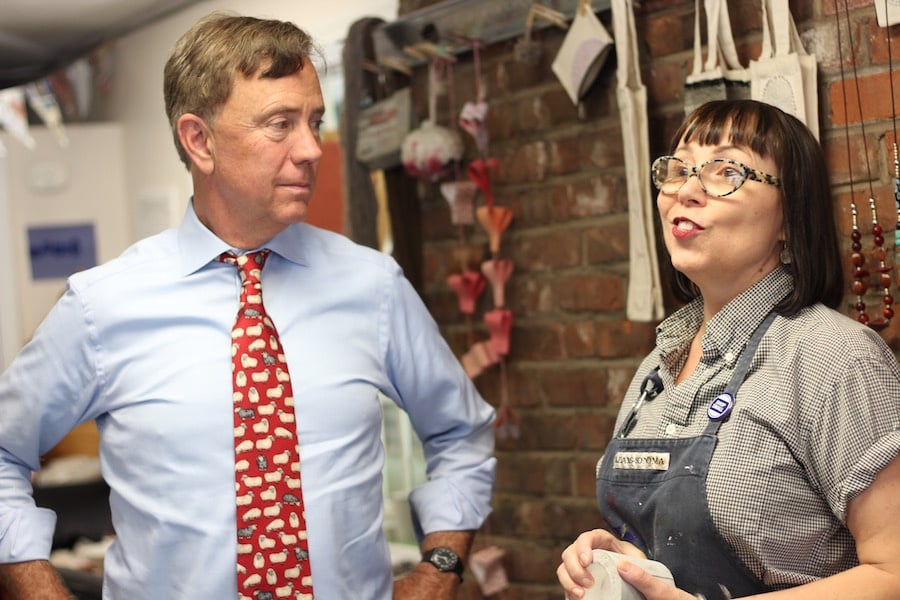 From Newhallville, Lamont headed to East Street Arts, a program of Marrakech, Inc. that offers studio art, chair caning, and weaving for adults with developmental disabilities. After meeting a small welcome crew outside the nonprofit's building, he headed in, greeting artisans who were working on a variety of caning and weaving projects between the center's several rooms.
The room hummed with activity. He approached an artist named Justin (last name withheld for confidentiality purposes, watching him work with master caner Rhonda Voos.
"What's it like working with the state?" he asked Voos as they studied Justin's careful handiwork.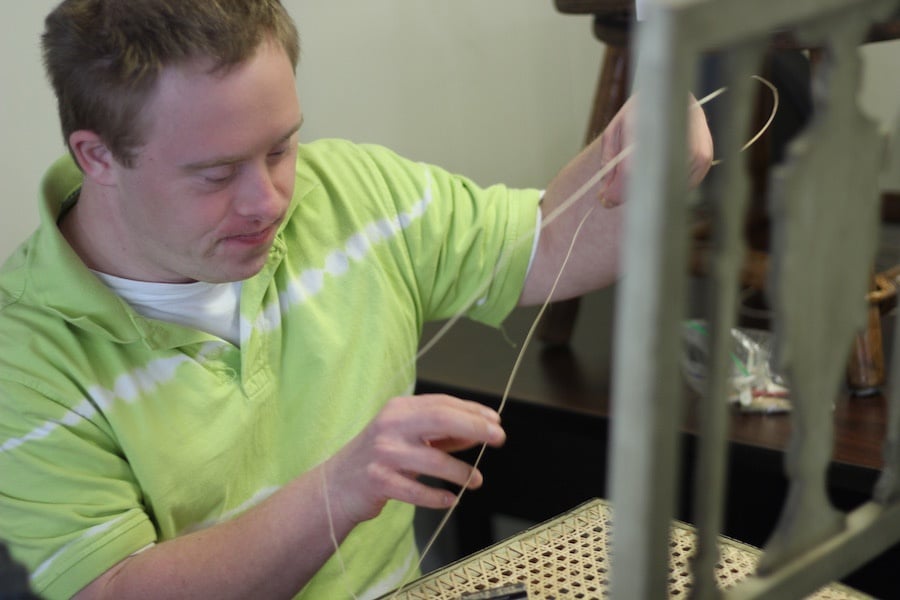 "Fortunately, I don't work with them directly," she responded. She described small mountains of paperwork and reporting, a "relevant nuisance" that still could feel arduous. Just as they began to head toward another room, Justin cut in with a question he'd first asked Wendy Bury, Executive Director of the Southeastern Connecticut Cultural Coalition and a partner in Create The Vote CT. When Bury didn't have an answer, she'd turned it back to Lamont.
Justin described getting his checks for his work that seemed like very little money—hardly enough to pay his rent and utilities for a condominium that he shares with a roommate, and commutes to and from each day. He sees what disappears from his check in taxes. Is it possible that the state could consider paying hm, and other artisans, more?
"I can't overpromise, but I can promise that I'll try," Lamont said.