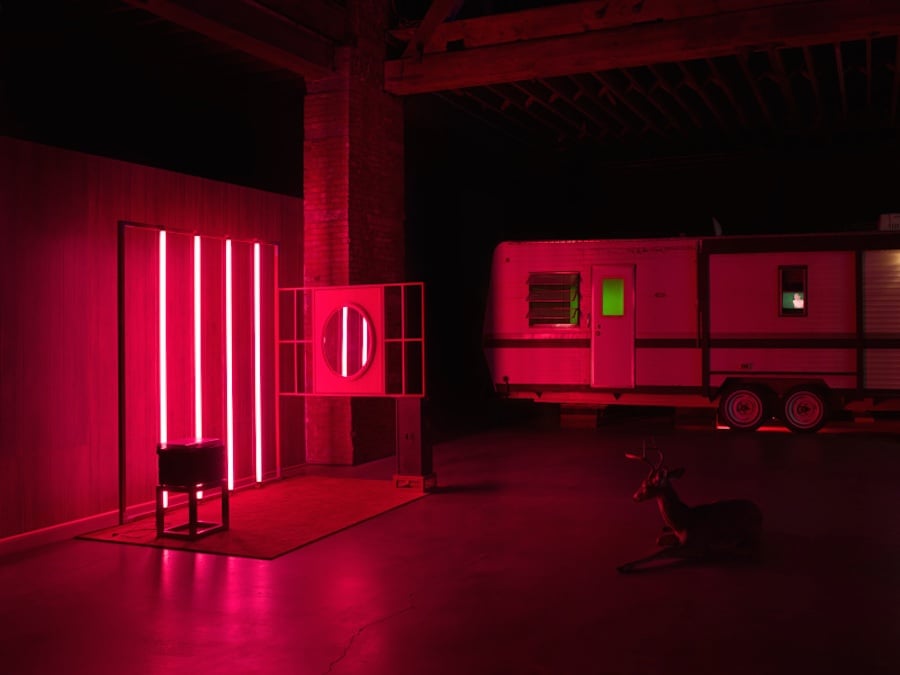 Arts & Culture | Artspace New Haven | New Haven | Visual Arts
Healing hats that must be worn to events before they are finished. Installations that have the size and look of movie sets, with no rolling reel of film in site. "Glitch art," with a spray of colors across the screen like a Nintendo has been kicked until it screams.
These are just some of the works New Haveners can expect to see from artists Erin Lee Antonak, Willie Stewart and Binwanka in the coming year, as the three begin their artist residencies at Artspace New Haven. Thursday night, they introduced themselves in an intimate artists' talk and meet-and-greet at the organization's Orange Street gallery, where works from its Summer Apprenticeship Program and new exhibitions wink out brightly from the walls.
"We're so excited to have them in our gallery for the next year," said Artspace Curator Sarah Fritchey at the event. "We do our best to connect artists with the community … and we're hoping to expand into the community even more this year."
Fritchey added that the program, now in its seventh year, has been able to grow in scope and location for the first time this year. There are three artists instead of one, and each will each be able to use space at the Marlinworks building in East Rock in addition to Artspace. The change comes with the support of both an Artspace donor and 2400 square feet of subsidized space at Marlinworks, where each of the artists will be based for four months during the year.
Stewart and Binwanka are in the process of moving in, while Antonak will spend her first months based out of Artspace. Already, the artists have met with Terri Smith, curator of Franklin Street Works in Stamford.
The three criss-cross genre, promising a year of old and new media across two spaces. Obsessively neat installations meet loud, brightly painted walls and stunning, sloping embroidered sculptures; code-based art stands in stark contrast to tightly woven baskets and traditional Iroquois salt bottles, new media flickers and trembles in the shadow of traditional craft.
But all share a sense of coming home, or wrestling with its place in their lives. A Wolf Clan member of the Oneida Indian Nation of New York, Antonak grew up attending Powwows, watching her mother and grandmother work on traditional crafts during the year. Her grandfather was a healer, endowed with a curative power that was not of this realm but another. When he died, Antonak recalled attending ceremonies that were so rare she did not appreciate them until after the fact, when she realized that they were not part of a normal upbringing.
Antonak learned about her culture through its artwork: corn husks braided into tight, halo-like circles and masks, medicine bottles flecked with red color, carefully woven salt bottles that she and the women in her family made for museums, as replicas of what the earliest designs had been. Ceremony seeped into every aspect of her life, its ritual presence occupying her thoughts before it ever became part of her practice.
But when she was in her teens, Antonak broke with tradition—she moved from New York to New Orleans, instead of pursuing studies at the Institute of Indian American Arts (IAIA) in Santa Fe. She recalled that the change was liberating, for a time. When she was 25, her mother suffered a massive hemorrhage, and was paralyzed from the neck down. Six months later, Hurricane Katrina hit New Orleans. Antonak rushed home to care for her family, struggling to continue school while raising her teenage brother.
"My life really just imploded," she recalled.
It was an unexpected chance to reconnect with the culture she'd grown up with. When she returned home, she learned that someone had had a vision about her mother, naming her as a healer. Antonak was asked to make a mask, diving back into craft first because she was asked to, and then as a way to figure out her own cultural identity.
"I had to find a healthy way to get through that trauma," she said. "So I started using the things I grew up with to create my own ceremonies. My own process to heal myself."
She flipped to a slide that showed a square of white muslin, embroidered with the state of New York in red. Through the middle of the state ran a pink strip, and on the pink strip a black dot. In the Treaty of Canadaigua, she explained, the U.S. government promised the Iroquois two things: land and fabric. The land has shrunk to 32 acres. The piece of fabric shrinks each year.
Another slide. Where there had been traditional salt bottles before was a minimal ceramic take, corked at the top with a spiky, hard yellow ball. Another, and the screen filled with huge red and pink faces, mouths wide open as they curled and snaked around the space. Sculptures leaned to the side in another. Antonak said her work resonates differently with Native and non-Native viewers—Native audiences recognize several signs and symbols that others simply don't. That reception is a mixed blessing, she said—sometimes viewers are excited about her work, and sometimes they resist it.
During the residency, she said she will be working on a series of traditional "healing hats … mask-hats," that members of the public have to wear "with the intention that they are getting energy from the hat-mask and also putting that into the world" before the pieces are complete. She said that she envisions people choosing hats that speak to them in both design and backstory, the ritual of their wearing and being worn an ultimate part of the project. After the talk, Fritchey said those hats may be on display as early as City-Wide Open Studios in October.
"Whenever they're done, I'm gonna pull them out, and they'll just be a finished piece of work," Antonak said. "Kind of like masks that are in natural history museums."
From "Pure Fantasy" To Marlinworks
Raised states away in Tennessee, Stewart said that his upbringing also factored heavily into his work. Growing up 30 miles outside of Nashville, the artist's universe was a matriarchal one—he was raised by his mother, grandmother and aunt under one roof, homeschooled by three women who hadn't had a formal education. The men in his life were dead or incarcerated. When he was in his teens, his grandmother suggested that if he could get a job at the local gas station, it would be a good job for life.
"I was able to live in pure fantasy," he said, invoking a quote by the musician Lou Reed as he spoke. "That became something that was really important to me. Because one of the things that is very important to me as an artist is a nonlinear way of thinking."
As a kid, that curving line of thought led him to an interest in Hollywood, where New York was depicted as big and glamorous and the South was not ("people thought that you couldn't talk, or you were illiterate, or didn't have shoes," he recalled of his first trip to New York City in his teens). Taken with the idea of how the industry shapes culture, he followed an interest in becoming a director, constructing elaborate sets and shooting films before he ever finished high school.
But he found that making sets was more rewarding than making the movies themselves. In stills from his first professional installation, a small, backroom deli has been transformed by artifacts of his life—several of point-and-shoot photographs taken by his grandmother on her travels across the United States, as a member of a motorcycle club. It looks like a movie camera is ready to roll at any moment.
As a young adult, Stewart left home to pursue school, first at Skowhegan School of Painting and Sculpture in Maine, and then at The Cooper Union in New York and Yale University. He dug into installations that were wacky, fantastic and minimal all at once, poking fun at the art historical canon while moving away from his family as source material. His installations were uniquely his, and tongue-in-cheek: references to Mike Kelley could share a space with nods to Kazimir Malevich, neither of them taking the other too seriously.
In 2017, he landed a project at Brooklyn's Pioneer Works, a nineteenth-century railroad factory that has been converted into an arts incubator. Working with artist Patrick Stewart, he had trailer-homes move into the space, interrupting the building's wide berth as they came to life against filmic backdrops, a reconstructed biker bar and weekly concerts. It was a flashback to the world he knew, exploring what happened when the Tennessee of his youth clashed with a sanitized art space (the trailers were later donated to schools in Brooklyn, where they became libraries).
"Most of the time, a gallery space is just used to show art," he said, describing the 25,000 square feet that Poineer Works gave him to work with, and that he still thinks about in his practice today. "But what does it mean to turn it into a bar? What does it mean to turn it into a community center? To turn it into a musical venue, free for people to come?"
A year later, he finished his master's degree at the Yale School of Art, and decided to stay in New Haven. By early this year, he'd expanded his media to painting, sculpture and drawing—"thinking about how language stacks up" across media and genre. As an artist-in-residence at Artspace, he suggested that his work in the city will both continue that trend, and grow to include new community insights. In the fall he will be teaching a course at the Educational Center for the Arts (ECA) on new genres, devising a curriculum that the school has never had before.
"I really like my life," he said after the talk, in response to a question from local artist Linda Lindroth. "How I grew up. I think it was interesting to kind of have no rules."
"Hopefully, he'll influence the minds of people we bring in later on," said Fritchey, referencing ECA's connection to the Summer Apprenticeship Program.
His Parents Cracked The Code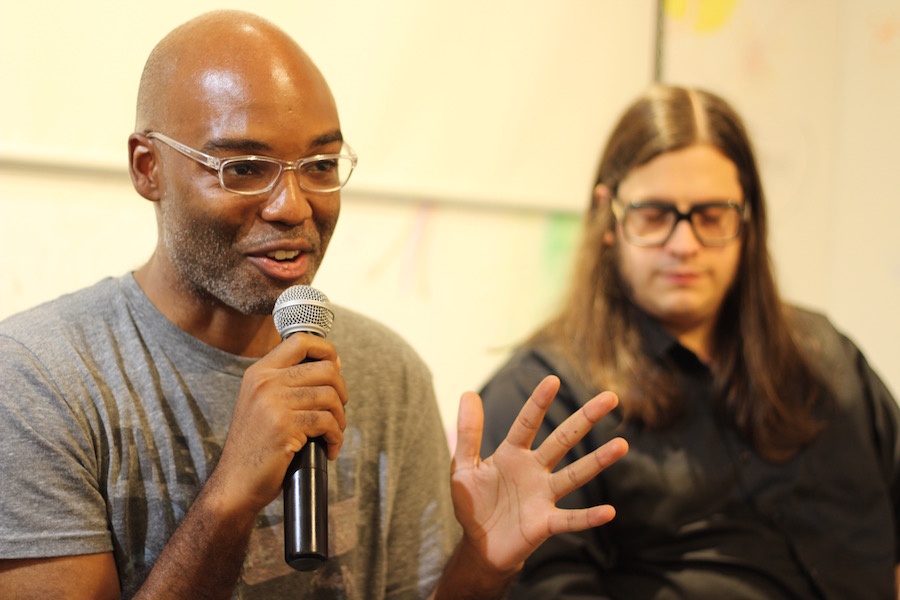 The last to present Thursday, Binwanka began his talk by thanking his parents, who listened intently from a back row of chairs that had been set up for the event. The child of computer enthusiasts, Binwanka credited them with fostering an interest in graphic design, digital imaging and code from a very young age. By fifth grade, he said he knew he wanted to do graphic design, an interest that bloomed into game design by his teens.
"I kind of became a pro when I was 14 years old," he said to a smattering of laughs from attendees.
His parents kept him well-rounded. As he nursed an interest in game design and coding, Binwanka also played in a school orchestra, letting music influence the way he thought about the digital universe. That background came full circle this year, as he launched a show on experimental music on Bridgeport's WPKN radio.
At the end of high school, he attended Parsons School of Design, adding to his education with background from what he called "the streets" and "the digital streets." He looked into what it meant to market one's own work in a large public context, placing his works in classified ads, on new websites, and a temporary digital billboard in New York's Times Square.
"How could I make objects and let people have them?" he said of disseminating his work, itself part of his process. He pulled up slides of album covers, clothing designs, and three-dimensionally printed pottery shapes that he had sold online. "I wanted them to be physical things."
A competitive gamer, he also developed an interest in something called "glitch art"—art where the design of a gaming screen looks intentionally fried or glitchy, because of a discrepancy in its code. He pulled up examples, electronic screens with frozen, messy bands of yellow, blue, green and black.
Now, he's presenting himself as a generalist—and bringing that to Artspace this year. He said that he hopes to continue the work he's been doing, while making his work accessible to the public. He recalled a session earlier this year, as he visited a Middle School in Bridgeport and talked to the students about how everything around them started with design.
"I did it because I wished someone had told me that when I was a little kid," he said.