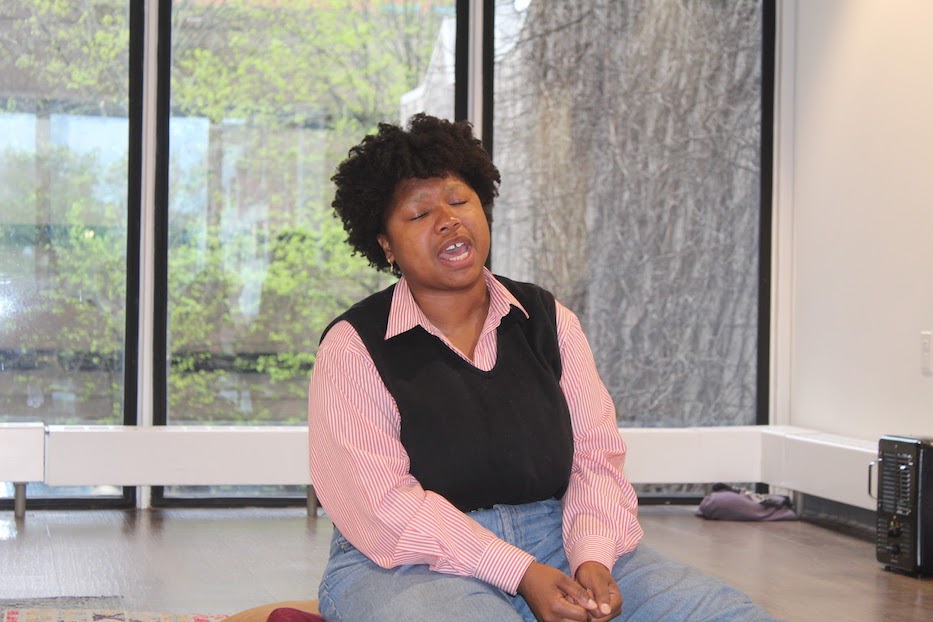 Audubon Arts | Culture & Community | Music | Arts & Culture | Arts & Anti-racism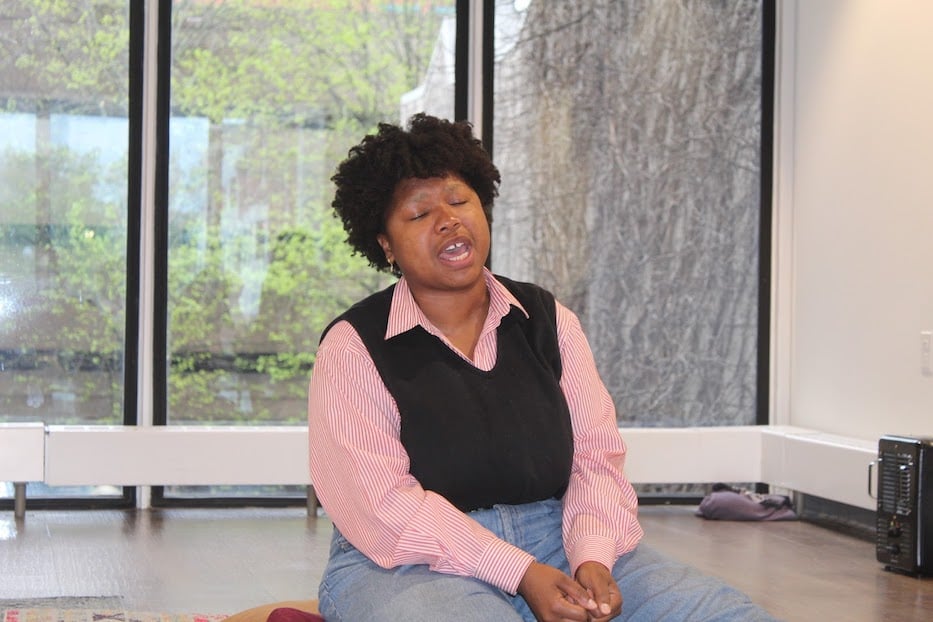 Desiré Graham. Abiba Biao Photos.
Desiré Graham sat on the floor, legs crossed, eyes closed, and began to sing. The words poured out slowly as she soared over the intonations, highlighting the rise and fall of the "ah's" and "oh's."
Iba sojo/Ibaaa, ibaaaa laryoreeee
Ibaaaaa, iba sojo/Ibaaaaa lee
Ibaaaaaa laroye/Iba sojoooo iba laroyeee
Iba sojoooo iba laroyeee
With a gesture, Graham motioned for Nadine Nelson to come in and their voices collided, encapsulating the infectious rhythm of Grenadian singer Ella Andall and her 2007 song "Iba Sojo, Iba Laroye."
The rain and cloudy weather couldn't dampen the spirits of Graham and Nelson on a recent Sunday, as they filled the Sandbox at 70 Audubon St. with the sound of "Somewhere In Between," a singing workshop that Graham designed and taught over three days. Currently Graham has four students; Nelson is one of them.
A native of Harlem, New York, Graham started singing when she was five years old, first in her church's choir and then in musical theater. Finding the right environment for her voice was challenging until she found her match, she said. She joined the Workcenter of Jerzy Grotowski and Thomas Richards, an Italian-based theater company, in 2019.
The Workcenter was founded in 1986 by Polish theater director Jerzy Grotowski, an influential figure of theater in the 20th century, and held performances in Europe and Latin America before it announced its closure in January 2022.
Graham's role within the company was teaching workshops and directing vocals for plays. Before she left in December 2021, her last project was a four month Latin American tour. While working in arts is her passion, she said, the Workcenter suffered from what she saw as poor administration. She felt that the director used anger as a punishment, which made the staff uncomfortable.
Now a freelance teacher, she wants to make sure to create a hospitable environment for her students, ensuring that they experience the joys of singing instead of the pressure as she once did while working.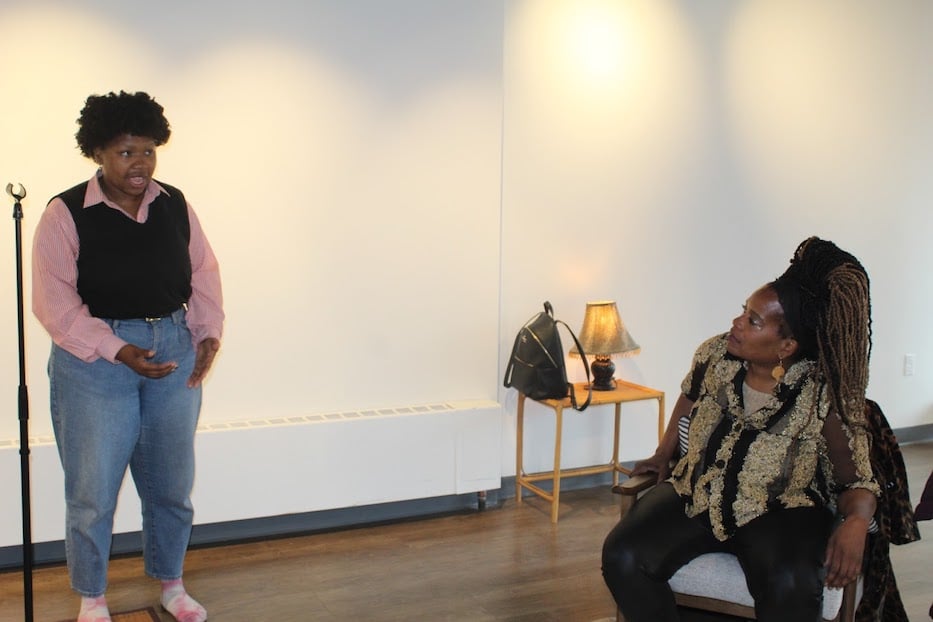 Abiba Biao Photos.
"As kids, if we don't have the perfect voice, we're told to shut up or we're told to like, do something very technical so that we sound like the other person who's better," Graham said. "And I just think singing can be much more free, especially if we're choosing the songs you want to sing."
Graham first starts her lessons by meeting with students online to get their vibe and go over surface level topics. After a discussion, students get to choose their songs and report back to Graham, who decides whether or not they're suitable in a workshop.
She also shares her own projects within the workshop, cementing herself as both a teacher and a student. Her drive to teach stems not only from her love of interpersonal communication but also her belief in singing as a medium of self-exploration. She pushes students to explore their culture and identity just as she has done with her Trinidadian heritage.
"Through singing Trinidadian songs, I've been able to connect with my grandfather in a way that I never could when he was alive because I can put in my mouth, the words he would speak, or the songs his mother would sing to him," she said.
Nelson has taken Graham's teachings of culture through music to heart by bringing Jamaican cuisine and culture to America. She pointed to her upcoming solo tour "Cooking Across America," a cooking cabaret focused around preparing curry.
Born in Toronto, Canada, Nelson moved to the U.S. at 10 years old and traveled back and forth from the US to Canada. As a self-described "Jafakean"—a Jamaican who was born outside of Jamaica—she said she aims to highlight the Jamaican diaspora and emphasize the vast spectrum of Jamaican identity. She hopes to unpack prevalent stereotypes to expand people's knowledge of the country, using curry as a metaphor for cultural unity.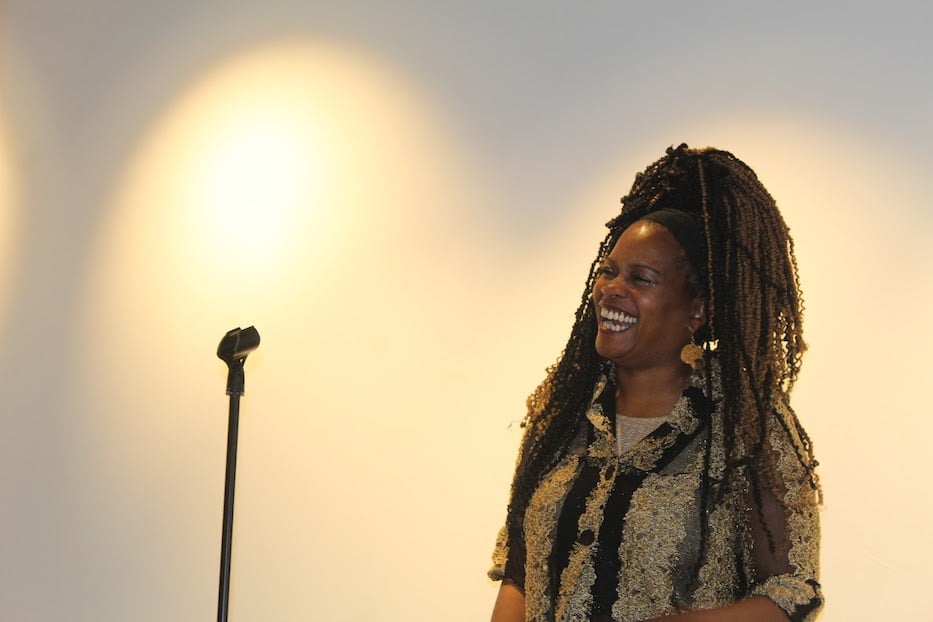 Nadine Nelson: "I'm less nervous if I'm over a pot, you know?" she said. Abiba Biao Photos.
"You can do curries of all different types of things," Nelson said, "but all those things come together and taste good, so maybe we can try and do that here in America."
Her decision to employ curry for her cabaret was influenced not just by its cultural significance, but also by its status as a comfort food during her time at Tufts University.
Curry is a universal dish shared across countries from the Caribbean to South Asia, with its popularity stemming from its versatility. It can be made with any ingredients one has on hand which is great for broke college students on a budget, and especially for those who don't know how to cook.
In her cabaret is a rendition of Bob Marley's "Stir it Up" with improvised lyrics on cooking curry. She thought it would help her open up to the audience while being in a comfortable setting.
"I'm less nervous if I'm over a pot, you know?" she said.
Her tour is an extension of the food justice work she does in New Haven, doing cooking workshops with the New Haven Free Public Library, Artspace New Haven and the Ely Center for Contemporary Art to increase food literacy and encourage healthier nutritional choices.
As she stood behind the microphone stand she closed her eyes and began stirring her imaginary curry pot with her left hand, letting the delightful aroma waft over the invisible audience.
"Stir it up. Little darling darling stirring it up," she sang. "Come on baby. Add that all-spice ginger, cumin, too. Anything you have in the house is for you. Eat that curry and stir with love. Our ancestors are teaching us from above. So stir it up. Little darlin. Stir it up. Come on, baby."
Currently she plans to tour in Chicago, Los Angeles, Houston, and New Orleans. While she has traveled across the country, Nelson said that traveling in the middle of the U.S., where she sees less of a Black community, is daunting. She added that she is willing to take the challenge.
Since she is traveling by herself, help will be based on volunteerism and collaboration from others. She added that she's open to performing at establishments that host creators. While the details are still being finalized, she intends to maintain a level of flexibility and community involvement throughout her performance.
"Everyone wants everything to be perfect. Nothing's perfect, but even in its imperfection there's beauty," Nelson said. "My art practice is social practice, bringing people together to interact with each other."
Abiba Biao is a graduate of the Arts Council's Youth Arts Journalism Initiative and has stayed on with the Arts Paper as a freelance writer and photographer. She is currently a rising sophomore at Southern Connecticut State University (SCSU).