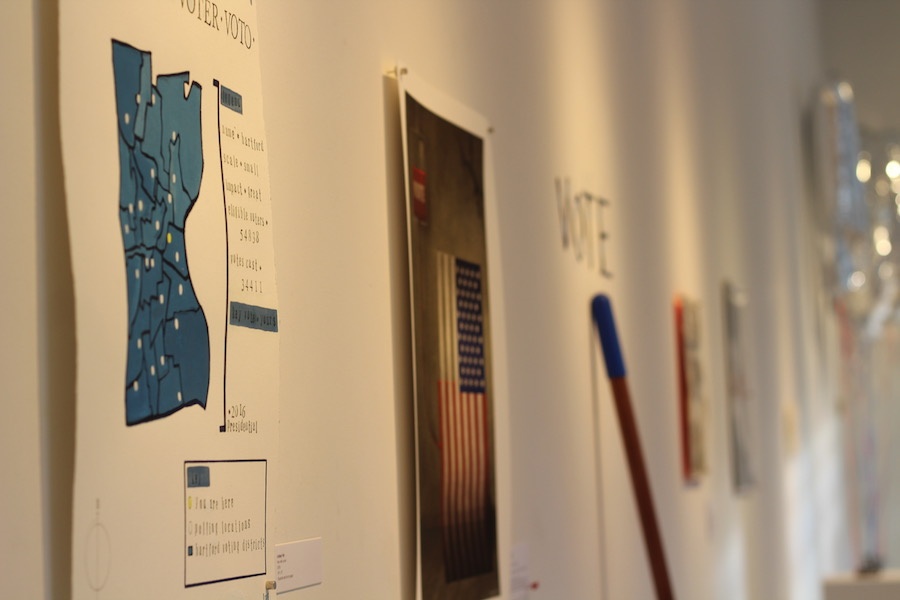 Hartford | Arts & Culture | Visual Arts | Campaign 2018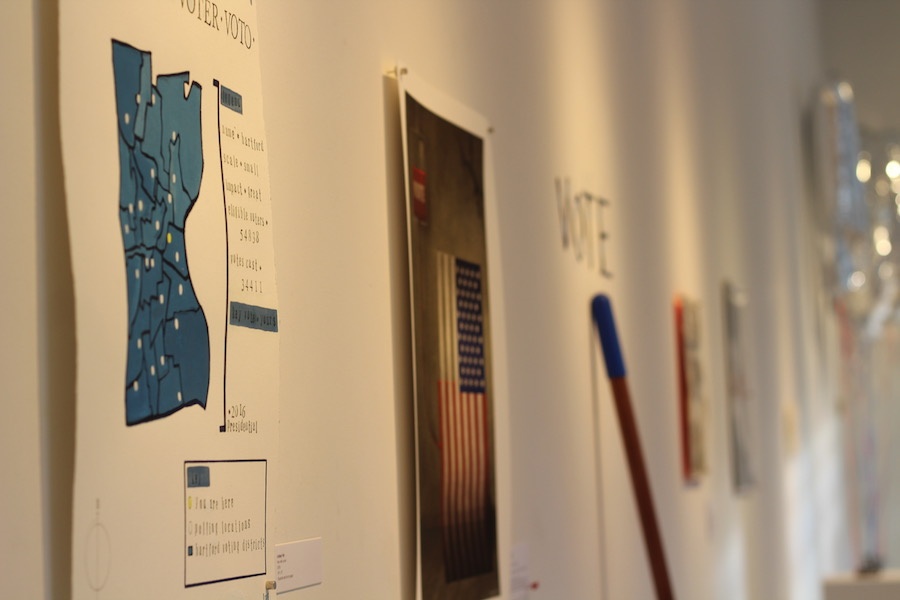 VOTE runs through Nov. 15. Lucy Gellman Photo.
An American flag is draining color, as if it has passed out in a doctor's waiting room. All 50 stars are present and accounted for, but the red stripes are disappearing, at a near-permanent half mast. To the flag's left, a bag of blood is half empty, pumping sustenance back into the flag. VOTE, it reads in big blocky letters near its base.
Ellis Echevarria's "Vote: Young Blood" is part of VOTE | a group show of one word, on at EBK Gallery in Hartford through Nov. 15. The gallery, nestled on Hartford's Pearl Street, is open by appointment only. EBK owner and founder Eric Ben-Kiki said it is the final show he will have in the space, to dedicate more time to his frame shop and curatorial work at the Silvermine Art Center.
VOTE came into being just a month and a half ago, as Ben-Kiki was eating breakfast at West Hartford's Quaker Diner, and thinking about the upcoming election. Cutting through the thick smell of fried eggs, crisping bacon and browned toast, a thought occurred to him: he could encourage people to get out and vote through his work in the arts.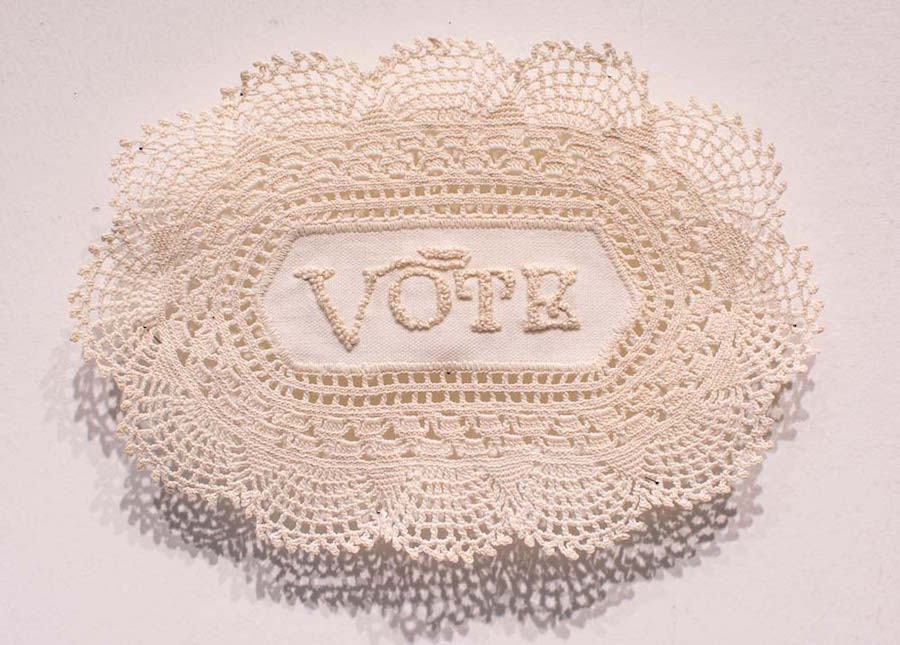 Felice Caivano, Women's Work, 2018. French knot embroidery on vintage lace doily. Image courtesy EBK Gallery.
Specifically, he could take the gallery, and turn into a nonpartisan voter initiative. EBK Gallery looks out onto Pearl Street with big, wide windows and a glass-paneled-door, though which viewers can se artwork on display. Recent shows have winked out at passers-by with Tim Wengertsman's dizzying, painted motorcycle helmets, Genevieve May's striking and ornate portraits, Miggs Burroughs' photographs, which can stop people in their tracks and ask them to stay for a while.
What if, Ben-Kiki thought, he mounted a nonpartisan show directly related to the election? Specifically, what if it was related to the act of getting oneself correctly registered and to the polls on Election Day? To vote at the polls on election day.
"Because of the exposure the gallery has, I realized I could do my microscopic part in the election coming up," he said in a recent interview. "The intent isn't reactionary or activist … I was trying to get artists to create a work around the word ["vote"]. It really does have a gravity to it."
With the Nov. 6 election looming, Ben-Kiki gathered a group of 11 artists with whom he had worked before, both at EBK and as a curator at the Silvermine Arts Center in New Caanan. They include David Borawski, Joe Bun Keo, Felice Caivano, Ellis Echevarria, Lindsey Fyfe, Peter Kirkiles, Adam Niklewicz, Peter Waite, Tim Wengertsman, Erik Williams and Rita Valley.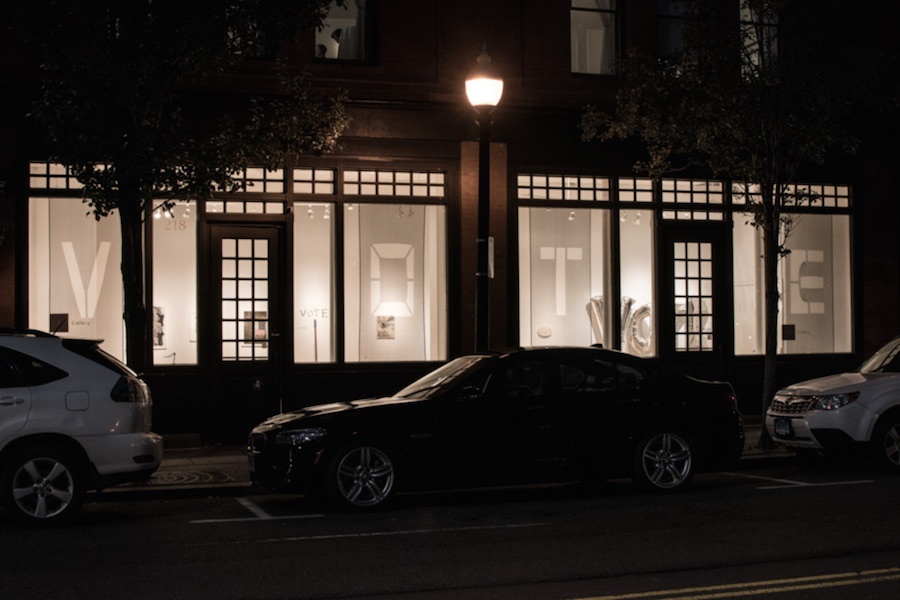 David Borawski , Not Fade Away, 2018. Construction screen installation, gallery windows. Image courtesy EBK Gallery.
The result, tightly packed into gallery's 400 square feet, is a multimedia exploration into not just a potent four-letter word, but its thousands of political reverberations across Hartford, Connecticut, and the country. In one far corner, Wengertsman's "Got To Hope Something Will Change" pulls the viewer in with almost umbilical force, reminiscent of German expressionists Ernst Barlach, Ernst Ludwig Kirchner, Erich Heckel and others working on the lip of the second world war.
In the print, Lady Liberty has been turned to a skeleton, no inch of her skin unmarked, arms bound in heavy chains. From her head, a spiky crown still protrudes, reaching out to the corners of the frame. But this crown has betrayed her: her head hangs heavy and low under its weight, eyes closed. Her cheeks are sunken, shoulders slumped and cloaked in black. It's the gesture of an entire body giving up. From the claims, an American flag hands heavy, dripping from its base. In the corner, where the stars should be, is the word VOTE in thin capital letters. A bullet pierces its center.
It reads as a kind of historical warning—that there's so much riding on this. That the citizen body is so damn tired, and so close to death. That Lady Liberty has been here before, and she doesn't like this dark place very much. In the early 1930s, much of German expressionism was deemed "degenerate" art by the Third Reich, effectively rendered useless and shameful by the state. Almost a century later, Wengertsman has us right back there.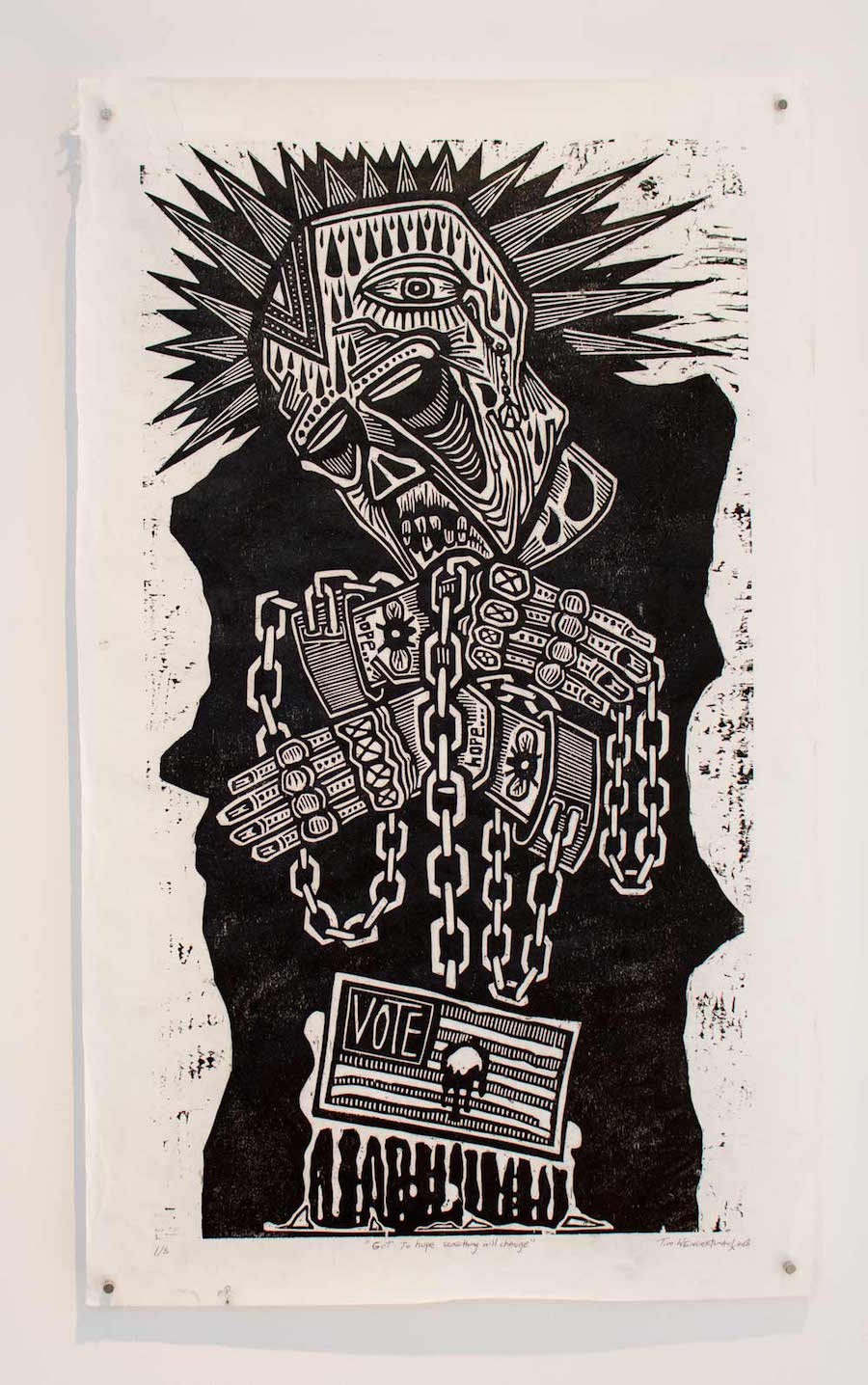 Tim Wengertsman, Got To Hope Something Will Change, 2018. Woodcut print on kozo rice paper. Image Courtesy EBK Gallery.
Some of the images are ones you'd expect to see in a show about voting. Neat voting booths populate Peter Waite's acrylic Voting Stations. Lindsey Fyfe yanks readers in with a hand-rendered map, a list of pitifully low voting statistics beside it. David Borawski's Not Fade Away spells out the word VOTE in the window, visible from the street. Joe Bun Keo has brought in a big helium balloon for each leter, the letters V O T E bobbing and crinkling as if they are held down by the weight of their own existence.
Others are witty, pulling the curious viewer in before they pack a surprising punch. Using French knot embroidery on lace, Felice Caivano's Women's Work riffs on still-pervasive gender norms and domestic tasks, and has particularly loud echoes in a period where groups of women have both made and broken candidates. In Adam Niklewicz's Untitled, a blue and brown broom leans against the wall, casting a long shadow. its blue bristles, facing outward, have caught dust and lint in them. The word VOTE, built entirely from bristles, is taped above. The pun is in the artist's label: "Analog technology for sweeping the floor analogically."
But those that hit hardest get in the weeds. In Erik Williams' "A Future Better Than This," hands cup a a cluster of crack pipes and syringes, as if they are sheltering them from a coming storm. The hands are dark and dirty; the word VOTE looms in red letters on top on them.
Erik Williams, A Future Better Than This, 2018. Photo on archival paper. Image Courtesy EBK Gallery.
In an accompanying label, Williams recalls the moment he took the photograph. He'd been driving through Hartford when he saw a woman reading the newspaper and weeping. The cause was an article on the state's opioid epidemic, from which her daughter had overdosed months earlier. She told Williams that she was going to get high too, to numb her own pain.
"I asked her what was she gonna do to get high, she wiped away her tears then reached in her purse and pulled out three crack pipes and one syringe used for dope and just held them in her hands," the label reads. "I will vote for a future better than this.
While Ben-Kiki said he considers himself a deeply political person—he reads the news, follows pundits on both sides of the aisle, and calls fake news when he sees it—the show does not have a partisan agenda. After the Nov. 6 midterm election, he said that he has his eyes on 2020, where he would like to see organizations across the country do "the exact same thing" in both galleries and virtual spaces, to drum up attention around voter turnout.
"What I did here can be reproduced everywhere," he said. "Private galleries, arts organizations, spanning the 2020 election from October to November. I think it's a pretty cool idea. If you fabricate a common thread that the art world can become a visual platform, you'll see a focus on social activism."
"So," he added, "that's what gets me going."