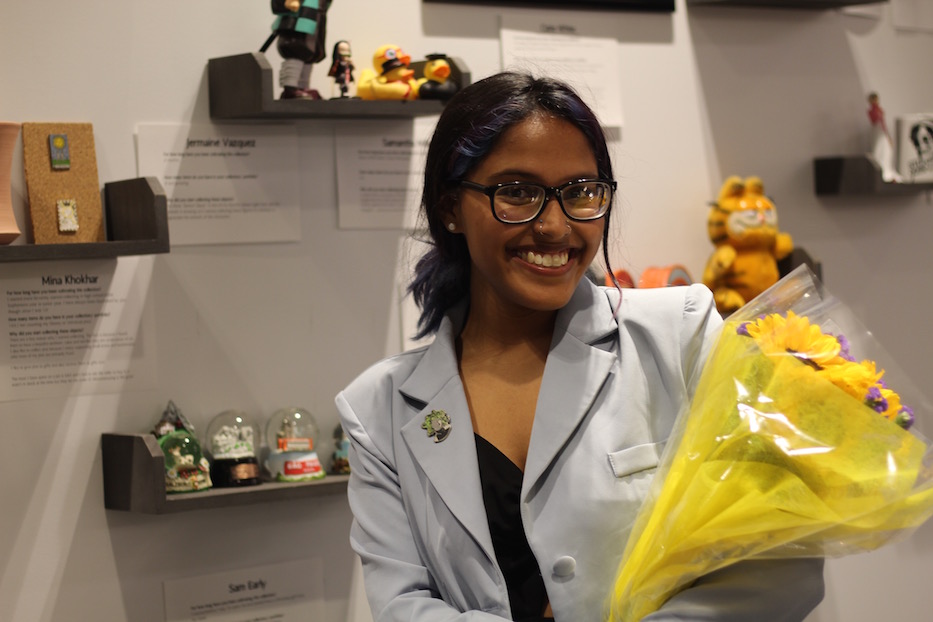 The Archive | Albertus Magnus | Arts & Culture | Visual Arts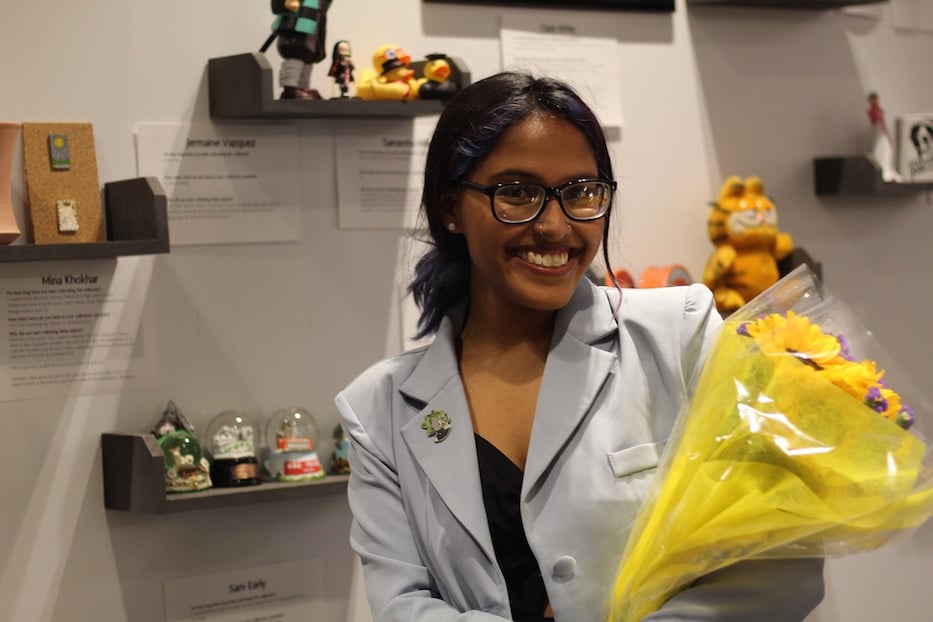 Curator Amina Khokhar, who is completing a degree in art management at Albertus Magnus College. Lucy Gellman Photos.
The pins are so small that they're easy to miss at first, glimmering from their spot on a cork backboard. On one, a sun gently rises against a blue background, warming the green earth below. In the other, beams of yellow light explode across the pearlescent frame, asking a viewer to come in and take a closer look.
Nearby, a plush Garfield sits on a shelf, his lids heavy. His Cheeto-colored paws extend around a large, striped furry paunch. A row of snow globes below transports a viewer to São Paulo, Salzburg, Mount Rushmore. Across the hallway, a suite of three poems joins this strange and varied archive, where no one has heard of an NFT and the future of analog is bright.
Welcome to Assem•Blage, a love song to collecting (and to, well, stuff) running at Albertus Magnus College through April 13. Curated by senior Amina Khokhar with support from Albertus faculty, staff, students, and alumni, the show puts 36 artists, hobby collectors and obsessive chroniclers in conversation with each other, creating a dialogue that soars from enameled pins and rubber duckies to painting, poetry, and handmade ceramics. In the process, it becomes a testament to the weight of making meaning in the physical world.
It is on view at the school's reopened Hubert Campus Center through April 13.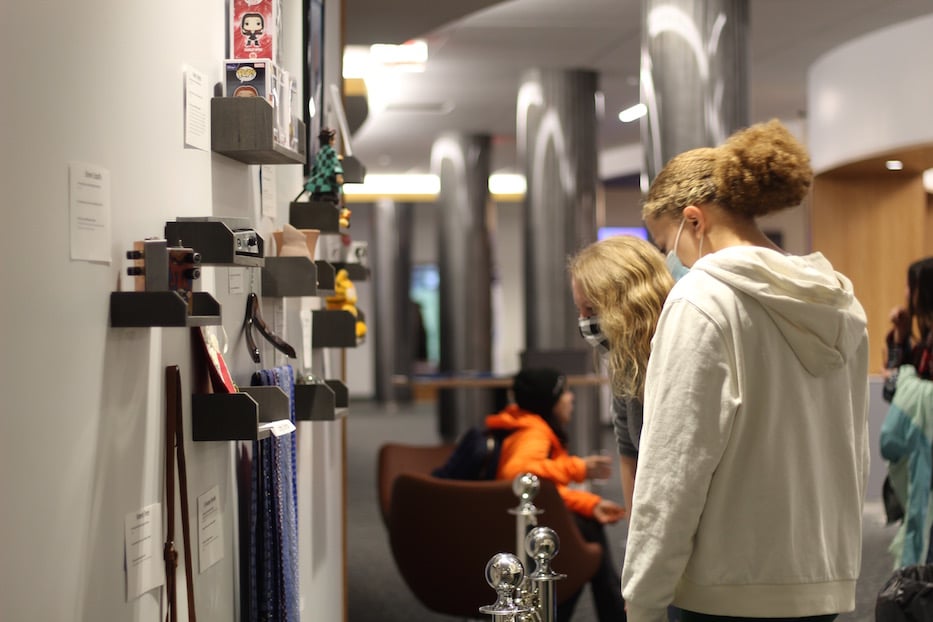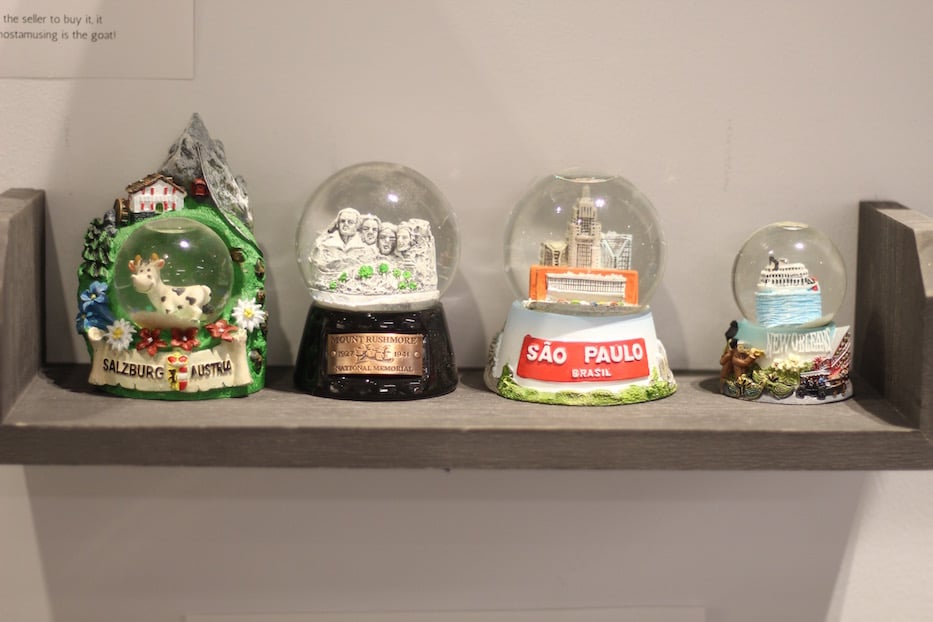 The story of Assem•Blage begins in East Hartford, where Khokhar grew up collecting enameled pins and patches during her teenage years. After squirreling away one of Disney's signature Epcot Center pins when she was 12, the young curator became fascinated with the objects, each of which doubled as a tiny, wearable piece of artwork. After spending her first earnings on a skateboard, she turned her attention to a pin collection that now numbers 144 and counting. They range from nods to tarot—she also has the sun card tattooed on her right forearm—to small-batch works by independent artists.
"They're addictive!" she said at an opening reception last week. "I want so many."
Khokhar continued to grow the collection as she graduated from high school, and started a degree in art management at Albertus. A founding member of the school's undergraduate "Campus Curators," she also noticed that "the walls [of the Hubert Campus Center] are so sterile," and started thinking about how art could transform the space. With the university's blessing last fall, she put up an interest form with a QR code and a simple ask: Talk about your own collecting practice.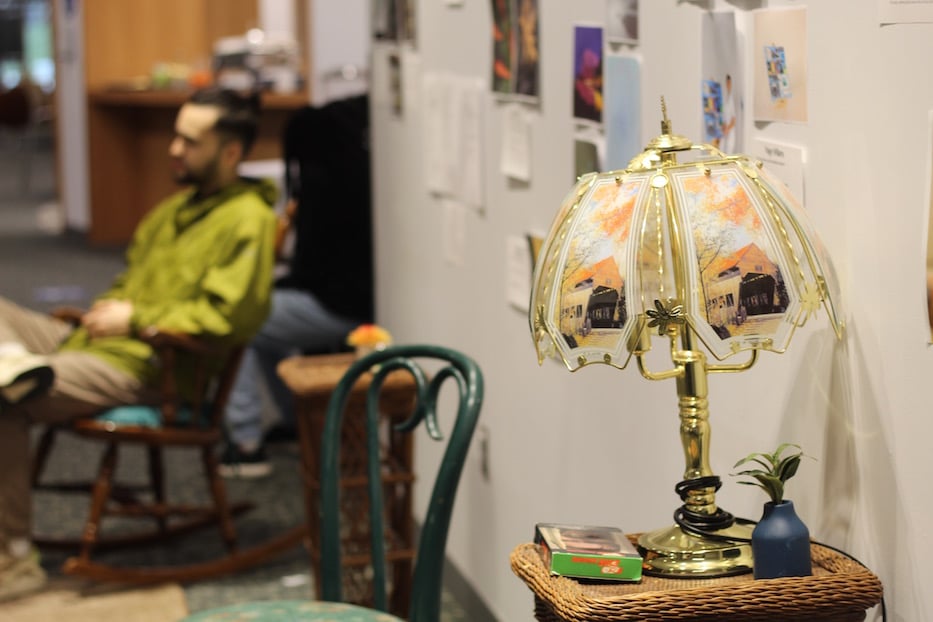 Almost 40 people submitted, including university President Marc Camille (his tie collection shows a particular affinity for silky shades of blue and geometric patterns). Khokhar worked with peers and faculty to install a show that was both two- and three-dimensional, with shelving for physical collections, a wall for photographs of collections, and furniture that turns the exhibition into a home-like, cozy interior space. They include pieces from the university's archives, on view for the first time in almost 100 years. Since its birth in 1925, the archive has grown to 250 manuscript boxes.
For each set of three or four objects, an exhibition label gives the viewer a chance to engage directly with the collector. Khokhar does this simply, with three questions that never change: For how long have you been cultivating this collection? How many items do you have in your collection/portfolio? Why did you start making this piece of art? It makes the show feel intimate, laying bare the nostalgia, tradition, and sometimes sheer compulsion with which people collect.
Last week, Khokhar jogged from one display to the next in a pair of her aunt's heels, pointing out time-weathered Raggedy Ann dolls, paper weights, vivid paintings, bottle caps, quilted Christmas decorations, jewelry and vintage tech equipment that each double as portals into personal history. At the far end of one wall, a jar of marbled blue-and-white dice sat below a glass cloche, tiny numbers peeking out from their sides. Beneath them, a gem-colored dragonfly spread its wiry wings beside a toy dinosaur and skeletal animal, raising its bony paws to the sky.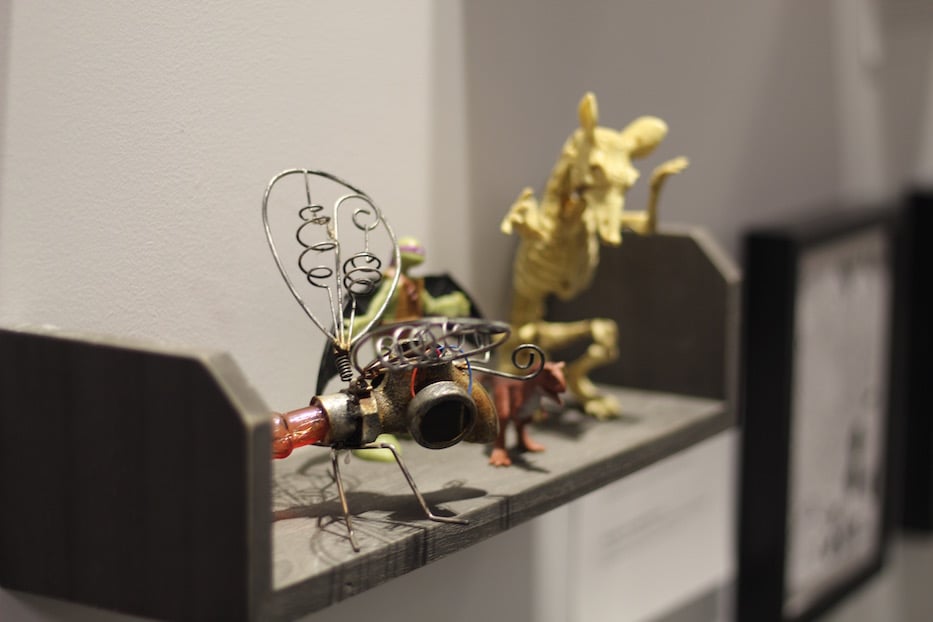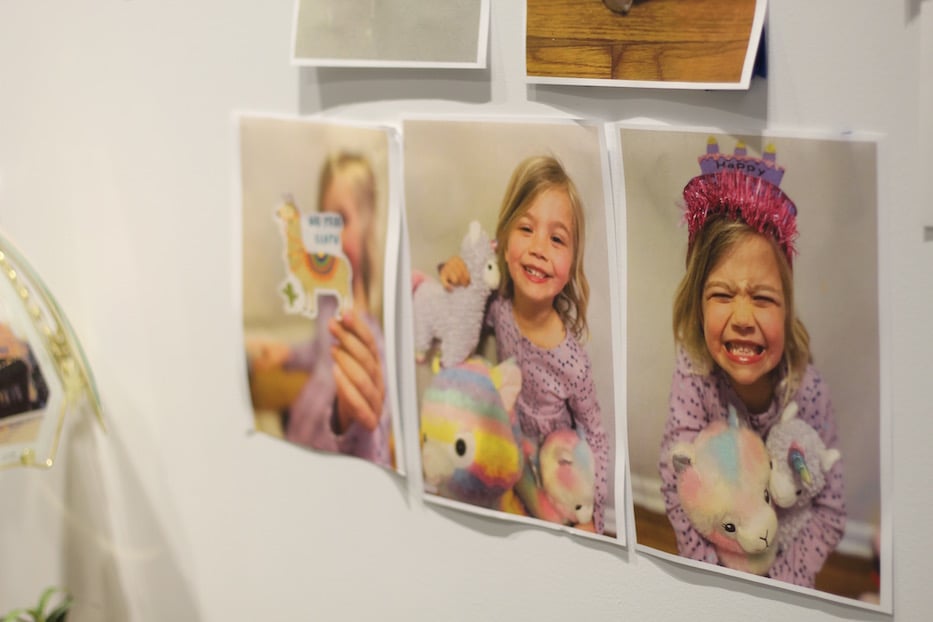 Top: Objects from Professor David Garaventa's "Office Menagerie." Bottom: Siblings Silas and Olivia Brushett with an impressive llama collection.
The latter set comes from Professor David Garaventa's "Office Menagerie," a collection of 20 objects that he has built over a quarter of a century, and had in his university office for six. From an accompanying label, a viewer learns that he assembled the group as a simple way "to engage students" when they walk into his office, some seeking academic help for the first time. Garaventa is a professor of Computer Information Systems at the school.
"The assemblage simply came together organically and with little thought given to a 'theme' or 'intent' but occasionally I find something that just says to me 'this belongs on the shelf,'" he writes.
Just feet away, viewers have the chance to get to know Maxim Schmidt, an Albertus alum, artist and curator who currently works as the gallery coordinator at the Ely Center of Contemporary Art. Beside a stuffed, well-worn Garfield toy and two blue-and-orange rainbows, Schmidt tells the story of his 40-object Garfield collection, which grew out of trips to Savers with his grandmother several years ago.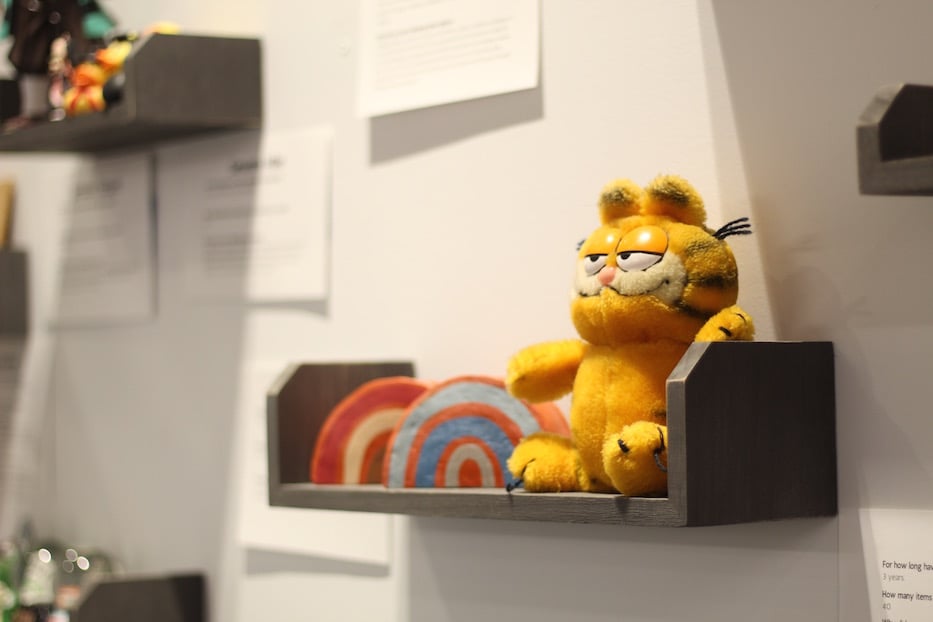 During those trips, Schmidt found a Garfield phone, and dove into the decades-long history of the orange devices washing up onto beaches in Brittany, France. The popularity of the cranky, perennially bleary-eyed character sparked something in him that grew during college. He now has "plush to painting to marbles to mugs" all based around the comic book character, as well as a few Garfield tattoos.
The story is not just the story of a wacky cat: it's a story of Schmidt and his grandmother bonding, of shared memories, of self-discovery in young adulthood. He has also contributed furniture to the show, including an antique lamp that helps Assem•Blage feel timeless and thrifty.
Other assemblages come full circle, diving into artistic practices that Albertus itself has helped nurture. Beside photographs of llama statuettes, stickers and stuffies that belong to siblings Silas and Olivia Brushett, viewers can spend time with three paintings from Albertus alum Paige Williams, who Khokhar looked up to when she was still an underclassman. In images of each, Williams shows off a style that is constantly shifting, from her own music-flecked nostalgia to her evolving Loc Series. Even as digital reproductions, the works feel at home, flanked by nature photographs from Alyssa Cruz and poetry from Janet (TJ) Rios.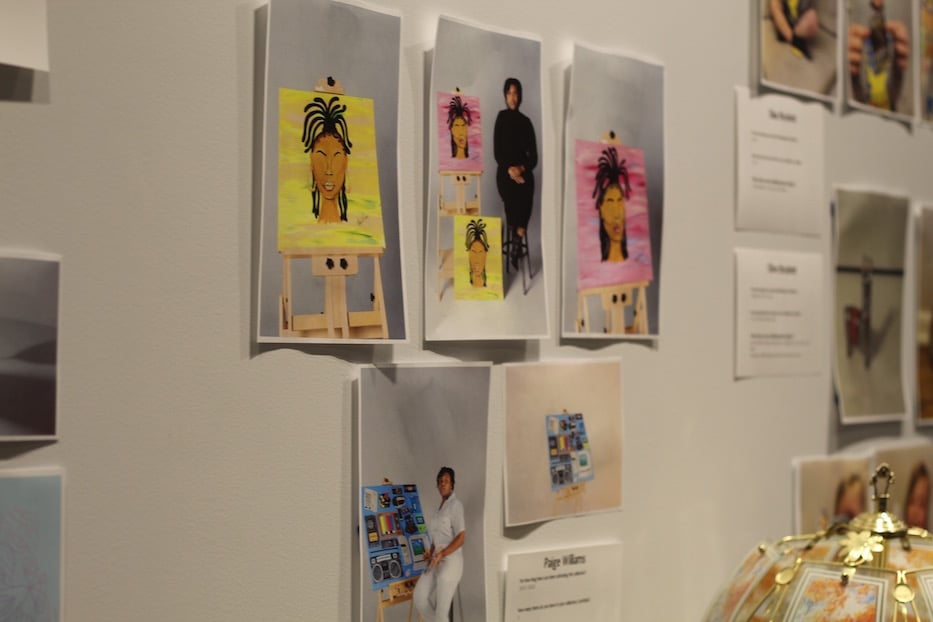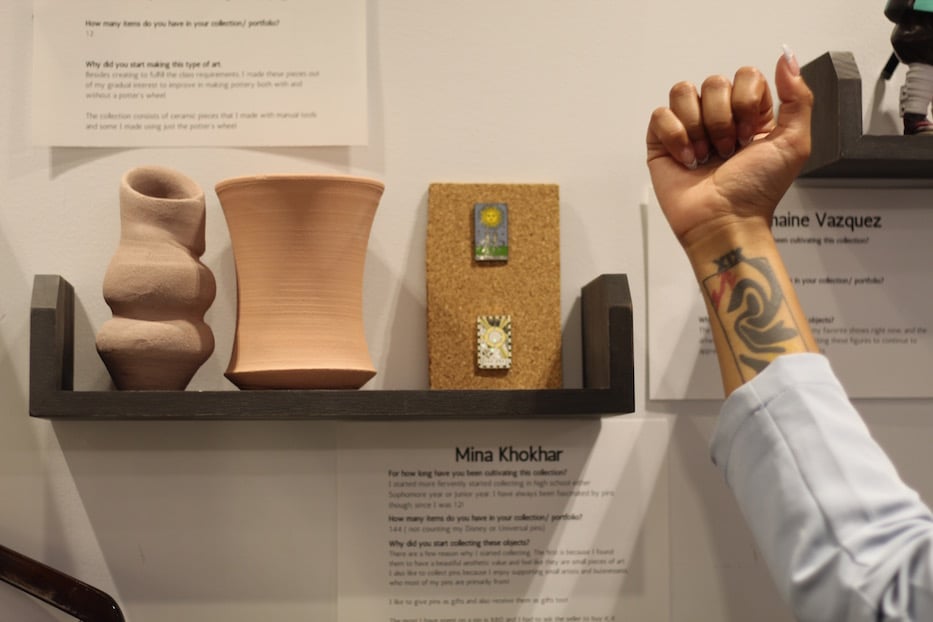 It's not a surprise, perhaps, that Khokhar has included two her own pins, with the same questions that she has asked all participants. Both based on tarot, they fit her personality—quirky, with a deep, bright-eyed sort of reverence for independent artistry and out-of-the-box flair. The curator is petite, with thick black frames, stripes of blue and purple in her hair and laughter that rings and swells through a room.
At an opening reception last week, a rendering of Medusa glanced out from the collar of her powder-blue blazer, ready to turn onlookers to stone. Atop her head, a wriggling knot of green snakes caught in the light.
"I love the fact that she has traversed through so many struggles," Khokhar said. "You cannot mess with her."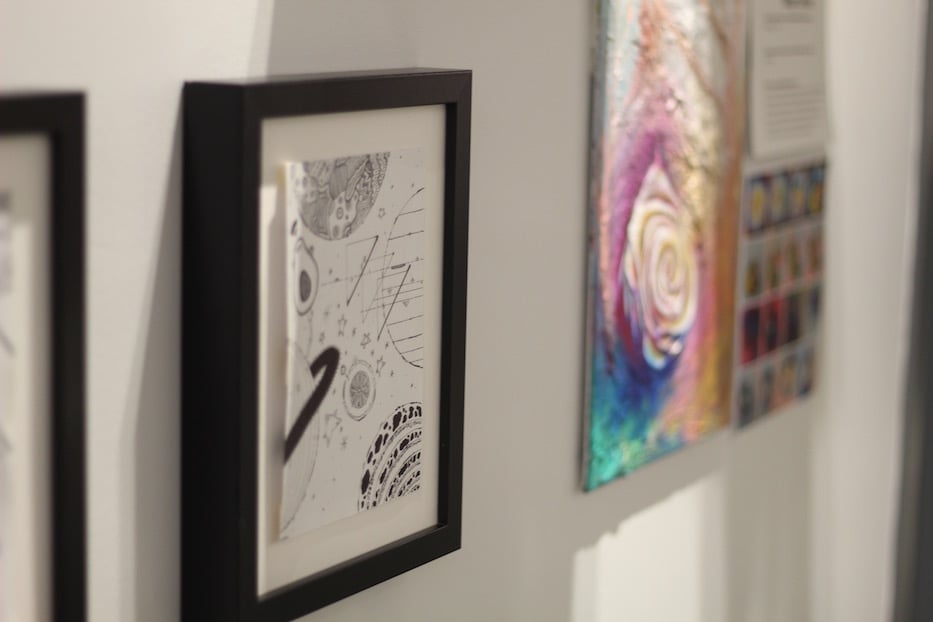 The exhibition includes three drawings from Admissions Counselor Lauren DeFoe.
What makes Assem•Blage rich, many times over, is its ability to function as an exhibition within an exhibition, telling dozens of stories in a single place. Not far from the "Office Menagerie," Albertus Admissions Counselor Lauren DeFoe has included a collection of three black-and-white drawings, pages where she has carefully filled in each centimeter of space on a page, and left some very intentionally blank.
A quick look at the label reveals that DeFoe began making the drawings a year and a half ago, while in lockdown. They become a living record of the world turned on its head, and a pandemic that may have changed shape but isn't yet over.
In the obsessive, layered blues of Camille's work ties, a viewer feels like they've had an unexpected peek into his closet that is both completely mundane and intimate, as though he is sharing a new-old piece of himself with the very student body he is entrusted with protecting. In Rios' poetry, they get a glimpse into somebody's innermost thoughts, and may themselves walk away with the courage to share what they too are thinking.
Assem•Blage is ultimately a joyful celebration of real, physical things that people can hold in their hands—a nod to a kind of old-school sensibility that feels fresh and meaningful after a two years spent on screens, and a decade that has seen the meteoric rise of social media (itself an obsessively curated medium) and viewer engagement in the virtual world. Yes: a vase of scalloped bottle caps is infinitely Instagrammable, and viewers can walk away from the show with a virtual record of it if they wish.
But isn't it more fun to talk to Harris Wallman, the child of professor Sarah Harris Wallman, about how he started his collection with a summer cleanup on Lighthouse Point?
This isn't kitsch or nostalgia or junk, Khokhar submits. It's part of a jubilant, quirky, full life well lived, no filter necessary.
Assem•Blage is on view at Albertus Magnus College's reopened Hubert Campus Center through April 13.