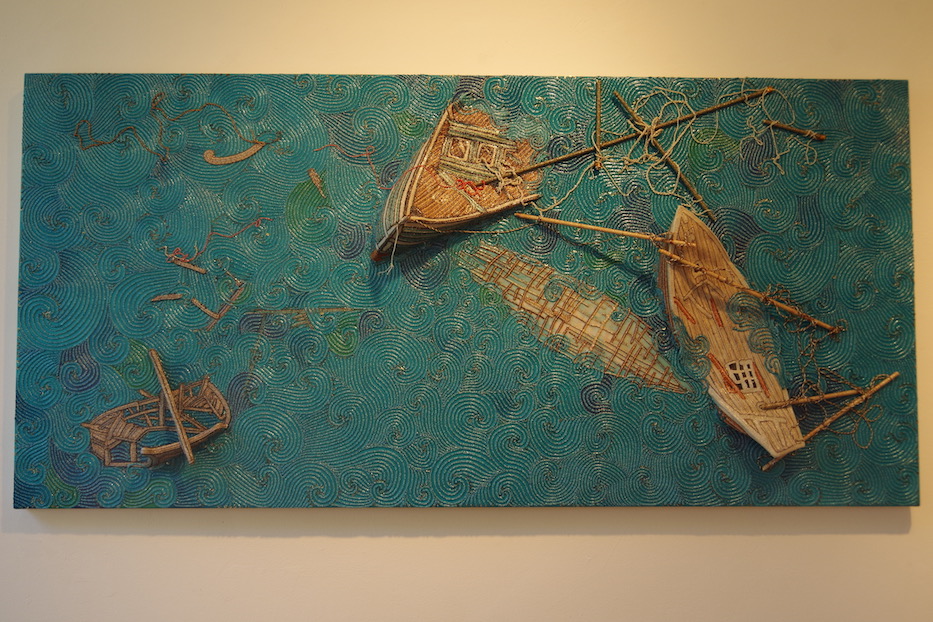 East Rock | Ely Center for Contemporary Art | Arts & Culture | Visual Arts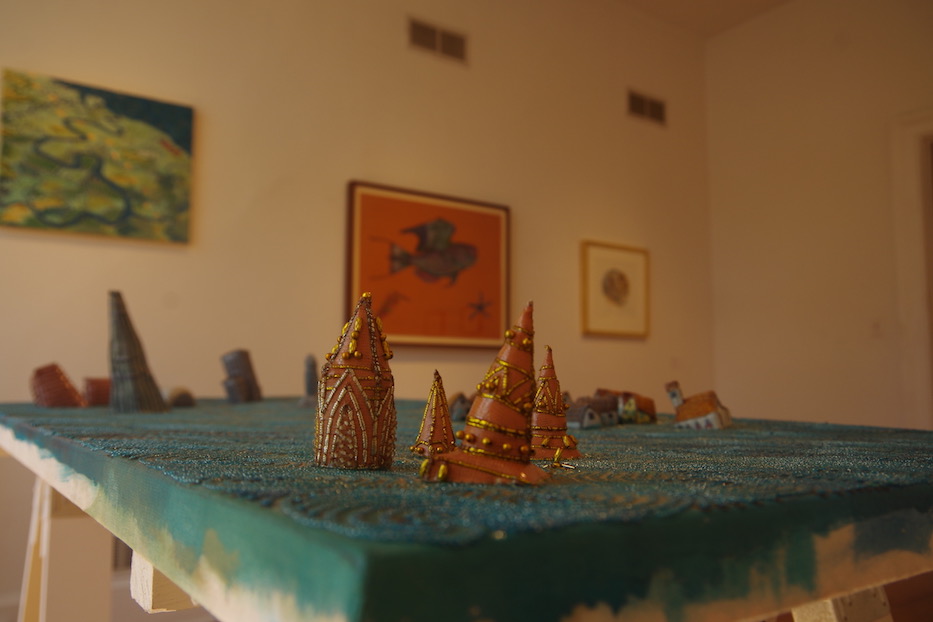 McKenzie Belisle Photos with permission of the Ely Center Of Contemporary Art.
In an old East Rock house, up a creaky staircase, lays a sunken city. It's being swallowed up by the rising waters of the ocean, and not slowly either. Bright and colorful city structures, religious buildings, and cottages are flooded with equally striking ocean waves.
Where is this, viewers ask themselves? Is it our world, or another?
Curator Fritz Horstman has asked that question with Water Access, one of two concurrent exhibitions now on view at the Ely Center of Contemporary Art on Trumbull Street. The exhibition, which presents artists' relationships with water through photography, painting, sculpture, drawing, and beadwork, runs through June 23. It has an earth-bound equivalent in Sea & Soil, curated by Debbie Hesse and also up through June 23.
"Some of the work is overtly political in its environmental concern," wrote Horstman in press release for the show. "Others depicts its sublime qualities, its mundane aspects, the life it supports, or the ways in which we interact with it."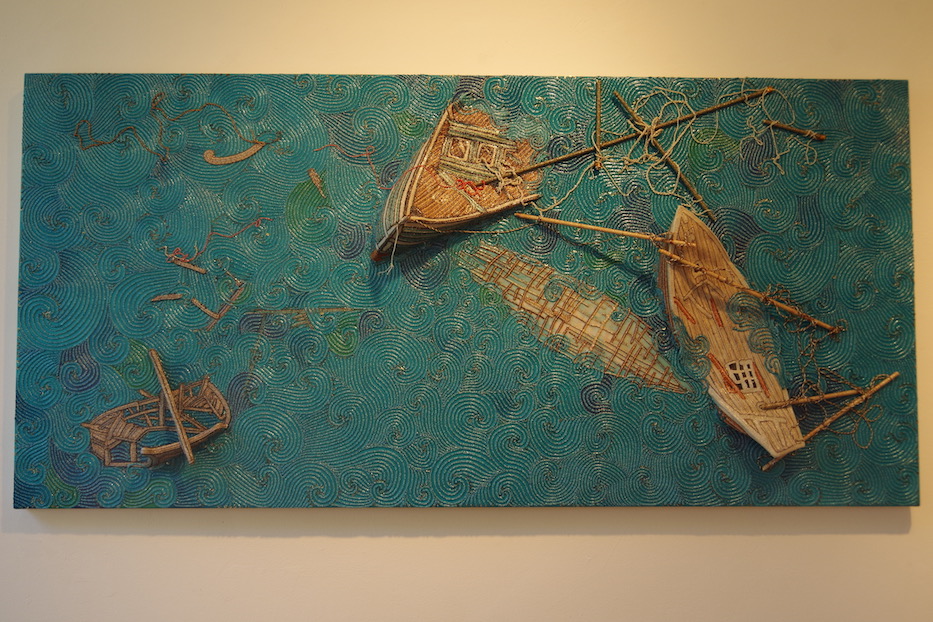 The works are striking. In Leila Daw's Rise, a sunken city protrudes off the horizontal canvas surface in Burmese shwe chi doe, a style of embroidered tapestry beadwork. The bright beadwork of the buildings suggest that the city was once beautiful and thriving with life before the painted and embroidered swirling surface of the ocean flooded it.
Which compels viewers to ask: is this the future of our planet's most vibrant cities if action is not taken to prevent global warming?
This style is also present in Daw's Never to Arrive, which shows the ruins of tall ships in the unforgiving waters of the ocean. In this piece, Daw shows various half-submerged tall ships, their masts broken and laying in the water.
Their lines are flung about in a haphazard order, swimming in the beaded mess of ocean waves. The relationship one has with water in this piece is one of looming danger and unpromised safety as one ventures out into the unpredictable ocean.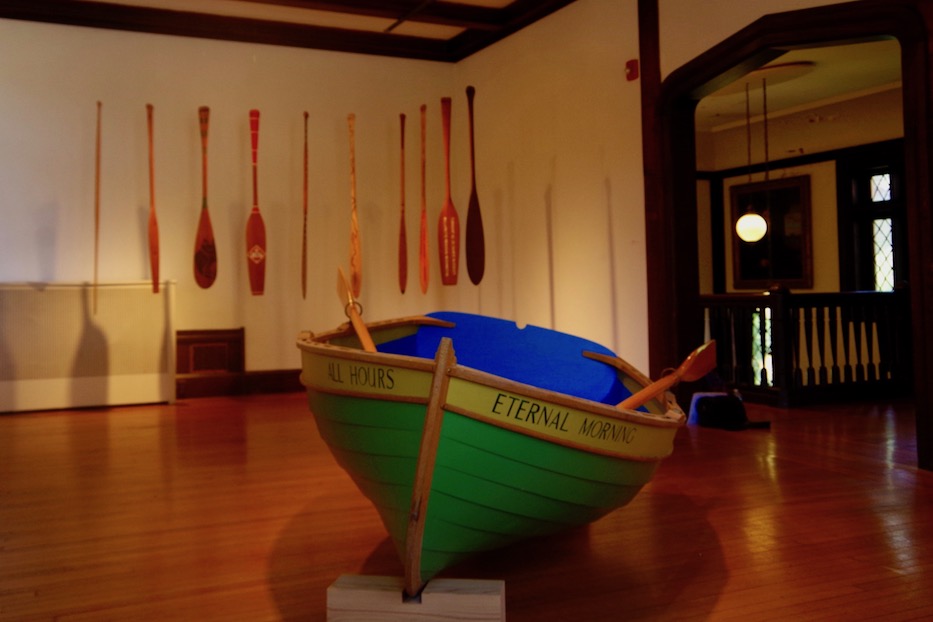 Elsewhere in the exhibition, there's the sound of someone speaking smoothly but quickly behind a black curtain, ensconced in a room within a room. Facing the wall parallel to the entrance, black fold-up chairs are arranged two by two, in two columns with a space big enough to create an aisle to walk down. A clicking tongue, mimicking the sound of dripping water, comes through two small speakers. A deep voice goes: "gleee, glic glic, glic gee."
A cacophony of breath comes rushing in, as if water is flowing somewhere nearby. Finally, a moving waterfall appears on the wall. Something lands with a thud; various chirping sounds begin. It slowly fades, and the insistent click, click, clicking of a tongue is left behind until that fades too.
The video, a recreation of a famous waterfall in Jezzine, Lebanon, was created by Christine Kettaneh and Fritz Hostman in 2017. While Kettaneh was in Jezzine, she recorded both locals and visitors as they used their voices to show the sounds of the water. She then sent them to Horstman, who arranged them to make what is now called Awali Voices.
Along with Awali Voices, Horstman has created two other videos using the same technique and asking people to create the sound of water using their voices. In Ice Voices, Horstman has mixed voices from the Tall Ship Antigua while it was sailing from Longyearbyen, Svalbard during a June 2016 Arctic Circle Residency. Together, they create the sound of ice.
The second video titled Kannagawa River Voices uses the voices of residents of Onishi, Japan to make the sound of the Kannagawa river in 2015.
These videos showcase the relationships that cultures and individual peoples can create with the water they have access to. By having people recreate the sound of the local water sources and then ordering them in specific arrangements, Horstman and Kettaneh show the complex and intricate ways in which one perceives their surroundings. They allow the listener to visualize water access before actually seeing what they are hearing.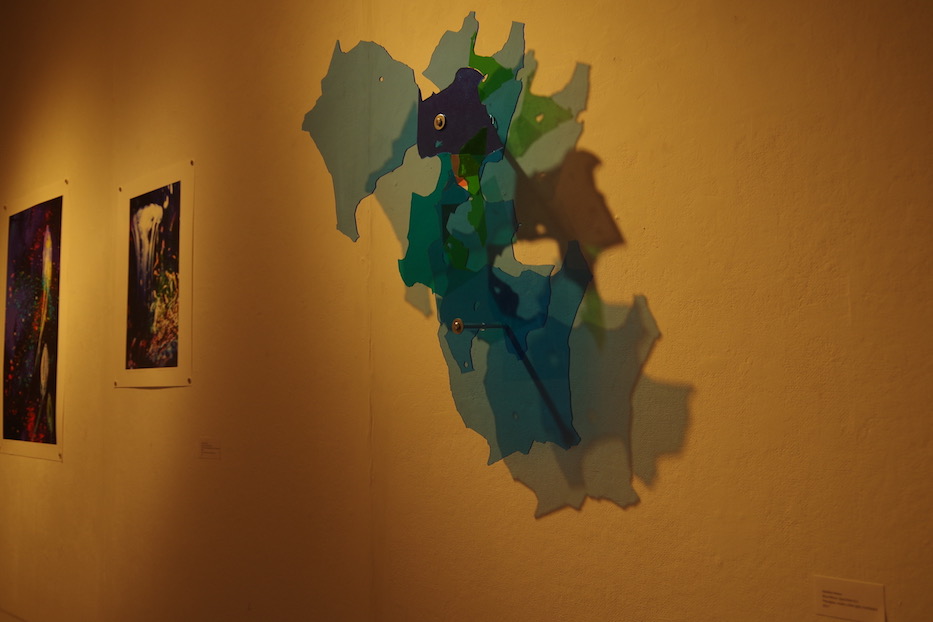 Downstairs, Hesse's Sea and Soil keeps the conversation going—or starts it, depending on what floor of the Ely Center viewers go to first. A painting of beautifully green plants, floating seaweeds, and a school of silvery-blue fish hangs on the wall, a visual presentation of what one thinks lies below the surface of deep blue waves of salty ocean water.
The idea behind Sea and Soil came from rhizomes, "an underground root system that is often seen under our feet and under the surface of the water," wrote Hesse.
Following this idea, Hesse has included Laura Barr's Ocean Elegy 18, depicting underlying forests of seaweed that were once a part of the ocean's ecosystem. This piece, at first glance, seems like just another painting of the beauty that is underneath the ocean's surface— like the beautiful animation of Nemo, and the world in which he is from. However, the title of the piece leads to an entirely different story—an elegy is meant to memorialize the dead, not celebrate the living.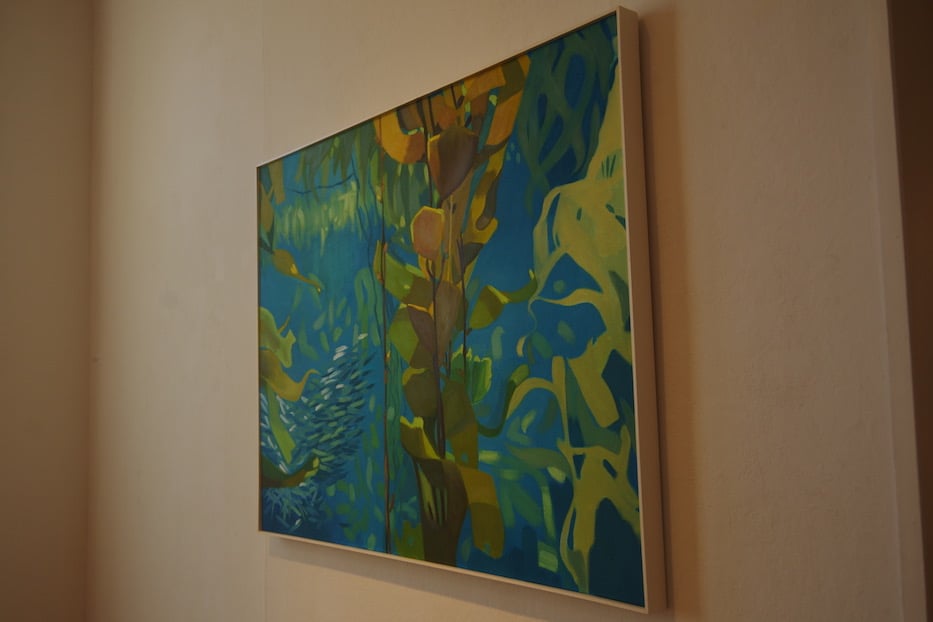 With the title, Barr gives a visual of what's been lost, which one may not have realized was lost in the first place. The painted ocean scene depicts it as thriving and other-wordly, an image many viewers may still have in their minds.
In recent years, as global warming progresses, this idea has become no longer accurate. Barr's piece is a political statement of concern and in loving memory to what has been lost and what will continue to be lost if nothing is done to prevent it.
Soul by Eva Mantell, sits on the floor nearby. Where one might expect a living thing, there's an entirely technological organism—an assembly of extension cords with an iPad charger plugged into the end. An iPad, hooked up to it, shows a picture of green tropical leaves.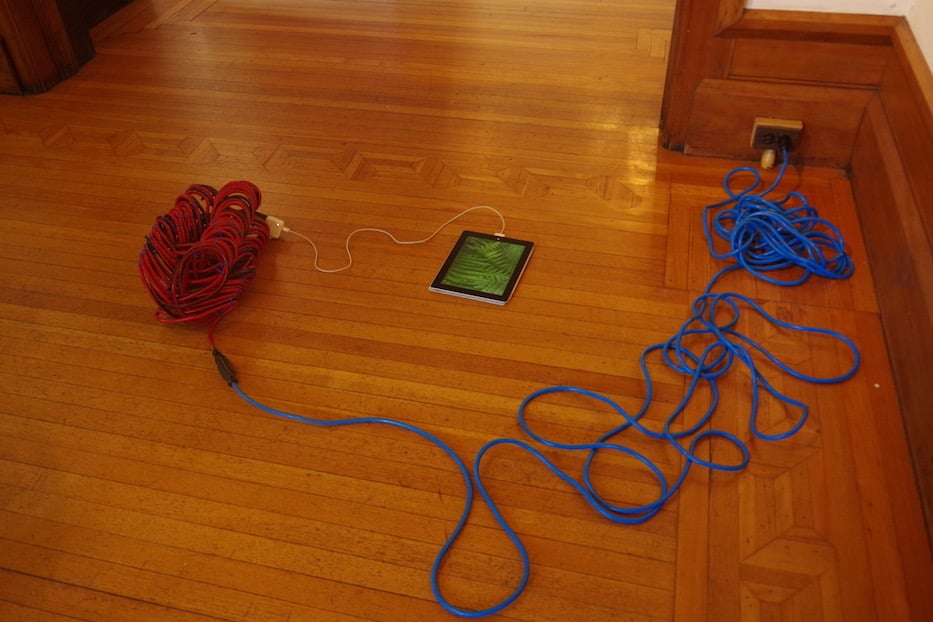 The shock of how disorienting Matell's work is leaves one stunned and with the feeling of displacement, as if they should be on vacation somewhere 'exoctic' instead of the exhibition.
With this piece, Mantell shows the way humans live through technology, often to the point of using it to view nature rather than going into nature itself. It can also be interpreted as a representation of a future in which the many plants known today can only be viewed through technology as it has become extinct.
Both Sea and Soil and Water Access run through June 23, 2019. For more information and a schedule of events, check out the Ely Center's website. McKenzie Belisle is a junior at New Haven Academy, interning with the Arts Paper for three weeks this May.