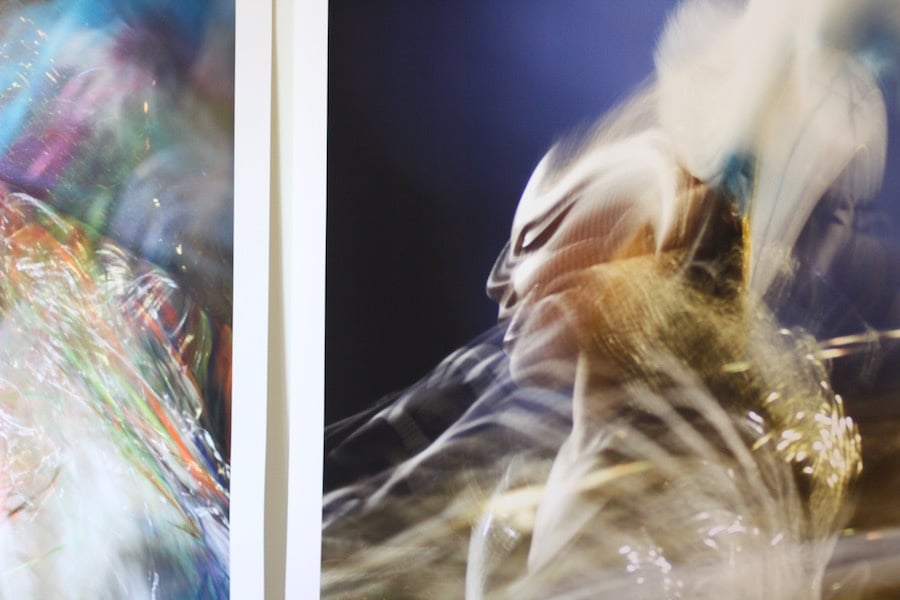 City-Wide Open Studios | Arts & Culture | Visual Arts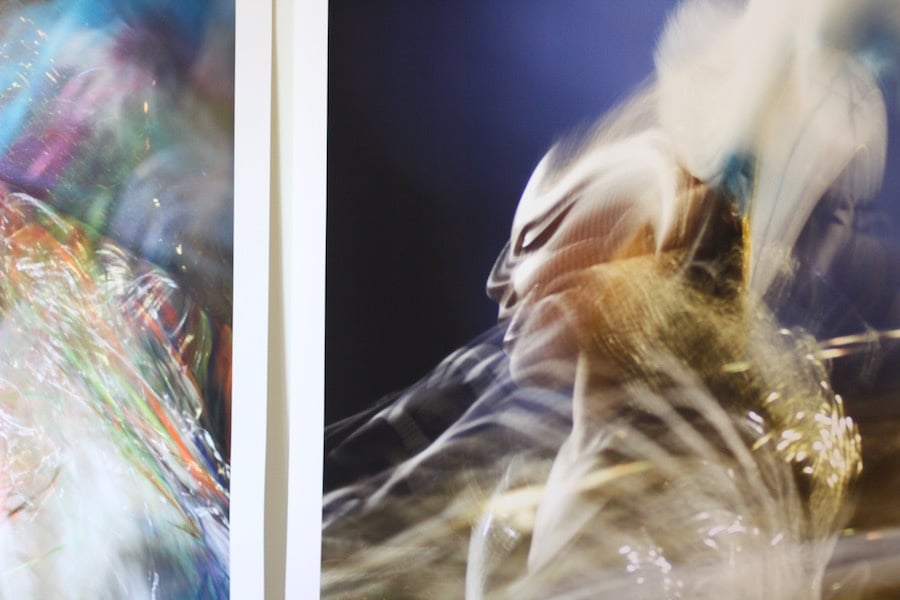 Lucy Gellman Photos, with permission of the artists. Pictured here are two of Weston's photographs, which she prints at Lotta Studio.
It's not totally clear what, or who, we're seeing at first. A blur of white rises from a human head, soft and fringed at the edges. There's blue at the base, more electric than the night sky around it. A cluster of gold smudges at the shoulders, and arcs of light explode out from it. A face looks forward, left eye blurred, lips hanging open. Breath continues passes in and out.
So unfolds Kim Weston's Layers Of The Soul, a series of long-exposure photographs taken at powwows of which she and her family are part. Saturday and Sunday, she was one of over 100 artists to kick off Artspace New Haven's 21st annual City-Wide Open Studios (CWOS) at Erector Square, the cluster of labyrinthine buildings on Peck Street once used for making Erector Sets.
This year, Artspace has built the event, weekends, and specific commissions around the theme of "wellbeing." A full schedule of CWOS events and locations is available at Artspace's website.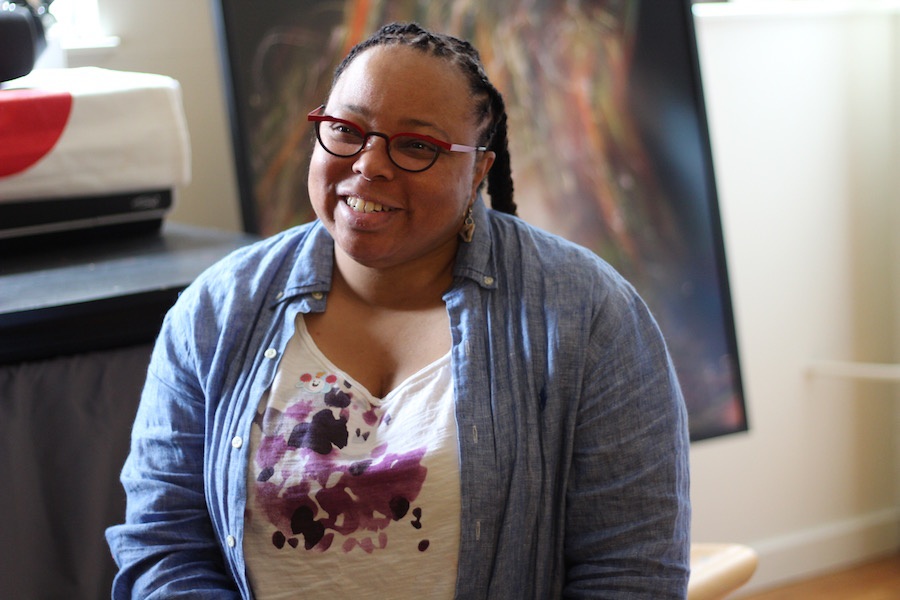 For Weston (pictured above), who is part Mohawk, the theme had particular resonance Sunday afternoon. As New Haven's Columbus Day Parade unfolded downtown, she spoke about the role her practice plays in connecting her back to indigenous culture, particularly as she and her wife pass it on to their six children. For the past four or five years, she has been photographing powwows using 10- to 15-second exposures, presenting a propulsive, personal and deeply moving take on the celebrations.
"Part of wellbeing for myself is shooting and taking photographs at powwows," she said, addressing a handful of attendees who had come for an artists' talk on Indigenous People's Day with her and Artspace Artist-In-Residence Erin Lee Antonak. "For me, it's a form of meditation … into this moment, into the spirit, into the energy that's going into a powwow."
When Weston is shooting—a practice that is as spiritual as it is technical—she sits on the ground, to be close to the movement of dancers and feel music and vibrations come up through her body.
It's a tradition that began five years ago, during one of the powwows she was documenting. As the celebration unfolded, Weston could feel an outside photographer behind her shoulder, trying to get the same shot. Powwows are typically open to the public (other ceremonies, she said, are not), so she dindn't mind the photographer being there. But if he was going to come away with the same image, she realized that "I wanted a different take."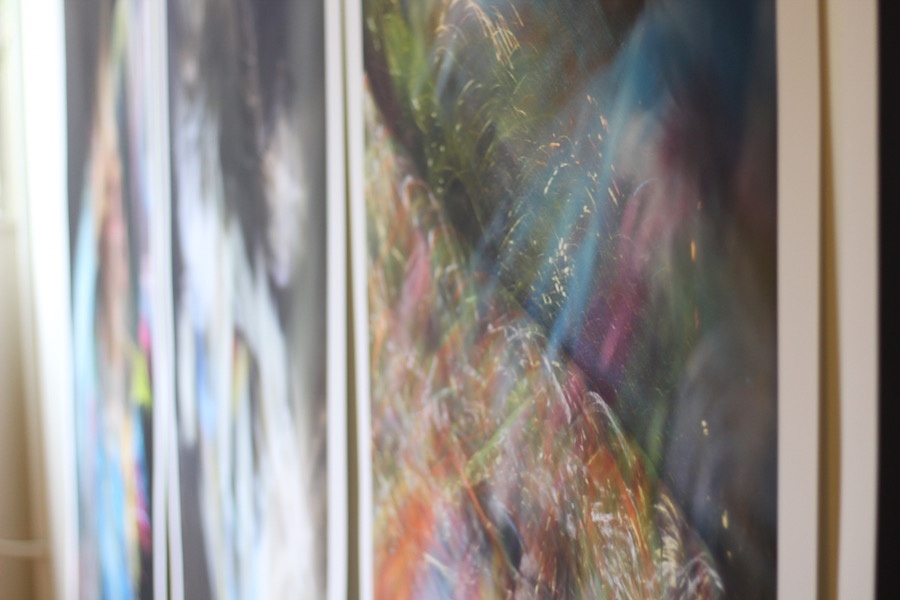 It's also a process that has taken time. As a mixed kid growing up in New York, the artist saw her family make a decision that "it was easier to be Black than it was to be Native," keeping themselves a certain distance from Mohawk traditions. In her teens, Weston found herself asking her father for more details about that part of her heritage, becoming more involved the more she learned.
She credited both her teenage curiosity and now-wife, who is Seminole, with much of the cultural knowledge she now carries with her. Knowledge that she tries to spread not just on and around Indigenous People's Day, but all year long.
"We all know Columbus didn't discover America," she said, describing her own realization that so many Native people had been wiped out because of their initial willingness to share culture and customs. "It's really sad that kids don't know more about Native people."
Photographs seemed to pulse and move as she spoke. In one print, a cloud of electric white fills the center of the frame, bright wisps of red, yellow and blue running through it. Threads of orange, trailing through the air, glow above. Fire licks the lower left corner. In the background, the cover of night has enveloped everything else.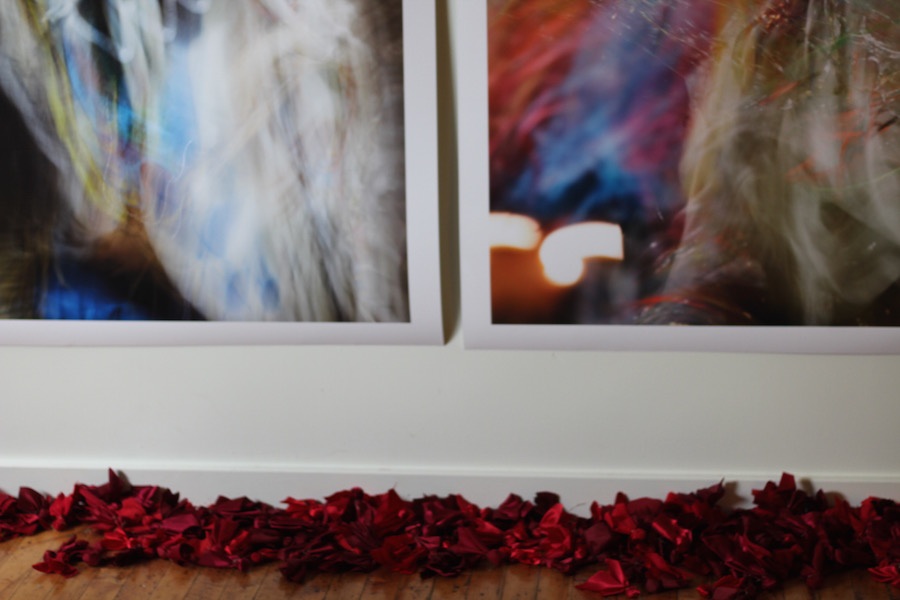 In another, a figure moves forward, almost spectral as she dances toward something beyond the frame. She is surrounded by a ring of bright color: neon blue, pink and yellow, with white that peeks through at the top. A thick band of blue trails her as she moves.
Sweet-scented bundles of tobacco sat wrapped below the images in red silk. Weston handed them out as she expressed her gratitude to attendees at the end of the talk.
"There's lots of stories that need to be told," she said. "Columbus did what he did, but we're still here … proud, happy, trying to show that Native people are not just stuck in a museum or a cabinet."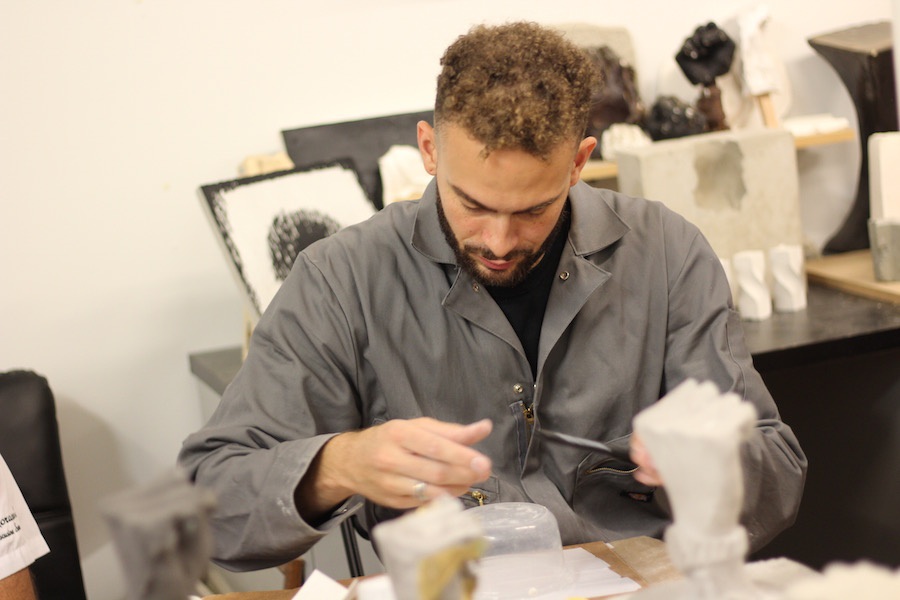 Weston was just one of several artists to hone in on the theme of "wellbeing" in their work over the weekend. Just down the hall, sculptor Kyle Kearson walked attendees through a mold-making demo, taking volunteers from an adoring crowd of friends and family. As Kearson mixed plaster, pigment, and water, New Havener Josh McGee closed his fist and plunged it into a fast-gelling mixture of water and seaweed-based powder called alginate.
A bubbly freshman at Metropolitan Business Academy, McGee had come to the demo with his parents and older sisters Taliyah and Treneé. Now, he was literally part of the process. Beside him, Kearson's plaster mixture had turned a deep gray, smooth and shiny like cake batter before it enters the oven. He helped McGee extract his hand from the container of alginate, a pint-sized silo made from cardboard and duct tape.
McGee clenched and unclenched his hand, laughing at a cool sensation the alginate had left it with. He chatted about his practice as he waited for it to set.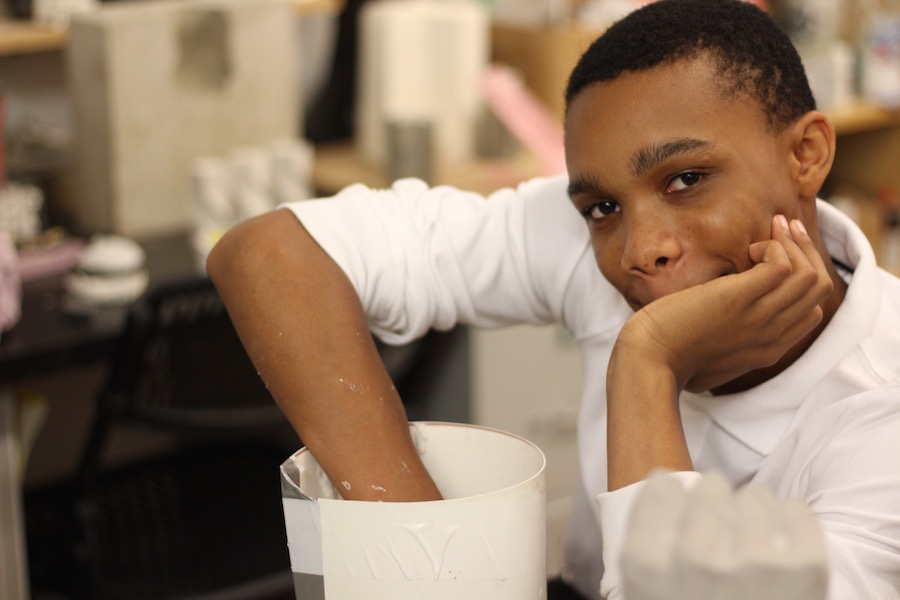 "Wellbeing for me is being in my studio," he said, motioning to the work around him. "This is where I'm able to come and release many things … a lot of time, there are frustrations I have."
Specifically, Kearson said, he uses his time in the studio to work through frustrations with society, and its cyclical, systemic oppression of people of color. Often, that means work that is conceptually and physically taxing, in which "I do things that require a lot of my own body."
But not always—in May and June of this year, he took a brief break from sculpture to work on a small blue- and-white canvas, fashioning it to look like a sort of flag. He fixed a fat, curled length of barbed wire across the top and titled it Depths after he was finished.
"It's about the wellbeing of our community," he said. "It's not that I'm addressing how to get better, but that it [oppression, in several forms] exists. I aim to address that head on."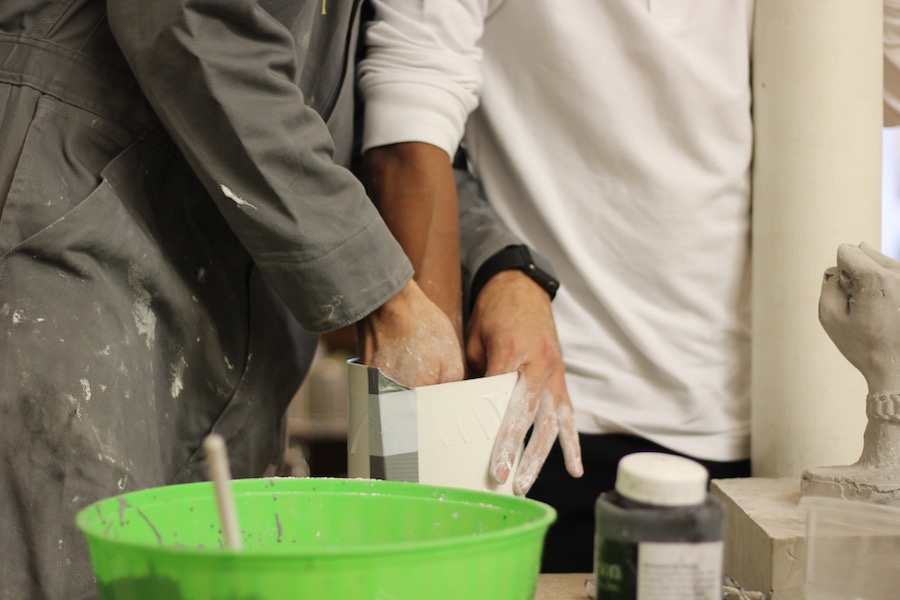 Across the parking lot in building three, multimedia artist and sculptor Joseph Saccio was also integrating the theme into his work—without even having thought about it beforehand. Near the door of his studio, a series of small wooden models stood at attention on a table, tiny plastic figures placed at their bases and tops for scale. When touched, they rotated on tiny, individual Lazy Susans. Branches extended their thick, gnarled fingers as they spun slowly.
Saccio explained that they are models for 20-foot, unrealized monuments to his son, who was killed by a bus on Whitney Avenue in 1979. Now as he works through new material, he pulls them out as a testament to what he has experienced, and how his work has helped get him through it.
"The work has to do with death and loss, and kind of coming to terms with that," he said. He pointed to a specific model, where wood plinths shot forward, foreboding and impenetrable. "Can you imagine it? Like you are coming on a horizontal forest. It would be very sobering."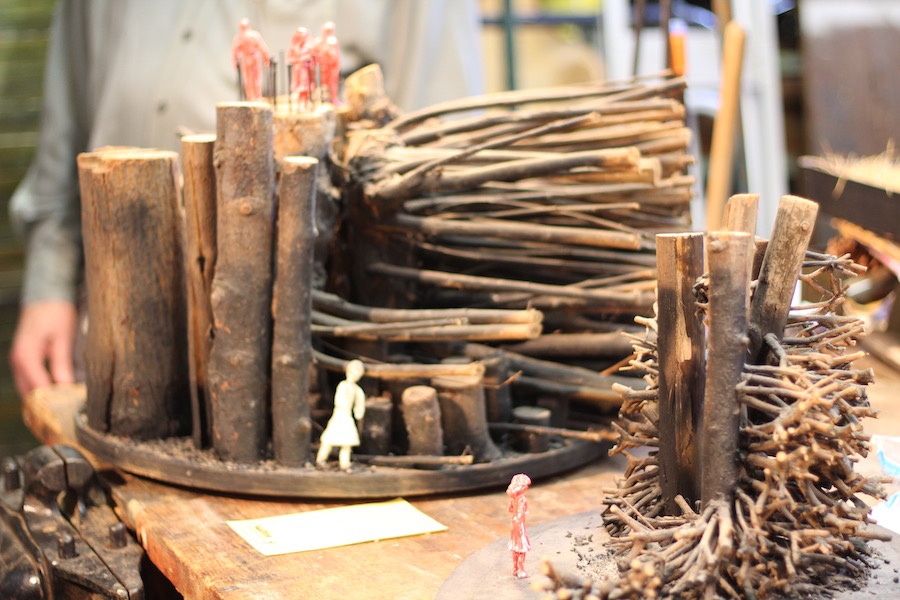 At the center of his studio, a knobbly section of cherry tree hung suspended over a base of black oak. After receiving the wood—he sources material from street and neighborhood cleanups, donations from friends and colleagues, and foraging for fallen branches and twigs—Saccio said he plans to make a reflection on aging out of it.
"I love it," he said of the space, where he has been for over two decades. "It's my personal world. What you do in your studio is not always acceptable [for exhibition] … but you make a new and different life. You have the freedom."
Up the stairs in Erector Square's building three, artists Fethi Meghelli and Maria Morabito had two different takes on the theme, which they had both initially shrugged off when Artspace announced it earlier this year. Neither has ever paid much attention to the themes, they said. Both have participated in CWOS for several years now. And yet, as they were preparing their studios down the hall from each other, "wellbeing" seemed to creep up on them.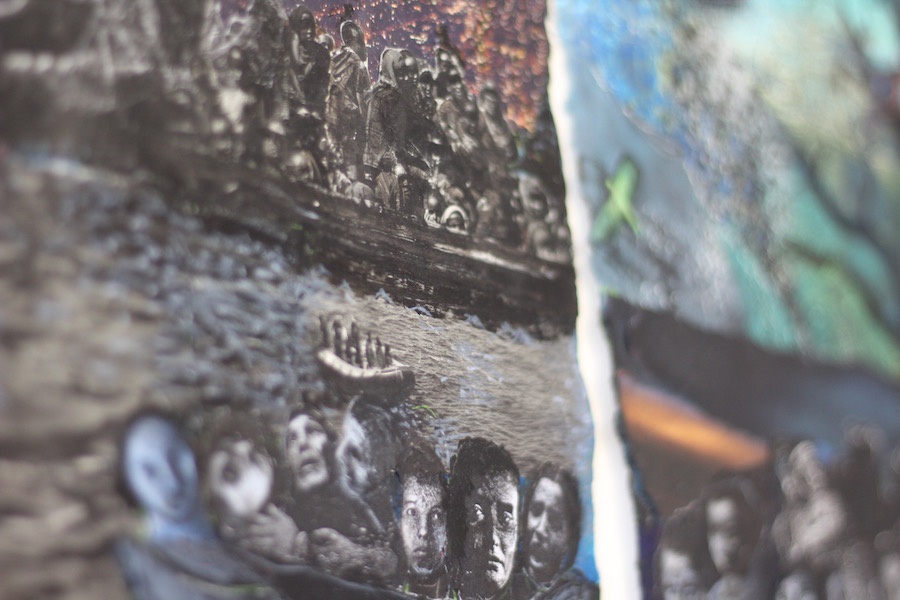 "When I made these, I was not conscious of the theme," Meghelli said, gesturing to a series that he completed last year on the refugee crisis, using paper, magazine cutouts, paint, and bits of old maps to create miniature scenes of forced migration. "I don't think about those themes each year."
But as a visitor praised a painting propped up in the center of the studio, Meghelli affirmed the role of art making in his own wellbeing. In the lower righthand corner of the painting, a doctor is decked out in blue, a mewling baby in his arms. Something blocks where the doctor's mouth should be. In the upper right, there's the smudge of an American flag. Horses run through the canvas, a reference to the rocking horses of Meghelli's youth. A swath of red drenches the background.
It's catharsis, he told her. "I need to keep staying alive."
For Morabito, it's the wellbeing of coming full circle. In the past decade, she has moved from Connecticut to New York City, coming back each year to exhibit at CWOS and spend Erector Square weekend with friends. Around her, a series of bulbous and doodle-inspired papier-mâché shapes did the talking: some smooth-edged like big jelly beans, others prickly and rounded.
In one piece she'd brought Sunday, she paid homage to her pet hedgehog Arturo, who had been "soft on the inside and pointy on the outside." Another, painted Pepto-Bismol pink (pictured in the back above), birthed a kind of looping three-dimensional doodle. "It's called Woman, because women are the most complicated," she said. A folded copy of the New York Times from the Brett Kavanaugh hearings sat on a nearby table, with an empty wine glass perched on top.
"It keeps me sane!" she said of her work, of which she'd only been able to bring a small fraction from New York. "It's expressing yourself, which is a necessity for so many people. I have these things in my head, and they have to come out, and this is how they come out."
That was also true for artist Zachary Keeting, standing at the center of his warm, sun-soaked studio on Sunday afternoon. After his mother's death two and a half years ago, Keeting began to produce works based around the idea of "burden," or of carrying a weight that seemed insurmountably heavy. He chose six-by-seven foot canvases for the task, so unwieldy that they became physical painful to lift from the floor to the wall. He explained that the act of lifting them was part of the process of finishing the work.
Now, they stand out, mammoth and abstract, with thick strokes of color and hyper-specific titles he has added to contextualize the works. He motioned to a huge gray, white, gold and purple canvas titled what a simple thing it seemed, that vast yellow light sailing slowly, based on Samuel Beckett's 1951 novel Molloy.
"So, that's kind of the opposite of wellbeing," he said, the smell of oil and acrylic paints drifting over the paint-splattered floorboards and mixing with an IPA he was sipping. He paused. "But at the end of the day, I would like it to be life-affirming."