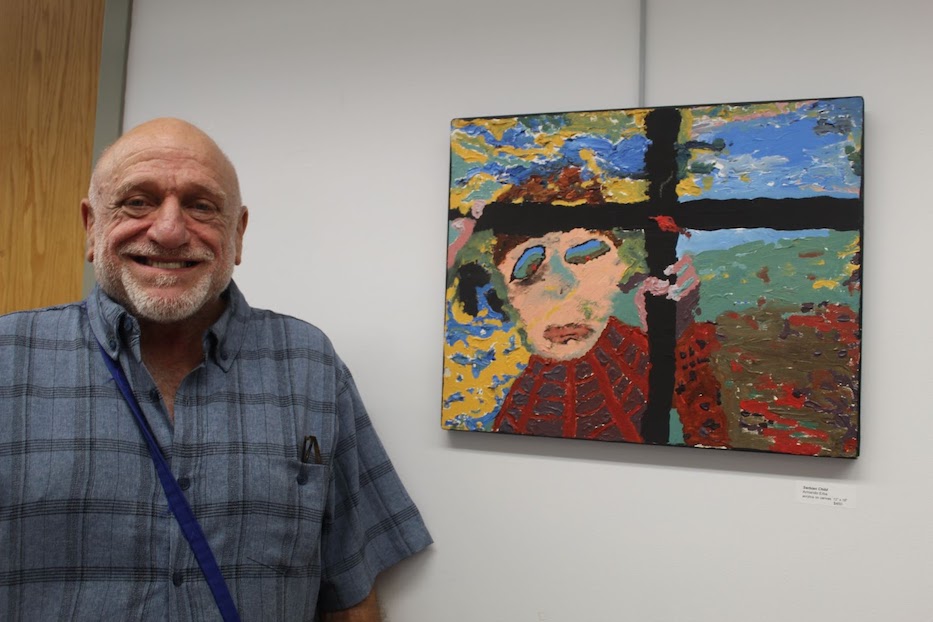 Arts & Culture | New Haven Free Public Library | Visual Arts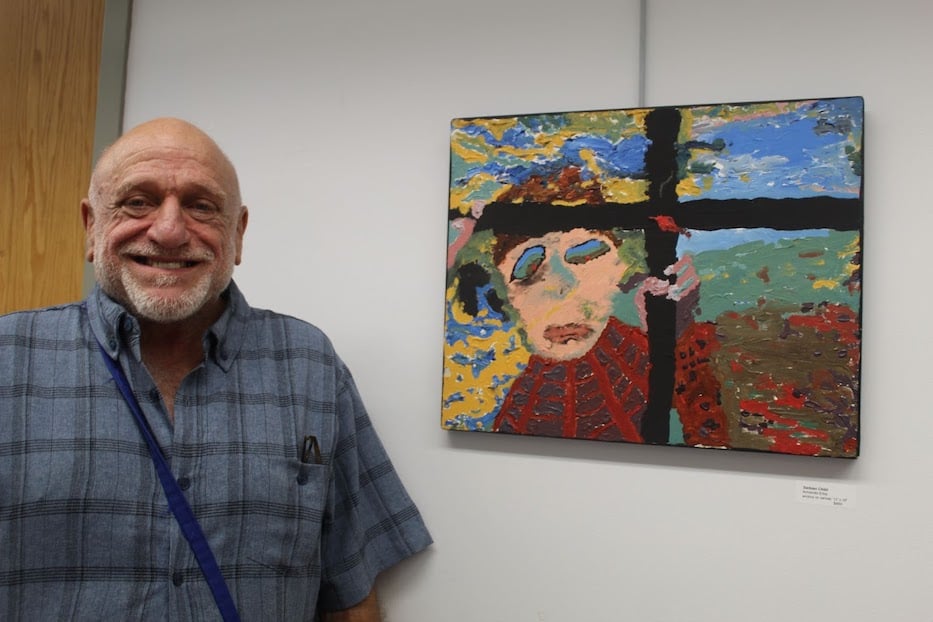 Armando Erba beside his painting Serbian Child. Abiba Biao Photos.
The first thing you notice about Armando Erba's painting Serbian Child is the texture, which literally jumps off the canvas. It is easily viewable with the eye, the acrylic paint creating clumps and ridges. The varied, elevated surfaces keep the viewer's interest.
As the child in the canvas looks through the cracks beyond the fence, he frowns—but his eyes give a glint of hope. It reflects the bright blue sky and green field beyond.
Erba's work is part of the exhibition Tri-Facet Visions, on display at the Mitchell Branch of the New Haven Free Public Library through Aug. 31. Installed in Mitchell's Harrison Street program room, the exhibition features artists Marian Doherty, Marc Chabot, and Armando Erba, who cover a variety of subjects from natural landscapes to human struggle and surrealism. It is curated by Johnes Ruta, an independent curator and art theorist.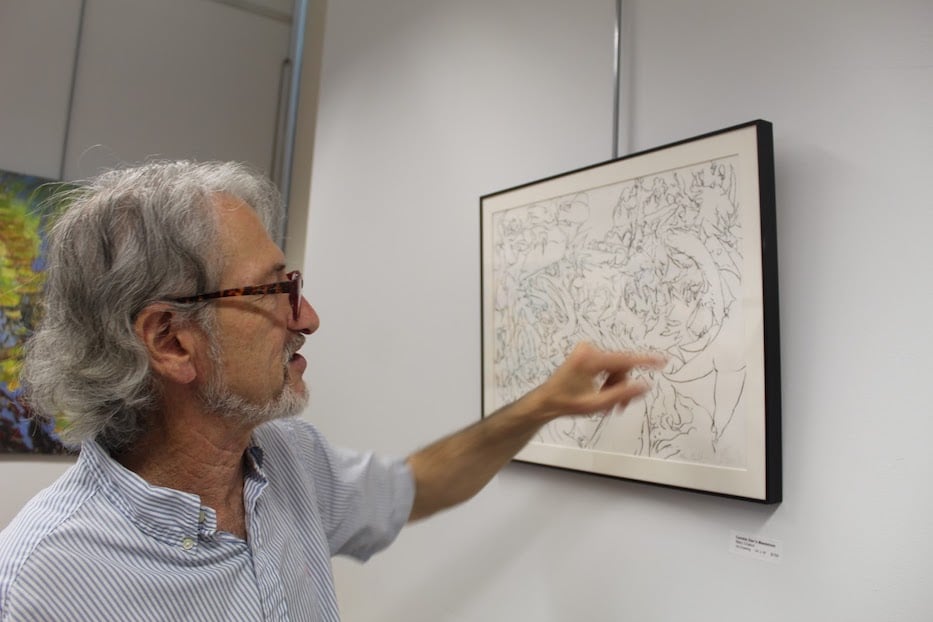 Marc Chabot outlining a partial star figure in his piece Twinkle Star's Maelstrom.
On the right side of the room, Marc Chabot's brush, pen and ink drawings line the walls, the dark black lines so detailed they seem to jump out from the surrounding white field. His pieces take anywhere from a day to several weeks to complete based on his sense of completion with the subject.
Based in Southbury, Chabot credits his interest in art to the 20th century artist Hyman Bloom. He first encountered Bloom's images of fish skeletons in Bernard Chaet's The Art of Drawing at 16, and was immediately entranced. After college, he had the chance to meet Bloom, and has since implemented Bloom's concepts into his own work.
"His work has mystery to it. He said 'If you share too much with the viewer, if you spell out everything for them there's no mystery,'" Chabot said. " So what I like is having forms be on the edge of knowing what they are, but not quite."
Chabot uses several tools to create his drawings, but gravitates most toward sumi pens, double-ended pens with flexible hollow rubber points, and pentel brush pens, which have the same function as a sumi pen but uses a nylon brush at the tip. When ink runs out of the pentel brush pen's vinyl barrel, it creates something called "dry brush," which yields the feathery lines that Chabot likes in his work.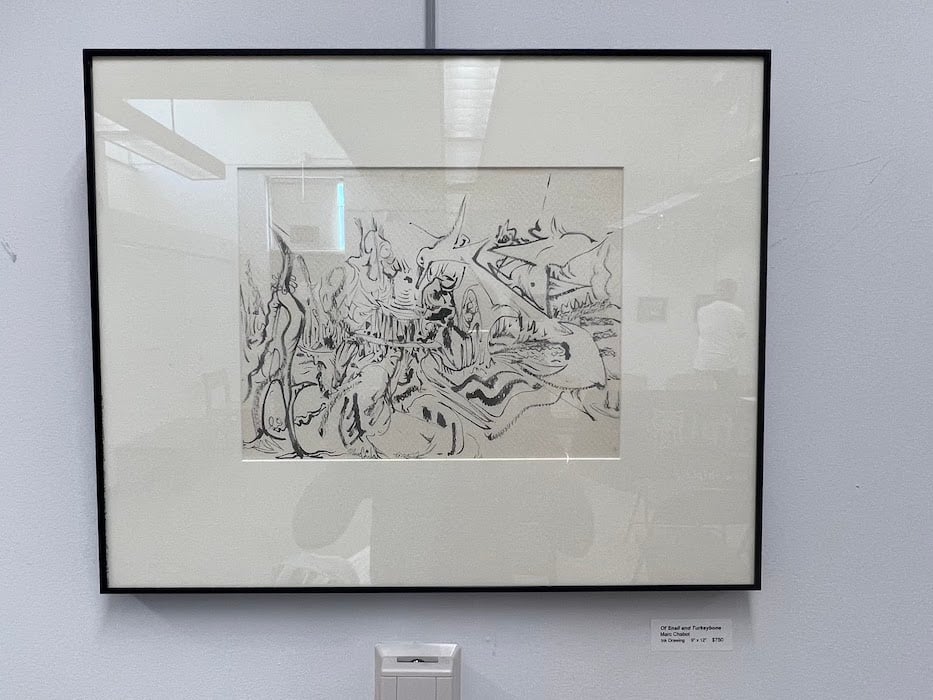 Chabot's Of Snail and Turkeybone, made with a pentel brush pen.
Chabot derives the names from his pieces by searching for figures and shapes that catch his eye. He never goes into the creative process with a perfectly imagined drawing in mind, he said; he prefers to work "spontaneously," creating shapes as he goes along.
"It kind of has to speak to me and tell me what it wants to become," he said.
"Brush and ink is an Asian tradition, comes out of China, and Japan, and Korea, and all of those countries and they have a very very specific techniques on how they handle the brush," he said. "Even if I haven't mastered exactly what they do, some of their techniques and the ways of depositing ink on paper are available to me too."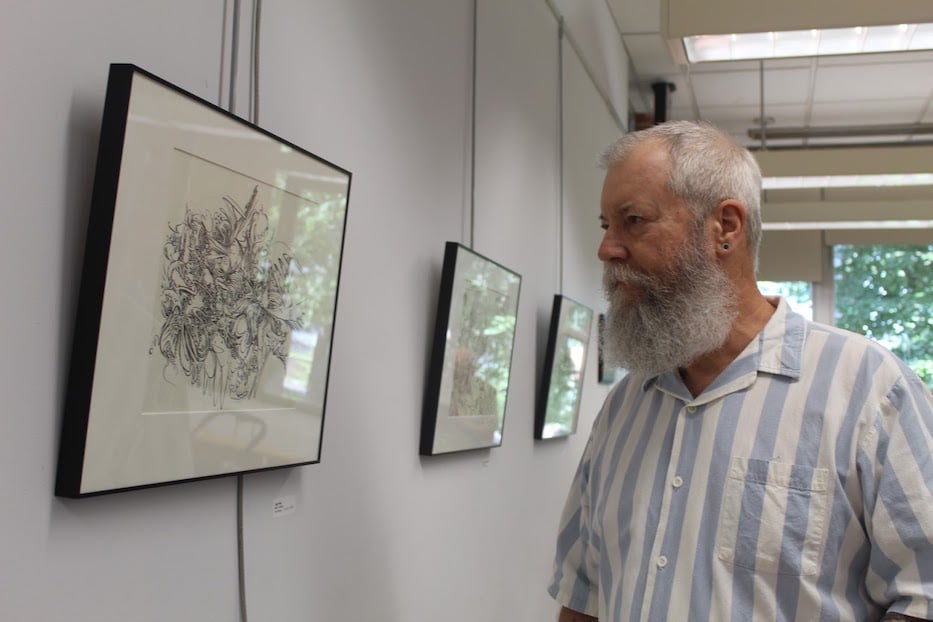 Andy Sistrand.
Entranced by the lines of Chabot's Egg Peck on a recent Saturday, Andy Sistrand stared intensely, studying the ebbing lines and shapes made by the sumi pen. "I've never seen anything like this," he said.
A resident of Bethany who traveled to New Haven for the show, Sistrand had additional insight as an artist himself. For over three decades, he worked as a tattoo artist at the now-shuttered Studio Zee Tattooing and Body Piercing on State Street, from which he retired in 2017.
Currently he's a graduate student at Central Connecticut State University studying art history. He said he wants to dive deeper into his love of art in an academic sense.
"It's always good to see where you've been so it's easier to see where you're going," he said.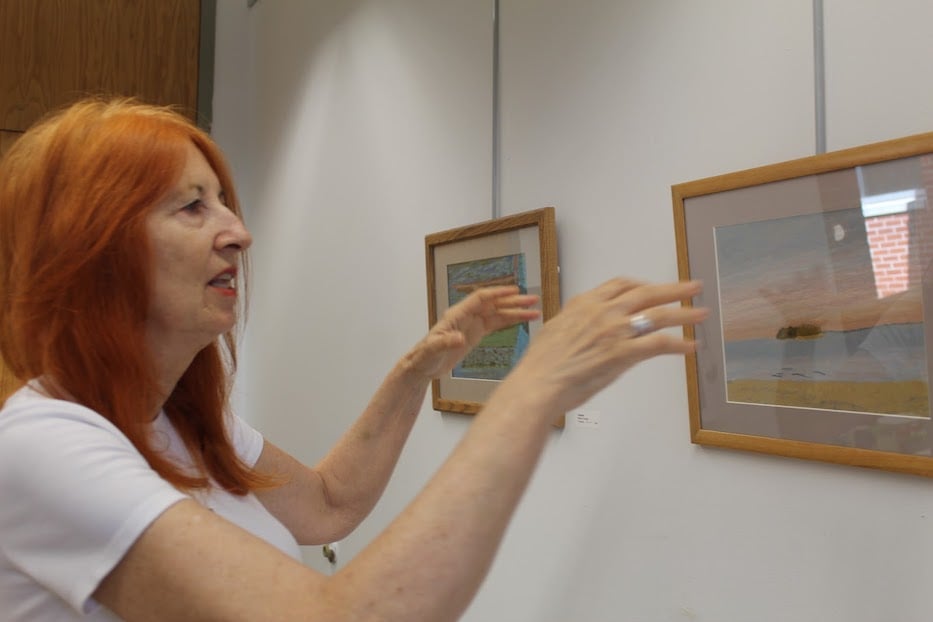 Marian Doherty.
Across the room from Chabot's intricate designs were Marian Doherty's calming landscapes, which depict the state's natural wonders.
Born in the Bronx, Doherty received her undergraduate degree in arts administration from New York's Lehman College before studying painting and structure at Pratt Institute in Brooklyn. She ultimately settled down in Milford.
At Pratt, Doherty was introduced to oil pastels through the artist Mary Buckley, who taught a color theory class that has stuck with her since 1980. Immediately she drew herself into the medium, buying a pack of 125 Sennelier oil pastels and experimenting with color and blending.
"It's the size and shape of crayons but it has the consistency of lipstick," she said.
Doherty hopes that viewers take away "a sense of the wonder of the natural world" from her art, she said. Her pieces take anywhere from two hours to a day to make.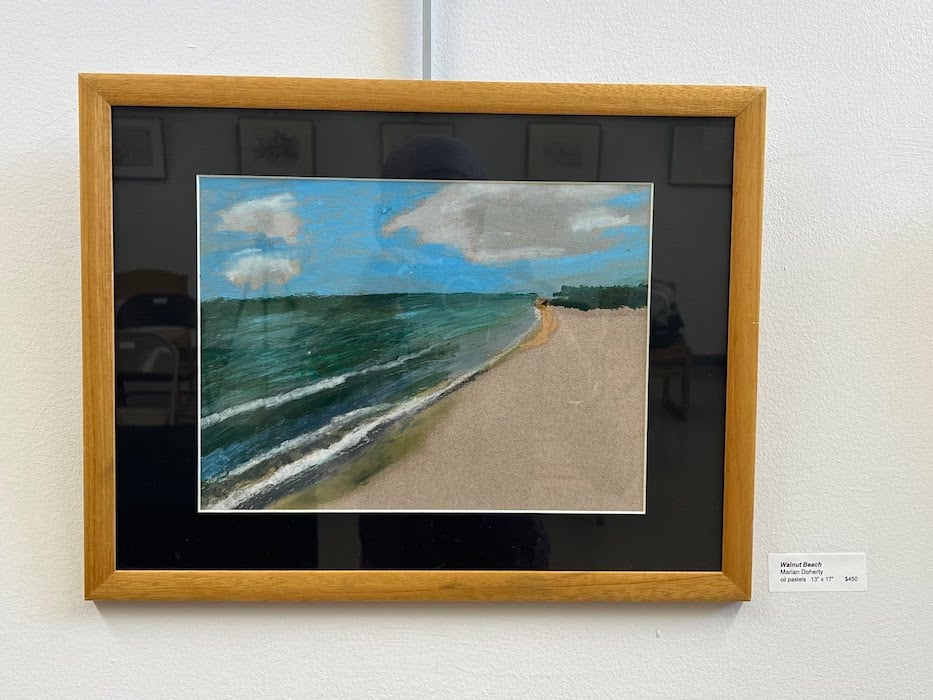 Doherty's Walnut Beach.
In addition to her work with pastels, she also uses the texture of the canvas and paper to add to the piece.
"I experience the moment as it is and capture the light … and the quality of beauty that I see around me," she said.
In her painting Walnut Beach, for instance, she has depicted calming tides that run into the shore. Above the shore are clouds slowly passing above without a care in world.
"I left the paper flat to depict the sand," she said.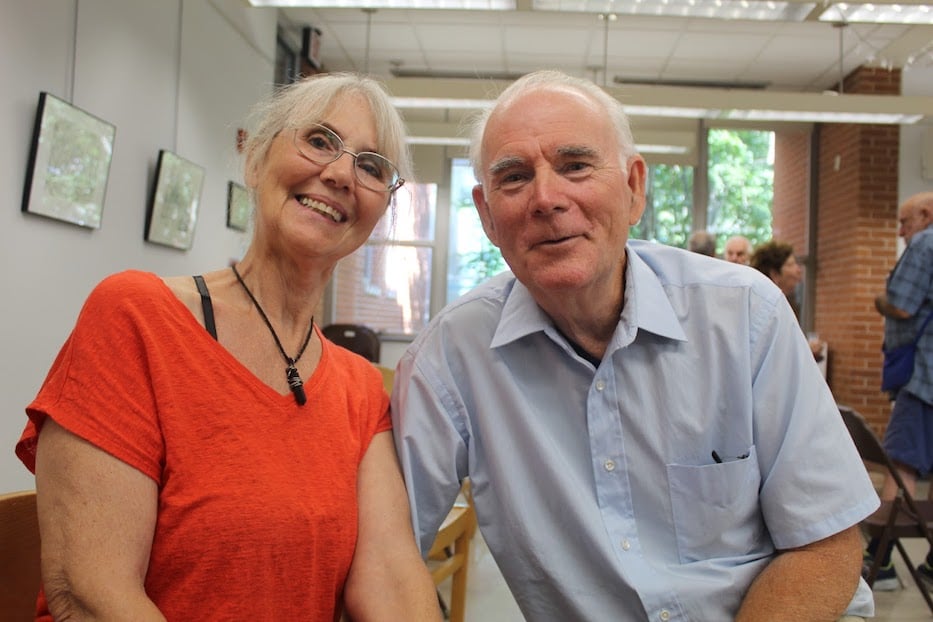 Mariellen Chapdelaine and Phillip Chambers.
Attentive throughout a recent Saturday visit to the gallery and talk from the artists were guests Mariellen Chapdelaine and Phillip Chambers. Chapdelaine emphasized her joy seeing artists get together on a panel and talk in one space.
"You don't really get that much," she said. "I get a lot of exposure to things that are interesting to me. It gives ideas myself because I'm also an artist."
"Sometimes when you get to see and artist and they get to talk about it, you begin to understand their work more and what's actually going on," Chambers said. "It's interesting and all of this has a story behind it."
He emphasized the importance of community support when viewing artists' work. For him, it not only leaves an impression on the viewer but also the artist themselves.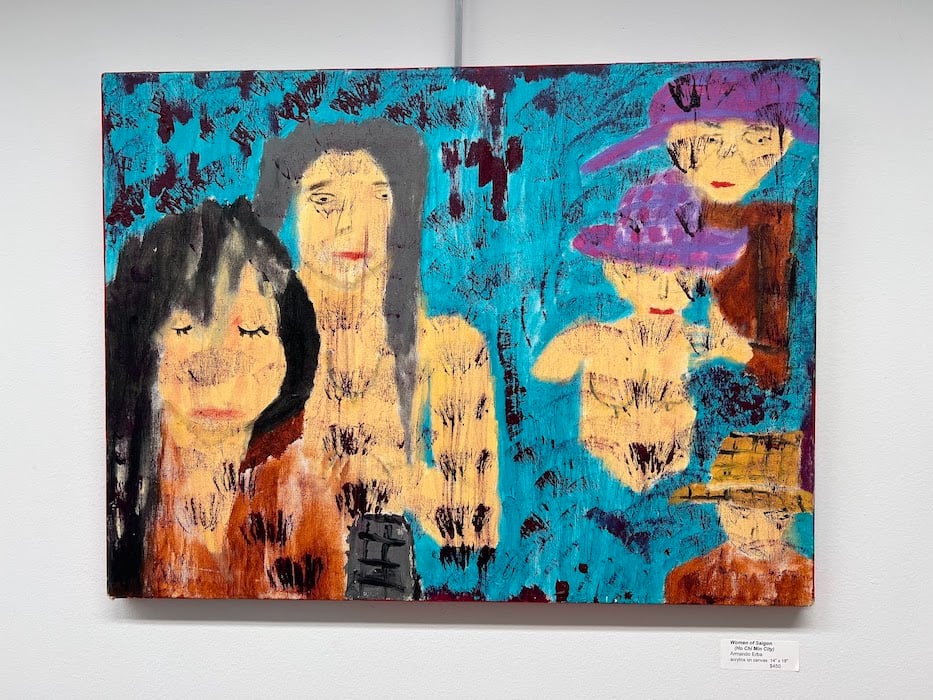 Women of Saigon (Ho Chi Min City) by Armando Erba.
Throughout the show, Chapdelaine was particularly drawn to Erba's piece Women of Saigon (Ho Chi Min City) which was inspired by watching news clips of the war in Saigon in late 1960s.
"The figures in the center are phenomenally strong. The colors are very potently opposed to each other and so it just sucks me right in," she said. "And the nature of the hair—it's so blocky and long. The misery, the implied faces without specific details. There's a lot that's really good about it!"
Nothing about the piece was accidental. Erba wanted to shed a positive light on current events in a perspective different from the media. He enjoys acrylics, he said, because of the contrasting dichotomy they have with his painting. He portrays seriousness and dark tone of the subject matter through vibrancy and bright colors.
"I just wanted to depict the women of Saigon that were beyond just being prostitutes and war ravaged. That there was beauty still," he said.
While he originally used oils in his work, Erba added that he veers towards acrylics to avoid the toxicity in oil paint. Many of his pieces come from current events, and a lifetime that has spanned New Haven to San Francisco and back.
While he also gets stuck looking at blank canvases, he learned to just do art, and had that advice to other creatives as well.
"Just pick up the brush and do the first stroke and then sometimes the subject matter gets born out of that."