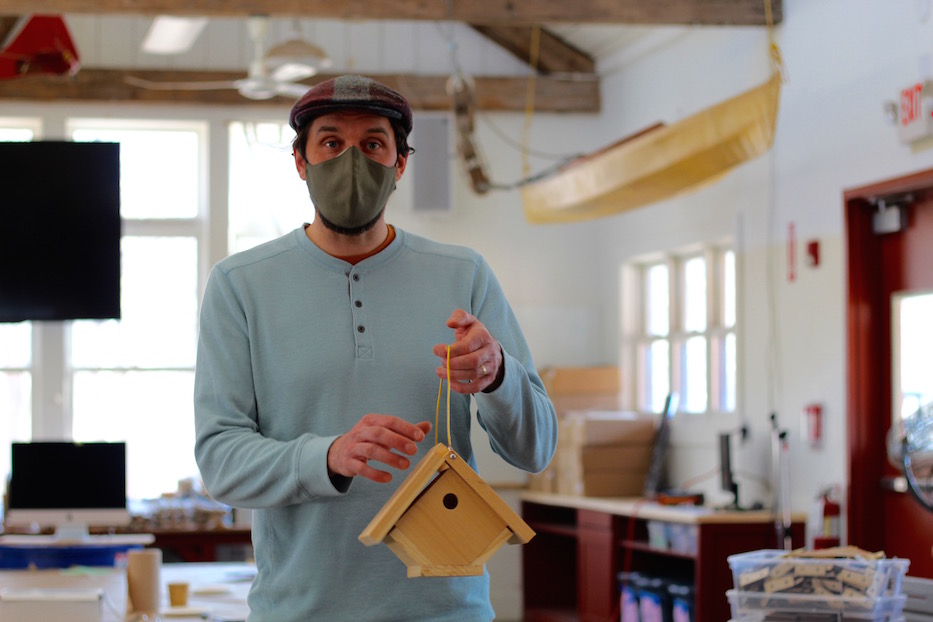 East Rock | Hamden | Arts & Culture | COVID-19 | Eli Whitney Museum & Workshop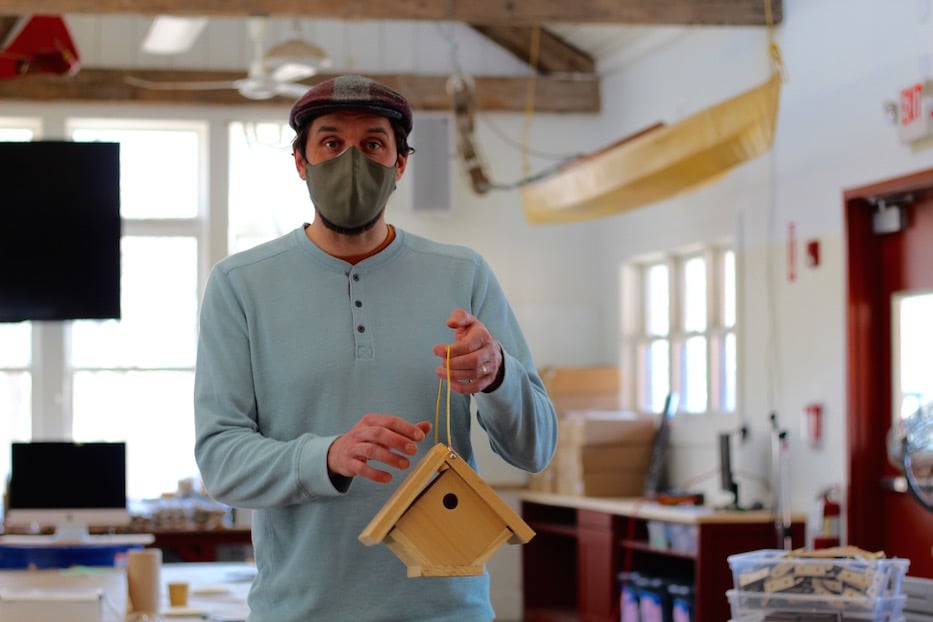 Ryan Paxton at the Eli Whitney Museum & Workshop. Lucy Gellman Photos.
The Eli Whitney Museum and Workshop has a new tinkerer in chief. As Ryan Paxton takes the helm, his first priority is making the space feel accessible to all who walk through its doors—including those who have never thought that it's a space for them.
Paxton was named executive director of the organization last month, after almost exactly four years as manager of the design and production shop. He takes over for Bill Brown and Sally Hill, who have led the museum and workshop since 1988. Brown and Hill originally planned to retire in 2020, but pushed the date back when the Covid-19 pandemic hit Connecticut. They will stay on in a limited capacity through September, as Paxton transitions into the role.
"Bill [Brown] did build this thing and at times, I think, 'Wow, this is a lot to take on,'" Paxton said on a recent walk around the space, as worm-eating warblers, tufted titmouses and nuthatches cried joyously at the first signs of spring. "But I do have a shared vision. I just know how important it is to have the freedom to explore, and have the freedom to know what you're doing. That's learning, when you can be a little bit more self-directed and not afraid to try something new."
Paxton was initially drawn to the job for its sense of magic, still very much alive every time he enters the workshop just off Whitney Avenue. Inside, sunlight dances on the floor and the thick, sweet smell of freshly cut wood fills the air. A CNC machine emits a low, long hum on one side of the building, its robotic arm steady beneath the glass. Most weeks, Paxton churns out thousands of puzzle-piece-sized parts with intern Nina Chang, a former apprentice who deferred her freshman year at the Rhode Island School of Design (RISD) when the pandemic moved classes online.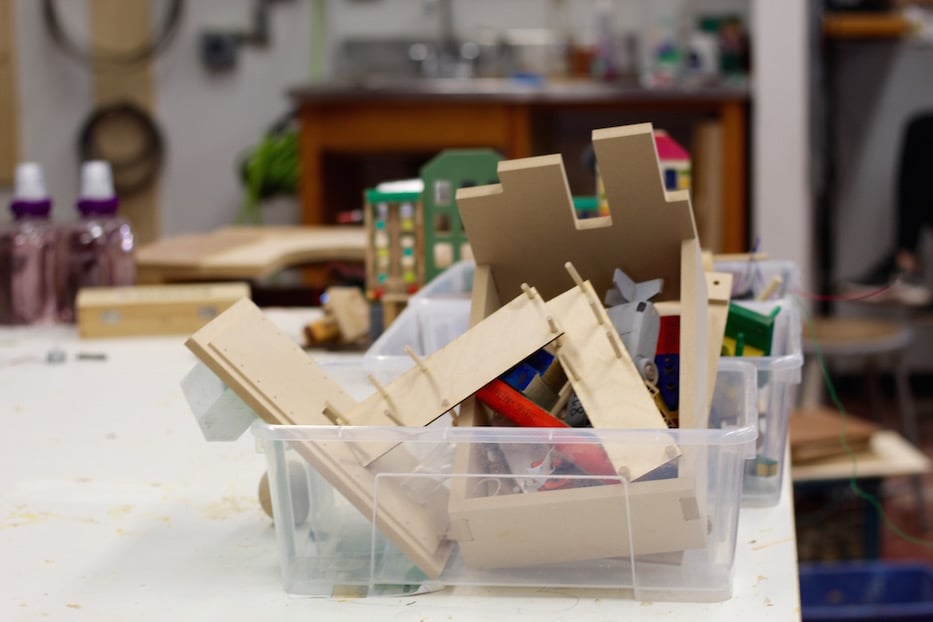 Born and raised in Seattle, Paxton fell in love with puttering, building, and designing when he was young. As a teenager, he started doing electrical work for an uncle, wiring houses and learning how the lighting systems worked. The first in his family to go to college, he started courses at Western Washington University and then dropped out, only to return to the University of Oregon after falling in love with ceramics.
Throughout it, he worked odd jobs, from janitor to warehouse laborer to potters' apprentice. Four years ago, he moved to New Haven from Brooklyn to manage the workshop. He now lives in Westville with his wife, the writer and artist Jacquelyn Gleisner, and their young son.
"Art was the one thing that I always came back to, because it was the biggest challenge," he said. "And it allowed me the freedom to explore the world that was less restrictive. So I could ask bigger questions in art than I could in a specific field. And that's also what I love about this place. We can ask questions from different points of view."
As the executive director, he's planning to build on the work he has already been doing under Brown's steady guidance and mentorship. The center hasn't slowed down during the Covid-19 pandemic, so much as pivoted its resources to outdoor learning and individual kits that students can build remotely. When Paxton and Brown "realized that the pandemic was a real thing and was going to disrupt everything we do," they started thinking about how the workshop's signature apprentice program could survive in an era of remote schooling, single and double masks, and social distancing.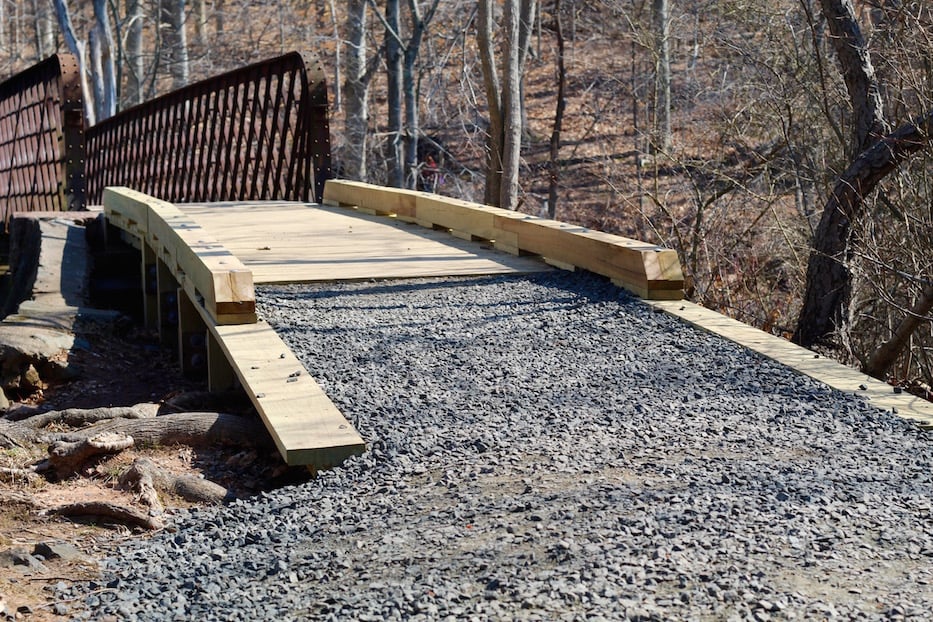 A new ramp and freshly laid gravel sit on one side of a bridge that crosses the Mill River close to the museum.
The apprentice program typically brings in 90 students between eighth grade and senior year of high school, who are compensated for their labor as they learn to build, solder, design, and use technical equipment such as CNC machines, saws, and laser cutters. The program is designed for them to stay on through the end of high school. With pandemic disruptions, Paxton said the number is now closer to 60.
At first, apprentices remained remote. The workshop and museum lent out sewing machines and equipment that young people could use at home. It pivoted its summer camps, which are separate from the program, online. Then Paxton and Brown looked at the workshop's most Covid-friendly resource: East Rock Park, with a network of trails that hug the Mill River and lead to the workshop and museum. They came up with a trail restoration program that could take place entirely outdoors. Paxton said it is loosely modeled on the Civilian Conservation Corps, the twentieth century work relief program born out of the Great Depression.
"There were many things we learned during the process," Paxton said." And one of the things we learned was these kids really needed to get outside. They were stuck indoors. And just being outdoors, like physical labor, is what they wanted. They wanted to use their bodies."
Apprentices installed natural drainage systems, laid down gravel, and removed rocks and roots from the trails. It wasn't uncommon for walkers and joggers to run into them on weekend afternoons, as they dig up thick mud, laid down piping and yanked out old, knobby roots. While the park is technically city land—the museum's grounds start at Eli Whitney's old coal shed, which now looks like an enchanted old cottage—Paxton said the city has been extremely supportive of trail work.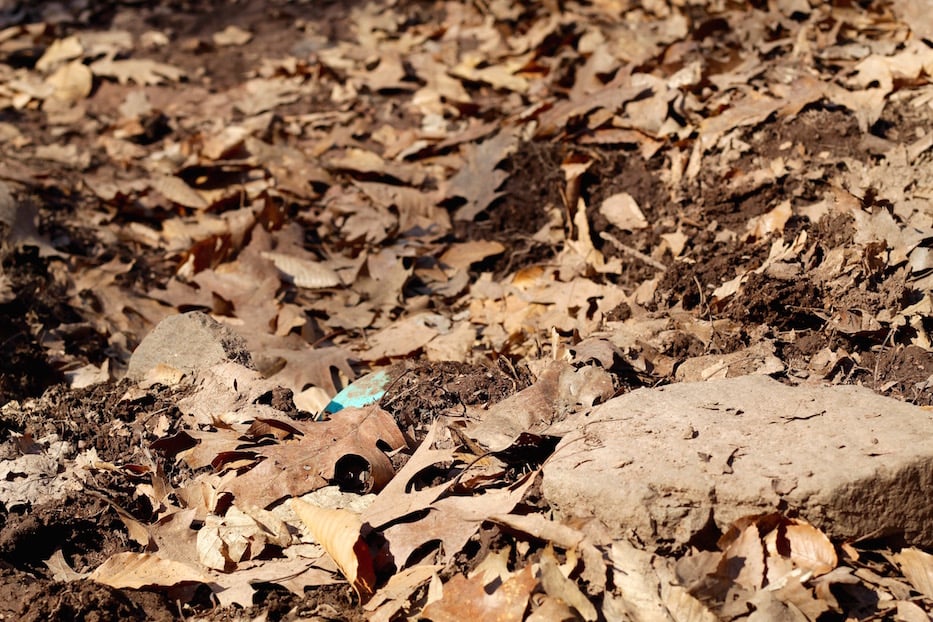 A drainage system that apprentices laid down.
Their hands have also helped make the park more navigable for all who use it. In September, Hill contracted West Nile virus, and lost use of both of her legs when the virus attacked her spinal cord. It pushed Paxton and apprentices to build a ramp by an old bridge, where there had previously been a crumbling set of stairs. While Paxton and Chang did most of the design elements, the apprentices helped with installation. A number of individual supporters and organizations jumped onboard to underwrite the project.
Some of them have also returned to the workshop, although they are unable to gather inside as they once did. On the weekends, apprentices work outside, easy to spot as they buzz around the museum grounds in their masks and sneakers. Small groups also assemble take-and-make kits that go out to schools and institutions, including most recently the pediatric program at Smilow Cancer Hospital. Paxton said there's a precision to the kits that is hard: they have an exact number of pieces, so there's no room for error. But for now, they're keeping the learning alive across the distance.
On a recent Thursday, a fleet of tidy "Bauhaus Doll" kits sat ready to be taken to Smilow, where they will transform from small, laser cut pieces of wood to full figures. In an adjacent room, unfinished birdhouses for house wrens, tree swallows, and American robins waited to be partially assembled, packed up, and sent off to a local school. Paxton said the workshop has a particularly strong relationship with Breanna Evans, a teacher at King/Robinson Interdistrict Magnet School.
Paxton said he's interested in growing that community footprint further, in a way that prioritizes racial and socioeconomic diversity as well as community-wide partnerships. In his four years running the workshop, he's become familiar with a perception that the programs skew white and are designed for middle- and upper-class families.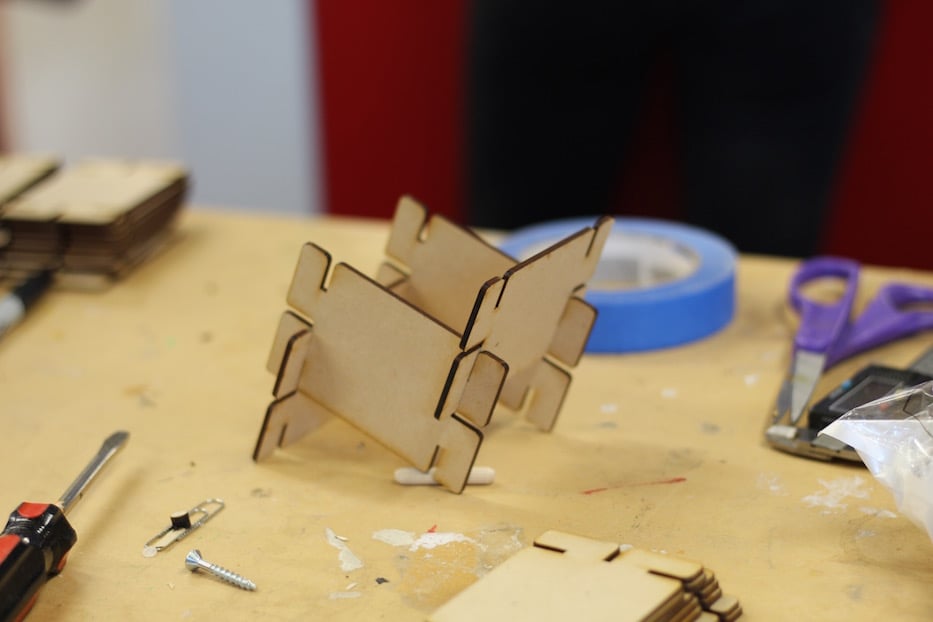 That isn't the kind of space he wants to run, he said—and he doesn't think it's the kind of space that the Eli Whitney Museum and Workshop is. Already, the organization offers full scholarships to anyone who needs them for their summer camp. Paxton is excited to do more with schools in the city and the region. He's trying to make sure kids from all backgrounds know they are welcome in the space.
He is also soon beta testing a 60-pair binocular lending program, through which kids and families can check out a pair of binoculars for free every time they use the park. It's not just that the surrounding woods are rich with wildlife, he said—the Audubon Society has actually designated East Rock Park as an Important Bird Area (IBA)—but also that a small pair of binoculars can feed a vast sense of curiosity.
"Putting a pair of binoculars in the hands of a kid changes how they see the world," he said. "It's really important. People from the greater New Haven will have a better opportunity to experience the park. They can come to the museum, check out a pair of binoculars with their family, and go experience the park in maybe ways they couldn't afford to. I'm really excited about bringing families to this park."
"We can teach about all these different things, and ultimately we're asking the same questions," he later added. "How do we know the world around us?"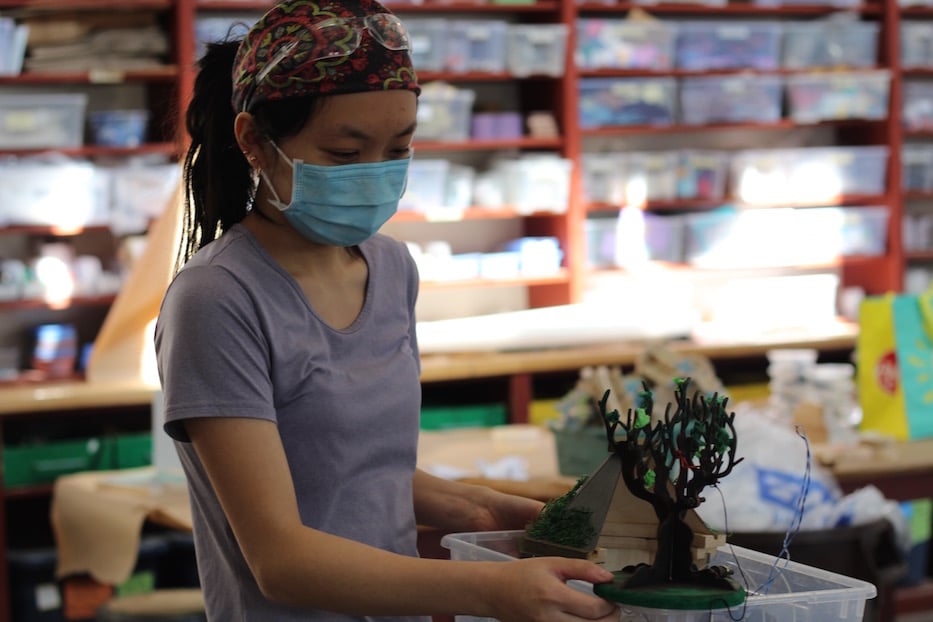 Nina Chang, with a project that apprentices are working on. She deferred her freshman year at RISD to intern at the workshop after Covod-19 moved classes online.
Chang, a 19-year-old Cheshire resident who started as an apprentice in high school, helps out with projects around the workshop. When RISD announced that its fall semester would be remote, Brown offered her the internship as a way to stay busy.
She said this year has been a sort of hands on training that she couldn't have imagined: Paxton taught her how to use the chop and table saws, computer animated design (CAD) and CNC machine. Prior to her internship, she was on an apprentice design team, meaning that she did a lot of painting and decoration. She intends on studying industrial design when she arrives at RISD in the fall.
"I'm just getting real world experience," she said. "The skills I learned this year have been so valuable. This is my social life, right now. Before I started working for Ryan, I didn't realize how amazing this work was."
In a letter sent at the end of February, Brown said he is ready for the transition. He and Hill have led the museum and workshop for just over three decades, and still plan to remain in its orbit even after they are fully retired. He praised Paxton for his work with apprentices and intellectual curiosity.
"The work has been a joy," he wrote. "But we are not the creators of the place; it was created by its fortuitous resources: energetic and curious students, gifted and original educators, loyal and ingenious Apprentices, generous and wise friends and supporters. Sally and I have been, at best, constructive catalysts. The Museum will continue to thrive because it has been built to change and adapt. Ryan will succeed because he has the skill and wisdom to trust the people and resources that are here."
Find out more about the Eli Whitney Museum & Workshop here.