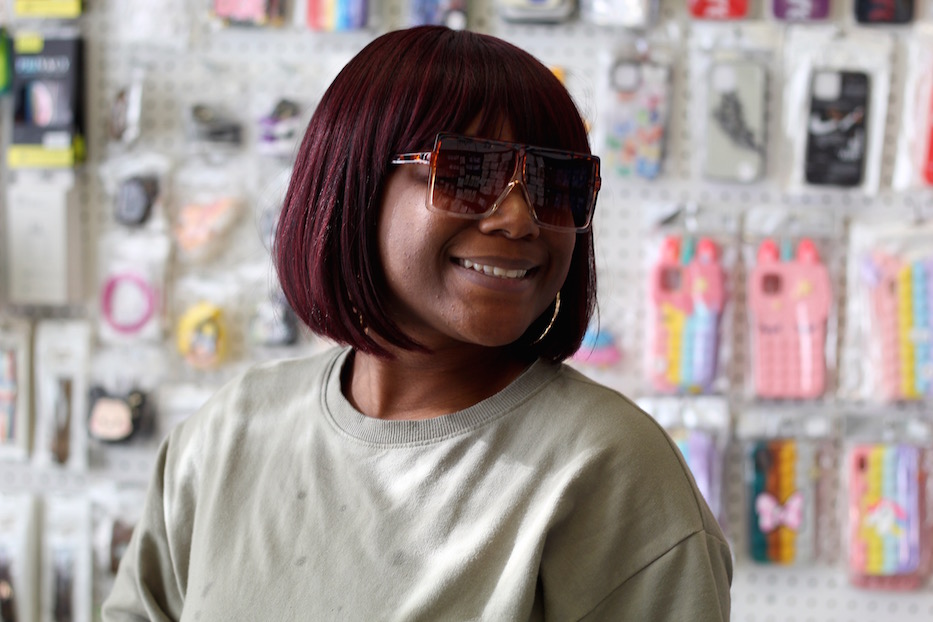 Black-owned businesses | Dwight | Economic Development | Food Justice | Arts & Culture | Culinary Arts | COVID-19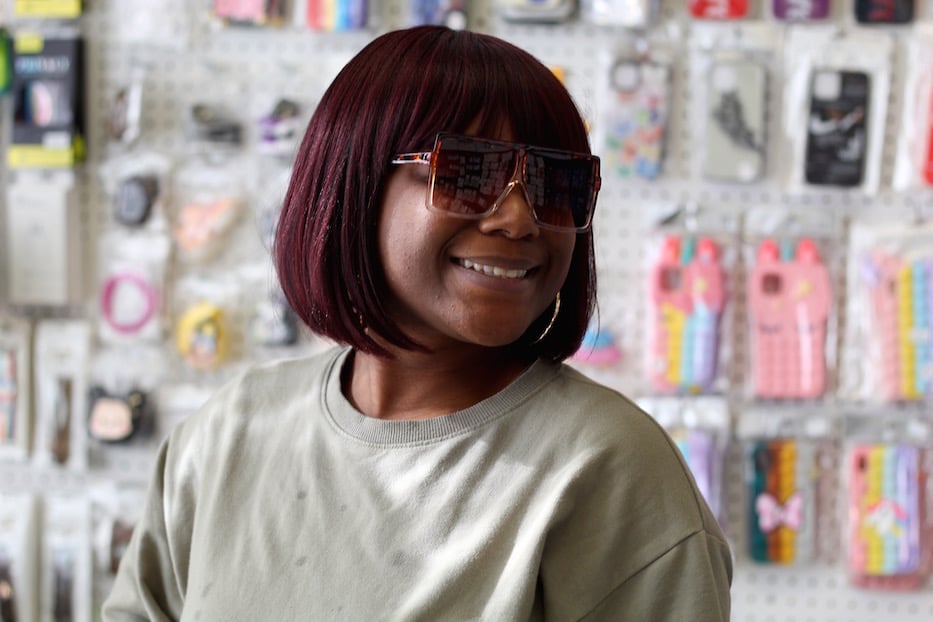 Kenia Massey, who runs Black Corner Store at 277 Edgewood Ave. with her husband, Michael Massey. She is pictured in "The Spot," an alcove decorated with turf, fabric flowers and bright butterfly and tiger decals. Lucy Gellman Photo.
Sunlight streamed through the glass door of Black Corner Store, weaving patterns across the red-and-white checkered tile. The door opened and closed with a woosh. At the front, Kenia Massey stood in a square of bright green turf, butterflies spreading their wings on the wall behind her. Behind the deli case, Afrotina's Ohioma Odihirin was deep in the minutiae of changing the name and title of his business, so that he could get back to cooking for the neighborhood.
It was another Wednesday at Black Corner, with a slight snag from the city's health department (more on that in an article from the New Haven Independent here and below). For the tiny staff that keeps the spot running at the corner of Edgewood Avenue and Platt Street, it's just one more way that it has continued to pivot—and to put community first—in the midst of the pandemic.
"This is a different type of corner store," said Massey, who started Black Corner Store with her husband, Michael Massey, last year. "I don't want adults hanging outside of my corner store. I want kids to know that they're safe around here. This is going to be for children. This is a children's corner store, with a variety of everything inside."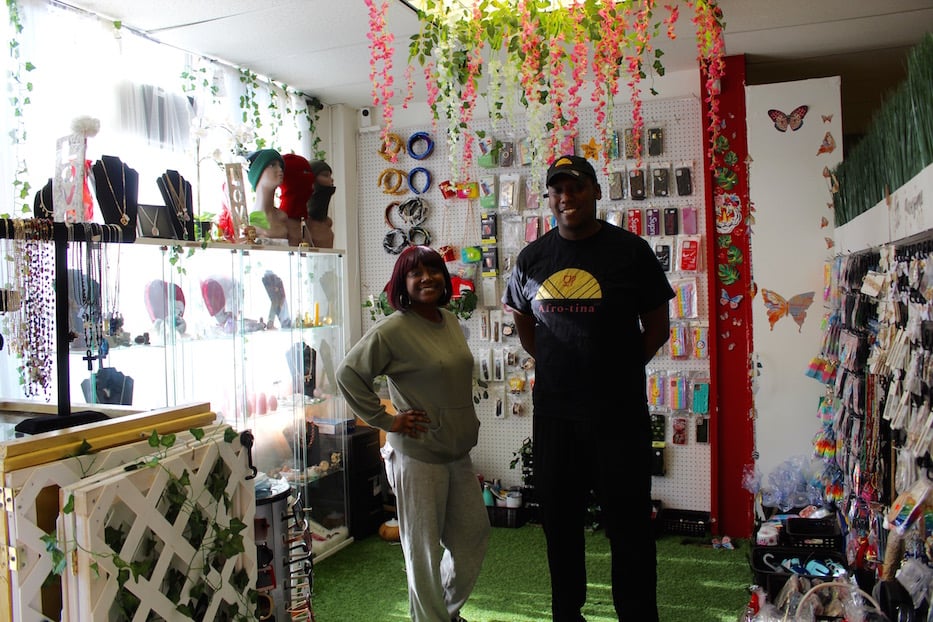 Kenia Massey and Ohioma Odihirin. Lucy Gellman Photo.
Black Corner grew out of the pandemic, when the previous corner store closed and the Masseys saw an opportunity to care for their neighbors. Since it opened last fall, it has prioritized serving the Dwight community in which it is based, with an eye towards the young people in the neighborhood. On Monday afternoons, the Masseys organize free meals for kids who live nearby. Dozens of young people come by after the day has ended at Augusta Lewis Troup School across the street. Kenia has two families that have come to lean on the store for support, and is always ready to provide supplies for them.
Inside the store, winter coats, hats and masks hang neatly close to dry beans, canned and boxed goods, paper items, and cold cases with energy drinks, butter, and milk. When items near their expiration date on the shelves, Massey moves them to a shelf at the back of the store dedicated entirely to free food. While her free thrift shop is temporarily on hold as she and Michael renovate the store's basement, they plan to bring it back in the summer.
For both of them and her 14-year-old son, the store is "our family's foundation," she said. The Masseys met three years ago, when Kenia moved back to New Haven from San Antonio to be close to her mother's side of the family. Her husband, now an author and co-owner of the business, "grew up in this corner store" as a kid in Dwight, Kenia Massey said. "So his vision, when he grew up, was to have a Black corner store for the children."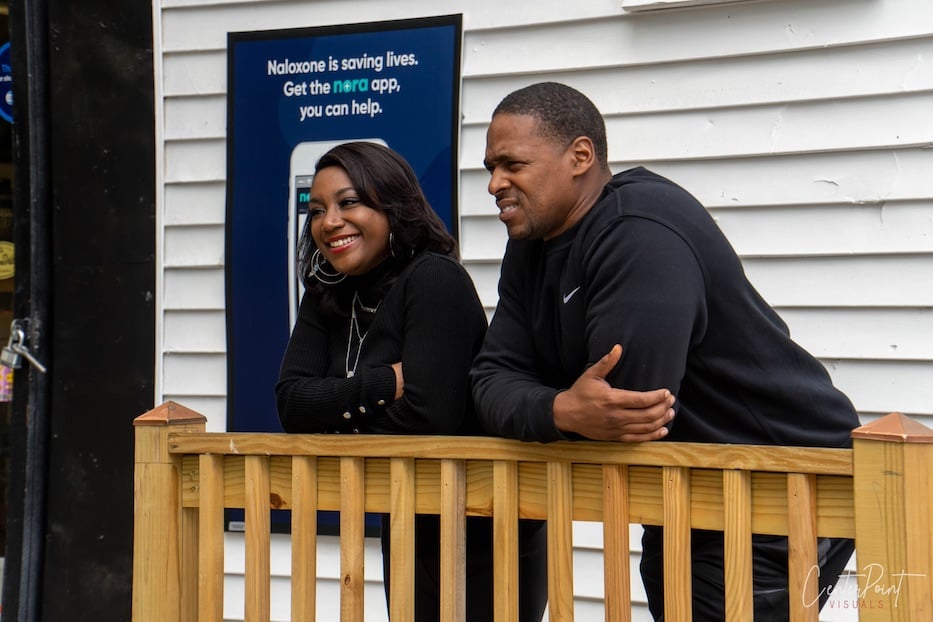 Kenia and Michael Massey outside of the store. Unique Gomez Photo. The photo below is contributed with permission from Afrotina.
In under a year, they've made the neighborhood officially their business. The three live next door to Black Corner, meaning that neighbors see them on the short walk to and from work each day. Her son hops on the register to help after school. She and Michael give each other time off, which allows her to run her own company as an event planner and creative director.
Like her husband, Kenia Massey has also seen a corner store double as a community anchor. She was born in California and then raised between San Antonio, South Carolina and New Haven. When she was six, she moved to New Haven to be close to her mom's family.
She remembered a corner store on upper Dixwell Avenue, just a few doors down from her grandmother's shop, California Hair Design. She befriended the owner, a Ms. Lucy who was always good for a piece of candy and a side of conversation.
In all the years they knew each other, she can't think of a single time Ms. Lucy ever spoke down to her.
"She gravitated toward the children," she said. "She didn't just take our money and, you know, we left out of her store, she actually talked and communicated with us and made us feel like we were human beings. That's a lot of what we're trying to do here—get the trust of these children to, you know, believe in us. I'd rather have kids stand in front of my store than having adults that don't have anything better to do."
Part of that is also their support of independent Black-owned small businesses, from hand-wrapped gift baskets to vendors that sell jewelry, masks, and pins among the food that stocks the shelves. On Wednesday, cases at the front of the store sported handmade baskets, marbled and milky crystals, bedazzled masks and earrings, and heart-shaped boxes of chocolates for Valentine's Day.
Hamdenite Selestine Doward, who assembles baskets and small clothing items as Busy Bunnie's Business, said she's grateful for the store. She started promoting her business there after her sister saw a posting for the store on social media.
"I want the younger kids to see that you can start your own business," she said in a phone call. "It can be anything you want. I met a young lady in there, and we just talked about how anything is possible. Start small, and it basically is gonna grow."
Afrotina, a small food business that Odihirin runs with his wife Eternaty ("she's the muscle," he laughed), began renting kitchen space in November of last year, after Massey put a call out on social media and a few businesses responded. At the time, she was operating "Ms. Kay's Kitchen" out of the space, and realized that running both a food service and a store was too much for one person. Odihirin, who also caters, had officially outgrown his home kitchen and was desperate for a space.
"I had never heard of empanadas," Massey said. But she liked the look of his food, and clicked with the couple. He and Eternaty went from renting the kitchen by the day to making themselves a fixture in the space. The brand blends flavors of his Nigerian-American and Bronx-based childhood with his wife's Dominican upbringing.
While cooking out of Black Corner, Afrotina has become especially well known for its bowls, which blend African, Afro-Caribbean, Southern, soul food, and Latin American culinary influences that give the business its name. On a bed of Spanish rice, Odihirin starts layering, adding Southern greens, corn salsa and cornbread, and an eater's pick of sazon chicken, jerk salmon, sofrito-marinated pork, or barbecue cauliflower.
He's also perfected an Afro-Poboy and empanadas with cabbage, mashed plantains called mangu, fish or meat, and a sweet-sour Voodoo sauce that began as an idea in New Orleans. Eternaty, who also grew up in the Bronx, is responsible for desserts and the backend of the business. "I couldn't do this without her," he said.
After working in kitchens across New York and Connecticut, he called the small business' luck at Black Corner a dream 18 years in the making. He said that he's especially grateful after last year, after a string of pandemic layoffs pushed him to take a job that had him commuting to New Rochelle every day. The commute from Bridgeport to New Haven is much shorter, just 20 or 30 minutes instead of several hours both ways.
"How many chain places do you know that sell empanadas?" he asked, slapping the table for emphasis. "I just wanted to just do something different, and really kind of build it [out]. I kind of want Afrotina to be franchised. I want to be the next McDonald's. Like, the big chain. I want to bring something out there. There's not representation of the food I've been offering."
He remembered a recent meeting with Bloom owner Alisha Crutchfield-McLean, who "didn't want to get up" after savoring an empanada with Voodoo sauce. Their meeting turned into plans for him to cater an event with her on Feb. 20.
"That's what gets me going," he said. "That's what makes me happy. People just using the Voodoo Sauce and just going crazy and loving it … it's like, this is why I do it. It's a really, really good thing."
A Temporary Snag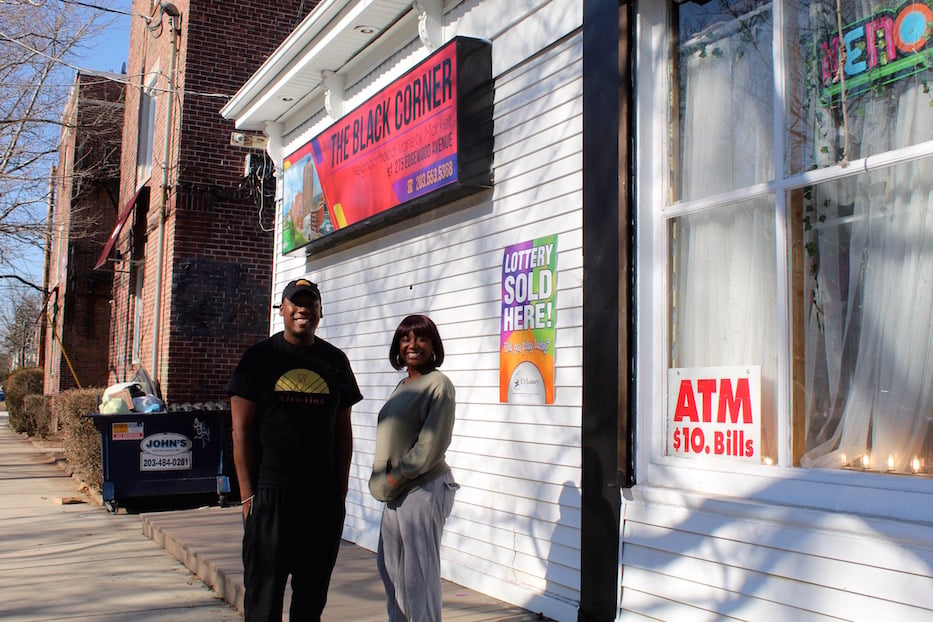 Ohioma Odihirin and Kenia Massey outside the store. Lucy Gellman Photo.
On Wednesday afternoon, Massey chatted with a trickle of customers as Odihirin put aside his kitchen utensils and picked up the phone to call the city for the second time that day. During a call from the city's Health Department on Tuesday evening, the Masseys learned that they could not have two licensed businesses selling food in one business establishment. It means that Afrotina will register as Doing Business As (DBA) Black Corner, and become a part of the official space within the store.
"It's a minor setback," Massey said. As soon as Afrotina-as-Black Corner has an official sign off from the city, she and Odihirin plan to fire up the grill with a menu that keeps all of his staples, and also folds in wings, deli sandwiches, and items on a small kids' menu. Until then, they are following city orders to the letter, Massey said.
It hasn't dampened her long-term plans for the store. While Massey may now be hundreds of miles from the Lone Star State, "I'll never be done with Texas," she said with a coy smile beneath her mask. "Texas is 10 hours long!" She already has a vision of returning to her home, and setting up Black Corner Stores from Dallas to San Antonio and onward.
"Black Corner doesn't stop here," she said. "It's definitely going to be in my home, where it's personal for me."
Until then, she has a razor-sharp focus on making the Edgewood Avenue store into a safe haven for the neighborhood's kids. She plans to add video and arcade games, fresh meat and extra produce, and hot food as soon as the city gives her the go-ahead. Dwight is her home, she said—and she wants to show young people in the community that any dreams of entrepreneurship they might have aren't so far fetched after all.
"If I can do this, little old me, you can do this too," she said. "So that's more of what we're bringing to the community that we're in over here. Hope. A lot of hope. When we grew up, we had … What's their names? The Cosby's [the Huxtables]? That's what these guys, what they looked up to. That's what we want to be for the children in this community."