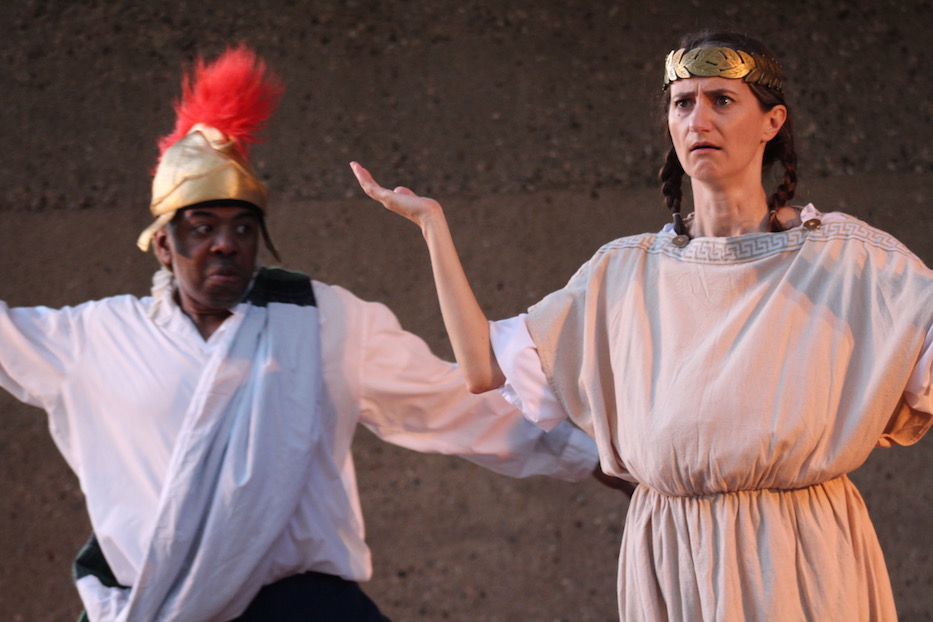 Bridgeport | Connecticut Free Shakespeare | Shakespeare | Arts & Culture | Theater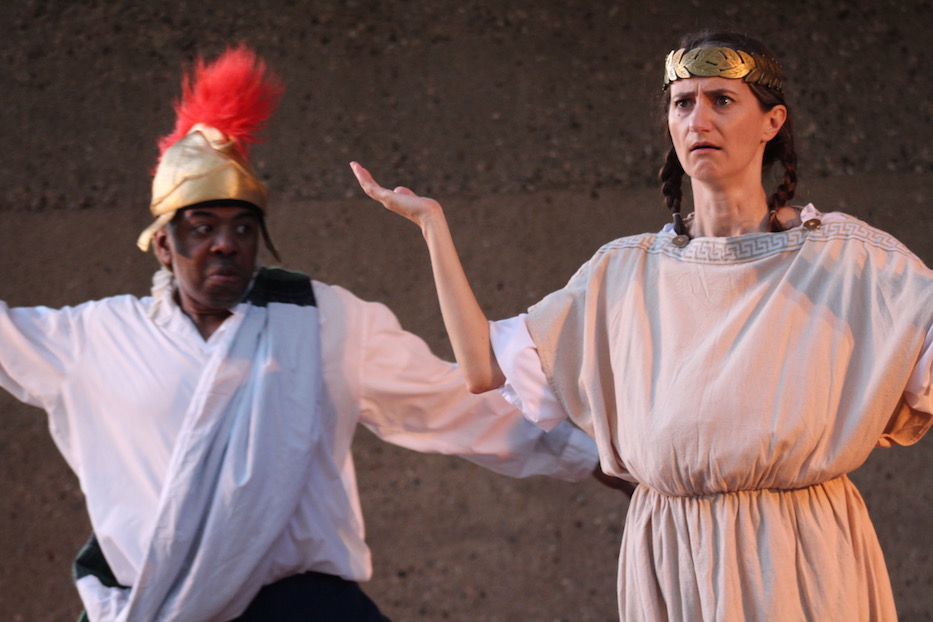 Ian Eaton and Uma Incrocci in The Complete Works Of William Shakespeare (Abridged). Lucy Gellman Photos.
Titus Andronicus is going to finish making a mess of his enemies, but first he has to get through this episode of Dr. Phil. King Lear is ready for his touchdown, until he fumbles and it gets him kicked out of the game. Desdemona hasn't cheated on anyone, but Othello is too busy rapping to know that. And Ophelia is having a crisis of faith, until Beyoncé shuffles in and makes it all okay. Sort of.
All of that is par for the course in The Complete Works of William Shakespeare (Abridged), revised and adapted by Connecticut Free Shakespeare for its 20th anniversary season this summer. Performances run August 1-4 at the University of Bridgeport's Arnold Bernhard Arts & Humanities Center at 7 p.m. each night. All shows are free and open to the public.
"We felt it was a good show for the 20th year, because it was the complete works of William Shakespeare, and we have done many of those works," said Ellen Lieberman, producing artistic director with the company. "I love them [cast members] dearly and at this point, we have a shorthand with each other."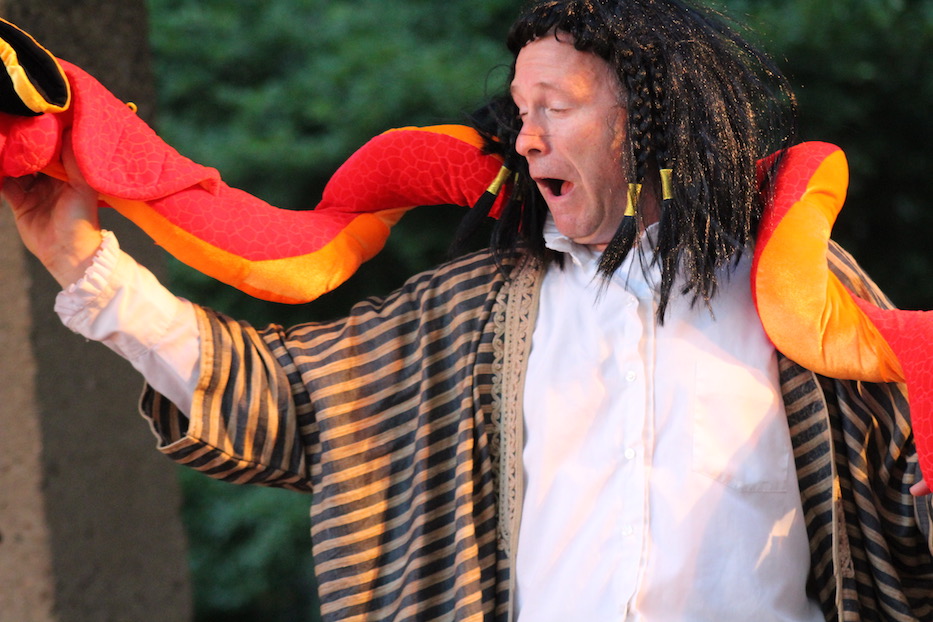 In the play, just three actors (Ian Eaton, Uma Incrocci, and Eric Nyquist) take on Shakespeare's 37 plays and 1,122 characters with whizzing costume changes, thick parody, and enough gender bending for the playwright to turn over in his grave and chuckle a little. Written by Adam Long, Daniel Singer, and Jess Winfield in the 1980s, The Complete Works recaps the seminal and not-so-seminal of the Bard's plays in under two hours, with humor and improvisation that is often achingly on point. After it debuted in Edinburgh in 1987, the play became a hit in London, running for almost a decade.
Its central claim is both implicit and deceptively hard to pull off: Shakespeare is actually really funny. Like, side-splittingly funny, and not just in his comedies. To parody him, in part, is to claim him as one's own, to declare one's love and affection for his work, to make the case that he is still worth being performed.
It's what no middle school teacher will ever admit to their students midway through Romeo & Juliet: that even in his tragedies there is huge irreverence, that he has relied on the same narrative structure so many times he's basically Philip Roth, that he has withstood the test of time not only because he engages with racism, colonialism, antisemitism and heart-rending love, but also because of some hard core potty humor. In other words, it's a tight fit in Bridgeport, with a company that has been interpreting and celebrating Shakespeare for two decades.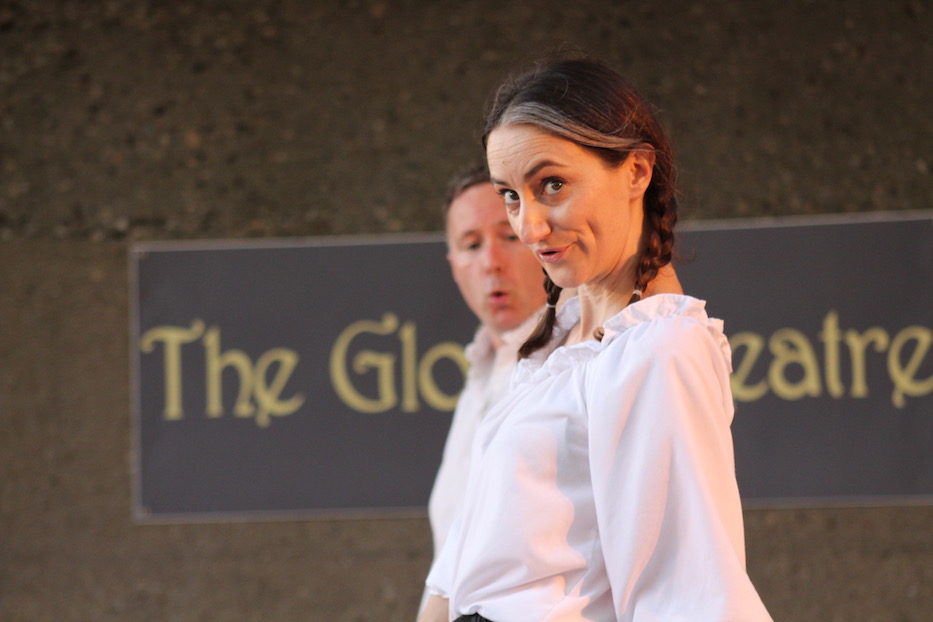 And from the outset, the small but mighty cast makes both the script and the Bard it their own (the original script encourages broad interpretation, and the cast absolutely takes it). Around them, the University of Bridgeport becomes The Globe Theater, with a huge brown-and-red tome of Shakespeare's work open on a lectern at stage right. The actors seem pulled between Elizabethan garb and the present, with airy white blouses and billowing knickers, as well as neon tights and Chuck Taylors. As she walks onto the stage, Incrocci is herself but also every character that she has played and will play (she was Ariel in last year's The Tempest), entering into a sort of narrative web that feels, well, downright Shakespearean.
"We are about to attempt a feat that we believe to be unprecedented in the history of Bridgeport civilization," she tells the audience in character. "That is, to capture, in a single theatrical experience, the magic, the genius, the towering grandeur of The Complete Works of William Shakespeare."
And then they are off. From the moment he comes onstage, Eaton feels the spirit of the Bard moving through him, perhaps a testament to his own 18 years with the company. He jogs through a few well-loved titles (All's Well That Ends Well drew some cheers from a test audience during a tech rehearsal this week) and then, staving off audience boredom, lunges into a pastor's whoop. He picks up speed, urging the audience to think of The Complete Works as a volume they need to have in every home, every hotel room, on every bedside table. It's hard not to jump up and yell "amen!" right with him. Shakespeare is more Holy Ghost than starving artist, and it is delicious.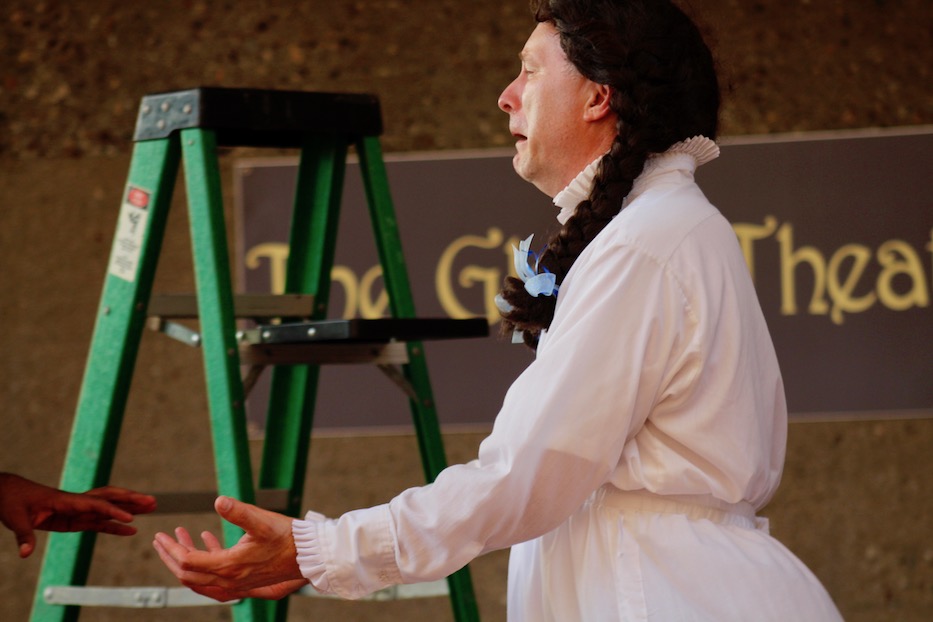 It sets a jocular tone that is also a stealth education. If you know Shakespeare, great. But if you don't, that's okay too. Titus Andronicus is suddenly endowed with cooking skills that rival Julia Child, Anthony Bourdain and Bobby Flay—and goes on a daytime talk show to gab about it with his daughter Lavinia. Othello becomes a pithy rap, with lyrics that stutter around Shakespeare's penchant for penis jokes ("Now Othello loved Desi like Adonis loved Venus/And Desi loved Othello because he had a big …. sword!") but also work in a little feminism that would have solved a lot of Othello's jealousy issues. Somehow, the core themes still come across every time.
In one of the play's richest sequences, Shakespeare's histories become a bustling game of football, in which a plastic crown replaces the pigskin, and actors jump from king to king as they dart around each other, running interference on Henry, John and Richard ("Oh! And he's poisoned at the 10-yard line!"). Not much later, Hamlet gets all the fierce love and existential weight that it deserves—while also pointing out that Ophelia gets the short end of the stick, as do so many of Shakespeare's women.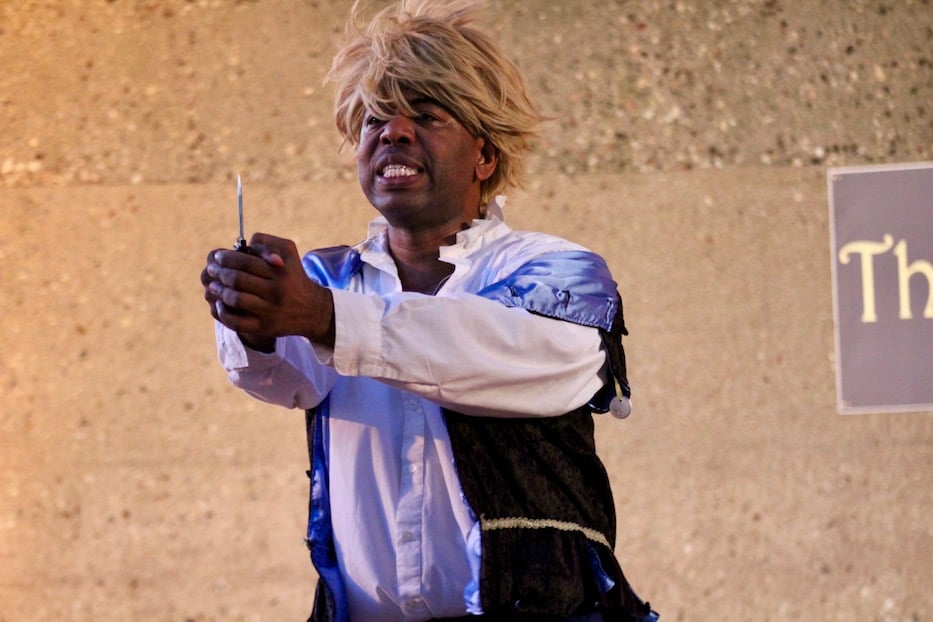 The actors take it on valiantly, putting their entire bodies (and then some) into this work. Amidst split-second costume changes that often involve wigs, dressing gowns, multiple capes, wooden rapiers and sometimes stuffed animals, they are nimble and enamored of the language, committed to the stories they tell even as they make fun of them. They play-fight and shape-shift in a revision of the script that totally sticks its landing, are uproariously funny then tug on some serious heartstrings.
Eaton, for instance, plays Romeo as he should be played: a lovesick, broey teenager who makes stupid decisions and loses his life for it. Nyquist surprises and delights: he acts a fool only to pull out his intense respect for Shakespeare in a way that stuns actors as well as audience. Incrocci pushes every boundary, bringing in references that range from Gollum to current pop culture.
Thanks in part to an extremely able crew (major credit is due to production stage manager Alejandro Lopez), the fourth wall hasn't just cracked and chipped in a few places—actors have taken sledgehammers to it, dressed it in puppetry and women's clothing and cooking gear, and torn it down with their bare hands. No one is safe from this derision and lovefest of the Bard: actors mock companies that assume the text is inaccessible and overact the plays with wild gesticulations, spirit fingers, and gratuitous modern parallels.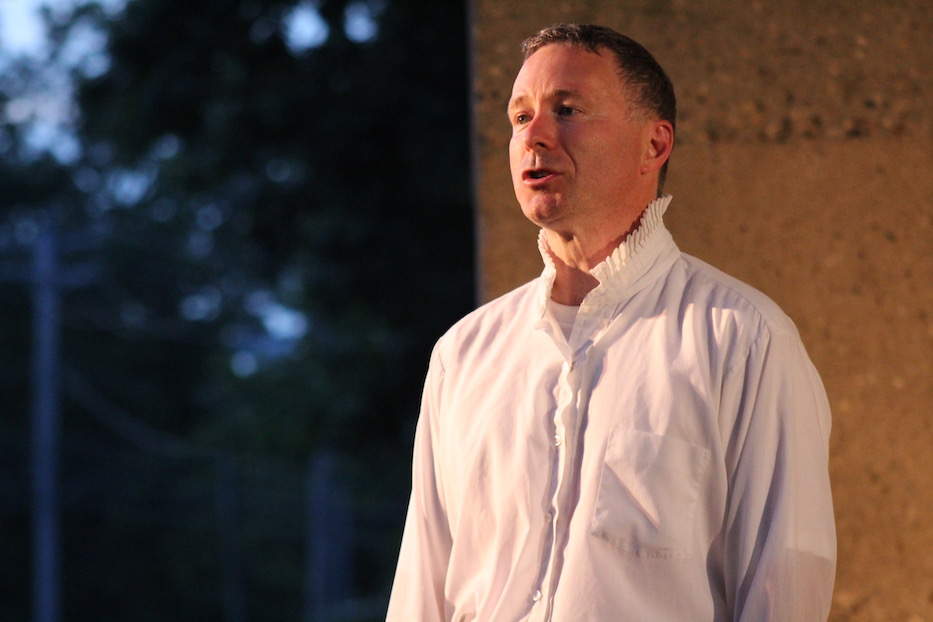 They maneuver around Shakespeare's own prejudices, calling them out in ways that are surprisingly, sometimes bitingly funny ("Oy Vey!" actors shout, to summarize the Merchant Of Venice). They test the limits of audience humor and participation, venturing out into a sea of chairs to pull attendees up on stage, and weave them into the show. Just when it seems like the going is finally getting heavy, they shake it all off with a dance party.
But these actors also point toward Shakespeare's genius: his fondness for narrative nesting dolls and minute subplots, and a use of language that still, and against all odds, cuts through 400 years of noise. It's a Shakespeare that is extremely adaptable, just as the Bard's plays are when left to the right companies. Near the end of the show, Nyquist launches back into act two of Hamlet to make a point—that Shakespeare is boring and stale, that Elizabethan language doesn't hold up in the twenty-first century, that no one reads Shakespeare anymore. He proves himself wrong, of course. That's the point.
It's what the play does too. In making fun of the Bard, Connecticut Free Shakespeare pledges another 20 years to him, shouting out all the beauty, irreverence and ridicule that he has left on the world. It is an escape from reality, yes, but also a crash course in it, led by a dead dramatic guide that has lasted centuries on the sheer humanity of his work. It is funny on a slapstick level, but also a soulful one. And if it does not awake your laughter, it may still awake your faith.
Connecticut Free Shakespeare presents The Complete Works of William Shakespeare (Abridged) from August 1-4 at the Arnold Bernhard Arts & Humanities Center at the University of Bridgeport, 84 Iranistan Ave. All performances start at 7 p.m. and all are free and open to the public.