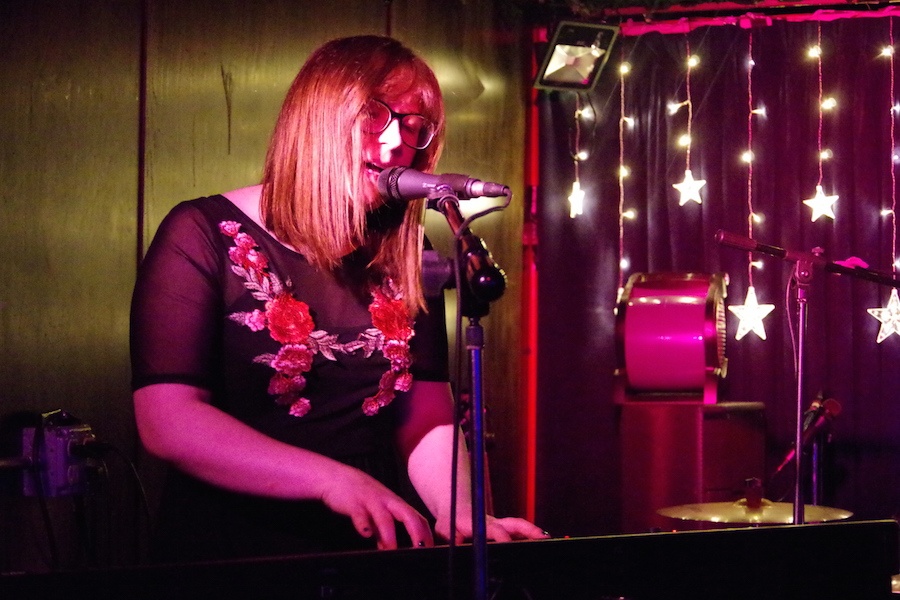 Cafe Nine | Music | New Haven | Ninth Square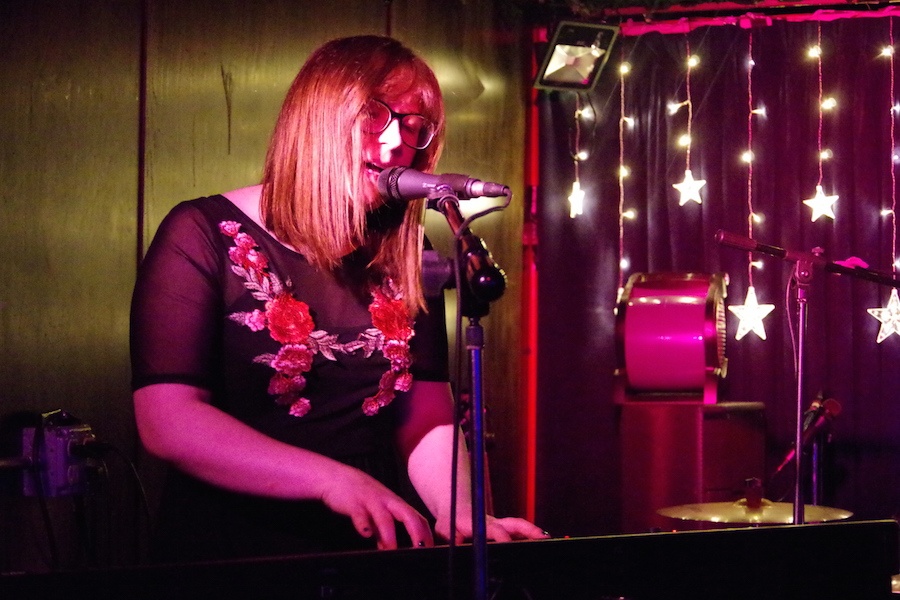 Leah Andelsmith Photos and Video.
Kate Mirabella put both hands below middle C and hammered out a bluesy bass line with the kind of low notes that go straight through the chest. Drummer Anthony Paolucci spun his drumsticks, came in on a fill, and settled into a beat that created a dark and broody groove. Within seconds, they were filling the room with the kind of song you play to vanquish an awful mood.
Monday, Mirabella and Paolucci's band Passing Strange opened for Elizabeth & the Catapult and Julia Caesar at Cafe Nine, drawing an audience that grew to four dozen over the course of the night. Part of Cafe Nine's Manic Monday series, Passing Strange set the stage for the New York City and Burlington acts with a tight, seven-song set that highlighted the band's punchiest numbers.
"I've been trying to name bands Passing Strange for twenty years," said Paolucci, explaining that the band's name is a reference to a quote from Shakespeare's Othello. After forming in April 2017, the local band has used earnings from shows in greater New Haven and Southern Connecticut to record two albums.
"Anthony was always a goth and I was always an emo chick," Mirabella said. Paolucci has a hard-rock background, while she has typically been "very quiet." Now, she is "hammering on the piano," while Paolucci has left rock behind.
"I don't know who I am anymore," she said. "But I like it."
When the band launched into "Pacific Northwest" during their set, the sound was brighter, but was no less full or intense than their opener "We've All Got a Justine." Paolucci knows how to create a rolling rhythm that your body wants to rock to, while Mirabella, channeling her experience as a drummer, likes a piano part that turns over and over itself like waves. On Monday's stage, her voice was reminiscent of singer/songwriter Missy Higgins in the broad vowels, touches of breathiness, and the way she crisped her consonants.
"And if it's so easy for you to walk out maybe that's what you should do…But when the sky goes dark and the nightmares start, will you think of me?" she sang, her calm, unassuming presence belying the darkness of the song.
As Passing Strange started "Puritan Preacher," a slightly dissonant chord pierced the air, and then that beat rolled in. Mirabella's voice rang out, a bright, clear mid-range tone.
"This happens all the time," she sang, an expression of regret crossing her face as she lifted her eyes to the audience to deliver the song of heartache.
Lara Johns and Victor Hernandez from Yale's Swing, Blues & Fusion dance group took the floor, responding to the band's driving rhythms. The dancers were smiling but serious, alternating slow steps with quick ones, pulling each other in and out, executing undulating body rolls.
For a second it looked like Johns and Hernandez were dancing bachata. But then it was salsa. And was that a swing step?
"We take elements from everything and meet each other where we are," said Johns during a brief dance break. That allows them to "dance to anything, everywhere."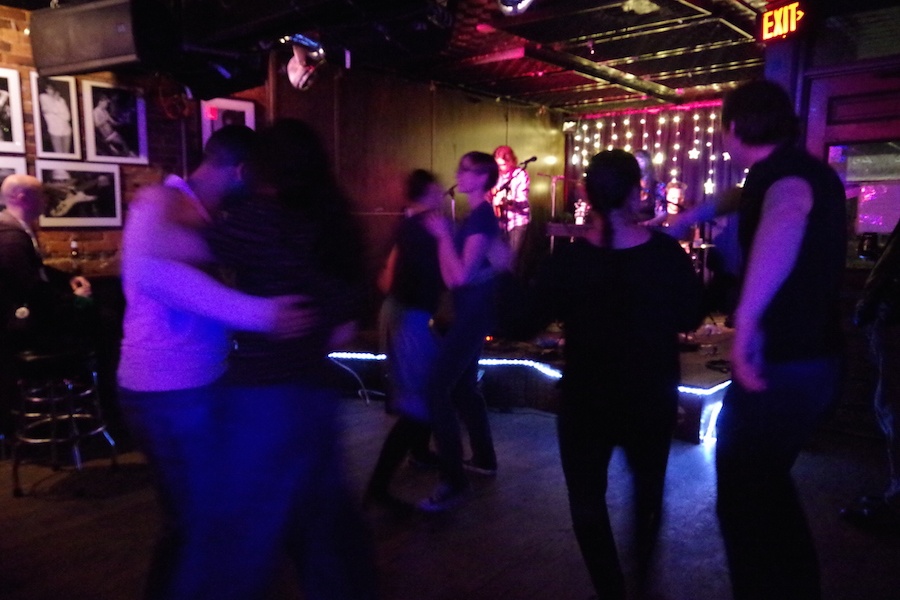 Passing Strange closed their set with "The Violets Are Dead," layering the song's ending with tributes to a couple of their strongest influences: Tori Amos and the Doors. Mirabella started by playing a piano riff slow and high, a sad, looping melody in a minor key. Then she dropped it down three octaves and added a baseline that gave the music a mean streak.

"When the wolf came down, I swore I saw him smile," she sang. The verse was sparse, but the chorus came crashing in with lots of open high hat from Paolucci.

"I have you hanging by a thread," Mirabella sang on the bridge, lifting one shoulder. Her voice was dangerously soft, almost broken. Then she leaned into a piano instrumental with a driving, vampy piano lick in true Tori Amos style, letting it loop over and over before dropping back to that bare piano melody from the song's intro. The drums teased their way back in until the band was playing full-out again, in their rocking, driving way.

Just a little later, Julia Caesar's lead singer and bassist Katy Hellman was letting out a high, belty wail—like Janis Joplin but not as raspy—and the fusion dancers had doubled in number. Without Passing Strange's rolling rhythms, the dancing became more avant-garde, alternately halting and flowing to the rhythms Steven Lebel was playing on the drums. The leaders seemed to improvise while their partners followed along fluidly. And the band's thick, three-part harmonies had the audience captivated.

"I'm not weak, I just need somewhere to hear my own heartbeat," Hellman sang on "Mars." Guitarist Megan Rice added a higher harmony and fellow guitarist Liz Stafford came in below the melody.

Their three voices blended in the kind of effortlessness that comes from untold hours of practice and years of playing together—even though the band has only been together since January 2017. Every now and again the music would cut back, allowing those voices to wash over the audience, resonant and rich.

"You can do another set if you like," someone called out as the band neared the end of their time.

Elizabeth Ziman took the stage without her band at first, complementing the dancers and challenging them to dance to a classically-inspired song that she said was reminiscent of "The Flight of the Bumblebee." Lora Johns and Lianne Samalot rose to the occasion, their dance a lilting improvisation that tickled Ziman and the crowd.

Ziman said she hadn't been to New Haven in eight years and dedicated her set to a local fan who owned all Elizabeth & The Catapult's albums, but hadn't yet seen the band play live. The three-piece band fed the energy in the room, giving the dancers plenty of soulful piano pop to rollick to.

The band's sound was polished but welcoming, and Ziman's vocals were strong and sweet with hints of Sara Bareilles at the edges.

The band recorded a short piano and drum loop right on stage to anchor the song "We Can Pretend."

"Take me back to grandmother's garden...You and me and a tangerine sunset," Ziman sang, closing her eyes and lifting her arms over her head. The back up vocals were a soft chant throughout the chorus: "We can pretend, we can pretend."

"I could stay there forever" Ziman sang, flipping into a soft head voice as the dancers filled the floor in front of her with their twirls and softly bouncing steps.

The audience was reluctant to leave at the end of the night, but they wrapped the warm vibe of this Monday gathering around them like a coat to keep them cozy in the November evening. Ziman gushed as she came off stage to thank the dancers.

"You guys made my show!" she said.