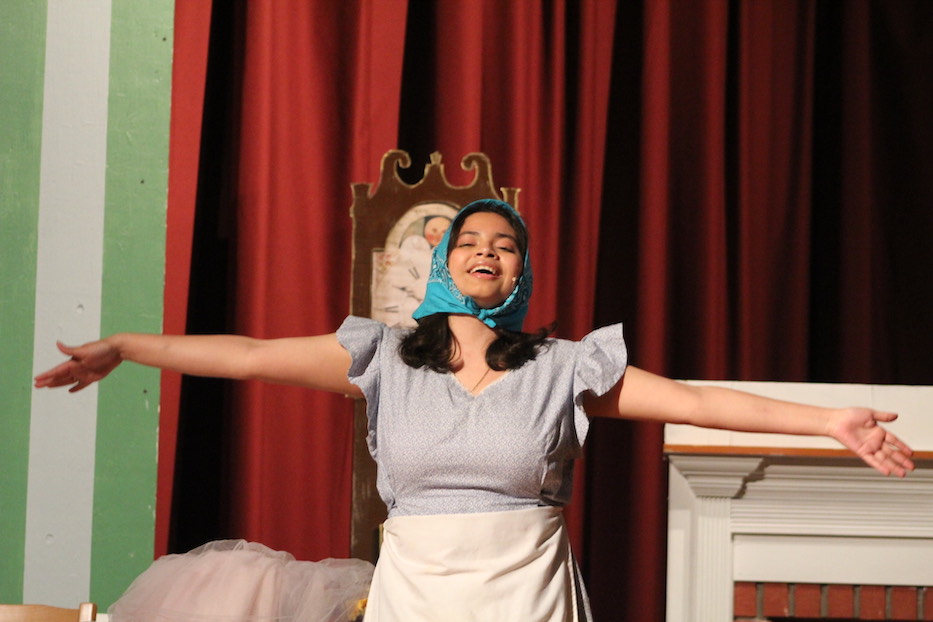 Drama | Education & Youth | Musical Theater | New Haven Public Schools | Youth Arts Journalism Initiative | Hill Regional Career High School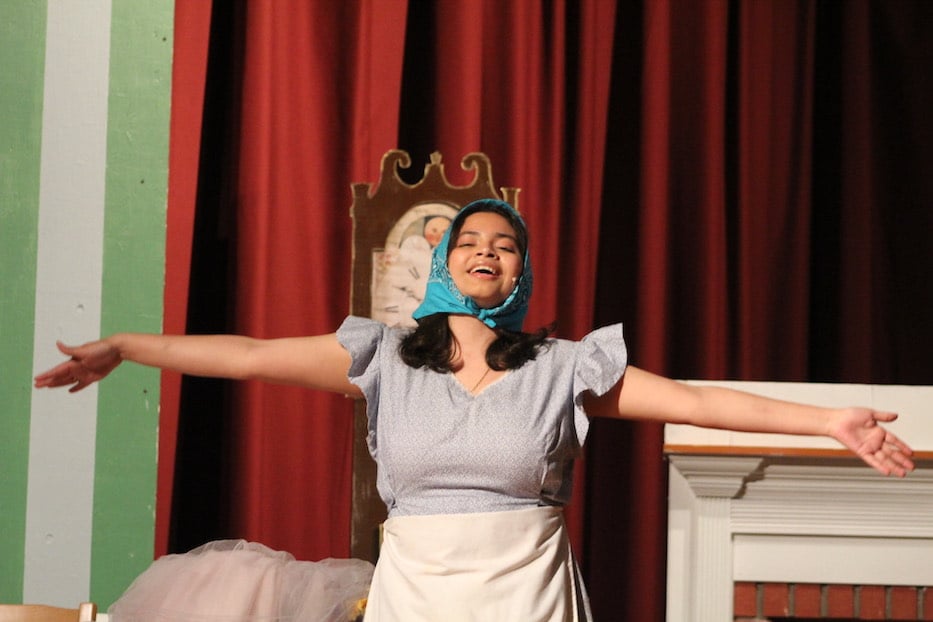 Kiomi Rincon as Cinderella. Abiba Biao Photos.
Away from the prying eyes of her stepmother and stepsisters, Cinderella ruled the house. No longer restrained to her chair in the corner, she let her imagination whisk her away to places she had not yet been. The broom in her hands disappeared as she lifted up her arms and let herself soar in the air, wishing for freedom.
"I can be whatever I want to be/On the wing of my fancy/I can fly anywhere/And the world will open its arms to me," she sang. A smile crept across her face, and she closed her eyes tight as she threw her face toward the ceiling.
Last weekend, those dreams and wishes came alive in Cinderella, held at Hill Regional Career High School on Friday and Saturday. A project of the Career Drama Club, the play marks the first musical Career has held in 25 years, according to assistant director and choreographer Lauren Bond. It was made possible through the work of Career music teacher Jacqueline DiMarco.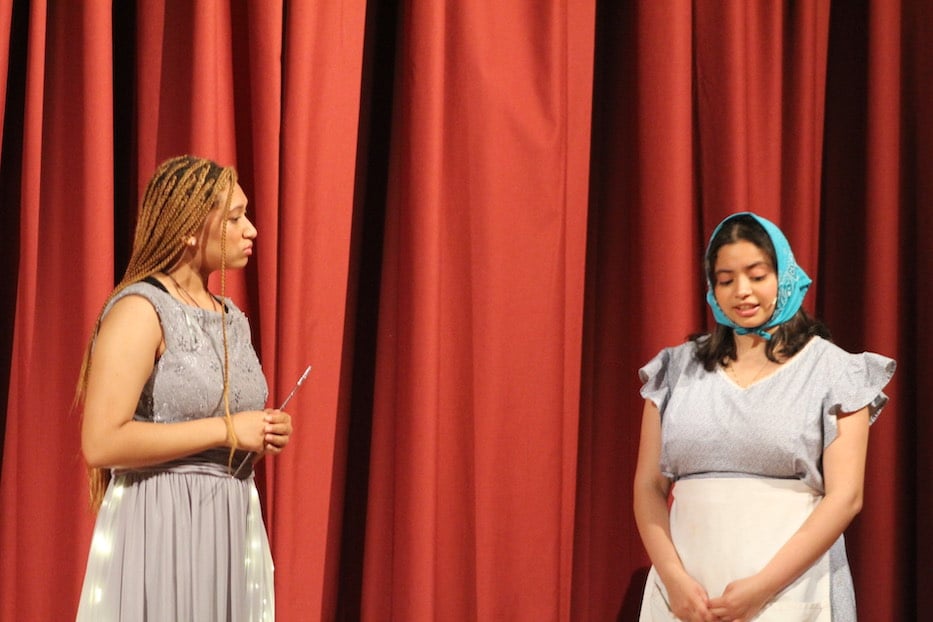 Fairy Godmother (Olivia Brisbon) talking to Cinderella (Kiomi Rincon). Abiba Biao Photos.
In the play, Cinderella (Kiomi Rincon) must bear the cruelty of her evil stepmother (Anijha Blatche) and evil stepsisters Joy (Zayla Morrison) and Portia (Genesis McCoy), for whom she has essentially become a servant following the death of her father.
Despite what life has thrown at her, Cinderella never becomes hardened to the world. She sings to the birds and the mice around her, she believes in the grace and majesty of nature, she does her tasks without complaint while dreaming of the outside world.
So when her family keeps her from attending a royal ball, no wonder she also summons magic. Attracted by Cinderella's shallow, a Fairy Godmother (Olivia Bribson) swoops in, setting aglow the bottom of her dress. It's magic indeed, lighting a path across the stage.
Complete with a pumpkin-turned-carriage, horsemen, and a ball-ready gown, she heads to the palace. When she loses a glass slipper, it's part of a love story that has lasted millennia.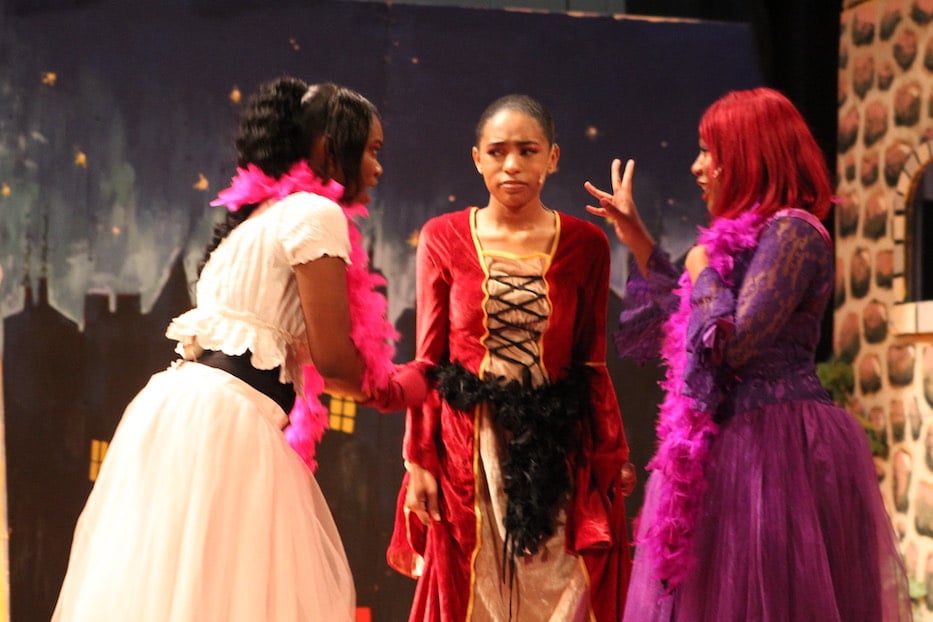 Stepsister Joy (Zayla Morrison), Stepmother (Anijha Blatche), and stepsister Portia (Genesis McCoy) lament on the poor first impressions they made in front of the prince at the ball. Abiba Biao Photos.
For Rincon, the drama club served as a way to reconnect to singing and arts, and she joined immediately when it first was founded last year. The play was a great way to end off her senior year, as she goes off to Southern Connecticut State University (SCSU) to major in nursing in the fall.
"I always used to do arts and musical theater back in middle school, but I haven't really done as much ever since coming to Career," Rincon said. "Joining this play really gave me the opportunity to do something that I really love doing.
Rincon said she faced a close call while rehearsing, forgetting the entirety of one of her songs during the final dress. She managed to relearn the lyrics in time.
"Thankfully I was able to pull it off, but it wasn't what I was expecting," Rincon said.
In the play, she and other actors have brought that world very much to life. During a Saturday performance, Rincon's stunning vocals and radiant optimism made her an underdog the crowd couldn't help but root for. The jealousy between the stepsisters (Zayla Morrison and Genesis McCoy) was palpable, each trying to gain the attention of the prince themselves.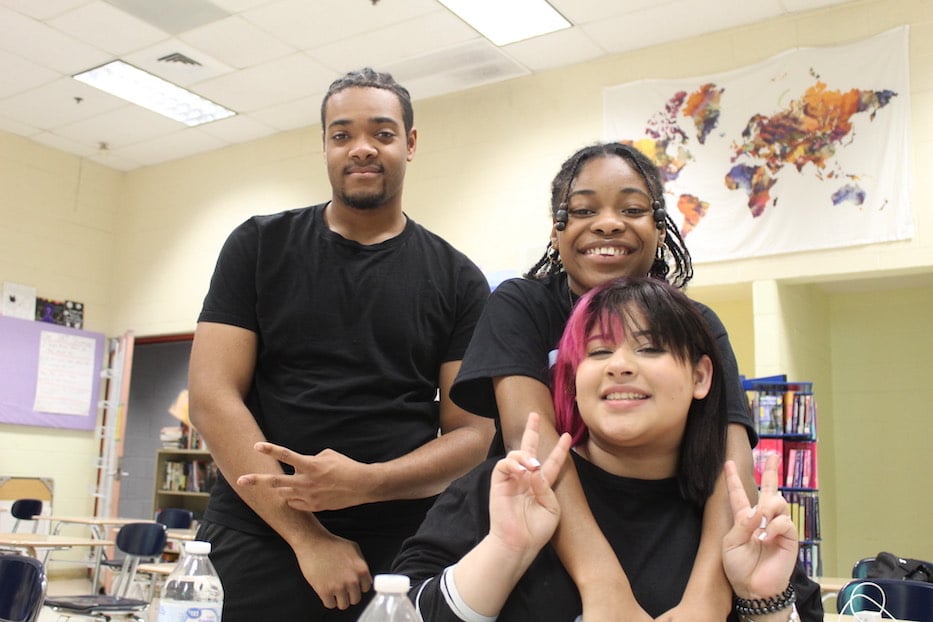 Prince Joshua Tomlinson with stage crew Danielle McDonald and Yalixa Figueroa. Abiba Biao Photos.
Saturday, their dysfunctional relationship stole the spotlight from Cinderella herself—in the most humorous of ways. Whether it was an eye roll or physical gag (at one point, the two tried to shove each other out the way), their desperation for the prince and disdain towards one another added a comedic flair.
As the stepmother, Anijha Blatche served as mediator between the stepsisters' conflicts, holding an authoritative role over the household. While her stepsisters didn't get the prince, they certainly caught the hearts of the audience, who pitied their romantic plights.
A senior at Career, Blatche plans to go to Gateway Community College before transferring to an HBCU or Historically Black College. She said that the one-dimensional role of the stepmother allowed her to grasp her footing even when she was lost.
"If I ever had a scene where I didn't know what I was supposed to be doing, I'm angry so I can just play it off as being really frustrated," Blatche said.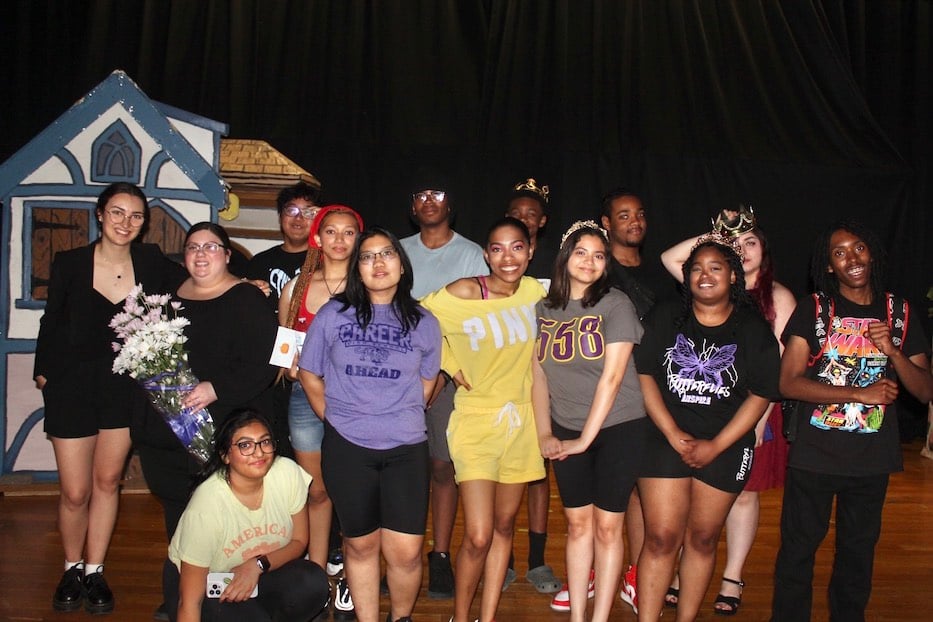 The cast. Abiba Biao Photos.
For Blatche, the community engagement was the highlight of the production. She said it was fun seeing the camaraderie backstage and getting together as a group.
"Everybody kind of had the same interest [in performing]," Blatche said. "It was nice."
The cast carried their high energy in their backstage room as they debriefed on the performance.
Sophomores Danielle McDonald and Yalixa Figueroa said that working in the production helped them get closer to more students, especially upperclassmen.
"I'm a very introverted person. I don't talk to people," Figueroa said. "But being in stage crew you get to meet new people and be friends with them."
Both said that they would return to play directing in the future, possibly considering other options besides stage crew such as starring in a role.
"If I'm not in the stage crew, I'm going to be in a play for sure, Figueroa said. "Because it's fun!"
For senior Joshua Tomlinson, a love of theater extends beyond Career's stage. In the fall, he plans to major in performing arts management at the University of Hartford. He credited his extroversion to his affinity with theater, noting that he draws his energy from the people and crew around him.
Being the prince was a role that did have his challenges, he said—but nothing he could handle. His biggest challenge was scheduling and making it to rehearsals while working as a mentor at the nonprofit Leadership, Education, and Athletics in Partnership (LEAP).
Tomlinson added that embodying the emotions of the prince, not just through lyrics but also through gestures and tone, was a hard task for him at the start.
"I can sing but I can't really act so I had to be taught how to act," he said.
Tomlinson encourages students to go out of their comfort zone and learn what they can do in theater.
"Chase your dreams. Do what you got to do, because in the end of the day, it's us up here, no one else is gonna come up here for you."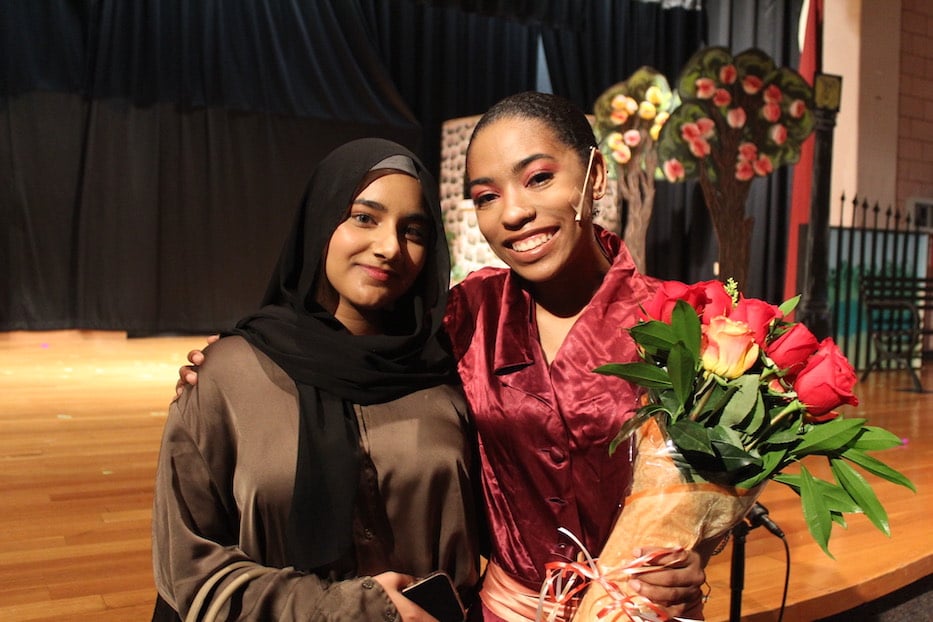 Minnie and Anijha Blatche. Abiba Biao Photos.
Watching enthusiastically in the audience was Minnie, a Career alum and freshman at SCSU. Minnie, who wished not to provide her last name, came to support Blatche and Rincon, underclassmen friends she made during her time at Career.
"It was amazing," Minnie said. "It took my breath away."
Minnie said her favorite part was seeing Cinderella run away from the ball, a key moment that DiMarco, director and vocal coach of the production, made possible.
DiMarco has been leading the production alongside Bond since its start in February, with the cast rehearsing three times a week for two to three hours. She first worked on pitch and vocals with the students before integrating choreography and bringing in the stage crew.
DiMarco is currently in her fourth year of working at Career and was hired at the start of the pandemic. After returning to in-person classes, she thought it would be good to revive the drama club. She said she believes that personal interaction was and is more needed than ever.
Because Career didn't have an established arts program and hadn't produced a musical for more than two decades, she added, it was a huge adjustment for students and teachers alike.
"There's nothing for them to look at within their own school," DiMarco said. "So the learning curve of what they're supposed to do, how they should act, and how to develop the singing skills, the acting skills, even just stage etiquette."
Despite this, they persevered and created a great show, adapting to their challenges and not shying away from discomfort.
"My favorite part is beginning to build this program and being able to work with the students and see their faces light up when they get something right and see the growth," she said.
Abiba Biao is a graduate of the Arts Council's Youth Arts Journalism Initiative and has stayed on with the Arts Paper as a freelance writer and photographer. She is currently a rising sophomore at Southern Connecticut State University (SCSU).