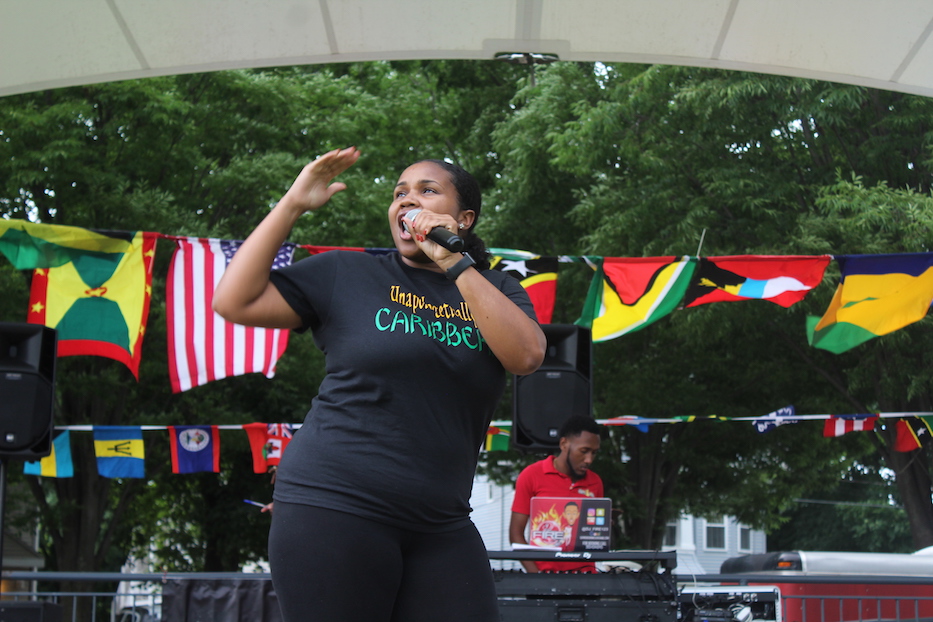 Arts, Culture & Community | New Haven Caribbean Heritage Festival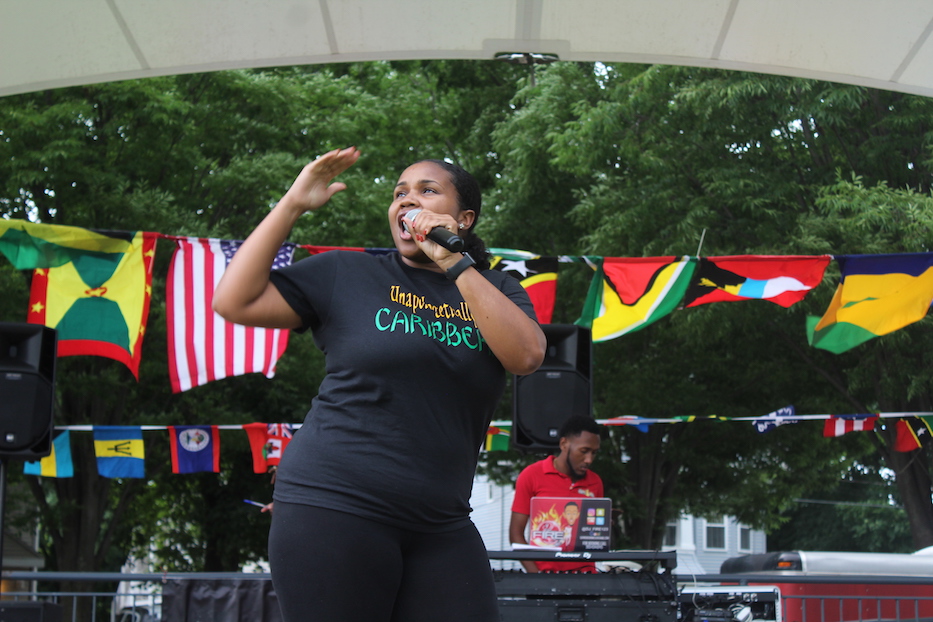 Jordanne Bryan: It's like a second home. Melanie Espinal Photos.
Jordanne Bryan has been unapologetically Caribbean all her life. This weekend, she got to tell New Haven about it.
Sunday afternoon, Bryan was one of hundreds of attendees and tens of performers at the sixth annual New Haven Caribbean Heritage Festival, an all-weather celebration of Caribbean culture organized by the New Haven Caribbean Heritage Festival (NHCHF) committee with the support of the city. Despite a short rainstorm in the early afternoon, New Haveners braved the weather to make the celebrations, rewarded with sun for the rest of the day.
This year's committee included NHCHF Founder Karaine Holness, who is originally from Jamaica and now runs Hair's Kay Beauty Salon, Shermaine Cooke-Edmonds of Dominica, Paula Ferguson of Grenada, Hayden Worrell of Trinidad, Micheal Gittens of Trinidad, Fiona Williams of Jamaica, and Yvonne Jackson of Jamaica. The festival comes at the end of Caribbean Heritage Month, which has been recognized in the United States since June 2005.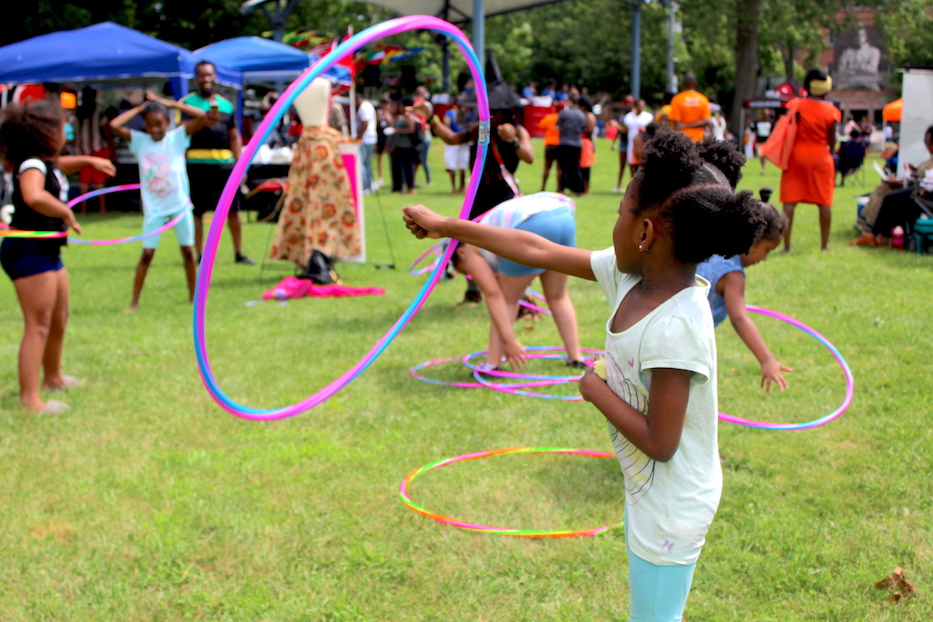 "It was a great day," said Smith-Holness in a follow-up interview Monday morning. "I think my favorite part is seeing people who are not from the Caribbean getting immersed in the culture, or people who were born here, not born in the islands, reconnecting with the culture."
"It was amazing," she added. "People came, even when it was raining and windy. Next year can only be better."
Starting in the early afternoon, New Haveners gathered in Goffe Street Park, perusing tents that represented different islands as well as vendors selling soaps, brightly patterned clothing and food. Those who arrived early enough were able to see a procession from the street, with dancers from the Hamden Academy of Dance and Music and members of the committee, as well as local and state elected officials who had come to celebrate the afternoon.
Walking onto the stage with committee members, Mayor Toni Harp praised the importance of Caribbean culture in the city, where immigrants of the West Indian diaspora have opened independent businesses, become political leaders, and followed in the footsteps of Caribbean immigrants including Alexander Hamilton.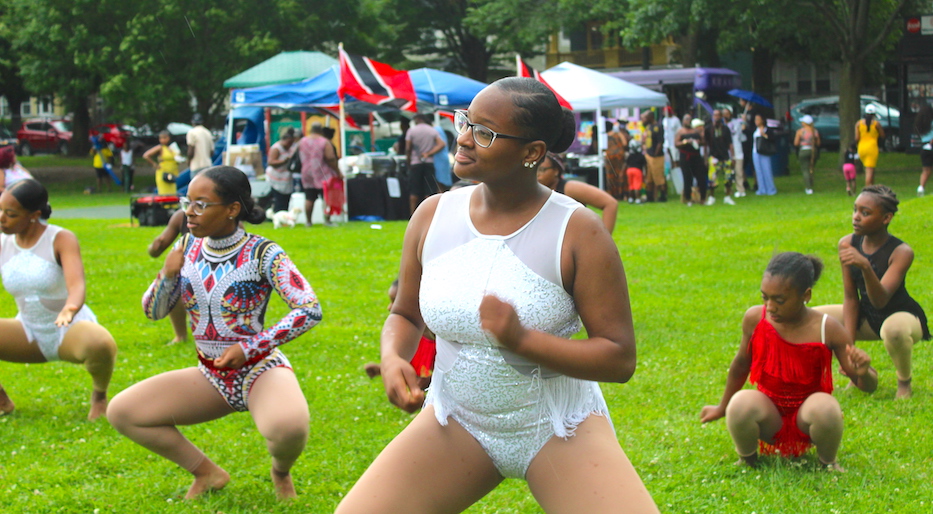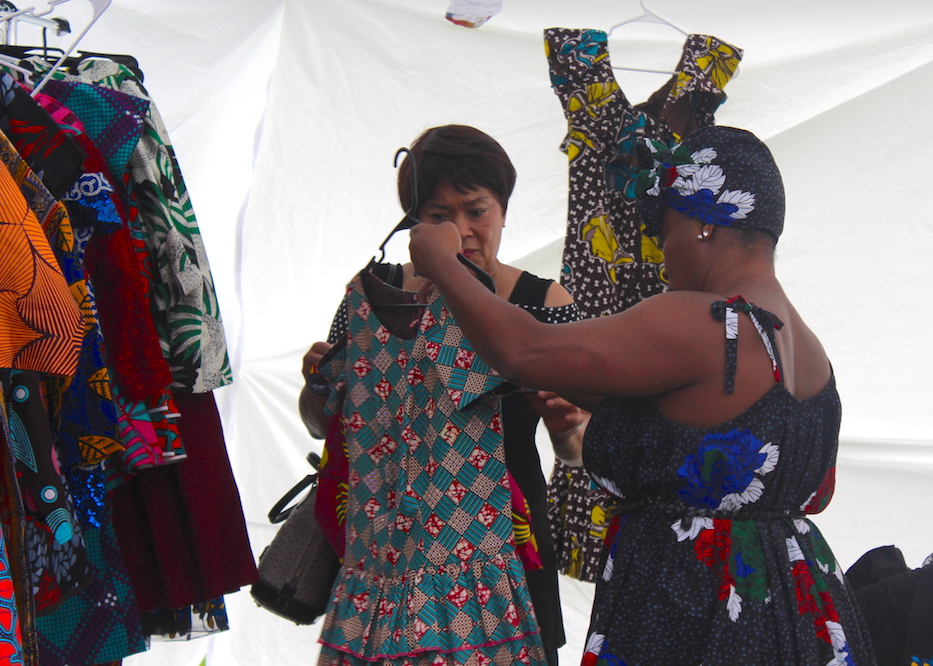 In part, Smith-Holness explained in the lead-up to the festival, the vendors and entertainment are intended to represent the breadth and depth of the Caribbean diaspora, which is sometimes painted as a monolithic culture in mainstream media.
That resonated for attendees including Bryan, a Southern Connecticut State University (SCSU) alum who was active in the school's West Indian Society, and has continued to forge those connections out in greater New Haven. Sunday, she recalled seeking out community members with shared heritage when she first immigrated from Jamaica.
"It's like a second home," she said.
Bryan comes to the festival every year, but this was the first time she was able to perform her poetry. In her piece, titled "Unapologetically Caribbean" and performed with a matching shirt, she told attendees about the pride she has for where she comes from, and how people in the Caribbean share small joys, like their grandmothers picking limes for lemonade and hearing dinner is ready and anticipating ackee and saltfish or dumplings.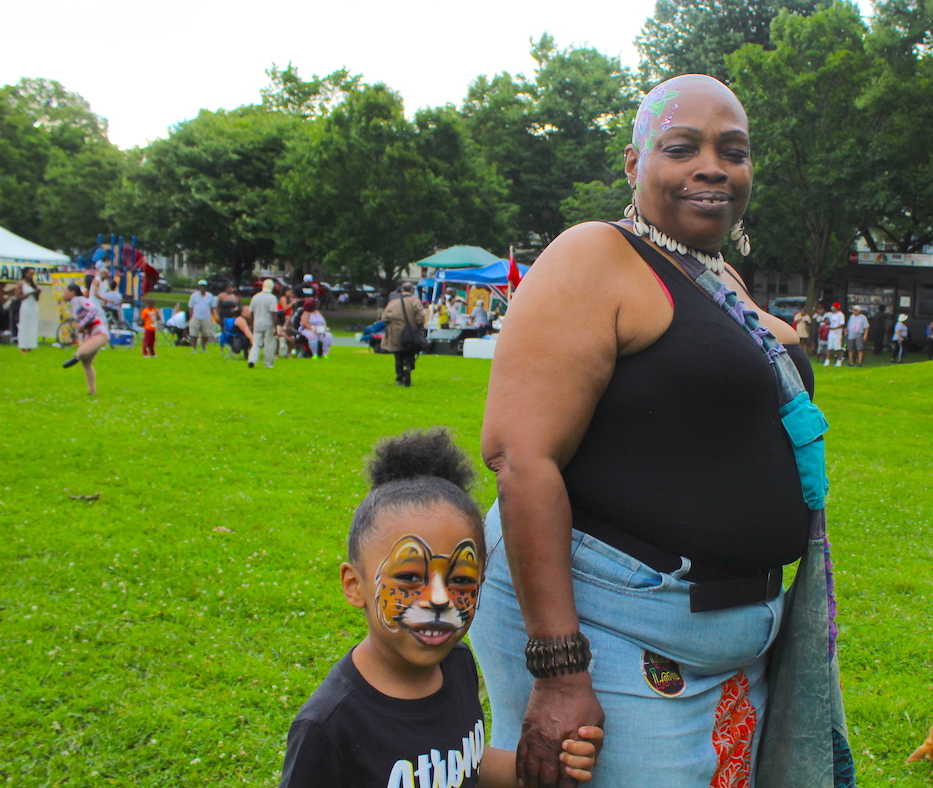 The festival also celebrated relatively new twists on Caribbean culture, New Haven style. Presiding over a tent packed with the aroma of jerk sauce and warm patties, Elisha Hazel of Ninth Square Caribbean Style served tofu alternatives to classic dishes like curry and brown stew. After opening the George Street spot two and a half years ago with her husband Qulen Wright, the two are still serving up vegan alternatives to jerk chicken, goat or saltfish and beef patties.
"There's a scarcity of vegan food in New Haven," noted Hazel, who added that the vegetable alternatives are closer to what many in Jamaica may actually eat on a daily basis. While she acknowledged the meaty stereotypes that often come with Caribbean food, she said that vegan Caribbean food can both exist and taste great.
The restaurant, which also runs event catering, has been a vendor for the festival for the last two years after opening in late 2016. She said she thinks it's a great way to showcase a part of the community that is not often recognized, and that "we make such a difference in the community."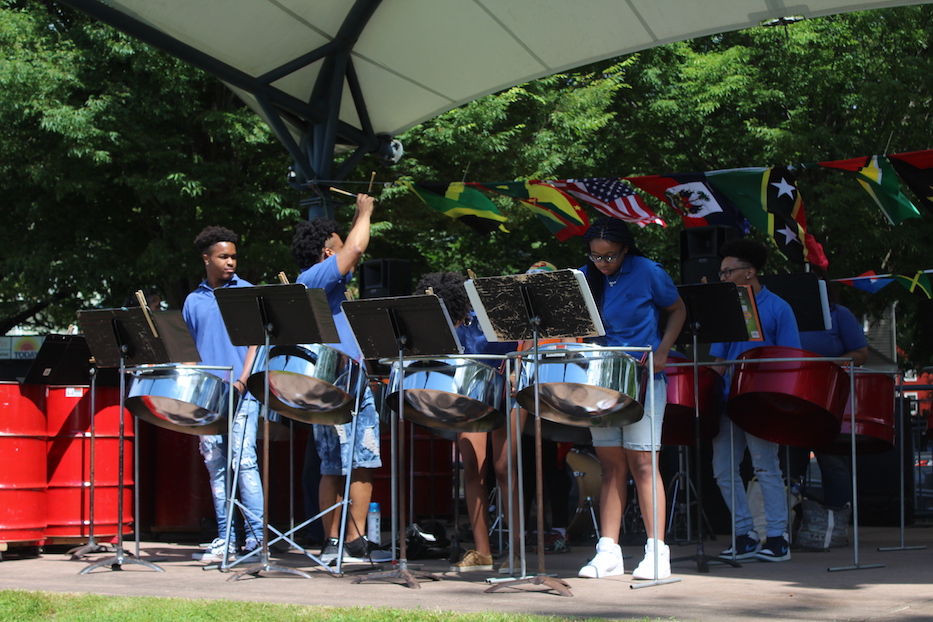 That opinion rippled through the other tents, as well as a stage packed with dance, steel pan performances, and spoken word all afternoon long. A discovery teacher at Mauro-Sheridan Interdistrict Magnet School, Yasmin Amico and her sisters Andrea Coddell and Debra Jones created a table highlighting Guyana, a country in South America that is often classified as Caribbean because of its culture and language, despite not sharing the Caribbean Sea.
Amico said that she and her family are excited to be visiting Guyana after 30 years. After years of conflict and racial tensions, Amico said recent shifts has allowed her to visit.
Elsewhere, several black-and-white signs and posters reading "Black Men Vote Too," some with a broken circle motif, set a tone for cross-cultural connection and uplift. The signs came to Goffe Street Park thanks to The Kiyama Movement, founded by attorney Michael Jefferson.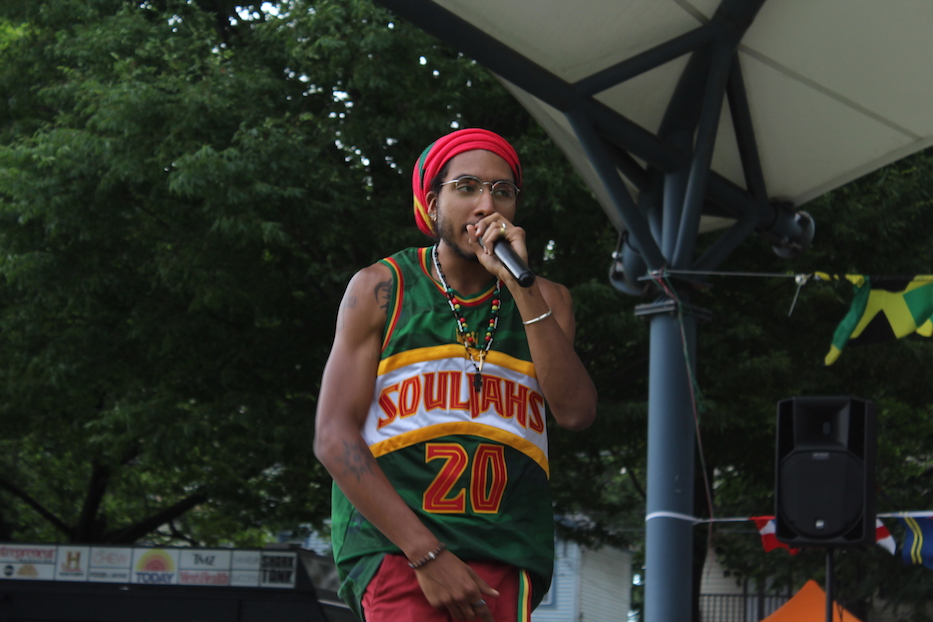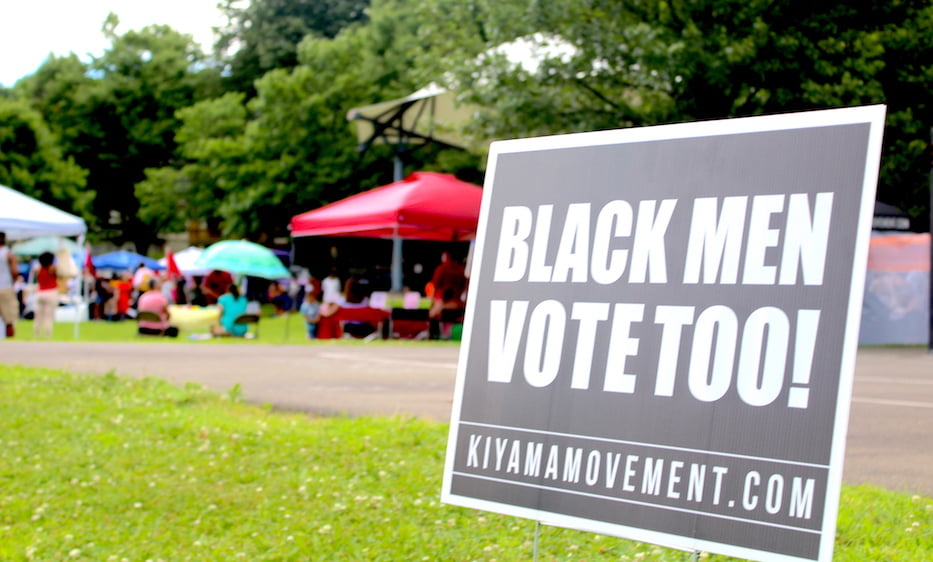 The organization works provide self-improvement, to educate young Black men about voting so they can be encouraged to vote but also given the knowledge to vote smartly, according to Jefferson. The movement has been tabling the festival for as long as it's been around.
"That symbol represents a broken circle," Jefferson said. "There has always been a disconnect with people of African descent throughout the diaspora, [and] we have to work to close that gap. Many of the issues that impact us here in America impact Black people everywhere."
Festivities continue Monday, as members of New Haven's Jamaican American Connection hold a special screening of the Usain Bolt biopic Sprinter, directed by Storm Saulter and produced by Will Smith and Jada Pinkett Smith, at the Bow Tie Criteron Theater on Temple Street. More information and tickets are available here.