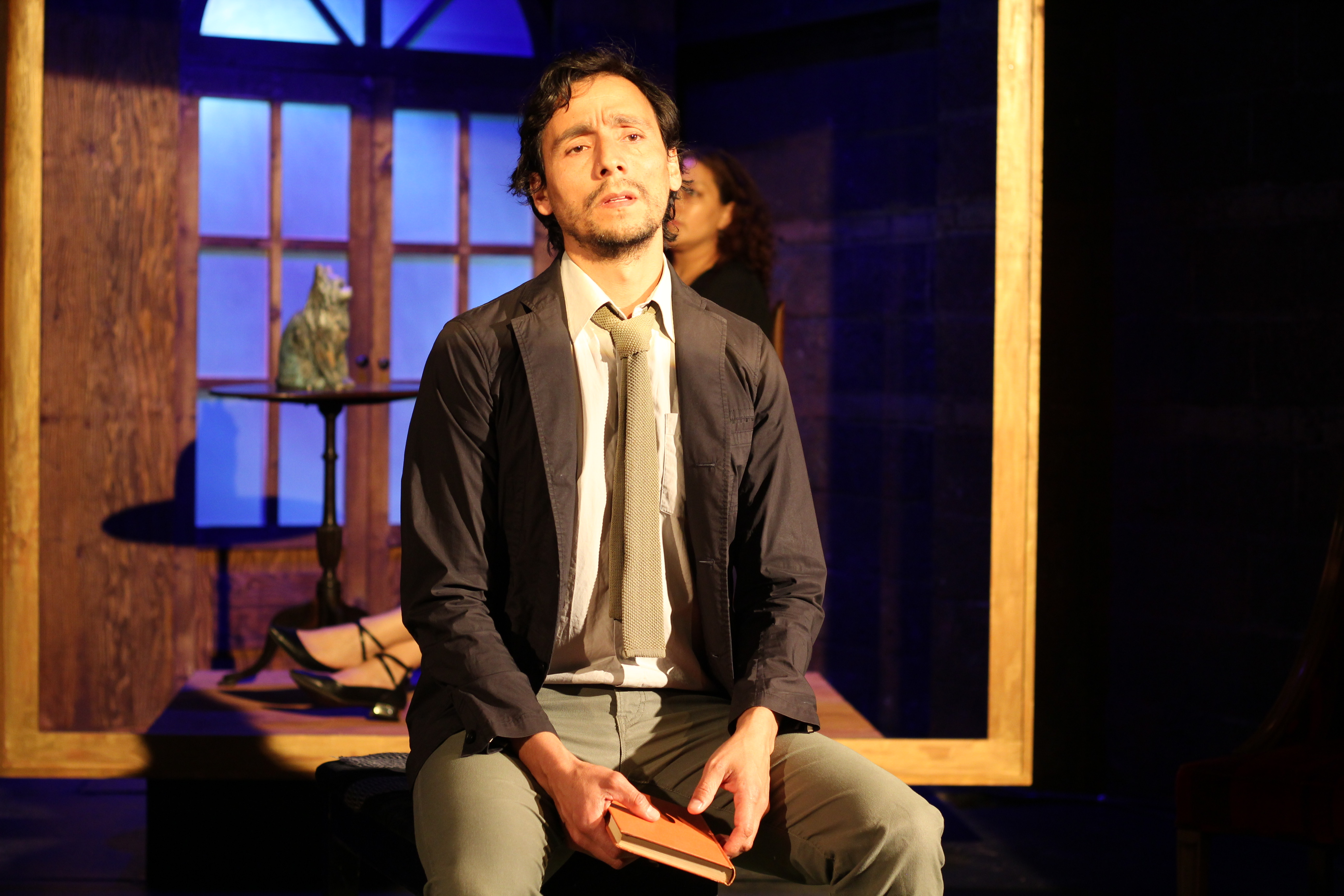 Bregamos Community Theater | Fair Haven | Theater | Unidad Latina en Acción | Arts, Culture & Community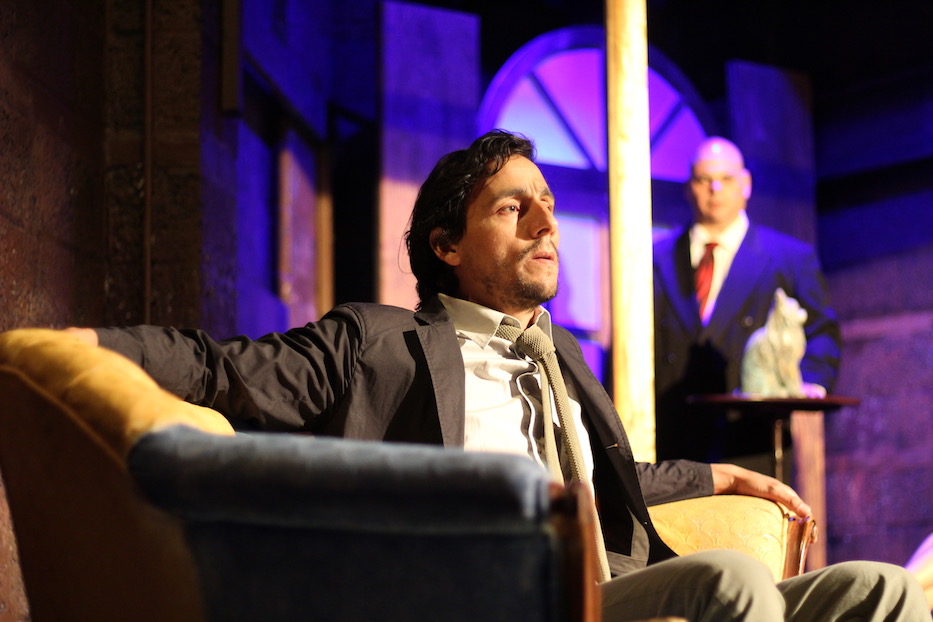 Simón Parra as El dueño Julio in Casa Grande
. Performances run at Bregamos Community Theater on June 13, 14, 15 and 17 at 7:30 p.m. Lucy Gellman Photos.
A man sits on a blue and yellow couch, watching two strangers nervously clasp and unclasp their hands. They smile, then become serious and wide-eyed. Between the three there is silence, punctuated only by breath and the occasional turn of phrase. The man calls out to his sister, closes his eyes and half-whispers to the audience. When he opens them, they are newly wet. He looks terrified and world-weary.
"Qué importa vivir si ellos ya no están conmigo?" he asks. "Si ella ya no está. Me dejo sólo la memoria de un sueño. Felicia, ¡Cuánto te extraño! Mi hermana, mi querida hermana."
The character (Simón Parra) is the owner of the house in Casa Grande, a new work from playwright and professor Oscar González-Barreto, director Germán Jaramillo and assistant director Gilberto Saenz that opens this week at Bregamos Community Theater. A collaboration among Unidad Latina en Acción (ULA), Bronx-based ID Studio Theater and Bregamos, Casa Grande runs June 13, 14, 15 and 17 at 7:30 p.m.
Performances are free and open to the community; more information is available here. ULA representative Megan Fountain added that the team plans to further develop and continue the project after this run.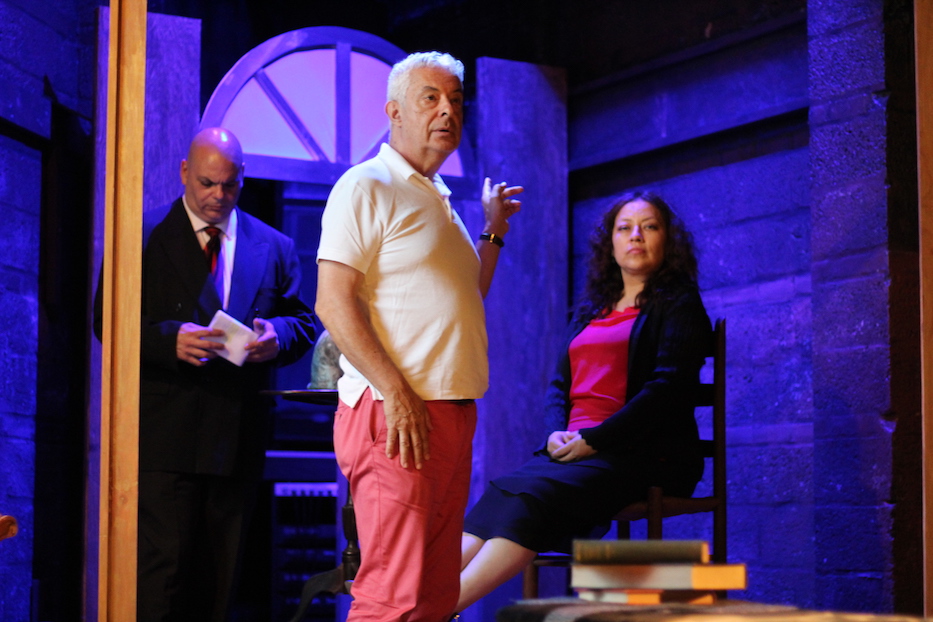 Director Germán Jaramillo with actors Alfonso Rey as La muerte and Edith Carapia as Felicia.
The work for Casa Grande began in the summer of 2014, when Jaramillo came to New Haven to present a workshop to the community, and spoke to González-Barreto about collaboration. At the time, tens of thousands of young kids from Guatemala and elsewhere in Central America were crossing the U.S.-Mexico border, and many were making their way on to New Haven. The year before, González-Barreto had done work at the border, interviewing minors who were arriving in the U.S.
At the time, he was teaching in Yale's department of Spanish and Portuguese (he is now based in New York) and partnered with ULA to begin collecting stories. As they multiplied, Jaramillo asked him if he could write the testimonies into an adaptation of Julio Cortázar's 1946 canonical short story Casa Tomada (The Overtaken House), widely recognized as a masterwork of Argentine literature. González-Barreto wrote the text in a month, weaving magical realism with classical literary references and long, sometimes unflinching and emotional testimony.
"The objective was to introduce the most classical, canonical and important texts to young people," he said in a phone interview Wednesday. "I cite Shakespeare, cite Calderón de la Barca, cite Cervantes. At the same time, they [community members] were sharing with us their experience through their testimonies. Their dreams, their desires—everything they're hoping to do in life. All of that, I tried to put in the play."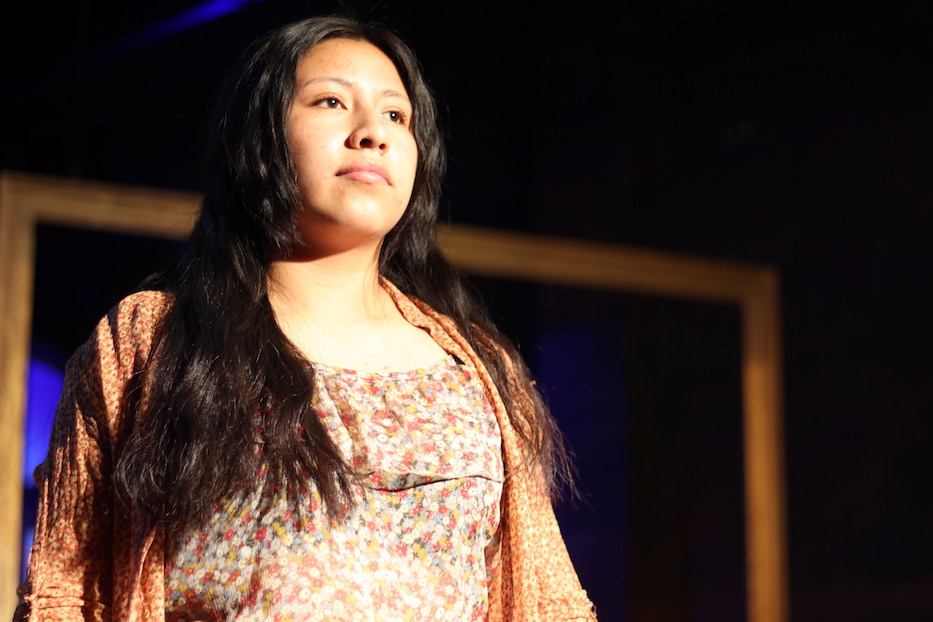 Anabelia Diaz as Anabella. In an interview after Wednesday's rehearsal, Diaz said she has been part of the process for three years and is excited to see the play taking flight.
When an early version was ready for performance, 21 community members jumped onboard, their testimonies fusing with vibrant art and music that still builds the foundation of the show. But further iterations of the project had trouble getting off the ground. With team members spread between New Haven and New York, it was hard to coordinate potential performances. Original ensemble members got busy; one was deported to Guatemala. a few years ago A planned performance in 2016 fell through due to a lack of resources.
Then at the end of last year, "we decided that we needed to end this project," said González-Barreto. The team had support from ID Studio Theater, which Jaramillo founded in 2001, as well as ULA and Barnard professor Linn Cary Mehta. As González-Barreto reached out to community members from the initial performance, he found that only six or seven were available, meaning that he and Jaramillo needed to edit the play and pare down the script.
The result is breathtaking, joyous, bittersweet and affecting from start to finish. As the lights come up in blues and purples, the audience meets El dueño Julio (Parra), who has returned home after the death of his sister Felicia (Edith Carapia) with no will to live. The home has been in his family for generations—his great-grandparents, his grandparents, his parents and now him. It is theirs, he tells the audience. But when he gets there, he discovers an unexpected surprise: young adults Leónidas (Saenz) and Anabella (Anabelia Diaz) have moved in to the space. Because it is sort of theirs, too.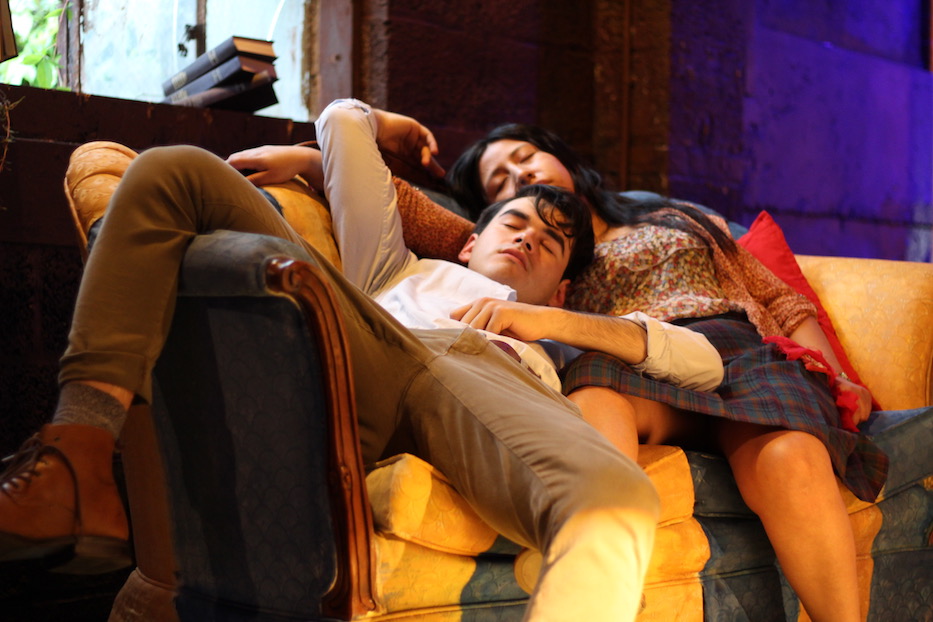 Gilberto Saenz Anabelia Diaz as Leónidas and Anabella.
But are they squatters? Are they something else entirely? To what degree must they, and Julio, heed the whispers and breaths of ancestors who lurk behind closets and couch cushions, in the paintings and hovering through the air? Do they have reason to fear death (Alfonso Rey as La muerte) as he too steps over the floorboards and into the house? As bodies creep, saunter and literally dance on and off of the intimate stage, the audience must keep watching to find out.
What González-Barreto has unlocked with the play is a space to hold all of these questions, and several more. The script, which actors memorized and blocked over weeks of rehearsals at the New Haven People's Center, is woven thickly with literary reference, vocal and instrumental music, kinetic choreography and heart rending voice overs that tug at the human ear. Actors are New Haveners turned seasoned thespians, who radiate emotion as they move through the play. They act it out against an arresting set: the twentieth-century, fairly Eurocentric interior of a home, where angular paintings sidle up against dusty, well-loved books, an elegant chandelier and a plush couch that looks like it may have had better days. Felicia, no more than a spirit, watches the action through a wooden frame that glints in the stage lighting.
Along the way, characters tie in patterns of migration, land sovereignty, unspeakable loss and human mortality, turning to song when words alone are not enough. The language is beautiful and deliberate—no debate seems out of place, no lyric missing a word, no allegory (and this is a play owing heavily to allegory) too out of the blue. In between, silences fill up with beautifully choreographed sequences, where even the touch of fingers to fingers is electric and emotive. All of it unfolds entirely in Spanish, very much by and for the community that birthed it.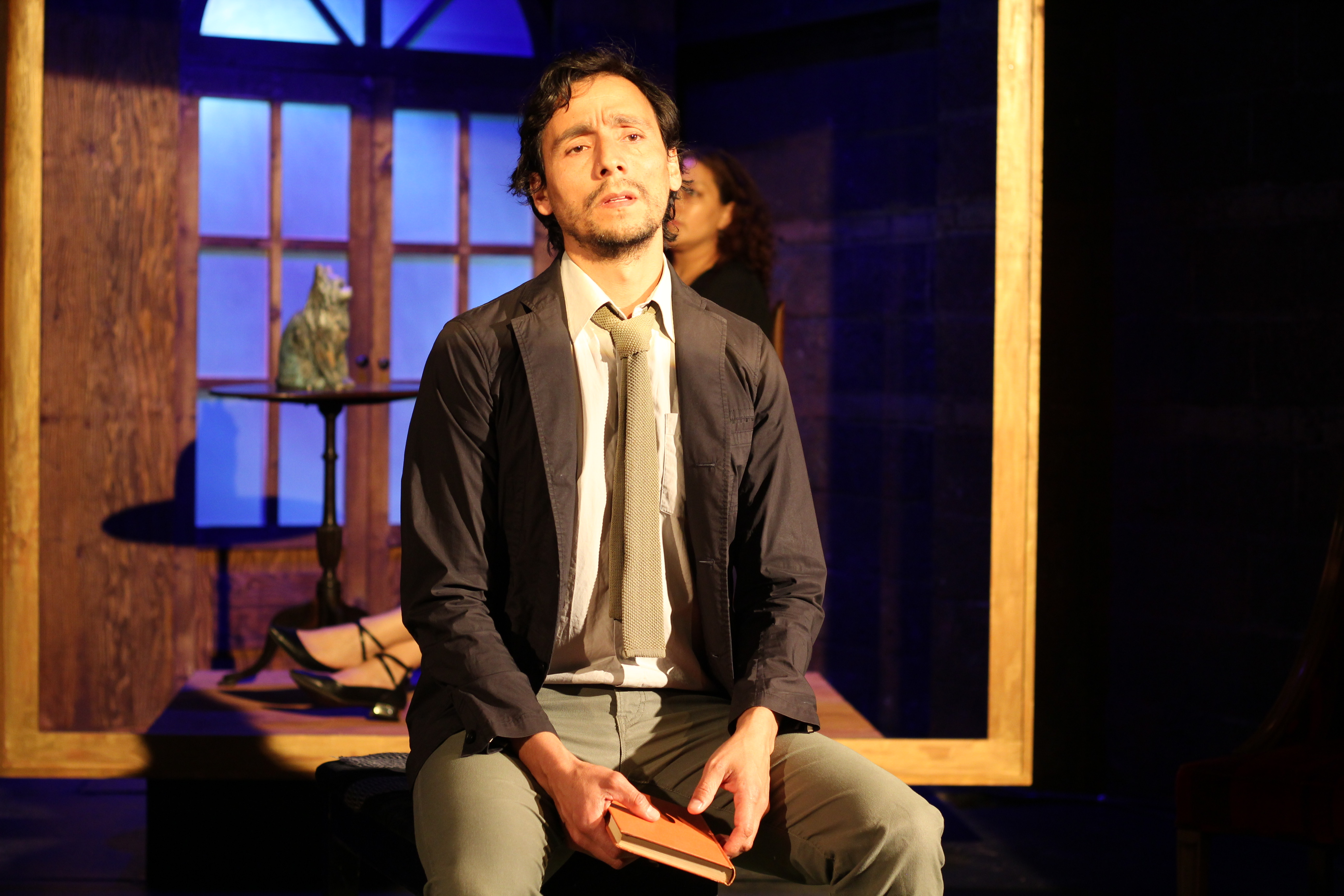 But "even if you don't speak Spanish, you will understand the plot and the argument of this story," González-Barreto said Wednesday. "You will follow the story."
He is absolutely correct—the use of music, art, physical expression, and movement are very much at the heart of this show, as is the language that carries them. If there are not enough words to hold the story of migration, pain, loss and joy, this comes close. In building that world, Casa Grande offers a deeply humanizing look at an issue that has become largely relegated to headlines, waffling campaign stances and political soundbites. Audience members may be transported in the play's brief 55 minutes—until they think about the fact that it's as much a work about New Haven as it is anywhere else.
"It's a really beautiful production," said Saenz, who came on as rehearsal director four months ago, when Jaramillo was occupied with other directing projects in New York. In helping with weekly rehearsals (he stepped in as Leónidas when an actor dropped out recently), he said he's been incredibly excited to work with a company that is entirely Latinx.
"I'm very happy, honestly, because this is a community project," said González-Barreto. "In the beginning, it was an adaptation, But now, I don't know. The narrative structure comes from the Casa Grande, but this is our story. It's their story. It's not Julio Cortázar's anymore."
Casa Grande runs June 13, 14, 15 and 17 at 7:30 p.m. at Bregamos Community Theater, 491 Blatchley Ave. Performances are free and open to the public with a suggested donation. More information is available here.