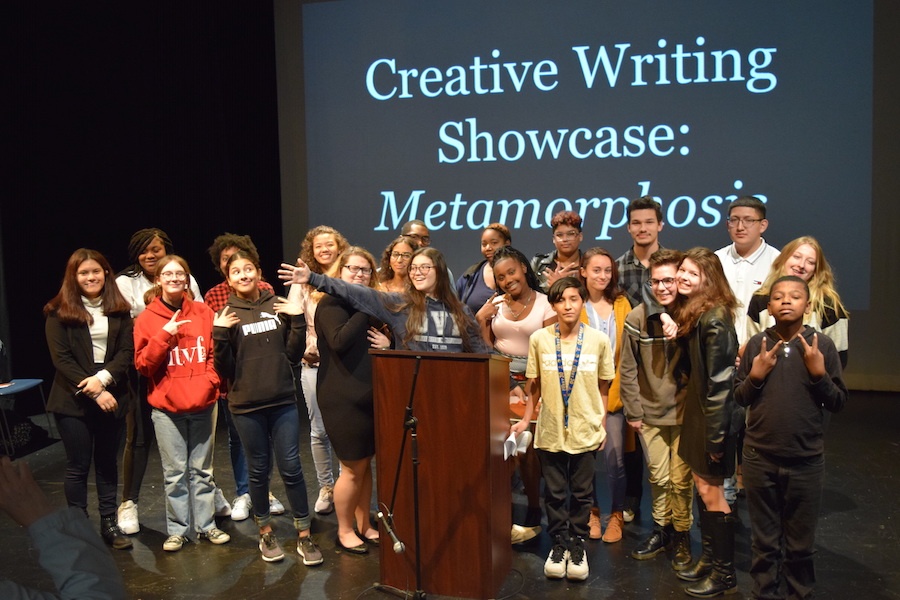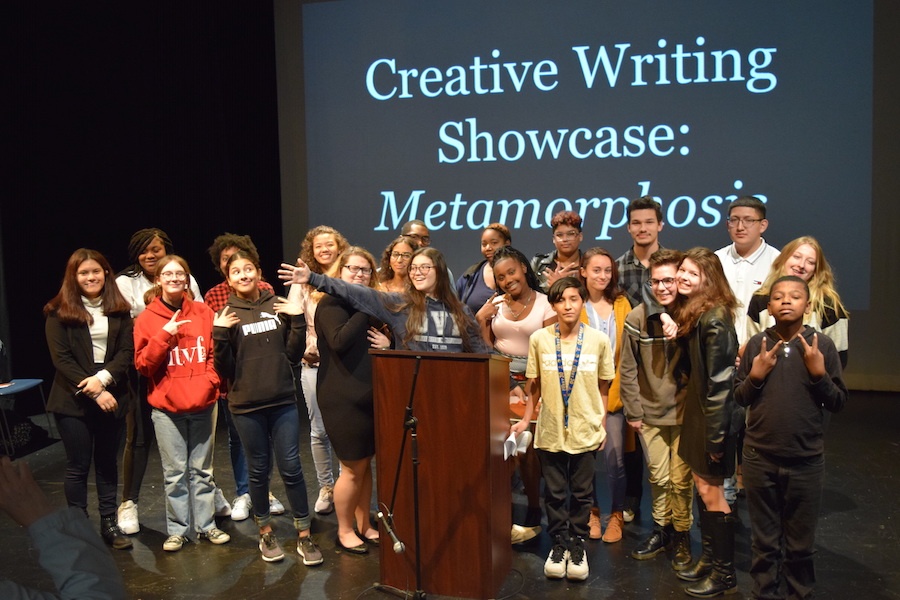 Alana Berrios walked slowly towards the podium, eying the microphone. She slid in behind it, lowering the mic from its perch to come closer to her mouth. The room fell to a hush, quiet enough to hear a footfall and snappy conversation out in the hallway. Berrios she took a deep breath, and looked up at the audience.
Ya'll don't understand
Y'all don't understand what it's like to lose someone
Because of something dumb
My brothers are getting shot at because of their skin color
And while their bodies are getting dragged
Their blood is starting to water the grass underneath them
Tuesday afternoon and evening, Berrios was one of 25 young writers to read her work at Cooperative Arts & Humanities High School's Metamorphosis 2018 fall readings, held in the school's small blackbox theater. The back-to-back performances were organized by creative writing teachers Aaron Brenner, Judith Katz and Mindi Englart, the last of whom also acts as the faculty advisor for Metamorphosis and the school's online newspaper, Co-Op Voices. The Metamorphosis showcase is one of two annual creative writing readings at the high school, the second of which takes place in the late winter or early spring (read about last year's here).
Metamorphosis 2018 came out four months ago in June, just as Co-Op was winding down its academic year. In its packed 117 pages, readers meet over 80 student creative writers and and over 50 student artists between ninth and twelfth grade, their poetry and prose combined with illustrations, paintings and photographs. Englart said that faculty holds the reading the following fall to remind students about the publication as they begin another school year and ramp up excitement for creative writing at the school.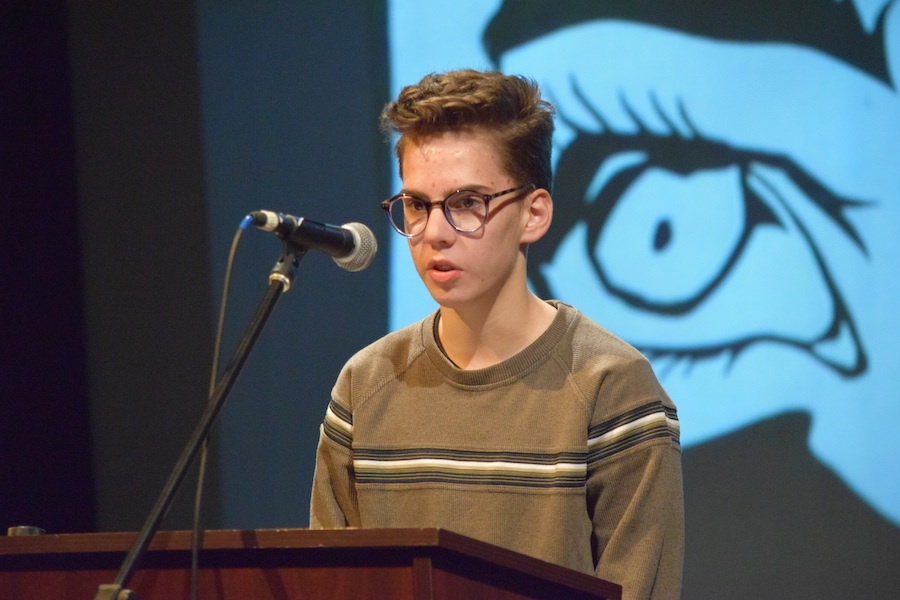 Piper Zschack. Robert Esposito Photo.
"It's really inspirational," Englart said between readings. "I would not want to get up and share my work. It's not easy. Creative writing, like visual art, is not a performing art. It's a private art—usually you publish or have a show, so you're not right up there, with the work. When people want to get up and show their face with their work, I think it's very brave. And it builds character. "
She added that some of the works come from creative writing assignments, where students are all given the same prompt and come up with radically different results. Other works are poems and prose pieces that students write on their own time. In addition to the sophomores, juniors and seniors who read work from Metamorphosis 2018, Englart invited several freshman, many of them just 13 and 14, to read their pieces aloud for the first time in a new school.
As the lights went down in the theater, that courage and verve sprang to life, students approaching the mic one by one for over an hour. Behind them, punchy works of art appeared on a large projector. Several students, like Barrios, used their writing to channel pain, words winding around street violence, police brutality, and the deaths of parents and siblings. Speaking in smooth verse through her poem "I'm Gone," sophomore Zanai Buchanan recalled the pain inflicted by a nameless school bully, guiding the audience through the "huge bruises from all the times/You spit those horrible words/Never apologizing. Never looking back."
Senior Erica Cardona hooked the audience with "Spring Cleaning," a poem that was less about the act of tidying up one's house and more about the discovery of who she was ("I've suffered/I've been scarred/I've rained smh been rained on/So why doesn't spring want to come?").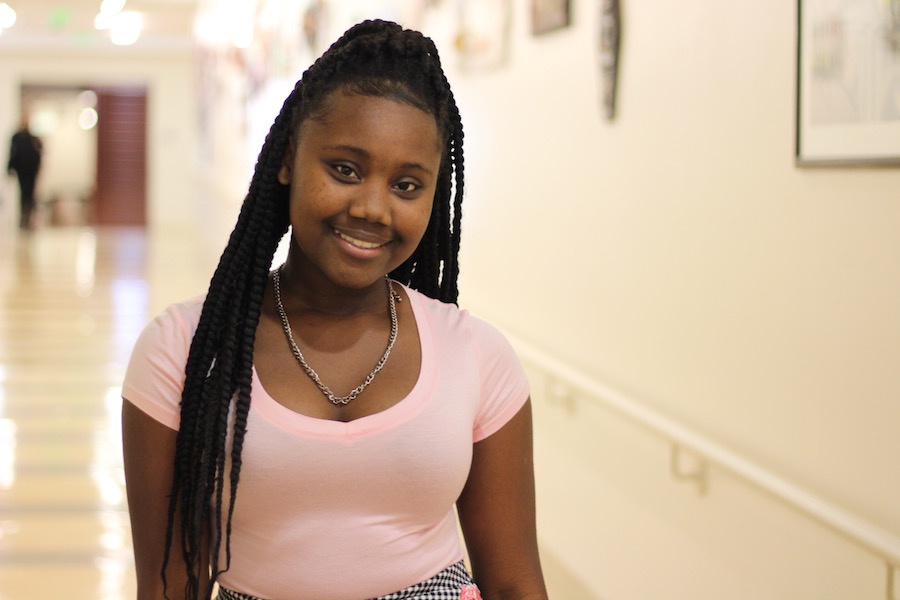 Nadia "Navi" Gaskins. Lucy Gellman Photo.
One by one, students let themselves be vulnerable with the audience. Nadia "Navi" Gaskins drew on personal experience of being bullied for her sex and gender during seventh grade at King-Robinson Inter-District Magnet School, an experience that has stayed with her in the three years since. At the time, she said, she recognized that "I wasn't normal" by her peers' standards. She got called names at school each day: slut, lesbian, whore, worthless, useless, waste of space, disgrace. She recalled losing her three best friends when she came out as bisexual, bullied and harassed to the point of self harm.
Last year, she chose to write it down and publish the account in Metamorphosis 2018. Looking between the page and the audience, she read her poem "Take. Them. Back." her voice steady and clear as each word rang out.
You shot me down
You stabbed me with your daggers
You carelessly threw insults at me
Day after day.
You tortured me.
Is it true?
Is it all true?
"The whole point of the poem was to sort of protect myself now," she said after the reading. "I felt like I got to say everything I didn't say [at the time]. I got to protect myself now, because I didn't have the chance to do that. I wasn't capable of doing that. So I feel like everything that was on my chest is finally in the open, and they know now what their actions did to me."
Other students looked onto a citywide and national stage, taking on politics through personal anecdote. Reading "Impetus," junior Grace Trufan unfurled a sort of prose meditation on environmental conservation, cautioning the audience that "We have grown and destroyed and wreaked havoc and now that gift is rising up and and humbling our no-longer-conscious vessels."
In a darkly comical and unexpected story titled "Lockdown," senior Pablo Sanchez-Levallois tied in #MeToo, toxic masculinity, and the trauma of school shooting drills without ever having to write the words, his narrator pulling the audience through a "Code Red" spent with his girlfriend's brother in the bathroom.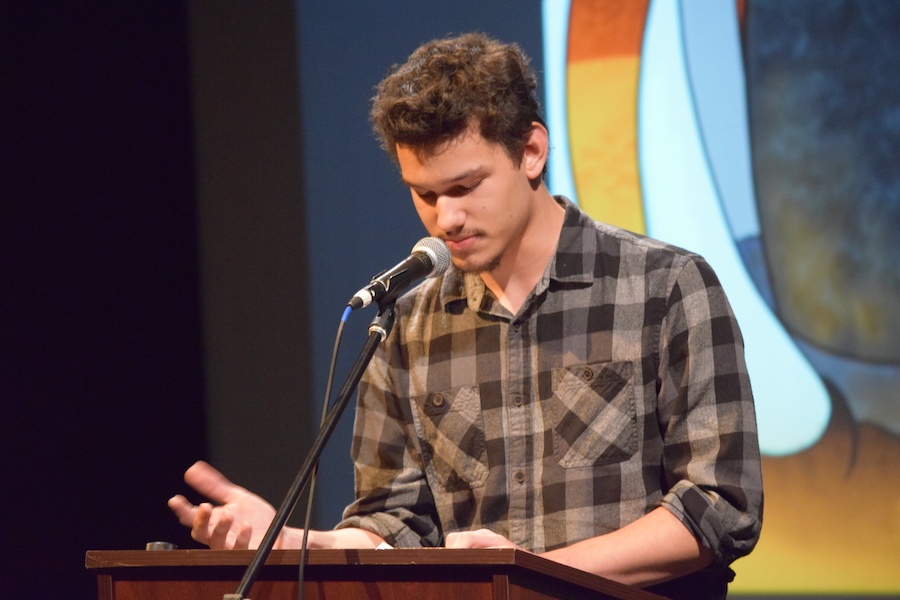 Pablo Sanchez-Levallois. Robert Esposito Photo.
In a vivid piece of short fiction, Fellow junior Kasia Osieka Kaszuba took listeners on a trip through the second annual Women's March in New York City, which she (or her character) had attended with a grudging and not-so-understanding male friend named Graham. At one point in the story, he leaves her in the thick, pussy-hat-sporting crowd, and she keeps going.
"I watch as hundreds of people walk past me, yelling and waving signs," she read. "I smile at the sight. I've been to football games where the most enthusiastic crowd was quieter than the people here. The empowered voices ring through the streets. I've never felt happier in my entire life than this moment."
Her words hit hard in a month that has seen the confirmation of Brett Kavanaugh to the Supreme Court of the United States and the Trump administration's proposal to rigidly define gender, effectively erasing millions of people who identify as trans and nonbianary. As she read, A few audience members nodded along, drama instructor Rob Esposito leaning in at the back of the theater to hang on to each word.
Nearing the end of the reading, students came back to the curative, and singular, power of writing. Reading for his first time on the Co-Op stage, freshman Piper Zschack pushed the audience to think harder about the "glass half empty or half full" question with his piece "Seeing Through Transparency," named for the transparency of both glass and water
A glass rests on the table.
Half full or half empty?
I have never been able
to answer this inquiry.
It seems impossible, no doubt.
Where do I even begin?
Was water poured out?
Or did it pour in?
That's what the question should be about.
"Whenever I've been asked this question, I've never been able to answer, because it really depends on the situation," he wrote in an email after the reading. "If water was poured into the glass, then it's half full and if water was poured out, then it's half empty. You can't pass judgement on the glass' current state without knowing its past and this idea can be applied to many broader concepts than just a glass."
Outside the theater after the reading, freshman Liz Gay said that the event had doubled as a sort of welcome into the school, where she feels accepted for the first time in years. As a middle schooler at Shelton Intermediate School, Gay said she faced daily bullying for self-expression, and a persona she now proudly refers to as "dork Dr. Seuss."It turned her into someone who wasn't very kind to others and "lied all the time," she said.
"I've had emotional experiences that very much help with my writing," she said, adding that being bullied ultimately acted as a creative catalyst. "I could express myself because it's like an open community here .. I found new words for how I was feeling."
"In the moments of reflection that I had when I wanted to be alone I went into my room, I found myself," she added.